Sidney Crosby Better Than Wayne Gretzky: Why Waste Time with a Silly Argument?
April 12, 2017
Sidney Crosby: The young, phenomenal center for the Pittsburgh Penguins.
Wayne Gretzky: The greatest player in NHL history.
Who is better? (And did I just answer my own question in that description?)
Let me ask a better question: Seriously?!
For the record, it is Gretzky. Take an honest moment, and shout out the better all-time player between the two.
I'm waiting.
So, which category do you now fall into? The Gretzky camp? Or, the delusional?
Gretzky's domination over his peers who ranked second in their respective scoring races was ridiculously supreme, the kind of domination over the second-best that makes the word "race" seem out of place and the concept of "competition" seem loose. 
Those peers that Wayne abused had the same advantages and played in the same era, often on the same ice. He beat Marcel Dionne, Mike Bossy, Peter Stastny and Paul Coffey by 29, 65, 72 and 79 points from 1980-1983, respectively.
Yeesh!
Crosby, on the other hand, is the best player today, but the differential between him and his peers in terms of scoring is not to the extreme degree that Gretzky dominated the NHL landscape, especially during "the King's" dynasty years with Edmonton.
Gretzky scored 50 goals in 39 games. Yes, the game is different today and advocates for a hidden Crosby supremacy will point to other factors. And, as a Penguins fan, I'd love for them to be right.
It's just that, well—they're not. Crosby is likely the best player of today. And, I'm okay with that. 
Sure, Sidney may be a more physical specimen, an adjustment that is necessary in today's much more demanding and violent league. And, it's also possible to argue for Crosby's intangibles—for example, his defensive skills and domination along the boards. He's great for the modern cycle, a grind-it-out affair that often runs a gross number of seconds off the clock.
Yet, without seeing Crosby on Wayne's team or vice versa, the transition for one or the other, let alone the conditioning regiment and body type, is impossible to determine. 
Without adjusting for the inflated scoring of yesteryear, which would certainly help narrow the enormous statistical gap between the two, Gretzky's records will never be broken. The only comparable scorer to him was a healthy Mario Lemieux in his prime.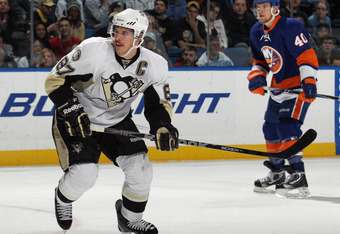 And, let's be frank: Nobody, especially in Pittsburgh, is putting Crosby over magic Mario. At least, nobody sane.
So, why the comparisons? I suppose that's easy to answer. People like fantasy matches. We compare our legends in order to retain the glory of yesterday while enjoying the game of today. Additionally, there are likely a number of fans who truly feel they can make a sophisticated adjustment in order to account for the millions of variables that play into such an indirect comparison.
Crosby vs. Hull? Fine.
Crosby vs. Jagr? Now, that's a debate!
But, Crosby vs. Gretzky? It's plain lunacy!
In Gretzky's camp, those making these comparisons can rest comfortably knowing that they are advocates for the greatest modern scorer in the NHL, if not hockey history. Scratch that—just hockey history. Normally, if this camp is involved in the argument, it's from a defensive stance. After all, why would a fan of the "Great One" facilitate this comparison?
Before fighting back, they need to realize that the gap between Gretzky's scoring touch and Crosby's does not tell the entire tale, and that while their Canadian icon is surely the best to ever lace skates, living in the past is a surefire way not to enjoy the best of today.
Still, the intangibles aren't enough to cut it with such a silly argument.
Crosby's supporters are mathematically eliminated before they even hit the "Go" button for the debate. They rest their argument in intangibles, hoping to create some doubt among the confident—nay, realistic—skeptics to their claims.
These fans, largely Penguins enthusiasts, need to know an important fact: Nobody expects Crosby to be better than Mario Lemieux, sinner Wayne Gretzky. Having the best player in NHL 2011 (not the video game, but the calendar date. Well, actually—both!) IS good enough.
With his huge scoring lead prior to last season's unfortunate concussion, Crosby continued his remarkable career achievements, which included an Olympic gold medal, his name engraved on the Stanley Cup, a Hart Trophy and the jaw-dropping, awe-filled appreciation of loyal supporters in black and gold.
Those supporters are ardent enough to compare him to Wayne friggin' Gretzky. That's respect, and Crosby has more than deserved the respect he's earned in Western Pennsylvania, Canada and around the world.
Comparing him to Gretzky is insulting to common sense. Wayne dominated his fraternity at a much wider margin than Sidney could ever dream. To put it in perspective, last season's leading scorer was Daniel Sedin—with 104 points.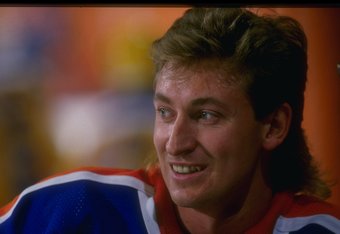 To outscore him by 50 percent, a feat Gretzky accomplished twice in the time span of 1980-83, Crosby would have to acquire nearly 160 points—and even that wouldn't cover the largest percentage of dominance demonstrated by the "Great One."
The beauty is that it doesn't matter who the best ever is. Debates rage about qualitative comparisons between athletes all the time. It's a no-win situation, right or wrong. And, very certainly, any quantitative evidence favors Gretzky, essentially closing the case.
Crosby vs. Gretzky? Yes, Crosby is better than Gretzky...the coach. 
Here is what matters: the joy of watching both men play.
Those who witnessed Gretzky's magical stick are blessed for the experience.
Those who observe Crosby's physical gifts and puck poetry are equally lucky.
A search for Crosby vs. Gretzky brings up thousands of articles and hundreds of comparisons. If you want a provocative argument with many factors to consider and a true debate, search for Crosby vs. Jagr.
In the meantime, with the 2011 season approaching, fans in both camps are better served to get ready to witness the next chapter in the Crosby era, love him or hate him. As he returns to the Penguins lineup (this October, hopefully), he will look to cement his status as the best player in the game today—over the likes of Sedin, Ovechkin, Perry, Stamkos, etc.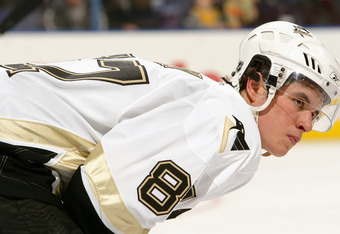 Being the best ever is simply out of reach. All of his hard work tells the entire moral of this article. Why does Crosby train?
To be the best player in the world today. (Oh, and to reclaim the Stanley Cup!)
That is the real debate and the true test of the mettle of No. 87. With another Stanley Cup victory, perhaps a scoring title and a healthy season, Crosby will continue to mount achievement to cement his status as the modern ultra-elite.
A better scorer than his peers, his recent work showcases that he is a better goal scorer than his proclaimed rival in Washington. He's an all-around hardworking player, skilled at various elements of the game and lacking in few (if any). 
Sidney Crosby IS the best player in the NHL today.
And for any Gretzky fan that doubts that, I'd say: Let's debate!