Matt Bradley Rips Former Washington Capital Teammate Alexander Semin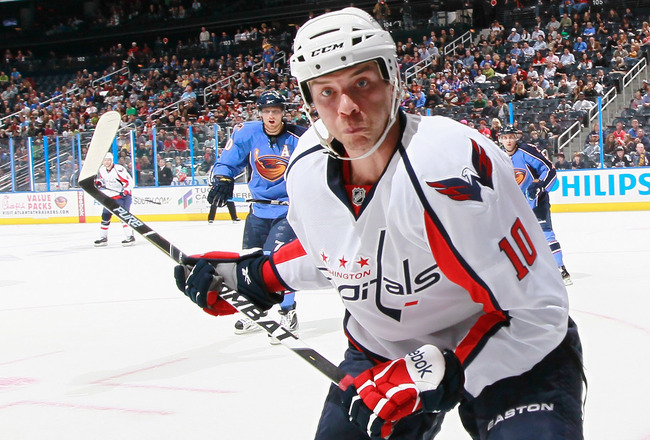 Former Capital Matt Bradley told a radio station Wednesday about why he believed the Caps failed during the 2011 Playoffs.
Kevin C. Cox/Getty Images
On Wednesday morning, former Washington Capitals fan favorite and current Florida Panthers forward Matt Bradley took to the airwaves and criticized former teammate Alexander Semin over the Russian's apparent lack of effort and commitment, especially during the postseason.
Bradley, who spent six seasons with the Capitals, also expressed disappointment in the team's coaching staff during the 2011 playoffs during his radio interview with Ottawa's TEAM 1200.
The 10-year NHL veteran said he believed that it was the team's perceived best players, rather than the ones who were playing the best at the time, who were receiving the most ice time during Washington's semifinal loss to the Tampa Bay Lightning.
That's where the comments regarding Semin's performance began.
Bradley said he was disappointed in Semin's lack of effort, especially because he believes the Russian sniper "has so much talent, he could easily be the best player in the league and just for whatever reason, just doesn't care."
Semin has been panned by both analysts and fans alike for his apparent lack of effort during the Capitals' last three postseason exits, but for the most part his teammates have stood by him.
Though Bradley did say he believed that head coach Bruce Boudreau was a good coach, he also seemed to suggest that the former Jack Adams winner stuck with his star players for too long during the Tampa Bay series.
While Semin wasn't particularly good against the Lightning, neither was Nicklas Backstrom, who managed all of two assists during the team's nine-game postseason run.
A grinder by nature, Bradley was one of the Caps' most consistent players during his six-year stay in the nation's capital.
More importantly, he seemed to be very well liked and respected by his teammates, which make his comments even more surprising to an outsider.
One player who clearly has the respect of Bradley is team captain Alexander Ovechkin.
About the 24-year-old superstar, Bradley said: "[Ovechkin] really does just want to win the games, and he doesn't care if he scores or not. That isn't an act. He's a great guy, great player. I'd never say anything bad about him."
Bradley also said that he believes that ultimately the Capitals will do well as the majority of the players in Washington's locker room want to win, no matter what the cost.
The 33-year-old wasn't offered a deal by the Capitals at season's end, but quickly signed a two-year deal with the Florida Panthers when free agency opened on July 1.
Though Bradley's comments may come off as slightly bitter, it's likely that the ex-Capital was simply offering his honest insights with regards to why the team has failed to advance beyond the second round even though they've captured four straight NHL Southeast Division titles.
At this point the Capitals have to be hoping that Bradley's scathing comments light a competitive fire under Semin, because he's running out of second chances in Washington.
This article is
What is the duplicate article?
Why is this article offensive?
Where is this article plagiarized from?
Why is this article poorly edited?

Washington Capitals: Like this team?