NHL Free Agents: Were the Top 13 Signings Underpaid, Overpaid or Just Right?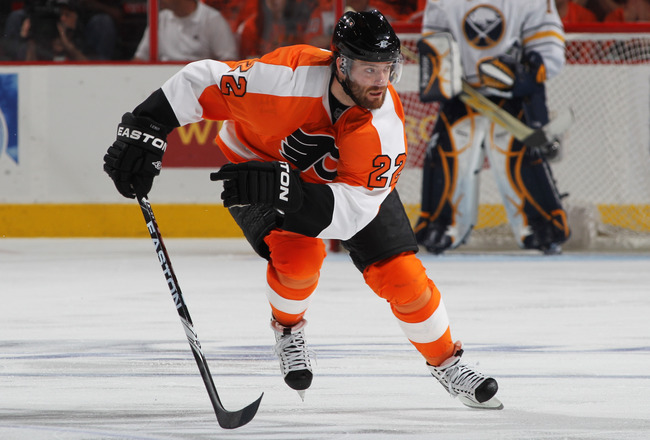 Bruce Bennett/Getty Images
The 2011 NHL offseason featured a flurry of activity on the free agent market, with a number of players receiving long-term, big-money contracts.
Many of these deals raised eyebrows due to the fact that this year's crop of unrestricted free agents was widely considered to be a relatively weak talent pool, with only one true superstar up for grabs.
With that in mind, here's a look at the top 13 free agent signings in order of the total salary committed, and whether they were overpaid, underpaid, or fairly compensated.
13. Ed Jovanovski: Florida Panthers, $16.5 Million over 4 Years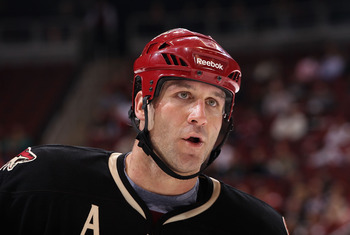 Christian Petersen/Getty Images
Dale Tallon, the General Manager of the Florida Panthers, entered the offseason with the goal of attracting big name talent to his club, even if it meant overpaying for aging stars like Ed Jovanovski.
Jovanovski has enjoyed a long, successful career as a two-way defenseman, but at age 35, he likely isn't worth the over $4 million annual cap hit he'll account for in Florida.
The play of the five-time All-Star has declined steadily over the course of his last three seasons in Phoenix, culminating with a 14-point effort in 50 games for the Coyotes in 2010-11.
He isn't the offensive threat that he once was, and he's become prone to lengthy absences. He's missed over 15 games in each of the last two seasons.
While Tallon did a good job of stocking his roster with seasoned veterans, this contract may come back to haunt the Panthers if Jovanovski can't stay healthy down the stretch.
Verdict: Overpaid
12. Alex Tanguay: Re-Signed with Calgary, $17.5 Million over 5 Years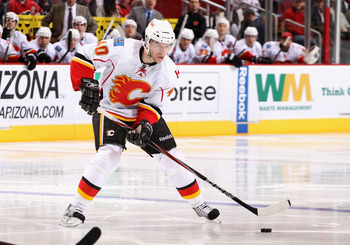 Christian Petersen/Getty Images
After two dreadful seasons, Alex Tanguay rebounded in 2010-11 with a 69-point effort for the Calgary Flames, and was rewarded with a big pay day this offseason.
Though Tanguay was one of the Flames' better forwards this past season, it doesn't appear to make sense for Calgary to lock the inconsistent winger up for five seasons, especially considering he failed to break the 40-point barrier just a year ago in Tampa Bay.
If Tanguay continues to produce 60-70 points a season, his cap hit of $3.5 million is a fair deal for both parties.
If he fails to continue to score at that pace, Calgary will be stuck with another expensive, long-term contract that will handcuff the team with regards to the salary cap.
Verdict: Fair deal, but the term is too long

11. Erik Cole: Montreal Canadiens, $18 Million over 4 Years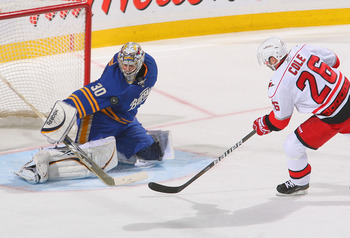 Rick Stewart/Getty Images
For the last two seasons, Montreal has featured an offense centered upon a group of skilled but pint-sized forwards, so the Canadiens set out to add size to their attack this offseason.
They accomplished that to some degree by signing 6'2" winger Erik Cole to a four-year deal, though his annual cap hit of $4.5 million is simply too high for a player who has hit 50 points just once in his last three seasons.
Cole has also demonstrated that he's most successful in Carolina, so it's unclear what kind of numbers he'll put up after leaving Raleigh for the second time in his career.
A speed demon, Cole has the potential to be a 25-goal, 55-point man for the Canadiens, but he's also relatively injury prone, so this deal is a high-risk, high-reward proposition for Montreal.
Verdict: Overpaid
10. Tomas Fleischmann: Florida Panthers, $18 Million over 4 Years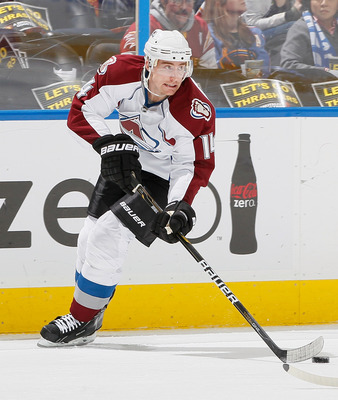 Kevin C. Cox/Getty Images
Going into the offseason, Tomas Fleischmann was regarded as one of the more coveted wingers available on the free agent market as he was just one season removed from tallying 23 goals and 51 points with the Washington Capitals.
However, Fleischmann missed the final 32 games of the 2010-11 season after being diagnosed with pulmonary emboli, so his health isn't exactly a guarantee going forward.
When he was healthy last season he put up solid numbers, scoring 21 points in 22 games following his trade to Colorado, which is why Florida handed him a hefty contract in July.
What Fleischmann does bring to the Panthers is a skilled set of hands and good speed, both of which will be welcome additions to a Florida lineup that lacks top-end talent.
Unfortunately, paying $4.5 million a season to a player who has had one solid NHL campaign isn't justifiable, especially when those 51 points came when he was on the best regular season team in the league that year.
If Fleischmann can stay healthy and continue to score at the rate he did following his trade to the Avalanche last year, the Panthers will look back on this deal fondly. If not, it'll be a long four seasons for General Manager Dale Tallon.
Verdict: Overpaid; he's simply too injury prone for a long-term contract with a $4.5 million cap hit
9. Andrei Markov: Montreal Canadiens, $17.25 Million over 3 Years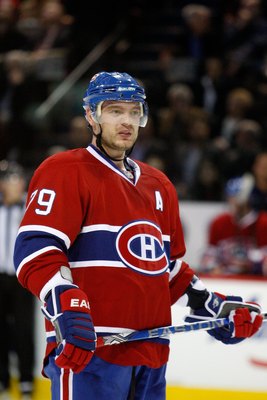 Richard Wolowicz/Getty Images
The Montreal Canadiens' top priority heading into the offseason was to lock up top defenseman Andrei Markov to an extension, or face losing him for nothing on the Free Agent market.
With just days to go before unrestricted free agency opened on July 1st, the Canadiens inked Markov to a three-year deal worth $5.75 million annually.
According to CapGeek.com, Markov's cap hit is the 11th highest in the league among defenseman, which appears to be justifiable from Montreal's perspective.
When healthy, Markov is among the best offensive blue-liners in the game, and is by far the most reliable out of anyone on Montreal's back end.
However, staying healthy has been a major problem for the talented Russian, as he missed the 2011 playoffs completely and has played in just 52 regular season games since being injured in the 2009-10 season opener.
If he can stay out of the trainer's room, Markov's contract makes a lot of sense for the Canadiens, as they get an elite NHL defenseman at an affordable cap hit.
Verdict: Underpaid, unless Markov's injury problems continue

8. Kevin Bieksa: Vancouver Canucks, $23 Million over 5 Years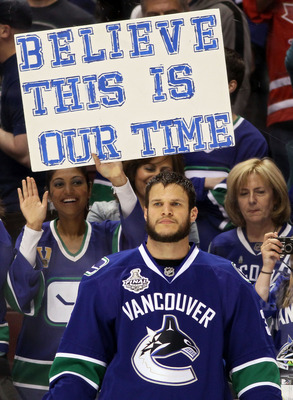 Elsa/Getty Images
After playing a key role in the Vancouver Canucks march to the Stanley Cup Finals, Kevin Bieksa was rewarded with a five-year deal worth $23 million.
Bieksa was fantastic during the playoffs, leading all defenseman with five goals, including the double-overtime winner against San Jose to send Vancouver to the Finals. However, his regular season performances haven't been nearly as good for the most part.
A year ago, many believed Bieksa would be the odd man out on a stacked Canucks defense corps. Though he proved those doubters wrong, it seems that the Canucks gave the rugged rearguard a year or two too many on this deal.
At 30, Bieksa certainly could have five good seasons left in him, though his physical style of play could take a toll on his body. Ultimately, the Canucks couldn't afford to lose more than one of their UFA defensemen after Christian Ehrhoff left for Buffalo, so they were forced to overpay for the services of Bieksa.
He'll be a top-four defenseman for at least the next three seasons, but he's making top-pairing money with a cap hit of $4.6 million.
Verdict: Overpaid

7. Keith Yandle: Phoenix Coyotes, $26.25 Million over 5 Years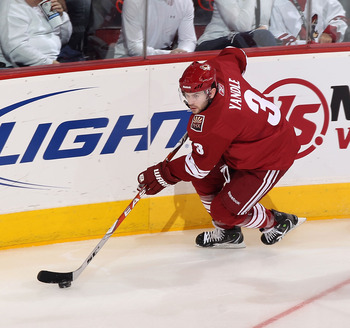 Christian Petersen/Getty Images
By the end of the 2010-11 season, Keith Yandle had cemented his status as the Phoenix Coyotes' rock on the back end, and GM Don Maloney knew the team couldn't afford to lose a player of his calibre to free agency.
Though the Coyotes' unstable ownership situation has forced the team to be hesitant to sign players to long-term deals, the contract they agreed upon with Yandle is high on value.
Yandle has emerged as one of the best offensive defensemen in the league, and the 24-year-old is only going into his fourth full season at the NHL level.
After a 59-point season in 2010-11, Yandle would have commanded upward of $6 million a year on the open market, but he got close to his maximum by staying with Phoenix.
Verdict: Fair

6. Brooks Laich: Washington Capitals, $27 Million over 6 Seasons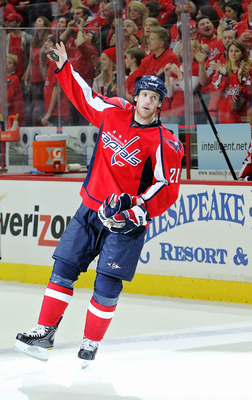 Len Redkoles/Getty Images
Getting Brooks Laich's signature on a contract extension was a top priority for the Washington Capitals going into the offseason, which is why they gave him a six-year deal worth $27 million.
Laich, a fan favorite in Washington, is a very important player for the Capitals, as he does anything and everything the team asks of him.
Offensively, he's going to be a 50-60 point guy every season, but his contributions to the team go far beyond the score-sheet and the Capitals recognized that with this contract.
Laich plays both penalty kill and power play, and is a role model for his younger teammates. Washington couldn't afford to see this guy go elsewhere.
The Capitals needed to keep Laich, and while it doesn't appear the gritty Saskatchewan native gave the team much of a hometown discount, a cap hit of $4.5 million isn't terribly overpriced for a player of Laich's nature.
Verdict: Fair

5. Ville Leino: Buffalo Sabres, $27 Million over 6 Years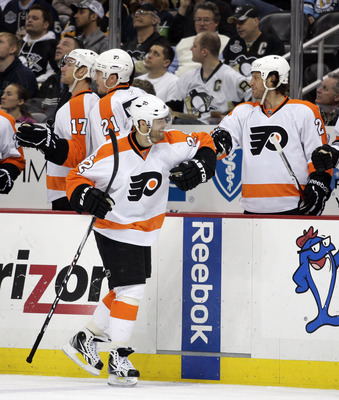 Justin K. Aller/Getty Images
New owner Terry Pegula vowed that the Buffalo Sabres would be players on the free agent market in 2011 and he followed through by signing Ville Leino to a rich six-year deal.
Leino is a responsible two-way forward with good skill, and is coming off a breakout season that saw him put up 53 points for the Philadelphia Flyers. He also set the Flyers' franchise record for points by a rookie in the 2010 Stanley Cup Playoffs, scoring 21 points during Philadelphia's march to the 2010 Finals.
With that being said, $27 million is a lot to invest in a player who has had one good season thus far. Leino will likely be a top nine forward for the duration of his career in Buffalo, but paying $4.5 million for a relatively unproven player is questionable.
He may end up becoming a 60-70 point scorer, but at this point it appears that Buffalo was simply the highest bidder in the Leino sweepstakes.
Verdict: Slightly overpaid

4. James Wisniewski: Columbus Blue Jackets, $33 Million over 6 Years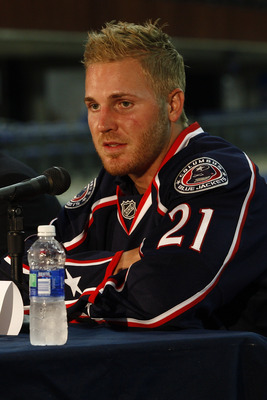 John Grieshop/Getty Images
The Columbus Blue Jackets' most pressing need—after having filled the role of number one center with the Jeff Carter trade—was a top-pairing defenseman.
They did their best to address that by signing James Wisniewski to a six-year contract, but they were forced to pay a steep price to do so.
Columbus isn't exactly the top choice for most UFA's, but like most players, Wisniewski has a price he can be bought at.
Columbus will have Wisniewski's $5.5 million cap hit for the next six years, and he hasn't exactly proven he's a first pairing rearguard, especially on a playoff team.
Wisniewski had a career-high 51 points last year, but his previous best was 30. If he wants to make this deal justifiable for Columbus, he'll have to be even better than he was last year for the Islanders and Canadiens.
Verdict: Overpaid, as of now

3. Christian Ehrhoff: Buffalo Sabres, $40 Million over 10 Seasons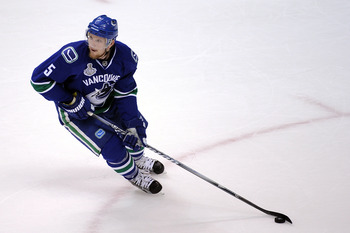 Harry How/Getty Images
After the Vancouver Canucks lost the 2011 Stanley Cup Finals in dramatic fashion, they were forced to decide upon which of their three UFA defensemen would be leaving via the open market on July 1st.
By signing Kevin Bieksa to a rich, long-term contract, it became evident that the team would not be able to re-sign Christian Ehrhoff. So, the 29-year-old rearguard signed a 10-year deal with Buffalo that will pay him $40 million over that span.
Ehrhoff has solidified himself as a legitimate top-four defenseman on a good team, let alone a middle-of-the-pack contender like Buffalo, so a cap hit of $4 million is more than reasonable.
He's tallied 42 or more points in each of the last three seasons, including 50 last year. He's a contributor at both ends of the rink, which is important to a team that struggles to score like the Sabres.
The German has missed a total of 13 games during the last four seasons, so his track record suggests he'll be durable, which has to be taken into consideration when handing out a 10-year deal.
While $40 million is a lot to give anyone, especially a defenseman whose never made an All-Star Game, Ehrhoff is well worth a $4 million cap hit, and he likely could have made more somewhere else, at least in the short term.
Verdict: Underpaid, only because his cap hit is relatively low
2. Ilya Bryzgalov: Philadelphia Flyers, $51 Million over 9 Years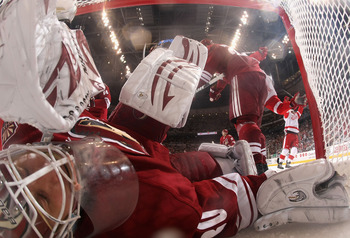 Christian Petersen/Getty Images
In the days leading up to the Flyers' announcement of their signing of Ilya Bryzgalov, Philadelphia's front office shocked the NHL by trading arguably their two best forwards to Western Conference teams in order to free up enough cap space to sign their newly acquired restricted free agent goaltender.
Ultimately, the Flyers inked Bryzgalov to a nine-year $51 million deal, giving them their first All-Star calibre goaltender of the last decade.
The issue is, as good as Bryzgalov has been in Phoenix, he's 31 years old, so according to his deal, he'll be accounting for a cap hit of $5.7 million until he's 40.
While he was a second team All-Star a year ago, the Russian netminder has been shaky during the postseason, which is the time of year that Flyers goaltenders typically fall apart.
Unless he gets better in the playoffs, and helps the Flyers replace their star forwards with show-stopping goaltending, this contract could handcuff GM Paul Holmgren for quite some time.
Verdict: Overpaid

1. Brad Richards: New York Rangers, $60 Million over 9 Years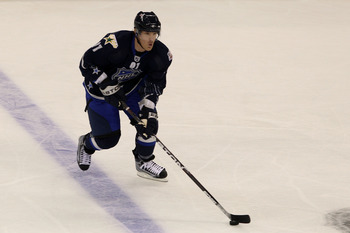 Bruce Bennett/Getty Images
Since the Scott Gomez experiment failed for the Rangers, GM Glen Sather has been on a quest to acquire a bona fide first line center to play with overpaid but sublimely talented winger Marian Gaborik.
He finally succeeded this summer, by signing Brad Richards to a nine-year deal that carries a cap hit of $6.67 million a season.
While it's a long deal for a 31-year-old center, Richards was easily the best player on the market this year, and this move addresses the Rangers' biggest need.
Richards is a perfect fit in New York, as he had a good relationship with head coach John Tortorella when the two won a Stanley Cup together in Tampa Bay in 2004—not to mention the fact that Richards won the Conn Smythe under 'Torts that spring.
Most superstar forwards in the league make more than $6 million a season. Richards has the 21st highest cap hit among all NHL forwards and many don't produce the same offensive numbers that he does.
While his actual salary for this season will be a whopping $12 million, the Rangers could be a Cup contender if Richards can duplicate his 91-point effort from a season ago.
After a solid 2010-11 season that saw the Prince Edward Island native notch 77 points in 72 games, I believe he earned this contract.
He could have made even more by going somewhere else, such as Toronto, but playing for a coach he's had chemistry with in the past meant more to him.
Verdict: Fair. He could have signed a slightly richer deal somewhere else, but anything more than $7 million would be overpaying

Keep Reading