NHL Predictions: The 16 Postseason Teams of 2011-12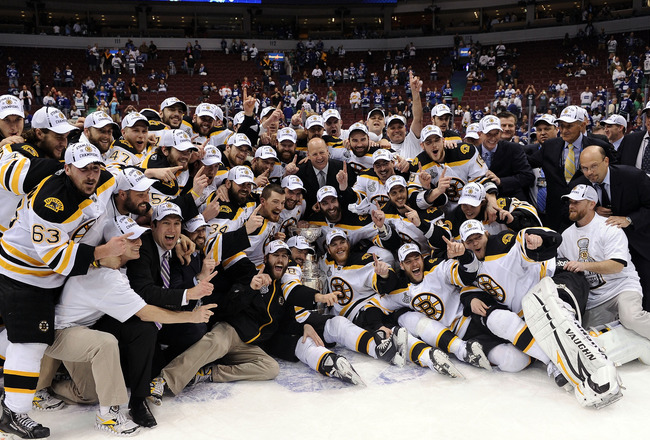 Harry How/Getty Images
The NHL postseason is the finest tournament in professional sports.
No game or group of athletes can hold a candle to the two-month war of attrition that is the Stanley Cup Playoffs. It is one of if not the most demanding competitions of the big four North American sports.
Getting there is no picnic either.
With an 82-game season, the league has ample opportunity to shake the unworthy hangers-on from the upper branches of the playoff tree. While there is room for great upsets, there are no great flukes.
The season is long, and injuries can turn a good team upside down. Predicting playoff teams at this point is a bit of a stretch.
So let's throw darts in a dark room, shall we?
The 16 playoff teams of the 2011-12 NHL season, at the jump:
Eastern Conference Near-Misses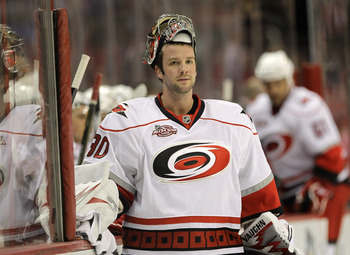 Rob Carr/Getty Images
Last season, the New York Rangers sneaked into the postseason after the Carolina Hurricanes were pasted in their final game by the Tampa Bay Lightning.
In 2010, the Rangers came up short on the season's final day with a shootout loss to the Philadelphia Flyers, who advanced to game six of the Stanley Cup Finals.
If the league lucks out once again, there will be another photo-finish for the final spots in the Eastern Conference playoff bracket.
Unfortunately, there will always be those teams who come up short.
Among them will be the Carolina Hurricanes, Montreal Canadiens and New Jersey Devils.
New Jersey seems unlikely to suffer another rash of injuries commensurate to the one they saw last year, and one must figure new coach Pete DeBoer will be an upgrade over last year's opening day bench boss John MacLean. Even with a healthy Zach Parise, Anton Volchenkov and a focused Ilya Kovalchuk, the Devils still haven't figured out how to play post-lockout hockey. They'll come up short again.
As will the Carolina Hurricanes. While the Canes are an entertaining watch, they fell short of addressing their defensive needs again this offseason. Tomas Kaberle is a good acquisition, but only good. The team ranked in the bottom-third of the league in goals allowed and shots against last season, and the high-octane offense, though entertaining, won't be able to compensate for it.
The Montreal Canadiens also seem due for a down season. The Canadiens have only limped into the postseason the last two years (as sixth and eighth seeds in 2011 and 2010, respectively), and did very little to improve their situation this summer.
While PK Subban and Carey Price will remain studs in the Montreal lineup, they seem due for a letdown. Any run of serious injuries to key players has the ability to derail their season (Carey Price chief among those key players).
8. Toronto Maple Leafs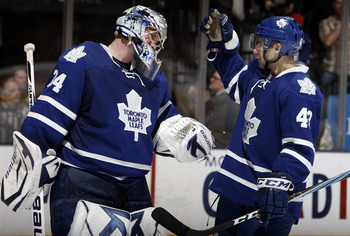 Abelimages/Getty Images
It seems like Toronto deserves this one.
General Manager Brian Burke has begun rebuilding the team in his signature fashion, and the Leafs finally seem to have a competitor heading into the season.
Up front, Joe Colborne, Matthew Lombardi and Joffrey Lupul will be good additions for the duration of the season. John-Michael Liles and Cody Franson will shore up the defensive corps, and if Dion Phanuef continues the renaissance he began late last year, Toronto's top-four will be much improved, something they'll need to keep up with Boston and Buffalo in the Northeast.
In goal, James Reimer will have to show he can shoulder the load for 60-70 games, but fans in Toronto are hopeful.
With about five million in cap space to work with, expect Burke to make moves at the trade deadline, should the team find themselves in contention at that point.
The pieces are in place for the Leafs to finally make the leap to the postseason.
7. Philadelphia Flyers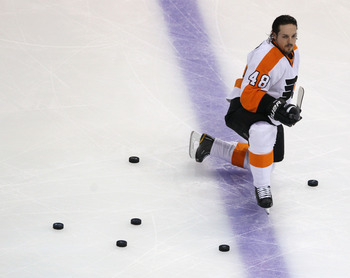 Bruce Bennett/Getty Images
In hockey's best division, replacing two superstars with a more balanced cast is going to take time.
Ilya Bryzgalov, Brayden Schenn and Jakub Voracek are potentially huge additions, depth signings Wayne Simmonds and Max Talbot cannot be underrated (even if they are overpaid) and 2011 first round pick Sean Couturier will be an impact player in the future.
Still, this is a team that lost Jeff Carter, Mike Richards, Ville Leino, Dan Carcillo, Sean O'Donnell, Darrol Powe, Kris Versteeg, Nikolay Zherdev and Brian Boucher from a year ago—nine regulars gone, for whatever pull they bring in return, is a lot to make up for.
There is going to be a feeling out process with this team from the beginning. Uncertainty has to loom over whether James van Riemsdyk and Claude Giroux are ready to play like franchise players (meaning they'll face opponents' best defensive pairs regularly), and Chris Pronger's spotty health of late will be the biggest variable heading into the season.
Early growing pains will probably give way to a hot streak down the stretch. Even as the seventh seed, Philadelphia will be dangerous in the postseason.
6. Tampa Bay Lightning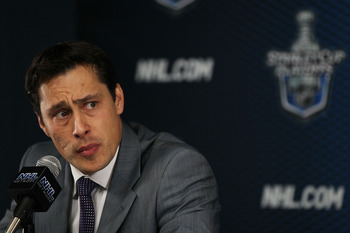 Elsa/Getty Images
Tampa Bay is going to be a very good playoff team once again.
Steven Stamkos is signed for the next five years, Guy Boucher will be behind the bench once again and the goaltending, on paper, is stronger than at the outset of last season. Dwayne Roloson's age and workload will be worth keeping an eye on, though.
Sean Bergenheim's loss will be felt along the third and fourth lines. An afterthought much of the year, Bergenheim broke out in a big way in the postseason.
Questions linger on the blueline. Eric Brewer will be nice to have for the duration of the season, and Victor Hedman should continue developing into a stud blueliner.
On paper, Tampa Bay doesn't look very dangerous beyond its first two lines, which include offensive powerhouses Martin St. Louis, Vincent Lecavalier and Stamkos.
Still, regular season domination doesn't seem like the goal for last year's unlikely Conference Finals players. Guy Boucher appears to be the kind of coach who knows when to push his team's buttons—namely, April and May.
5. Buffalo Sabres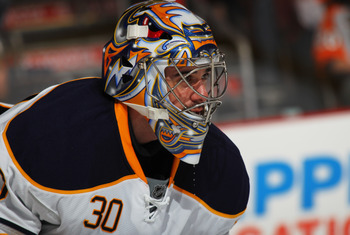 Bruce Bennett/Getty Images
The additions made under the wallet of new owner Terry Pegula were good, but not groundbreaking.
Christian Ehrhoff and Ville Leino are good acquisitions, and the biggest catch may be getting a healthy Derek Roy back into the lineup this season.
The Sabres also did well in re-signing 30-goal man Drew Stafford, backup goaltender Jhonas Enroth and other Buffalo incumbents, even if it has put them $3.5 million over the salary cap as of now (a salary dump should be upcoming before the opening of training camp.)
However, none of the acquisitions the Buffalo Sabres made were championship-caliber.
Ehrhoff is a good get, but was vastly overpaid for. The same goes for Ville Leino, who has never been anything but a complimentary player in his time with Detroit and Philadelphia.
It sounds strange, but Buffalo may have picked the wrong offseason to open their wallets to free agency.
In any event, Buffalo will be back to the postseason, and likely in stronger position than a year ago. Boston, Toronto and Montreal will present tough divisional competition, but the Sabres don't seem poised for an early-season letdown like they experienced last season.
4. New York Rangers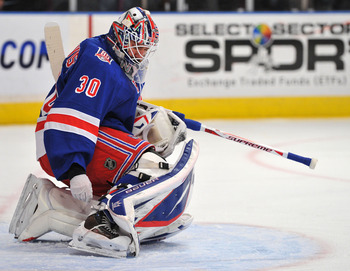 Christopher Pasatieri/Getty Images
The big fish of this summer's limp free agent class landed in New York. Brad Richards signed a monster deal with the Rangers this offseason, the team many assumed would acquire the former Dallas center even at last year's trade deadline.
Richards is a big-time player, and his own production might be overshadowed by the effect some expect he'll impart on winger Marian Gaborik, who will no longer be expected to shoulder the offensive load alone.
More important than the Richards acquisition, though, was the team's ability to re-sign some of their emerging star forwards. Brandon Dubinsky, Ryan Callahan and Brian Boyle each re-upped with the blueshirts this summer, and stud defensemen Marc Staal and Dan Girardi will also be with the team for the forseeable future.
Provided he can stay healthy behind a renewed lineup, backup goaltender Martin Biron could also help take some of the load off starter Henrik Lundqvist, who routinely lands at the top of the league in terms of games played.
Vancouver and Boston both proved how important a good goaltending tandem is to keeping the starter fresh for the postseason.
The Brad Richards acquisition was only one of a sequence of moves to improve the Rangers this offseason. Locking up their emerging young forwards will do more for the team's development, and Henrik Lundqvist is a good bet to sniff the Vezina again this season.
3. Boston Bruins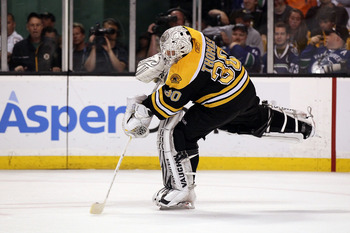 Elsa/Getty Images
Boston, like Tampa Bay, is a team built for the playoffs.
Though the Bruins took the conference's first seed in 2008-09, they haven't finished that high in the two seasons since, despite winning the Stanley Cup last season.
Boston's game is physical, defensive and highly dependent upon the team's MVP goaltender, Tim Thomas.
The Bruins finished second in the league in goals against last season, a product of a stout defensive system led by Zdeno Chara and backstopped by Thomas. With little turnover on the blueline but the loss of deadline-acquisition Tomas Kaberle and the addition of Joe Corvo, Boston is a good bet to finish in the top-three of the league in goals against once again.
Of course, their success is welded to the health of Tim Thomas, who was hurt and ineffective in 2009-10. Backup Tuukka Rask is capable and of starter-caliber, but perhaps not championship-caliber. Thomas' health will again be paramount, and after the extended postseason run, expect him to get plenty of rest this year.
Defense wins championships, as so amply demonstrated against Vancouver in the Cup finals (the Canucks led the league in regular season goal scoring and power play percentage in 2010-11). It's not the kind of high-flying attack that wins President's Trophies, but it's the kind that wins championships.
Expect Boston to stay level throughout the regular season, winning the Northeast in unspectacular fashion once again in preparation for another playoff run.
2. Pittsburgh Penguins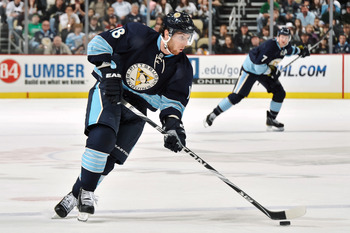 Jamie Sabau/Getty Images
Perhaps only San Jose and Boston can boast as deep a lineup as Pittsburgh, who anxiously awaits the return of Sidney Crosby and Evgeni Malkin to a lineup that earned the franchises' second-best regular season finish in 2010-11 despite nearly 400 man-games lost to injury.
Unlike the club that lost to Tampa Bay in the first round of last year's playoffs, the Penguins will be replacing Alex Kovalev, Mike Rupp, Max Talbot and Chris Conner with Crosby, Malkin, Steve Sullivan and Matt Cooke.
Even if Crosby remains injured to start the season, the simple addition of Malkin and Sullivan to the lineup should present enough scoring prowess to help ease the loss, as well as potentially jumpstarting James Neal, who failed to produce alongside rookie Mark Letestu and the aging Kovalev last year.
The defensive corps is likely to remain unchanged, the only possible new face being super-prospect Simon Despres. Despres impressed at last year's camp and is certain to push for a roster spot this year. How Ben Lovejoy and Matt Niskanen fare in the early going, given their ugly series against Tampa Bay, will determine Despres' status.
Goaltender Marc-Andre Fleury also enjoyed his best season in 2010-11 even after enduring a horrid start. With the defense solidified and the blueline systems remaining consistent, he should enjoy an even bigger year in 2011-12.
Once again, the only thing standing between the Penguins and a deep playoff run is the uncertainty surrounding the health of their captain.
1. Washington Capitals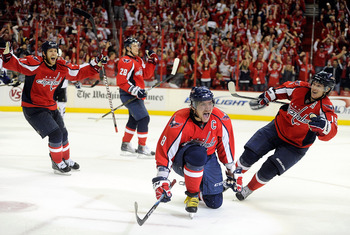 Greg Fiume/Getty Images
A best-ever supporting cast under captain Alex Ovechkin should help this team to another first seed.
Offseason acquisitions Joel Ward, Troy Brouwer, Roman Hamrlik and Tomas Vokoun, as well as the trade that brought first- and second-round picks for goaltender Semyon Varlamov, have led many to call General Manager George McPhee the biggest winner of the 2011 offseason.
Don't forget that the Capitals also managed to lock up character forward Brooks Laich with a six-year deal.
In the southeast, the Capitals will still get to beat up on a couple of patsies in Winnipeg and Florida, even though Florida appears to have improved itself immensely this offseason.
The depth signings should be crucial in the playoffs. Washington has proven that it can win and win often in the regular season, but the lack of playoff success in spite of regular season domination has earned the Caps the 'San Jose East' distinction.
This is the best lineup the club has fielded, on paper, in the Alex Ovechkin era. Head Coach Bruce Boudreau's challenge now is to make it all work. 2011's second-round sweep at the hands of Tampa Bay and the enlightening HBO 24/7 series illustrated how tenuous his grasp on the locker room can be.
If the Caps are in any way struggling at the midpoint of the season, expect the Boudreau era to come to an end. Eastern Conference opponents should hope that he'll stick around. Dan Bylsma (2009) and Peter Laviolette (2010) showed what an injection of new leadership can do to a talented team trying to get over the hump.
Western Conference Near-Misses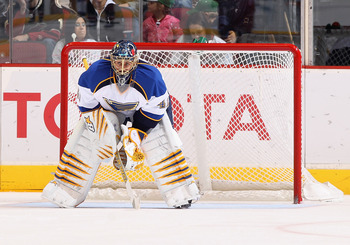 Christian Petersen/Getty Images
Last season, the race in the West came down to the final days of the regular season.
With just a few weeks to go, fewer than ten points separated fifth place from 12th. While the West isn't likely to be as competitive again this season (there was an exodus of talent from the West to the East this summer), there will still be a few teams who will just miss out on the playoff dance.
St. Louis will come up short again, though they always seem to be on the cusp of breaking in. Jaroslav Halak is an established starter now and should do well if the team in front of him stays healthy—but, health has been the problem for the Blues.
David Perron isn't likely to begin the season, thanks to the Joe Thornton hit that left him concussed. While Jamie Langenbrunner and Jason Arnott are good locker room acquisitions, they might be too far past their primes to carry this team, if that's what the season demands. With the buzzsaw that is the Central Division, St. Louis will likely miss out again.
So, too, will the Calgary Flames and Columbus Blue Jackets. Though the Jackets improved with the acquisitions of James Wisniewski, Jeff Carter and Vinny Prospal, they still aren't deep enough to keep up with the rest of the Central. Calgary came close a year ago, but age (only Detroit fielded an older roster last year) will likely prevent them from reaching the postseason in 2012.
8. Nashville Predators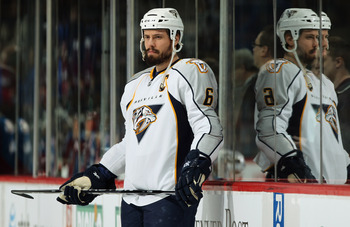 Doug Pensinger/Getty Images
In spite of advancing to the furthest point of the postseason in franchise history this spring, the Predators seemed content to spend next to nothing to keep their big names around.
The failure to sign Shea Weber to a real contract extension was colossal.
Not only did Weber win a staggering $7.5 million in arbitration, but the ruling puts a big dent in their chances to re-sign him after the coming season—if not for the fact that the arbitration deal might have priced him out of their range, then for the idea that the team isn't willing to open the checkbooks for one of hockey's best young defensemen.
Stinginess is good when building through the draft. When the team takes steps toward postseason contention, the building process is over—it becomes time to pay for the talent.
Nashville still has almost $16 million in cap space and just 21 men on the roster, but the stubbornness in signing or re-signing established players is going to begin to hurt this team (the trade that sent Cody Franson and Matthew Lombardi to Toronto is still a head-scratcher).
One more year of Weber, Ryan Suter and Pekka Rinne will get them into the dance, but unless ownership opens the wallets, the Predators are heading back to the fringes of hockey's sunbelt obscurity.
7. Edmonton Oilers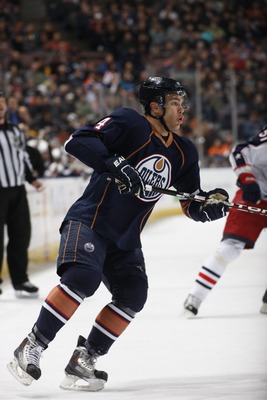 Dale MacMillan/Getty Images
Youth movements are hard to predict. In Edmonton, the pieces are beginning to fall into place and the team has the look of an exciting young upstart in the coming season.
Several years of ineptitude have resulted in a number of first-overall draft picks. This year's roster includes Taylor Hall, Jordan Eberle, Magnus Paajarvi-Svensson, recent acquisition Cam Barker and perhaps Ryan Nugent-Hopkins.
Ryan Smyth is a good leadership option and should help the youngsters along, and Nikolai Khabibulin, if healthy, gives the team a legitimate starter in net.
Getting the Oilers back into the playoffs in no way makes them a contender. Teams which stock up on high picks tend to find their scoring touch well before any sort of playoff-caliber defense, and Edmonton's defense will remain a sore spot.
However, the Oilers have precedent for a surprise playoff appearance. The 2006-07 Penguins made their way into the postseason after years of draft stockpiling and some growing pains, and the 2007-08 Flyers went from last in the East in 2006-07 to reaching the conference finals the next year, where they lost to the Penguins in five games.
Edmonton, then? Why not. The Northwest is soft enough to make it happen, and there is a blueprint for the young Oilers to follow.
6. Anaheim Ducks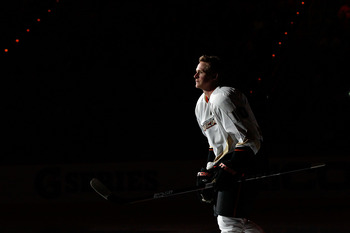 Kevin C. Cox/Getty Images
The Ducks have the best first line in hockey, including last year's Rocket Richard and Hart Trophy winner, Corey Perry.
They don't quite have the makeup of a Cup favorite, but there is still room to improve on that. The Ducks have only 19 players signed to one-way contracts and nearly $12 million in cap space. While Teemu Selanne will occupy one of those potential spots until he makes his decision to return or retire, the Ducks will at least have room to fill out their roster with some good depth players.
At the top, the Ducks have hockey's best line, comprised of Perry, Ryan Getzlaf and Bobby Ryan. Saku Koivu and Jason Blake provide nice depth along the second line, and if Selanne re-signs, the power play will again be amongst the best in hockey.
On defense, Cam Fowler, Francois Beauchemin and Lubomir Visnovsky provide a good top three, though the unit is still nowhere near it's 2007 iteration, which included Chris Pronger, Scott Neidermayer and others.
Even if Selanne doesn't return, it will be more important for the Ducks to regain the services of goaltender Jonas Hiller, who carried the team early last year before the offense came alive in his absence. It was Hiller who almost helped Anaheim steal a playoff series from Detroit in the 2009 playoffs, and had he been healthy for the Nashville series in 2011, the Ducks might have had a deeper playoff run.
Los Angeles and San Jose have improved within the Pacific, but Dallas and Phoenix have faltered. The West will be tough again, but Hiller's health, not the competition, will be the biggest key to Anaheim's success in 2011-12.
5. Detroit Red Wings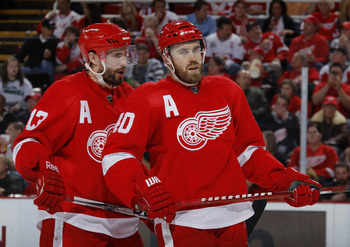 Gregory Shamus/Getty Images
Age and an inability to stay healthy have hampered Detroit in the seasons since their consecutive trips to the finals in 2007-08 and 2008-09, but they'll again be good enough to challenge for the Central Division title.
The loss of Brian Rafalski to retirement is a big one. Ian White and Mike Commodore will be useful as replacements, but not prolific. However, Nicklas Lidstrom, Niklas Kronwall, Jonathan Ericsson and Brad Stuart are all with the team for at least one more year.
While Detroit struggled to prevent goals a year ago, their offense was among the league's best.
Pavel Datsyuk, Henrik Zetterberg, Johan Franzen, Dan Cleary, Tomas Holmstrom and Todd Bertuzzi will man the top-two lines again, and Patrick Eaves and Drew Miller each re-signed over the summer to maintain familiarity along the checking lines.
Jimmy Howard has proven himself a capable starting goaltender, and Ty Conklin's return should help Detroit platoon the position whenever they see fit (return to Boston and Vancouver to show the importance of rest for a starter).
Detroit seems to be competitive no matter what. If they can keep their starters on the ice and off the trainer's table, they'll likely finish in second or first, as opposed to fifth. However, they've been unable to stay healthy for two straight seasons, and age is becoming a factor.
The Red Wings will be fine on way or another. Health, though, will be key.
4. Los Angeles Kings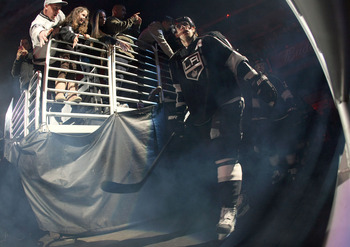 Victor Decolongon/Getty Images
Los Angeles has lost out on every high-priced free agent they've pursued over the past few years. They couldn't offer Ilya Kovalchuk enough money or term to lure him away from New Jersey, and they were rumored to be in on Brad Richards this summer.
Even though they haven't made the cannonball-splash they've tried for, the Kings have quietly assembled a contender in the Pacific.
Kopitar and Richards make a nasty one-two punch as the team's top centers, and wingers Dustin Penner, Justin Williams, Simon Gagne and Dustin Brown round out what may be the best top-two lines in the Western Conference.
Jack Johnson, Willie Mitchell and Rob Scuderi round out an excellent defensive corps, one that will improve even more if restricted free agent Drew Doughty ever re-signs.
The Kings got burned on the trade that sent Ryan Smyth to Edmonton for the injured Colin Fraser, something the team is still unhappy about. However, they have 21 players signed and almost $10 million in cap space remaining.
If Doughty re-signs, it's certain he will command at least half of the team's remaining space. However, locking him up makes the Kings one of the best teams in the West. Expect them to remain tight with San Jose until season's end.
3. Chicago Blackhawks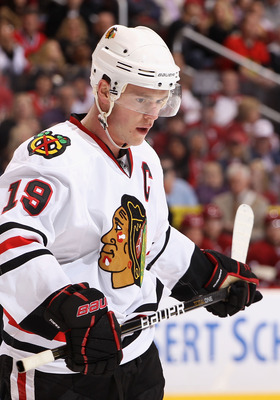 Christian Petersen/Getty Images
After going from Cup winners to eighth seed a year ago, the Blackhawks almost turned in one of the greatest postseason upsets in NHL history.
However, the series with Vancouver wasn't indicative of Chicago's season as a whole. After suffering the exodus of talent following their Cup, the Blackhawks struggled to rediscover a groove.
A full season removed from the title, the Hawks were able to offload some bloated contracts (Brian Campbell) and acquire some badly-needed grit (Dan Carcillo, Sean O'Donnell) this offseason.
The team's stars remain among the most dangerous in the game. Jonathan Toews is one of hockey's best captains, young or old. His performance in game seven of the Vancouver series was exceptional, and would have been all-time Chicago great had the Blackhawks pulled out the win.
The same goes for goaltender Corey Crawford, who came out in a big way in the Vancouver series. Three straight wins and a stellar game seven performance solidified him as the starter.
Where he struggled as a rookie last year (veteran Marty Turco also had troubles), Crawford figures to have a much better full season in 2011-12.
With Patrick Sharp locked up and some cap room to work with (!), the Blackhawks should be able to shake off the rust of last year and remain strong players in the west.
2. Vancouver Canucks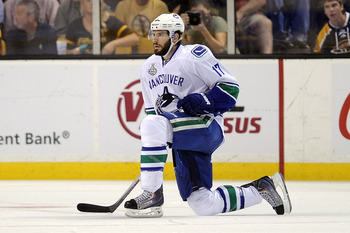 Harry How/Getty Images
Aside from Christian Ehrhoff, Vancouver only lost a few complimentary pieces from their President's Trophy squad of 2010-11. With the Sedin twins, Ryan Kesler, Alex Burrows, Dan Hamhuis, Kevin Bieksa and Roberto Luongo returning, the Canucks will remain strong in the West.
Unlike last year, the Northwest won't be the Canucks' personal shooting range—not to the same laughable degree, at least. Edmonton figures to improve a good deal, and Calgary at least should be competitive. Colorado and Minnesota will still provide easy points, though, and no one poses any real challenge to the division title.
Vancouver has to be able to get past the potential Cup hangover, however. Pittsburgh, Philadelphia, Chicago and Detroit have all displayed Cup hangovers in the seasons following their finals appearances.
Kesler is already expected to miss the start of the season while recovering from hip surgery. The Canucks need only to stay level until he returns, and focus not on the President's Trophy, but a lengthy, grueling postseason run.
1. San Jose Sharks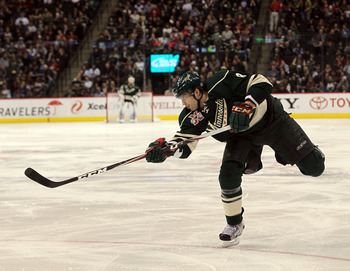 Bruce Bennett/Getty Images
San Jose has gone down in flames in consecutive conference finals. In the last two seasons, they are 1-8 in those games.
This summer, they may have finally found the pieces to put an end to those troubles. For the cost of Dany Heatley and Devin Setoguchi, the Sharks acquired a blue-chip defenseman in Brent Burns and a high-skill offensive talent in Martin Havlat.
San Jose also acquired free agents Michal Handzus, Colin White and Jim Vandermeer, helping round out their defensive depth.
All told, San Jose quietly, uncharacteristically had one of the best offseasons in hockey.
Burns (pictured) fills a gaping hole on the blue line, one left by the retired Rob Blake. Though San Jose managed to win the Pacific in his first year of retirement, the loss was felt in the Vancouver series. Burns is an ace of a young defenseman, and San Jose immediately signed him to an extension after acquiring him.
Martin Havlat, too, is a good get for the Sharks. While he may not have the raw talent of Dany Heatley, the departure of Heatley may be addition by subtraction. Heatley's production has declined in three straight years and he was a playoff ghost last spring.
Michal Handzus is an underrated acquisition, and will make the Sharks' lower lines more defensively sound. Logan Couture takes Setoguchi's spot as a developing young scorer.
Though Los Angeles became stronger and the Ducks figure to be a player in the West, the Pacific became much weaker with the losses of Ilya Bryzgalov and Brad Richards. Phoenix and Dallas won't present the competition they did a year ago and figure to become easy wins on the Sharks' calendar.
The trades with Minnesota were of the blockbuster variety, but it was the quiet acquisition of role players later in free agency that helped the Sharks' solidify their roster from top to bottom.
San Jose should walk with another one-seed in 2011-12, and perhaps another President's Trophy.
Keep Reading