Toronto Maple Leafs Playoff Chances: Has Brian Burke Done Enough?
August 16, 2011
Joel Auerbach/Getty Images
After examining the Toronto Maple Leafs' summer player transactions, I can't help but feel that there is a lot more that could have been done if the Leafs were to finally make the playoffs after a seven-year hiatus.
The addition of centre Tim Connolly was no doubt Brian Burke's initial answer to the missing top-line centre question. But Connolly is by no means a top-line centre. He may be a 10-point per season improvement over Tyler Bozak, sure, but he is not a Brad Richards by any stretch. The Leafs will start the upcoming season the same way they did last year—without a true top-line centre.
Still, Connolly has some upside. As a 10-year pro, he will bring some much-needed veteran experience to a young Leafs team. He should help on the power play and the penalty kill—two areas that the Leafs desperately need to improve. He can also be a creative playmaker, giving Phil Kessel a few more opportunities at goal.
That is, as long as he can stay healthy.
It's his ability to stay healthy that's the knock on Connolly. He is often injured and hasn't played 80 games since the 2002-2003 season. His point totals dipped last year after three straight years of improvement.
Most Leafs fans will be overjoyed with the departure of Bret (don't let the door hit you on the way out) Lebda and any replacement for him would most likely be met with cheers of joy. So the acquisition of Mathew Lombardi and Cody Franson from the Nashville Predators in exchange for Lebda and prospect Robert Slaney must be seen as a great move on Burke's part.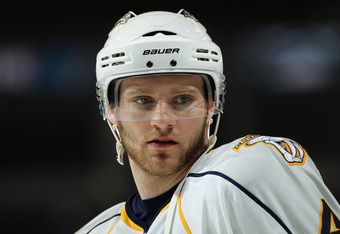 Doug Pensinger/Getty Images
Wait, Robert who?
So, yeah, The Trade was an outstanding win for Burke and the Leafs, especially now that we have learned that the Preds have bought out the remainder of Lebda's contract.
What were they thinking?
Of course, Lombardi comes to the Leafs as damaged goods as he is recovering from a very serious concussion he received in the second game of the season last year while with the Predators.
The real prize of that trade, outside of unloading Lebda, was the acquisition of Franson. He is a third year defensive player with a lot of potential who played solidly for the Predators for the past two seasons. He could be the Leafs No. 3 or No. 4 defenseman come opening day and the Leafs practically got him for free.
If Lombardi does ever suit up for the Leafs, that will be like the butter-cream icing on a very tasty Franson cake.
While that trade may be the best deal the Leafs have made in a long while, it still does not make Toronto a sure-fire playoff team. All in all, they seem only marginally better than last year. It looks like if any major improvement is to be forthcoming, it will have to come from the young lads as they grow into their positions and simply get better.
For the Leafs to make the big show at the end of this upcoming season, several things will need to fall into place.
James Reimer will have to expand on his half season success in goal from last year and extrapolate it into a full season without incurring any sophomore jinx. That may not be that easy as the book on Reimer will get around and the league will not be taken by surprise by James' prowess any more. Of course, James may also read that book and learn to compensate for his weaknesses.
The Mac-Russian line will have to perform at least as well as last year, perhaps even better. Any drop-off in production could translate into another long, fruitless season.
The first line will have to produce something recognizable as first line production, something easier said than done.
Finally, the penalty kill and power play must improve to at least a level of mediocrity.
If the song remains the same from now until opening day, I guess the starting lineup would look something like this:
First line: J. Lupul – T. Connolly – P. Kessel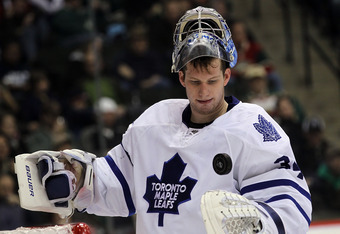 Bruce Bennett/Getty Images
Second line: N. Kulemin – M. Grabovski – C. MacArthur
Third line: N. Kadri – T. Bozak – C. Armstrong
Fourth line: M. Brown – D. Boyce – J. Crabb
Res: P. Dupuis – M. Lombardi – C. Orr
D1: D. Phaneuf, K. Aulie
D2: JM. Liles,  L. Schenn
D3: C. Gunnarsson, C. Franson
Res: M. Lashoff, M. Komisarek
Goal: J. Reimer, J. Gustavsson
That's a pretty straightforward lineup and given the lack of premiere acquisitions, I can't see the Leafs doing much better than last year. Perhaps it will be just enough to get them into the playoffs, but not much further.
All in all, however, this season should be an improvement over last and that is all you can really ask for in this day and age of salary caps and parity. If slow and steady wins the race, then the Leafs are, at least, headed for eventual glory.
Besides, who knows what other magic Burke will pull from his bag of tricks going forward. After that Lebda deal, I will never doubt Burke's ability to get value by trading away players who seem as useful as a bag of pucks.