The Latest Buzz Surrounding Each NHL Team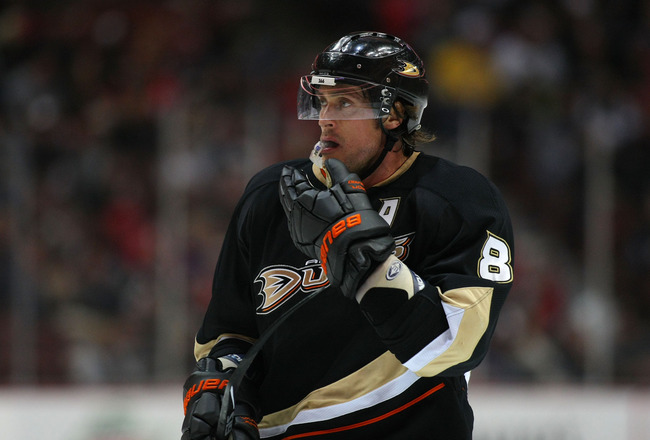 Victor Decolongon/Getty Images
When it comes to trade and free-agency rumors, there is no offseason. Despite being a month removed from the start of free agency, the market is still scattered with value at all positions.
Meanwhile, trade rumors are starting to pick up steam and as training camp approaches, we are starting to get a preliminary picture of which players could be available come the 2012 NHL trading deadline.
In this day and age, no team can stay completely under wraps for too long, so here is the latest buzz surrounding each team as we approach the start of another hockey season.
Anaheim Ducks: Teemu Selanne's Decision Coming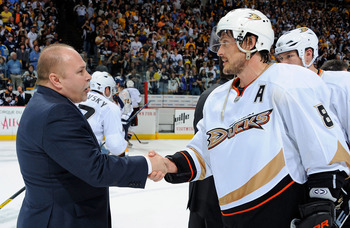 Frederick Breedon/Getty Images
Time is running out for Teemu Selanne to make a decision on his NHL future. The savvy veteran winger is currently a free agent, but if he decides to continue playing, there is little doubt that it will be for the the Anaheim Ducks.
Meanwhile, the Ducks reportedly have a plan b in place in case Selanne does decide to call it quits, according to the OC Registrar.
Boston Bruins: Team Focused on Brad Marchand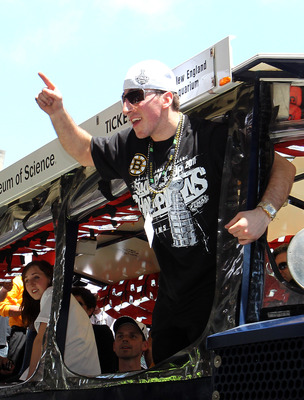 Jim Rogash/Getty Images
After winning the 2011 NHL Stanley Cup, the Boston Bruins have been more focused on damage control and taking care of their own than they have been on pursuing outside help.
The most valuable free agent on the roster still remains unsigned, though. Brad Marchand and the Boston Bruins are in contract talks, and while both sides appear to be confident a resolution will be reached, both sides have been quiet lately.
Buffalo Sabres: Tyler Myers the Next Priority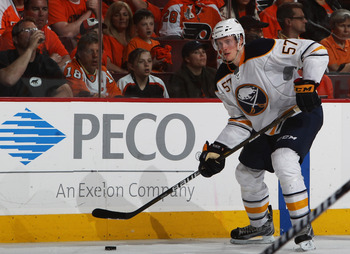 Bruce Bennett/Getty Images
The Buffalo Sabres are pretty much set for training camp with very little cap space left to make any additional moves. Now The Buffalo News is suggesting that Tyler Myers will be the team's next priority.
Myers is emerging as one of the bright young blueliners in the NHL today and will become a restricted free agent next offseason. It may be best to get going on a contract now before Myers takes another step forward this season.
Calgary Flames: More Moves Coming in Calgary
Bruce Bennett/Getty Images
Jay Feaster has been faced with a rebuilding project as general manager of the Calgary Flames, and it is not an easy one. The Flames have a roster that can make an outside push at the postseason as they showed last season, but Calgary is far from a Stanley Cup contender.
Feaster is not done making moves, but may have to wait until the trading deadline to unload some of the team's overpriced contracts.
Carolina Hurricanes: 'Canes Stay Soft on the Blue Line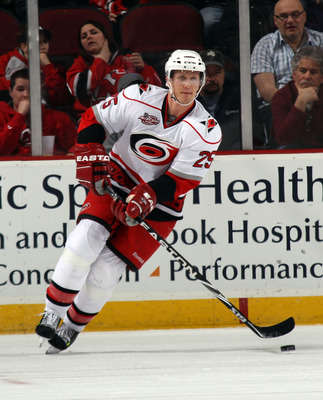 Bruce Bennett/Getty Images
I have long said that the Carolina Hurricanes needed to toughen up their roster, specifically on the blue line. Well, this offseason they did not do much to quell my concern.
The 'Canes overpaid for Tomas Kaberle, who is the same type of defenseman as Joni Pitkanen and others, which does not add much of a spark to the team's back end.
Chicago Blackhawks: Sharp, Emery and Kane Make Headlines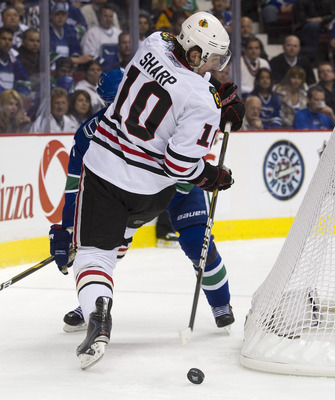 Rich Lam/Getty Images
The Chicago Blackhawks had a busy second half of July and early part of August. The club first learned that Patrick Kane would be out 6-8 weeks, likely just in time for the start of training camp. Then the club invited goaltender Ray Emery in for a tryout and re-signed Patrick Sharp.
Don't look now, but the Hawks are gearing up for another deep postseason run.
Colorado Avalanche: The Avs Are Still Below the Cap Floor
Nick Laham/Getty Images
The Colorado Avalanche have signed both of their first-round draft picks to entry level contracts, but the team is still below the league imposed cap floor for the upcoming season.
Thus, the Avs will be a speculated trade partner for many teams looking to shed some salary as the season approaches.
Columbus Blue Jackets: New-Look Jackets Ready for Action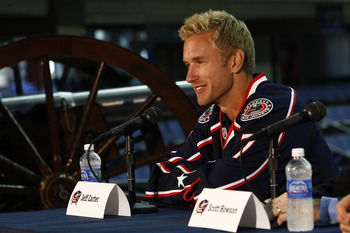 John Grieshop/Getty Images
The Columbus Blue Jackets made headlines by signing James Wisniewski and trading for Flyers forward Jeff Carter earlier this offseason, and those moves have been the talk of the town for the upstart Blue Jackets.
Despite the injury to Kristian Huselius, the organization is upbeat about the upcoming season and was eager to unveil their new superstars to the press.
Dallas Stars: Stars Closing in on New Ownership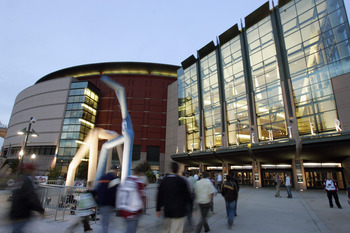 Brian Bahr/Getty Images
Nothing is imminent just yet, but the Dallas Stars are closing in on new ownership, according to The Dallas Morning News.
Tom Gaglardi is reportedly starting a long process of paper work and other technicalities to purchase the Dallas Stars. Obviously, this is the most important question mark facing the Dallas Stars this offseason, so a sale would be huge.
Detroit Red Wings: Jiri Hudler on a Short Leash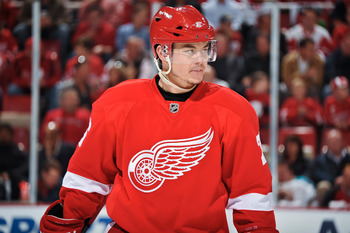 Jamie Sabau/Getty Images
The Detroit Red Wings were unimpressed with the play of winger Jiri Hudler last season, and if he doesn't pick up his game to start the 2011-2012 campaign, he could find himself in a new uniform by the end of the year.
According to The Detroit Free Press, the former KHLer could be kept on a short leash for the Wings this season.
Edmonton Oilers: Nikolai Khabibulin Released from Prison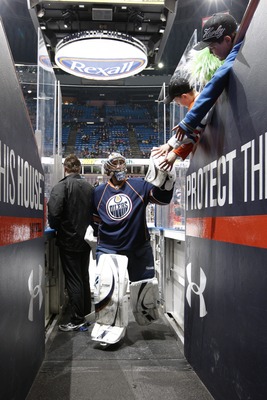 Dale MacMillan/Getty Images
The Edmonton Journal is reporting that veteran goaltender Nikolai Khabibulin has been released from prison after serving a 15-day sentence for drunk driving.
It is unclear whether or not the Oilers can count on Nikolai Khabibulin to be the veteran presence behind Devan Dubnyk this season. If not, the Oilers would likely pursue on of many options on the free-agent market, including Marty Turco.
Florida Panthers: Done with Big Moves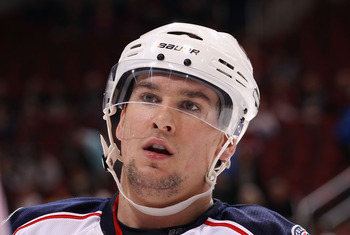 Christian Petersen/Getty Images
The Florida Panthers had a busy start to free agency but have predictably cooled off as the offseason has worn on. However, the club has been making minor tweaks to a roster that figures to be much improved from last year's dismal finish.
Los Angeles Kings: Could Drew Doughty Hold out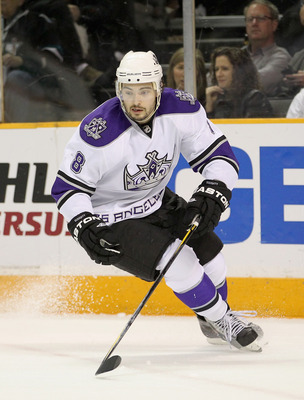 Ezra Shaw/Getty Images
A Drew Doughty hold-out situation could be on the horizon for the Los Angeles Kings. LA Kings Insider is reporting that there is nothing new on the contract talks, despite the fact that Kings GM Dean Lombardi stated that a contract offer has been made.
LA hopes a deal gets done by training camp, but that is far from a given at this point and time.
Minnesota Wild: Trades Open the Door for Younger Players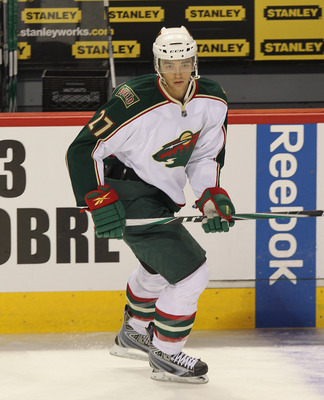 Bruce Bennett/Getty Images
The Minnesota Wild have been active on the trade market this offseason, which has opened the door for some of their younger prospects to compete for ice time in the coming season.
According to NHL.com, the trade of James Sheppard has further paved the way for guys like Colton Gillies, Cody Almond and Casey Wellman to compete for roster spots.
Montreal Canadiens: Andrei Kostitsyn on the Trading Block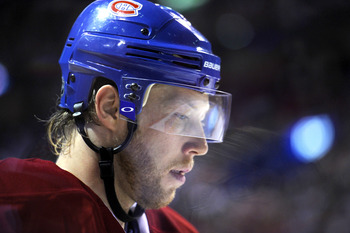 Phillip MacCallum/Getty Images
According to The Montreal Gazette, the Montreal Canadiens and Andre Kostitsyn could be on the verge of a breakup.
Kostitsyn has apparently been very unhappy with the coaching staff and has voiced that opinion. Meanwhile, the winger could have some trade value as training camps approach and players get injured.
Kostitsyn could the first of many players traded this upcoming season.
Nashville Predators: Could Shea Weber's Days in Nashville Be Numbered?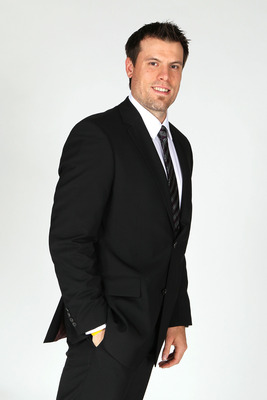 Jeff Gross/Getty Images
Shea Weber recently won a $7.5 million arbitration hearing, meaning the Predators defenseman is still in need of a long-term contract with the team.
Now, the Predators have every intention of locking up their franchise player for the long term, but that can be easier said than done. There could be a huge free agent on the market in a couple of seasons.
New Jersey Devils: Zach Parise Has an Uncertain Future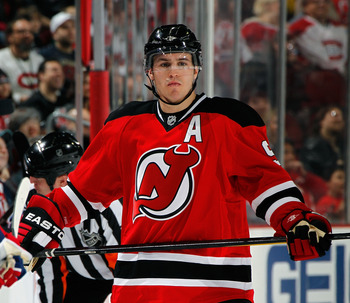 Paul Bereswill/Getty Images
Zach Parise is another player who could end up on the way out of his current town by midseason. The Devils reached a one-year deal with the superstar winger, but if the team fails to lock him up long term, they may consider trading him to recoup some of his value before he hits the open market.
This all depends on the success of the Devils. If they become sellers on the trade market, expect Parise's name to come up quite often.
New York Islanders: No Interest in Komisarek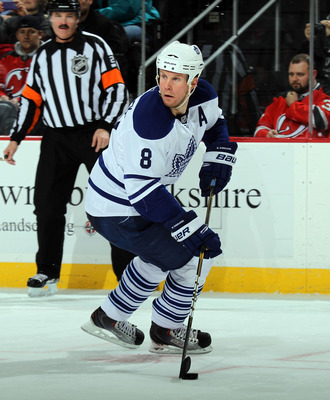 Bruce Bennett/Getty Images
It has been rumored that the New York Islanders would look to trade for a defenseman after failing to lock down Christian Ehrhoff in free agency.
However, according to BD Gallof on Twitter, this Isles are not interested in bringing in Mike Komisarek or any other defenseman unless a great deal falls into their laps.
New York Rangers: Eyes Set on Upcoming Season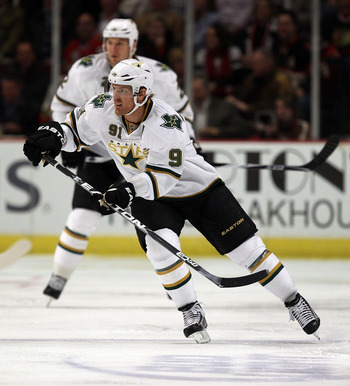 Jonathan Daniel/Getty Images
The New York Rangers have done their heavy hitting for this offseason. The signing of Brad Richards was the big catch of NHL free agency, and the Rangers are now ready to go to battle.
Most of their players have been re-signed, free agents have been brought in and optimism is once again high in the Big Apple. Where have we heard this storyline before?
Ottawa Senators: 9 Defensemen for 7 Spots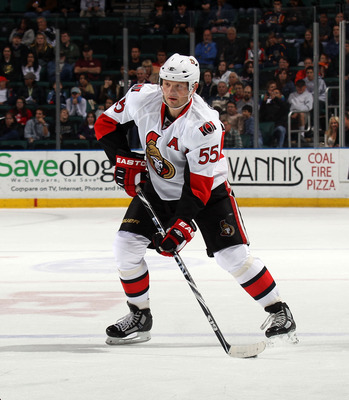 Bruce Bennett/Getty Images
The Ottawa Senators have found themselves in a bit of a bind. They have more defensemen than they have room on the roster.
According to The Ottawa Sun, the top candidates to be moved are Sergei Gonchar and Filip Kuba, each of whom carries a significant cap hit.
However, trading either of them would put the team below the cap floor, so they would need to receive a solid forward in return.
Philadelphia Flyers: Goalie and Captain Questions on the Docket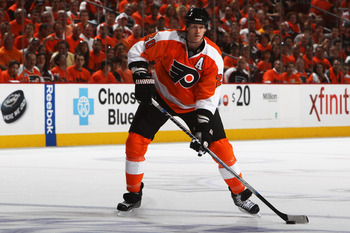 Bruce Bennett/Getty Images
After the most radical offseason in the history of the Philadelphia Flyers, the team still has a few lingering questions to round out the offseason.
For starters, Philly needs to figure out the backup goalie situation. Will Bobrovsky be traded? What will the Flyers do about Michael Leighton? Answers will be had in training camp.
Also, the team still needs to name a captain. I think Chris Pronger is the obvious choice, but no official announcement has been made.
Phoenix Coyotes: Relocation on the Horizon?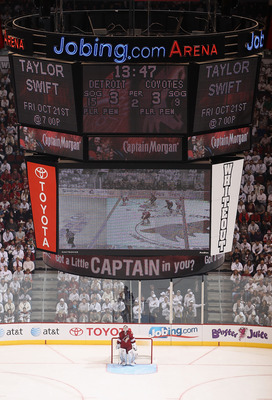 Christian Petersen/Getty Images
Get used to it, Coyotes fans, the biggest headline your team will make all season is the speculation about a potential relocation following this season.
It's no secret that the team has failed miserably in Phoenix and needs to be moved. It's a fun topic that will be dwelt on by hockey pundits everywhere.
San Jose Sharks: Trades Headline San Jose's Offseason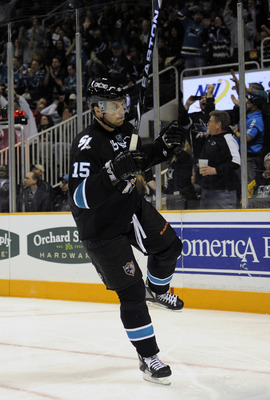 Thearon W. Henderson/Getty Images
Trades have certainly headlined the San Jose Sharks' offseason, particularly trades with the Minnesota Wild. The Sharks received Brent Burns, Martin Havlat and James Sheppard from the Wild in exchange for Dany Heatley, among other key contributors.
It's clear that the Sharks have not been happy with their results the past few seasons and are ready for a bit of a new look in the dressing room. We'll see how it pays off for them.
St. Louis Blues: Ownership and Coach in Flux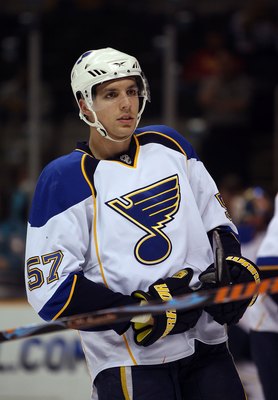 Ezra Shaw/Getty Images
The St. Louis Blues now have some prospects for new ownership, according the The St. Louis Post Dispatch. That is excellent news, as unsettled ownership is the worst possible situation for a sports franchise to be in.
In hockey related news, coach Davis Payne could be on the hot seat, and David Perron is likely to be ready for the start of training camp.
Tampa Bay Lightning: Offseason Goals Complete?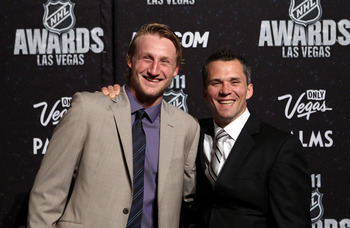 Bruce Bennett/Getty Images
It was a pretty successful offseason for the Tampa Bay Lightning overall. The team was able to bring back Steven Stamkos, Eric Brewer and Dwayne Roloson, all without getting rid of Vinny Lecavalier.
However, one offseason goal may come up a bit short. It appears the Lightning are not the front-runners to land the 2012 NHL draft as they had hoped. Pittsburgh is likely to host the event.
Toronto Maple Leafs: Leafs Giving the Kids a Shot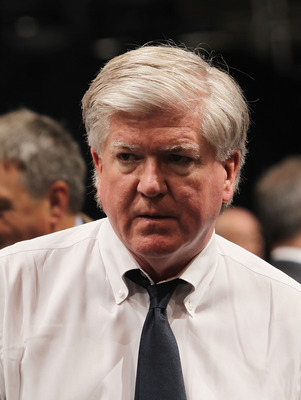 Bruce Bennett/Getty Images
According to The Toronto Sun, the Maple Leafs have not ruled out the possibility of bringing in some veteran free agents, but they would like to give the young players in their system a chance to shine first.
Also, the Leafs need to focus their cap room and attention on the contract negotiations of Luke Schenn above all else; the restricted free agent is still unsigned.
Vancouver Canucks: Canucks Brining in Veterans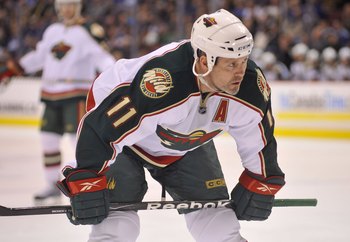 Rich Lam/Getty Images
The Vancouver Canucks pretty much have their roster set in stone, but the team is going to bring in a few veterans on a tryout basis in training camp.
According to The Vancouver Sun, Owen Nolan and Todd Fedoruk have both agreed to tryout contracts with the club, though, it is unclear if either will make the roster.
Washington Capitals: Michael Neuvirth Ready to Compete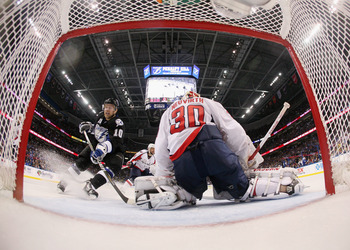 Bruce Bennett/Getty Images
The Washington Capitals have brought in Tomas Vokoun, but according to The Washington Post, Michal Neuvirth is not afraid of a little bit of competition.
This is a great sign for the Caps, as goaltender competitions bring out the best in each netminder and breed success for the team at the position.
Winnipeg Jets: Some Players Want out of Winnipeg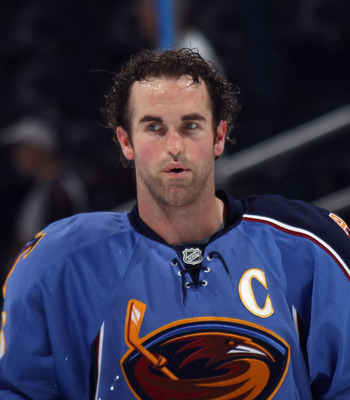 Bruce Bennett/Getty Images
The move from Atlanta to Winnipeg has many fans and players excited. However, according to The Winnipeg Free Press, at least a few players are not interested in moving and want out of Winnipeg already.
This is an interesting development for the relocated franchise. Captain Andrew Ladd says the team doesn't want anyone who doesn't want to be there. That's the right attitude to build a winning tradition on.
Keep an eye on the roster for some possible movement as the season approaches.
Keep Reading