Detroit Red Wings: 5 Best Fighters in Franchise History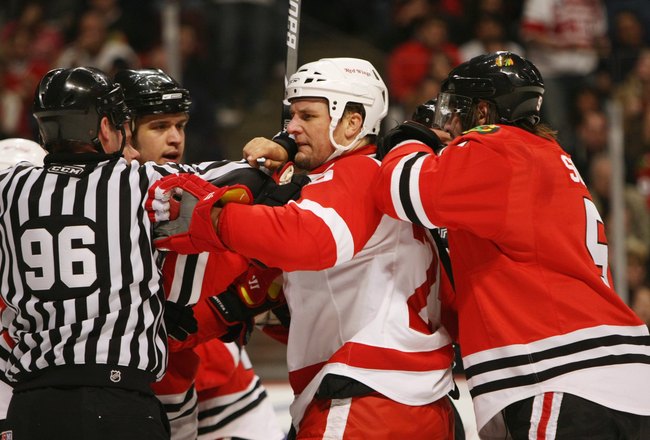 Jonathan Daniel/Getty Images
For the past 20 seasons the Detroit Red Wings have made the playoffs, and for quite a few of those seasons, they have at least made it to the conference finals, winning four Stanley Cups over that span.
Many look back on Detroit's great players like Gordie Howe, Steve Yzerman, and Terry Sawchuk, to name a few.
But one would be remiss not to mention the great fights that Hockeytown has witnessed over the past few decades.
From brawls with the Avalanche to just dropping the gloves for the sake of it, Detroit has been home to some of the League's best fighters, as well as best fights.
Without further delay I will name who I believe to be the five best fighters to wear a Detroit uniform over the last 40 years.
5. Chris Chelios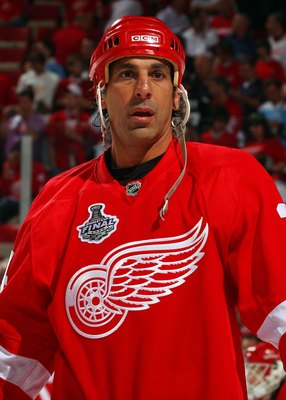 Jim McIsaac/Getty Images
Chris Chelios might not have been the biggest NHL defenseman in the world, but when he was on the ice, the other team took notice.
Chelios was known to throw his weight around a little bit, and he also wasn't afraid to drop the gloves and fight either.
Chelios has a little bit of a bad reputation in some regards regarding cheap shots to certain players, but he has been an agitator on the ice, and could get underneath the opponent's skin.
His appearance on this list should not come as a big surprise. While Chelios may not be the most adept fighter in the world, his ability to wrestle in a fight as well as his 2,891 penalty minutes over his 25-year NHL career rank 12th on the all-time NHL penalty minute list.
4. Joey Kocur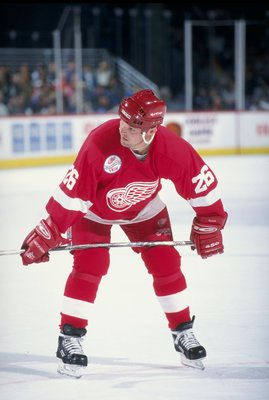 Vincent Laforet/Getty Images
If Joey Kocur had a business card, it should say "tough customer" below his name.
Kocur, a two-time member of the Detroit Red Wings, amassed 1,963 penalty minutes with the 10 seasons he played in Detroit.
He and the late Bob Probert (who will appear later on this list) were known as "the bruise brothers" during their stint in Detroit in the late 1980's for their frequent beat-downs on other teams during the regular season.
His fight against Jim Kyte remains one of the most dominating knockouts in NHL fight history, and it gives him a spot on the top five Detroit fighters.
3. Mike Vernon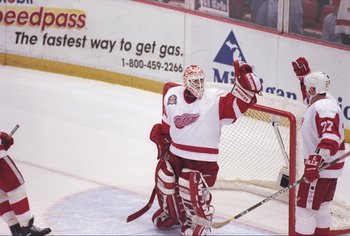 Al Bello/Getty Images
Just for clarification purposes, Mike Vernon is not a better fighter than Joey Kocur or Chris Chelios.
But his involvement in the brawl against the Avalanche on March 26, 1997, gives him a spot on this list.
After Claude Lemieux's cheap shot on Kris Draper, Darren McCarty (also featured coming up in the slideshow) promised revenge.
The next season, McCarty delivered on his promise for revenge, and Claude "the turtle" Lemieux went down like a rock after McCarty pulled himself free of the referee, delivering several shots to Lemieux's head.
Almost simultaneously, Mike Vernon and Patrick Roy (who has a fighting history as well) squared off at center. They each landed a few punches before Vernon took down Roy, to the delight of the crowd gathered at the Joe Louis Arena in Detroit.
2. Darren McCarty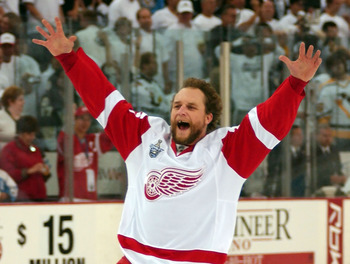 Getty Images/Getty Images
Darren McCarty was a long time member of the "Grind Line" with the aforementioned Kris Draper and Kirk Maltby.
Together, these three wreaked havoc on opposing team's top lines, shutting them down and holding them in check.
But when things got out of hand, McCarty was always there to pulverize the opposing team with his fists.
The previously mentioned brawl was just one of McCarty's many exploits against the Avalanche.
McCarty and Lemieux did not hesitate to duke it out a few times over the course of their playing time against each other, but McCarty fought others as well.
McCarty has 1,464 penalty minutes with the Red Wings, and a large chunk of those are fighting majors.
1. Bob Probert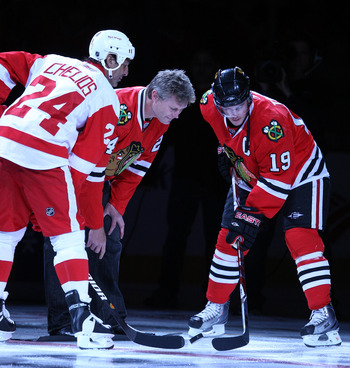 Jonathan Daniel/Getty Images
Bob Probert might have been a hockey player, but his 3,300 penalty minutes rank fifth all-time in NHL history and he will be remembered more as a fighter and enforcer than as a hockey player.
Although Probert may have spent a substantial amount of time in the box, the fights that landed him five minute majors have made him famous even posthumously.
Probert's numerous bouts against Tie Domi.
Some of them involved one-sided domination by Probert, but other fights between the two were closer.
Probert did not back down from anyone, but he was a smart fighter, often dominating his opponents by out-maneuvering them.
When in his prime, Probert's dominance in fighting was second to none; it is for that reason that he gets the number one spot on this list.
Honorable Mention: Gordie Howe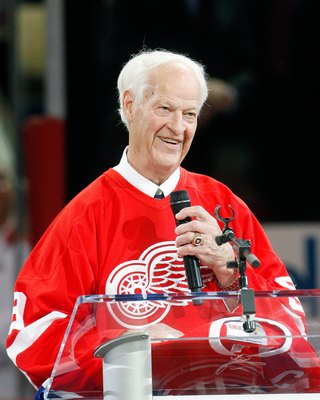 Richard Wolowicz/Getty Images
A Gordie Howe hat trick is a goal, an assist, and a fight.
It would make sense, then, to include Mr. Hockey in this slide show, even if he hasn't played for Detroit since 1971.
Howe was a 21-time NHL all star, and he finished in the top five for league scoring 20 seasons in a row, but he was well known for fighting, and tallied 1,685 penalty minutes.
While Mr. Howe only ever had two "Gordie Howe hat tricks" it would be a terrible mistake not to mention him in this slide show, as he did not hesitate to dish out the rough stuff.
Keep Reading

Detroit Red Wings: Like this team?