San Jose Sharks: Top 10 Moves They Could Still Make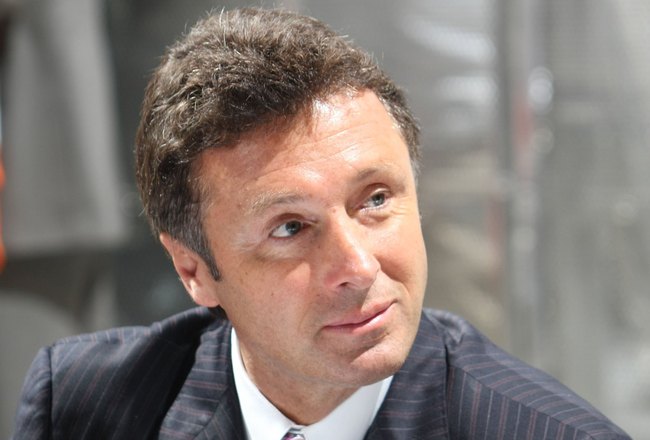 Doug Wilson's offseason is not done
Bruce Bennett/Getty Images
In this offseason, the San Jose Sharks lost only Dany Heatley, Devin Setoguchi and Kyle Wellwood from their top three forward lines and replaced them with Martin Havlat and Michal Handzus. They have enough young talent to replace the other role-players they lost.
Meanwhile, the Sharks lost No. 3 defenceman Ian White, No. 5 Niclas Wallin and No. 7 Kent Huskins. They upgraded all three players by getting Brent Burns, Colin White and Jim Vandermeer (not better than Huskins, but better fitting the Sharks needs).
The blueline is another place where the Sharks have young, developing talent. Burns, Marc-Edouard Vlasic (now the team's No. 3 behind Burns), Jason Demers and Justin Braun are born after 1984, and should only continue getting better.
Most observers now believe the Sharks were better than last season. The Hockey News gave them one of three A's handed out for the offseason.
But the question they have to ask themselves now is, "Are we better than the Vancouver Canucks, the Boston Bruins or the returning-to-health Pittsburgh Penguins?"
The Eastern Conference's top seed the last two years (Washington Capitals) was the only team to receive a better offseason grade than San Jose. Have they now passed the Sharks?
This team is no better than the fourth-best in the league, and has a duty to use some of the $4 million in cap space. I have heard some Sharks fans suggest they not spend the money, but there are a couple of misconceptions surrounding why:
1. They can use it to help sign guys for next year. Except cap space from one season cannot carry forward to another season, and is merely lost. This is what teams who cannot afford to put the best possible team on ice do, not elite teams like the Sharks.
But can it be used as the front end of a contract extension? Sure, but it is not much of a bargaining chip to throw a couple extra million on this year's contract for Logan Couture. He will care much more about the money on the duration of the new contract than what is on the end of the old one.
2. They can use the cap space to sign someone at the trade deadline. True, but since three-fourths of the season will be over by then, the team would need to take on $16 million in contracts to need that room.
Unless the team needs more than two players at the level of Joe Thornton, Dan Boyle, and Patrick Marleau, they cannot use all the space. A team needing that much should be a seller, not a buyer, at the deadline.
This is not to say they should not leave some room. If they can ensure $2 million remaining after dropping the player a free agent replaces on the ice from the payroll, the Sharks could get any one player made available or two to three role players.
Even general manager Doug Wilson publicly acknowledged the window to win a Stanley Cup is closing: despite having only four of 17 forwards and four of nine defencemen over 30, seven of those eight players are cornerstones of this team. And right now, the Sharks are not as good as the four aforementioned teams.
With the free agent addition of Colin White to the blueline, that has become one of the top five or six units in the league. However, the signings and trades over the last month have not brought a single player who will have much of an impact on the forward lines.
Right now the top two forward lines are good, but the checking lines project to be average. There are a nearly endless number of possibilities out there between trades and free agency, but here are 10 moves the team could realistically make to upgrade their forwards over the next two months until the 2011-12 season begins...
Cory Stillman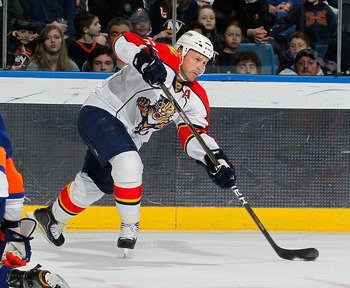 Paul Bereswill/Getty Images
Cory Stillman is the best forward still on the free agent market. He scored 39 points in 65 games with teams that were not good enough to make the playoffs in the weak Southeast Conference.
Stillman registered almost a point per game last season after being a trade deadline acquisition for the Carolina Hurricanes, showing he still has enough in the tank. As a two-time Stanley Cup winner, he can provide leadership and knows how to get things done in May.
He would provide the Sharks a scorer for the third line without removing its status as a great defensive line. He could fill in on the power play and the top two lines in the case of an injury.
Best of all, he is old enough to accept the one-year contract the San Jose Sharks would prefer to offer so they can re-sign Logan Couture in the offseason. He could be signed for little enough to allow the Sharks over $1 million in wiggle room to make a substantial ($3 million-plus contract) acquisition at the trade deadline.
Kyle Wellwood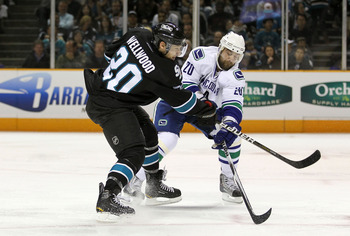 Ezra Shaw/Getty Images
Kyle Wellwood had 13 points in 35 games last season with the San Jose. He scored another seven in 18 playoff games.
Even though he is only 28 years old, it would appear that he will not recapture the 40-point seasons of his first two full years in the league. It might be that he remains on the market because he has almost certainly peaked, but the longer he sits, the cheaper the contract he will sign.
Wellwood had good chemistry with Joe Pavelski and Torrey Mitchell on the third line. While Pavelski's shooting touch complimented Wellwood's play-making and will be on another line, he would still play with Mitchell.
The Sharks have made the conference finals two seasons in a row. They have already made enough changes (a minimum of a third of the skaters projected to dress daily) for a team that is close, and may want to retain him for continuity.
If Wellwood's run with the Sharks had not been a good one, there would be no reason to keep him. But he played hard on both ends of the ice and was productive enough for a third-line forward to bring him back.
Niklas Hagman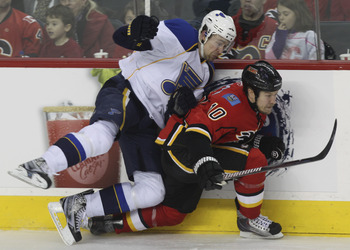 Mike Ridewood/Getty Images
Niklas Hagman is under contract with the Calgary Flames for $3 million through the 2011-12 season. He might be available to the Sharks for a couple of forwards fighting for ice time on the bottom lines because the Flames are not as deep.
Why would Calgary trade one $3 million player for two role players? Because Hagman's production was underwhelming in 2010-11 (27 points in 71 games), and there has been speculation they may want to get that contract off their hands.
So why would the Sharks want him? Because he provides a perfect fit for the team in several ways.
For one, he is an agitator on a team that is entirely too easy to play against. Teams fear the Sharks' skill, but not their personality. Other than Ryane Clowe and Douglas Murray, there is not one player anyone would just rather not have to see now that Scott Nichol is gone.
The Anaheim Ducks are the only current Pacific Division team to legitimately win a Stanley Cup title, and they did it with a bunch of these players. The Dallas Stars, despite not earning their championship, had a few of them when they won two straight Western Conference titles.
The Boston Bruins won last season with a team you dreaded facing. If the Sharks could get Brad Marchand from them, that would be great. But Boston knows the young agitator will be around for a long time and they have too much cap space to risk a title defence by letting him go.
Niklas Hagman is the same guy—a fast, gritty, physical player that will get under your skin. He is also a fantastic defensive player that would round out the Sharks third line as one of the best defensive lines in the game.
More than that, Hagman has the ability to score. Prior to last season, he had finished with 40 points in three consecutive seasons.
Finally, because his contract is up at the end of this season, he is the disposable role-player the Sharks need. He can let him go to leave room to re-sign Logan Couture without losing a key piece to the puzzle moving forward.
Chris Drury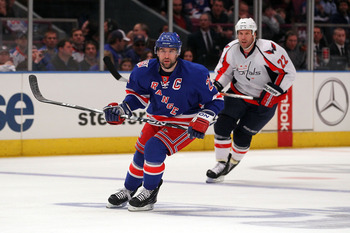 Bruce Bennett/Getty Images
Chris Drury is coming off an injury-shortened season, with only five points in 24 games. The previous season had been his worst in the NHL. He will turn 35 next week.
Why on earth would the Sharks want him?
Because last year was his first in which he missed more than 11 games. It was just his third with fewer than 20 goals. The last two seasons are the only two in his career in which he did not score more than a point per two games.
And then there is the New York Rangers curse. Point-producing skaters Bryan McCabe, Wade Redden, Marion Gaborik, Scott Gomez, Ales Kotalik, Marcus Naslund, and even Jaromir Jagr all fell to near career lows in scoring as members of the blueshirts since the 2007-08 season.
Drury has won two Stanley Cups. He has been a team captain. He has been a clutch performer since before he was a teenager, leading an underdog U.S. team to a Little League World Series title.
If the Kyle Wellwood reclamation project went well in 2011, there is no reason not to try the same thing with Drury. If he can get even back to his 2009-10 season form, he will lead the third line in points and give the team three lines that can score without creating a void on that line defensively.
Plus, because he is being paid by the Rangers, the Sharks can get him for less money than he would normally make and leave themselves enough cap room to trade for a $3 million-plus player at the deadline.
John Madden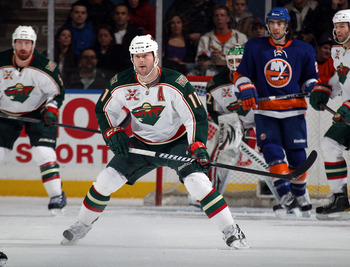 Bruce Bennett/Getty Images
Every Sharks fan I have talked with wants the team to add John Madden.
In their assessment of the top remaining free agents, NHL.com says, "Still a useful leader (3 Cups) and checker, but he's now 38 and may retire rather than relocate again."
Everyone is willing to relocate to San Jose. Players come and love it immediately. It is a top-notch organization in a top location for culture, scenery and weather. Sure, the cost of living here is a bit high for those very reasons, but it is worth it for a one-year rental making over $1 million who wants to win one more Cup.
Madden would fill the void left by Scott Nichol as a faceoff specialist who plays incredible defence and kills penalties. He also can still put up a few points, scoring 25 in 76 games last season, and he could be had for so little the Sharks could easily have cap room to add anyone they wanted at the trade deadline.
The one thing he does not bring is a good mix of talents for the third line. It would be made up of three penalty-killing defenders, albeit three of a different style (physical, skating, and hounding), while leaving it without a scoring threat. The Sharks might have the single best defensive line in hockey, but during road games it would be difficult to ensure they are matched up against the other team's scoring line.
Either Madden or Torrey Mitchell would have to play on the fourth line to give the two checking lines balance. This would only work if Benn Ferriero or Jamie McGinn is ready for a third-line role as a scoring threat.
J.P. Dumont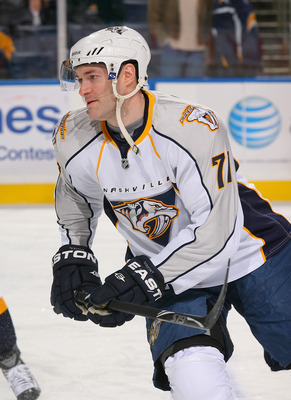 Rick Stewart/Getty Images
J.P. Dumont was bought out by the Nashville Predators after a disappointing 2010-11 season. He had just 19 points in 70 games and played in just three playoff games, registering one point.
But the buyout means he will cost less money to sign, and should leave the team enough room for a trade for the playoff run. At 33, there is no reason to believe he cannot rebound.
San Jose should be near the top of his list of destinations. The Sharks have as many series wins in the last two years as Dumont has seen in his 12 years with the Chicago Blackhawks, Buffalo Sabres and Predators.
Dumont is a six-time 20-goal scorer forced to battle hard under Barry Trotz and the undermanned Preds. He has five consecutive seasons with a positive rating, and even after his disappointment last year has 267 points in 388 games for an offensively-challenged team.
He provides the Sharks with speed and a player who can score in the open ice that would be created by Torrey Mitchell's speed and Michal Handzus' size. The only drawback is that his point production per game has been on decline for two seasons now, but was still 45 in 74 games the year before last.
Trent Hunter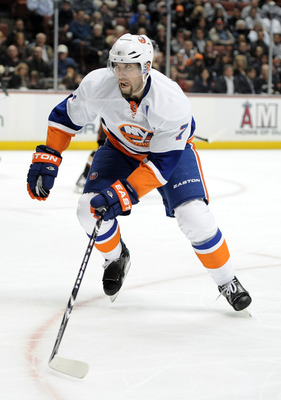 Harry How/Getty Images
Trent Hunter is another forward whose contract was bought out and who should thus be available for little enough money that the Sharks can have plenty of room for trades during the season. Having played his entire career with the New York Islanders, he should be eager to get a chance to go beyond Game 5 of the first round of the playoffs.
He is coming off a knee injury that shortened his season to 17 games, and he scored only four points. But he just turned 31 and should recover enough to be an effective NHL player again.
A big body (6'3", 217 lbs.) power forward is something the Sharks already have on the third line. It also often takes players a full year to return to their previous production after a knee injury.
But the Sharks need more physical players. He plays solid defence and consistently registers more than two every five every season prior to last.
Thus, even if he is not as productive as in the past, he could anchor the fourth line.
Sergei Samsonov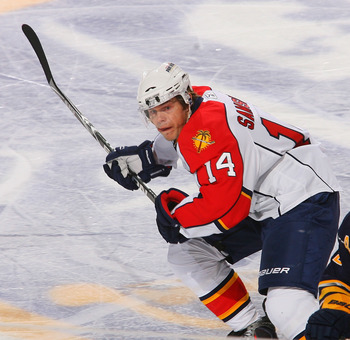 Rick Stewart/Getty Images
Sergei Samsonov will turn 33 within a few games of the start of the 2011-12 season. Since the Boston Bruins made him the eighth selection of the 1997 draft, he has played in 888 games and scored 571 points.
So why does a player still close to his prime with that much production remain unsigned? His point totals are down since leaving Boston in his eighth season, from 339 in 500 games to 132 in 388, and he has missed a significant number of games since his seventh season.
He has only been out of the lineup for 15 games in the last three seasons, but missed 146 in the previous five. There is little doubt that the rule changes that have made the game less physical and restrictive post-lockout have helped extend the diminutive skill player's career, but he has just one season over 40 points since the first one after those changes.
His lack of size will not only hurt on defence, but scoring in the more physical game played out west. He managed just four points in the only 23 games he played as a member of a Western Conference team (Chicago).
Still, he had 14 points in 20 games with Florida last year after the trade, and 40 in 78 games overall. He should be eager to play for a winner, given he has only gotten past the first round three times in 13 seasons.
That makes him the perfect compliment to the third line. He gives it a shooter to go with a skater and power forward, and makes it a very fast line. The Sharks would have two players who could step up to the second line in the event of injuries, and another dynamic forward on the power play.
The biggest concern given his Russian heritage is him electing to go back home to play in the Kontinental Hockey League, which pays good money for players who grew up in Eastern Bloc nations. If that does not cause a bidding war that takes him past $3 million per year, thus keeping San Jose from having the flexibility to make a deadline trade, he would be a worthwhile risk.
Ales Hemsky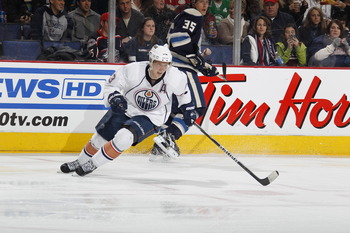 Gregory Shamus/Getty Images
Ales Hemsky has missed substantially more games (95) than he has played (69) over the past two seasons. He is due $4.1 million in 2011-12, and his Edmonton Oilers might be better served getting that money off their books in exchange for future talent.
They are claiming their goal is the playoffs this season, but deep down they know they are still in rebuilding mode. If the Sharks package prospects and/or picks to Edmonton who will not make much of an impact in San Jose, the Oilers would be fools not to take the offer.
Even at just 27, if Hemsky has a big year he prices himself off the team. If not, he is not worth counting on for the long haul.
The same holds true if he is with the Sharks, and there are only a couple players who might be good in a trade, who probably also require a draft pick be given: Justin Braun, Torrey Mitchell and Andrew Desjardins come to mind.
But if the Sharks feel urgency to win now, Hemsky would provide San Jose with another shooter and could be fit under the cap. He should be worth the risk if the price is not too high, given he had missed fewer than 10 games per season between his rookie year and 2010. With 64 points in those 69 games over the last two seasons, he is a perfect top-line right wing with speed to pair with Joe Thornton and Patrick Marleau.
Shane Doan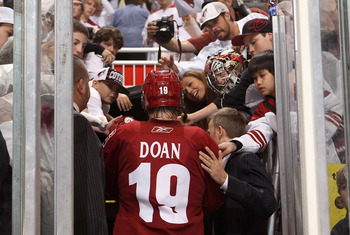 Christian Petersen/Getty Images
A move for Shane Doan is extremely unlikely before the season starts. The soon-to-be 35-year-old power forward has never played for another franchise in his NHL career.
But ultimately the NHL runs that franchise, and knows it will not stay in Phoenix beyond the 2011-12 season or they would not have waited to do a realignment after Atlanta relocated to Winnipeg. At some point, they will have to concede that move, and the fan favourite and team captain will be shipped from what looks like a terrible team to a contender so he can get a shot at getting out of the first round of the playoffs.
There is no better team to do that with than a short move to San Jose that would put him just over an hour from home. By the time it happens, he is likely to have less than the team's $4 million in cap room left on the last year of his $4.55 million contract.
This move is still a longshot, but his leadership, skill, size and scoring touch would allow Thornton to play behind the net and Marleau look for open space while Doan camps in front of the net. Since becoming a full-time player in the 1998-99 season, Doan has never missed even 10 games in a season nor failed to exceed 50 points.
The Sharks would have to give up a lot for Doan. But if they packaged a couple young players from among the top-20 skaters plus a draft pick, the league would have to know that would be better for the game right now and the new owners in 2012-13.
Keep Reading

San Jose Sharks: Like this team?