Detroit Red Wings: The Top 10 Players in Their Minor League System
August 10, 2011
Doug Pensinger/Getty Images
When Brian Rafalski, Chris Osgood and Kris Draper all retired this offseason, people naturally looked at the free agent market to see who could be brought in to replace these players.
While the Red Wings did bring in some players that will be used to help fill those holes, it is also important to check out what is happening in the minors.
The Red Wings have had a good minor league system for many years. With the success and depth that the team has had at the NHL level, they are able to allow players to spend more time in the minors to fully work on their game.
When they do arrive in Detroit, they are more prepared and have an easier time adapting to the NHL.
Here is a quick look at 10 players who you will be hearing more about in the near future. A couple will even get a chance to play this year. Some of these players are still in the juniors or college, but the Wings hold the rights to them.
Cory Emmerton C/LW 22: He has the skill set to be a productive player in the NHL, but his minor league numbers are average at best. He has the tools; speed, vision, defense and an offensive flair, but hasn't been able to put it all together on a consistent enough basis.
The Wings still have faith in him as they resigned him to a three-year deal. The first year is a two-way deal, while the final two are one-way. He got a whiff this year as he played in a couple of games with the Wings and did score his first goal. This season will be huge for him.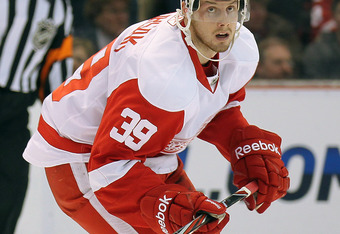 Claus Andersen/Getty Images
Jan Mursak F 23: Mursak is the Wings' fastest player in the minors, plus he is not afraid to bang bodies if needed. He does need to improve his strength, but is a good offensive player and penalty killer. He looks to replace Kris Draper this season on the team.
Gustav Nyquist C 21: Nyquist is quick and creative with the puck. He is a former Hobey Baker finalist (college hockey's MVP). Known as a hard worker with great skill, he will get a shot with Grand Rapids this season as the team hopes that he can grow into a top-line player.
Francis Pare C/RW 23: Pare has been the MVP in junior league QMJHL. He was third in scoring for Grand Rapids. The undrafted free agent has really made the most of his chance in the Wings' organization. He doesn't have any one standout ability, he just hustles and plays smart and most importantly, he produces.
Brendan Smith D 22: The sooner Smith arrives to the Red Wings, the better. The longer he stays in the minors, the more the legend will grow and the harder it will be to live up to. He has tremendous offensive talent and greatly improved his defense this past season in the minors.
Many scouts have touted him to be in the greatness category. While exciting, that is always a dangerous label to live up to.
Barring injury or bad play from those ahead of him on the Wings depth chart, Smith will be starting the season in the minors. Not as a knock on his ability, but the Wings want him to get as much playing time as possible and that will only happen in the minors.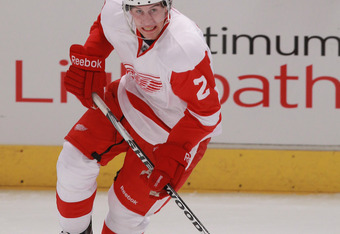 Bruce Bennett/Getty Images
Jordan Pearce G 24: Pearce is the only goalie on the list. He surprised many last season as he moved up the depth charts and now will battle Joey MacDonald for the lead goalie in Grand Rapids this season. Over the last 34 games last season, he had a 2.08 GAA.
Tomas Tatar C 20: At only 20, Tatar has impressed many and even had a nine-game run with the Wings during the season. He has all the assets a team loves, great speed and scoring ability combined with hustle and a tireless work ethic.
Teemu Pulkkinen F 19 : Pure scorer with a wicked fast and accurate shot that he uses to scores at ease. He will need to work on his footwork and defense, but with the shot he posses, he will be given every opportunity.
Ben Marshall D 18: He is still several years away. The Wings drafted him in 2010, while he was still in high school. He has drawn many comparisons to Brian Rafalski. Great speed, with terrific passing touch and scoring ability and he still puts up impressive plus/minus numbers. Only concern is that he is small, (5'9) but he still has time to grow.
Riley Sheahan C 19: Sheahan is the rare freshman who saw lots of ice time in the college game. The Wings really like his size (6'2" 200 pounds) and ability. He not only can play in any situation, but excels, especially considering his age.