Colorado Avalanche: Power Ranking the Entire Roster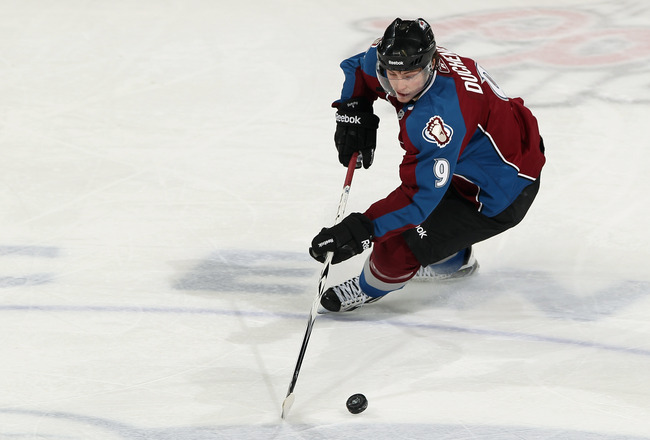 Doug Pensinger/Getty Images
The value of a hockey player to his team depends on more than just his skill.
What kind of leader is he?
Does he play with intensity every shift?
Can you count on him in the clutch?
Intangibles like these are what make an average player good, and a good player great.
Other questions like: "What kind of upside does he have?" or "Is he on the last leg of his career?" can help define the role a certain guy will play on your team next season.
The 2011 opening-night roster of the Colorado Avalanche will look drastically different than the one that started last season.
Which players will lead the team?
Which players will be disappointments?
Let's take a look a the current Avalanche roster from top to bottom to see who the best players are.
23. Brandon Yip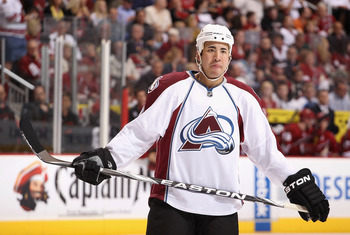 Christian Petersen/Getty Images
When Brandon Yip made the jump to the NHL in the 2009-2010 season, he burst onto the scene with 19 points in 32 games.
Many thought Yip had been a late-round steal who would provide an offensive boost for the Avalanche last season.
But in his first full campaign, Yip managed to score only 22 points in 71 games. Not a terrible number, especially for someone drafted in the eighth round, but Yip's points per game production decreased significantly.
A decrease in production brought about a decrease in ice time, and one has to wonder how much of a role Yip will play this year for the Avalanche with the new faces that have been brought in.
22. Kyle Cumiskey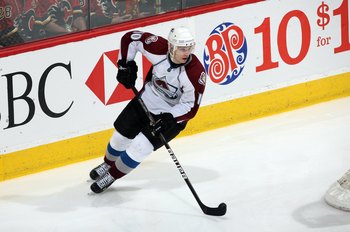 Dale MacMillan/Getty Images
Kyle Cumiskey is fast. Very fast.
In fact, the young defenseman is one of the quickest skaters on the team, if not THE quickest.
Cumiskey's problem is that aside from skating, he doesn't contribute much defensively. He has become a liability in the defensive zone, giving away the puck too easily and unable to clear it out when needed.
Cumiskey still has some upside—defensemen haven't fully developed until their mid-to-late 20s—but he will be hard pressed to find room on a team that is embracing a bigger, tougher defensive strategy.
Perhaps the team could include Cumiskey in a trade of some sort.
21. Shane O'Brien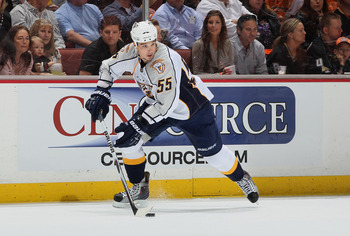 Jeff Gross/Getty Images
Shane O'Brien is playing for his fifth NHL team.
The fact that he is your typical journeyman defenseman doesn't mean he is without value, but he will not be playing on the top defensive pairing.
O'Brien is a good lower-pair defenseman because he knows how to get under the other team's skin. He is capable in his own end and will draw penalties.
But if any of the team's young defensive prospects shine in camp, expect O'Brien to be in the discussion as to who will sit to make room for the rookies.
20. Cody McLeod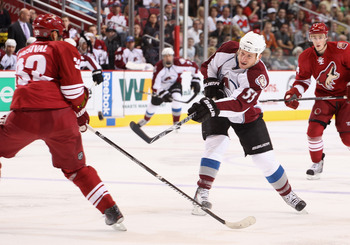 Christian Petersen/Getty Images
Cody McLeod's value diminished greatly last season. After two highly productive seasons, the team's tough guy scored only eight points in 2010-2011.
McLeod will be on the chopping block this season if he does not return to his previous form.
He has the skill, but there is no value in a player who takes a roster spot and takes penalties, and the team has their "tough factor" covered more through their defensive ranks this season.
19. Matt Hunwick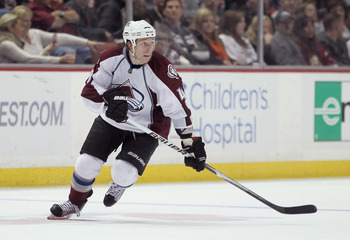 Jeff Gross/Getty Images
Matt Hunwick suffered a terrible season last year after being traded from Boston to Colorado in the fall.
Supposedly an offensive defenseman, Hunwick scored no goals and 10 assists, going minus-19 through that stretch.
While he served as the scapegoat for the team's struggles last season, he began to pick up more of coach Sacco's system towards the end of the campaign, and should improve with the new year.
Hunwick is a second- or third-pairing defenseman at best, and may sit on the bench if his play doesn't change or if the team carries a seventh defenseman.
18. Chuck Kobasew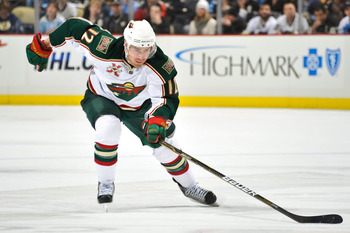 Jamie Sabau/Getty Images
In seven NHL seasons, Chuck Kobasew has scored 20-plus goals three times, so he is not without skill.
However, his talents serve more of a grinder role than that of a scorer.
That being said, Kobasew could be a pleasant surprise. If he can score 15-20 goals again, he will be a great pickup for the Avalanche.
He will play mostly on the third and fourth lines, possibly contributing to the penalty kill.
17. Daniel Winnik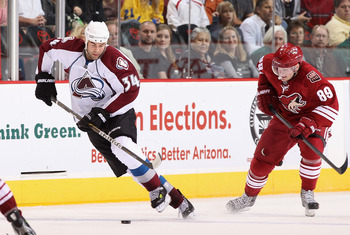 Christian Petersen/Getty Images
Daniel Winnik was picked up from the Phoenix Coyotes in 2010 for a fourth-round draft pick. Luckily for Colorado, that trade has played out well.
Winnik is no star, but he does chew up many minutes on even strength and the penalty kill. He chipped in 26 points in 2010, and will be relied on to play a defensive brand of hockey again this upcoming season.
Guys like Winnik are the unheralded chemistry pieces of a successful hockey team. He has found a nice niche with the team, and should be able to play a meaningful role this season.
16. Cameron Gaunce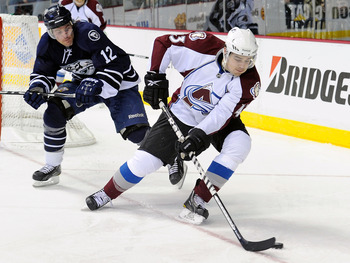 Frederick Breedon/Getty Images
Cameron Gaunce is only 21 years old. He played 11 games for Colorado in 2010-2011, so he is still considered a rookie.
Some expect Gaunce to have a breakout season in 2011, just as others expect fellow prospect Stefan Elliot to have a breakout year.
If Gaunce can snag a spot on the roster, he will have to work hard to keep it. But someone of his size and with his upside can certainly contribute to the defensive effort.
15. Kevin Porter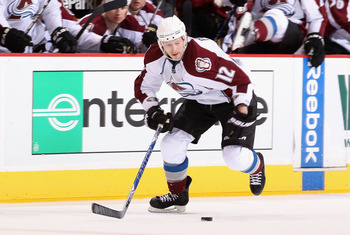 Christian Petersen/Getty Images
Kevin Porter has been the most consistent player out of the deal that sent Wojtek Wolski to Phoenix for Peter Mueller and himself. Wolski has scored more points, but expectations were low for Porter, who has found a spot on the lower lines and scored a number of game-winning goals over the last couple seasons.
Mueller may still turn out as the best player out of the three, but Porter has earned his ice time and is generally reliable and responsible with the puck.
Expect to see him on the lower lines, but if his play drops off, he could be one of the candidates to ride the pine.
14. Ryan O'Byrne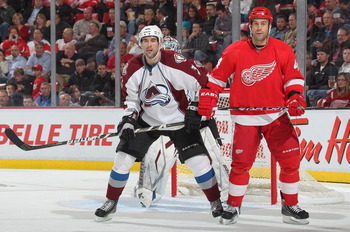 Claus Andersen/Getty Images
Ryan O'Byrne is as tough as they come. He may not be rough, but he certainly knows how to play through an injury.
Ever since his face was sliced by an Oilers player in mid-february (he played through his shift), O'Byrne has had the respect of Avalanche faithful.
O'Byrne is big and fits the mold of the new Avalanche defensive theme. He is prone to mistakes sometimes in the defensive zone, but he makes up for it through his size.
He will be relied upon to solidify the middle and lower defensive pairings.
13. Ryan Wilson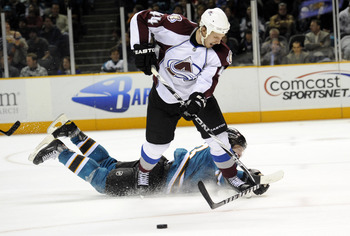 Thearon W. Henderson/Getty Images
Ryan Wilson had a very successful rookie campaign, scoring 21 points and finishing a plus-13 in 61 games.
His sophomore season wasn't quite as productive as he finished with five fewer points than the previous season, and owned a minus-8 rating over 67 games.
Wilson established himself as a hard-hitting, physical defenseman at the beginning of his rookie season. But his play, like that of many others on the team, suffered with the team's record.
Wilson is a fringe player again going into camp, and he will have to fight have to keep his spot. That being said, if he is on his game and has worked hard through the offseason, he will be a regular on the blue line.
12. Jean-Sebastian Giguere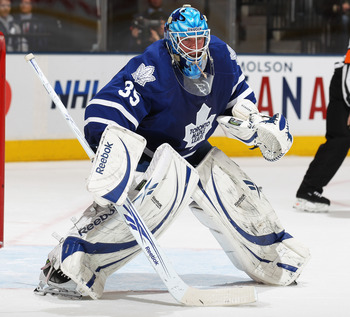 Claus Andersen/Getty Images
Jean-Sebastian Giguere was signed as a free agent to back up Semyon Varlamov.
The 35-year-old netminder has a great pedigree, sporting a Conn Smythe Trophy from 2003 and a Stanley Cup from 2007. Giguere joins Milan Hejduk as the only players on the team that have won a Stanley Cup.
He may be a bit old, but he is likely one of the better backups in the league, and will provide a great insurance option should Varlamov suffer an injury.
11. T.J. Galiardi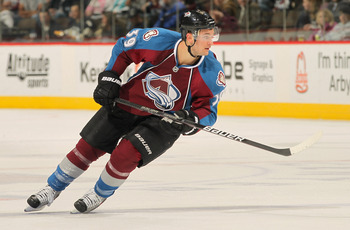 Doug Pensinger/Getty Images
T.J. Galiardi emerged as a competent linemate to Paul Stastny on the first line in 2009-2010, contributing 39 points.
Last season, though, as has been the trend, Galiardi's play dropped off dramatically. Much of that was due to injuries, so it's hard to fault the player for his performance.
But Galiardi is certainly someone who Avalanche hope will step up in the upcoming season. At 23, he is younger, but he has had time to learn the Avalanche system.
He will be out to prove that he belongs on the team's top lines, and if he is able to stay healthy, he should be able to achieve career highs in goals and points.
10. Jan Hejda
Gregory Shamus/Getty Images
Jan Hejda was a surprise addition to the Avalanche at the opening of free agency.
He has spent the last four seasons playing for the Columbus Blue Jackets, and at 33 years old, is starting on the home stretch of his career.
He can still play, though, and he is big. At 6'4" and 237 lbs, he is one of the biggest players on the team, and should use that size to keep opponents from getting to the net.
Don't expect Hejda to score much—his value comes in his own zone. His consistent defensive play will be a welcome addition to Colorado's back end.
9. Kyle Quincey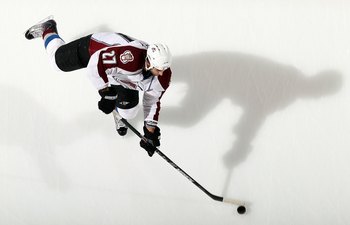 Jim McIsaac/Getty Images
Kyle Quincey suffered disappointment last year when his season was cut short due to injury.
At 25, Quincey is just entering his prime, and if he has recovered fully, he should provide a boost to the Avalanche defense.
Quincey can pitch in offensively while utilizing his size to optimize his defensive game. The only other player like that on the Avalanche is Erik Johnson. When healthy, Quincey can be a valuable asset.
8. Ryan O'Reilly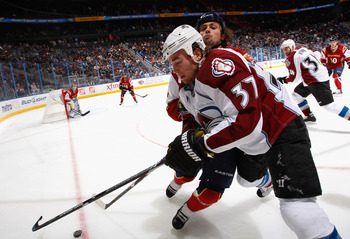 Kevin C. Cox/Getty Images
Ryan O'Reilly was a surprise addition out of training camp two years ago. Everyone knew Matt Duchene would make the team, but when O'Reilly stuck around, Avalanche scouts really thought they had hit it big.
O'Reilly isn't a flashy player, but he has hockey smarts that you can't buy. He is an integral part to the penalty kill, and after two years in the NHL, he should be starting to really develop his offensive game.
The Avalanche have a number of centers on the roster, and at least one prospect (Joey Hishon) could make the team out of camp. Regardless, O'Reilly is a lock for this year's squad.
Playing in the right situations could significantly increase O'Reilly's offensive output.
7. David Jones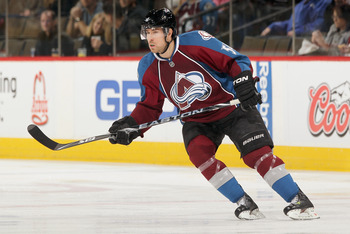 Doug Pensinger/Getty Images
David Jones was a long shot to reach the NHL. He went to an Ivy League School and was drafted in the ninth round.
He has broken through, though, scoring 27 goals and 45 points last season. His success made the loss of Chris Stewart to St. Louis more bearable, and hopefully he can improve on those totals next season.
If Jones can learn to use his body and size a bit more, he will have a very successful campaign.
6. Peter Mueller
Christian Petersen/Getty Images
Peter Mueller should give Eric Lindros a call and see how he's feeling these days.
Like Lindros, Mueller's career has been plagued by concussions, and he missed all of last season due to a concussion suffered in the preseason.
When healthy, though, Mueller can be extremely productive in the offensive end. After he was traded to Colorado from Phoenix in 2010, he scored 20 points in 15 games.
He's only 23 and definitely has a lot of upside. His chemistry with Matt Duchene should be very valuable for the Avalanche in the 2011-2012 season if he is able to stay healthy.
5. Semyon Varlamov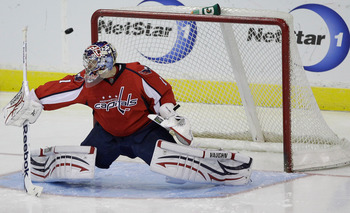 Rob Carr/Getty Images
The Semyon Varlamov acquisition is one of the most controversial trades the Avalanche have ever made.
Most hockey pundits believe the Avalanche grossly overpaid for Varlamov, sending a first and second round draft pick to Washington.
But Joe Sakic and Greg Sherman believe they have found their goalie of the future.
Varlamov has had injuries in his past couple seasons, but he has tremendous upside, and if he is able to tweak his playing style to prevent future injuries, he could solidify himself between the pipes for Colorado for the next decade or more.
4. Milan Hejduk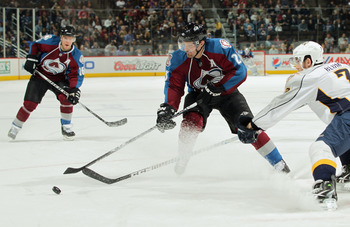 Doug Pensinger/Getty Images
Milan Hejduk is the eldest statesman on the Avalanche. He is the last member from the 2001 Stanley Cup-winning team, and his career is winding down.
He can still score, though, netting 22 goals and 56 points last season.
Hejduk is still a big part of Colorado's offense, and he will be counted on to provide leadership, possibly as the team captain.
Another season of 20-plus goals would give Hejduk 12 straight, establishing himself as one of the most consistently productive players in the league.
3. Paul Stastny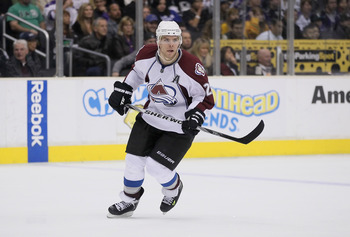 Jeff Gross/Getty Images
Paul Stastny is an extremely good hockey player. He has great hands, incredible vision and the ability to carry his team every night.
He has yet to solidify himself as a star on the team, though, because his play seems to drop off unexpectedly at times. He has yet to break the 80-point plateau in a season, and some question his passion for the game.
That being said, he is still one of Colorado's best players. He will have to battle with young star Matt Duchene to maintain the No. 1 center spot on the team this season, but he would be one of the leagues best No. 2 centers should Duchene push ahead.
2. Matt Duchene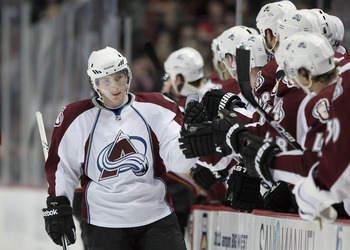 Jeff Gross/Getty Images
Matt Duchene is by far the team's most exciting and dynamic player.
He is beginning to develop into a star, and his role on the team will increase exponentially over the next few years.
Duchene will likely lead the team offensively this year, just as he did last year. He is likely also in the running for the team captain.
The addition of Peter Mueller to his line should give him a significant offensive boost, and he'll be fighting for the position of the team's No. 1 center.
1. Erik Johnson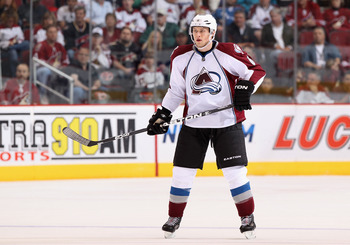 Christian Petersen/Getty Images
Erik Johnson was a bit of a disappointment to St. Louis after they drafted him first overall in 2006.
But when the Avalanche acquired him toward the end of last season, they knew they were getting a top-flight defenseman who could anchor their defensive corps for years to come.
Johnson is only 23, and he should be able to focus on his play more now that the pressure of being the first draft pick is off. He will anchor the top defensive pairing for the team.
He has a rocket shot from the point, and he is a big guy who plays physically in his own end—the whole package when you're looking at a defenseman.
Johnson is a top candidate to take the team's captaincy, as he is a natural leader and enjoys the responsibility.
If he develops into the star-defenseman he was projected to be, the Avalanche will have gotten themselves a very, very good player.
Wildcard: Gabriel Landeskog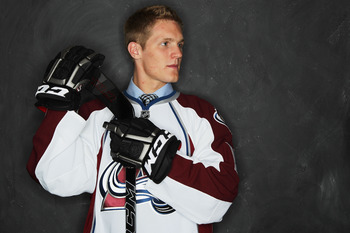 Nick Laham/Getty Images
Gabriel Landeskog was said to be the most NHL-ready player at this year's entry draft.
Colorado thought that was too good to pass up when they chose him second overall.
Landeskog is considered a lock to make the team, as he plays with an intensity that many say will translate to success at the NHL level.
Look for Landeskog on the top lines of the team. Barring a terrible training camp or long-term injury, Landeskog will don the burgundy and blue the season and likely have a significant impact for the team.
Wildcard: Stefan Elliott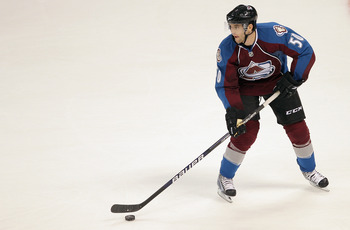 Doug Pensinger/Getty Images
Stefan Elliott was the top defenseman in the WHL this past season and was runner-up the season before.
Adrian Dater of the Denver Post expects this kid to not only make the team, but also vie for the Calder trophy as the league's top rookie.
While others may not be so optimistic, there is no doubt that Elliott is very skilled.
If he can make the transition to the NHL smoothly, he should see playing time this season and it should be productive.
However, overcrowding on the Avalanche blue-line may make it hard for Elliott to crack a roster spot.
Wildcard: Joakim Lindstrom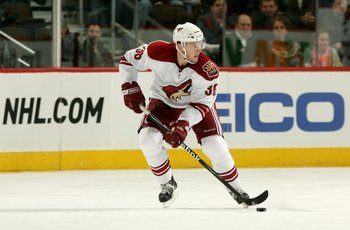 Doug Pensinger/Getty Images
Joakim Lindstrom has excelled at almost every level of hockey other than the NHL.
He played for two other NHL teams previously, and the team is hoping the third time is a charm and that he can bring his success from Europe over to the NHL again.
He won't be a top winger, but if Lindstrom can find his game in North America, he could see some significant time on the middle lines.
Joey Hishon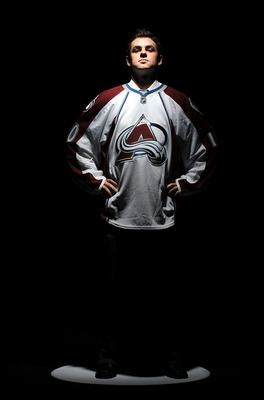 Harry How/Getty Images
The Avalanche surprised everyone when they took Joey Hishon in the first round of the 2010 entry draft. Many people thought they had reached for a player expected to go in the second round.
But his play last season proved those sentiments wrong, as Hishon put up impressive numbers for Owen Sound of the OHL.
He will have a challenge making the team as it already has three centers locked to make it in Stastny, Duchene and O'Reilly. Another option would be for Hishon to shift to the wing. But if he can put together an impressive training camp, he may force coaches to keep him around to start the season, and then you never know what can happen.
Keep Reading

Colorado Avalanche: Like this team?