From the Next Bobby Clarke to Expendable, What Happened to Mike Richards?
August 9, 2011
Paul Bereswill/Getty Images
Fifteen months ago, the Flyers' Mike Richards was considered by many around the NHL to be one of the leagues' premiere young captains. Many in the Flyers organization compared the young captain to franchise legend Bobby Clarke, and for good reason.
Both played a similar brand of physical two-way hockey. Both possessed exceptional offensive talent. Both played with their hearts on their sleeve and a fire burning in their eyes. Both put the name on the front of the jersey ahead of the one on the back. 
Fast forward to the present day, and the player many thought would go down as the next Bobby Clarke, the next great Flyer, the captain to whom all others in the future would be judged now plays for the franchise in Los Angeles. That shocking turn of events has left many—myself included—wondering what happened? How does a player go from being a franchise cornerstone and city icon to expendable in a little over a year?
I don't believe there is one simple answer to those questions. The key to explaining the situation—like the situation itself—is one riddled with complexities that must be explored and understood. And from where we all sit, we have little hope of doing so. Only those who lived in the Flyers' dressing room and traveled with the team and knew exactly what was really going on behind the scenes can truly know what caused Mike Richards to go from franchise cornerstone to a footnote in just a few short months.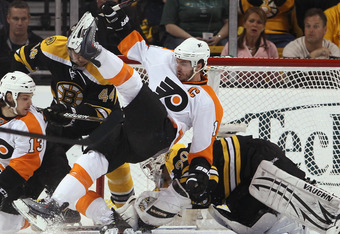 Elsa/Getty Images
While I don't believe any of us will ever manage to definitively come up with the magical key to this puzzle, it's certainly possible to sketch the situation in broad strokes—to discuss what we saw from our point of view—and try to fill in the blanks. And that is exactly what I have tried to do in what follows.
From the point of view of a Flyers fan, 2010 was a tale of two Mike Richards. During the second half of the 2009-2010 season, he played with a fire in his eyes and a passion for the game. He led his team by example, always trying to set the tone in some way, whether it be physically, defensively, offensively, or in some other manner. Richards seemed to exemplify what a Flyer captain should be; when I watched him play during that stretch, I found myself picturing Bobby Clarke wearing #18. 
During the 2010-2011 season, something changed. Richards no longer seemed to be as interested in playing inspired hockey. As I said before, I don't pretend to know exactly what happened or did not happen, or what caused or did not cause his departure from the City of Brotherly Love. But I do know that as a fan, the Mike Richards I saw in 2010-2011 was not the same player. He didn't have that fiery passion burning in his eyes. He didn't seem like he wanted to set the tone the way he had in years past. His heart just didn't seem to be in it like it was during the team's magical run to the 2010 Stanley Cup Finals. 
I don't pretend to know exactly what caused this divorce. But I do know that something was different in Richards from 2009-2010 to 2010-2011. Maybe it was the pressure of the ever-increasing expectations, the comparisons to Bobby Clarke, the increasingly strict scrutiny that comes with stardom. Maybe it was related to his party-going lifestyle and drinking habits, as the Dry Island leak seems to some to indicate. Maybe it was that the young Richards wasn't sure how to co-exist in the same locker room with Chris Pronger. Maybe it was that Peter Laviolette's brutal style and abrasive demeanor finally wore the young captain down. Maybe it was something entirely different. Maybe it was a combination of some or all of those factors.  
But as a fan, I must thank Mike Richards for all that he's done for the Flyer franchise. Regardless of what happened that ultimately resulted in his departure, I must say that the Flyers are a better franchise because he donned the Orange and Black for a portion of what I can only hope (as a hockey fan) will be a Hall of Fame worthy career. Whatever the cause may have been, Mike Richards gave the city of Philadelphia a many special memories and magical moments. And for that, I can only hope Flyer fans are grateful. Come next season, we will undoubtedly hate the man we once adored. But in the meantime, it's okay to be thankful for what he has done for the franchise.