NHL Trade Rumors: Ales Hemsky and the 22 Rumored Trades That Could Still Happen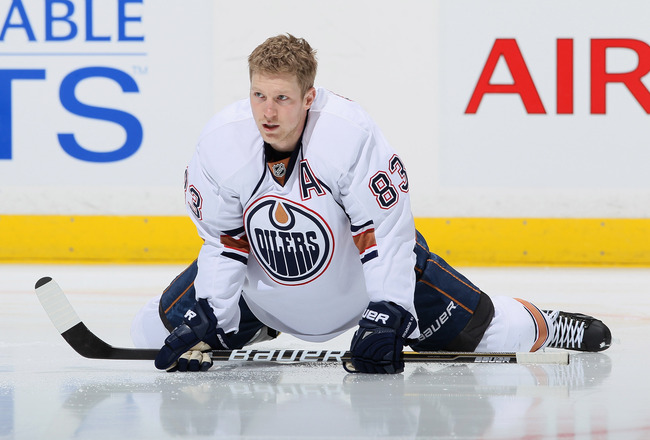 Jeff Gross/Getty Images
We're over a month into free agency, and the best free agents have already been snatched up. There are some lingering UFAs available, but the free-agency crop has seriously dried up.
For some teams still looking to make final additions before training camp next month, they might have to look into trading for what they need.
There are a few players whose names keep getting brought up in trade rumors, and there may be more surprise trades to come too.
Here are the top 22 players that could still be traded, possibly even before training camp.
22. Zach Parise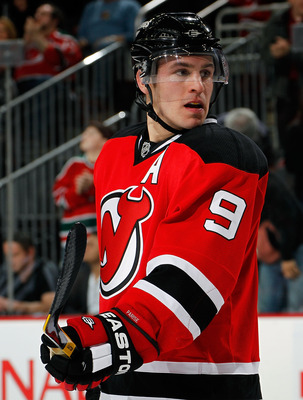 Paul Bereswill/Getty Images
Zach Parise's name has been involved in trade rumors a lot since the beginning of this year. There have been many questions of whether or not he wants to remain with New Jersey, even though he has said he does.
Then, there was drama about his contract this summer. The Devils and Parise only agreed to a one-year deal, and he's set to become a UFA next July.
Now, people are questioning whether or not the Devils will be able to keep him. If they can't, they'll have to trade him as they'll get a lot in return.
The latest rumor suggests that the Toronto Maple Leafs are eyeing Parise.
Will a Parise trade ever occur? It's unlikely, but anything is possible.
21. Shea Weber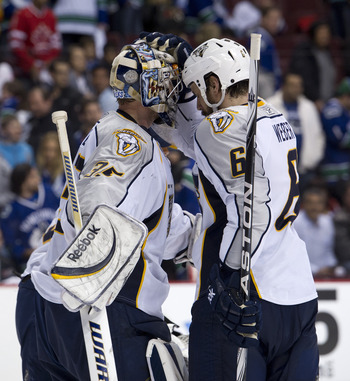 Rich Lam/Getty Images
Shea Weber is another high-profile name that many teams would love to be a trade option.
Weber and the Nashville Predators went to arbitration, where Weber was awarded a one-year, $7.5 million deal.
Sources are speculating that Weber's time in Nashville will be up soon, as he's itching to win a Stanley Cup and may not be able to accomplish that with the Predators.
Another consideration is his salary. First of all, the Predators wanted to pay him under $5 million when they went to arbitration. They have to pay him what he was awarded for 2011-12, but will they be able to pay him that much to sign him to another deal?
Secondly, the team has Weber's contract, Ryan Suter's contract and star goaltender Pekka Rinne's contract all up next summer. That will be an expensive summer.
It will come down to where Weber wants to be and what the Preds' salary situation is. If Weber doesn't care to remain in Nashville, trading him and getting a lot in return would make more sense than letting him walk.
20. Drew Doughty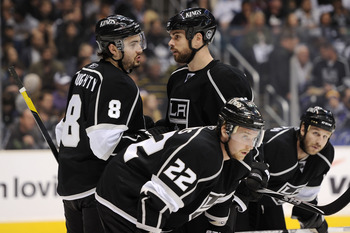 Harry How/Getty Images
Drew Doughty and the Los Angeles Kings are still struggling to come to an agreement on a new contract for 2011-12 and beyond.
Rumors of a possible holdout have sprouted and that's perhaps the worst thing to come out of this situation. Holdouts irrevocably damage relationships between players, teams and fanbases, so if Doughty is willing to holdout, he's probably willing to let his time in LA expire.
Plus, Kings assistant GM Jack Ferreira have an interesting take in an article in the Press-Enterprise.
"This year we were up in Toronto for the scouting combine and Dean had some meetings with Newport Sports (Doughty's agents)," Ferreira said. "He came back and they were discussing what went on, and I just looked at him and said, 'Dean, they don't want to make a deal. They're not ready to make a deal.'
If the talks have gotten that bad or are not going anywhere, it might be better for the Kings to trade Doughty. After all, a pouting player gets them nowhere, and Doughty would still garner a lot in return.
19. Luke Schenn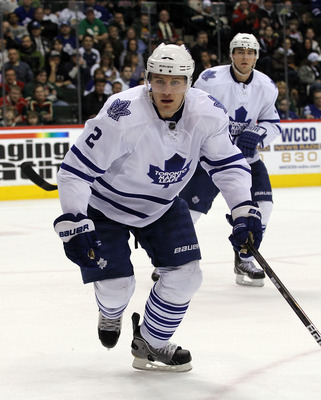 Bruce Bennett/Getty Images
Luke Schenn's name has been linked to trade rumors for a couple of years now. The 21-year-old defenseman is invariably too valuable to trade, but one never knows.
However unlikely a Schenn trade may be, if the Toronto Maple Leafs can get a player of say, Zach Parise's caliber, they'd probably be willing to discuss sending Schenn in return.
Plus, Schenn, whose entry-level contract expired, making him an RFA on July 1, has yet to be signed to a new deal.
Damien Cox of the Toronto Star reports that the Schenn contract will take some time, and Schenn himself has stated that's not worried about the new deal getting done.
However, until his new contract is signed and until the Leafs acquire the top forward they're looking for, there will still be the possibility of a Schenn trade.
18. Jarome Iginla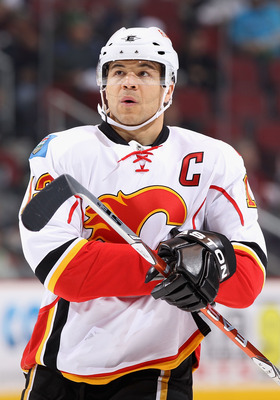 Christian Petersen/Getty Images
Jarome Iginla is another unlikely name that has come up in trade rumors. Obviously the Calgary Flames are in need of a transformation, and Iginla may be their best bargaining chip.
It seems unlikely and ridiculous for the Flames to trade their captain, leader and best player. However, we saw the Philadelphia Flyers trade their captain this offseason, and it could be become reasonable depending on what is offered Calgary in return.
In fact, a recent article on The Hockey Writers suggests that trading Iginla isn't such a far-out option after all.
Iginla is aging and the Flames need to rebuild. While they fell just shy of the playoffs this past season, it could be a couple seasons at least before they can become a serious contender.
Meanwhile, a class act like Iginla deserves a serious shot at the Stanley Cup, so perhaps an Iginla deal would work out in the long-term for both sides, no matter how ludicrous it may seem.
17. Sam Gagner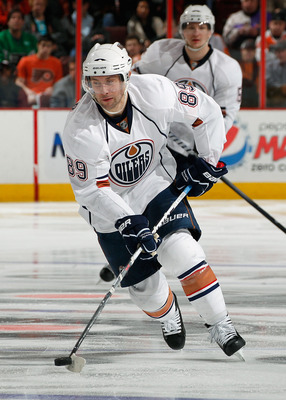 Paul Bereswill/Getty Images
The Edmonton Oilers have made some moves this offseason and are probably done, at least for now.
However, they could possibly still trade Sam Gagner. As the Edmonton Journal pointed out, there are still questions about how much potential Gagner really has anymore.
Gagner's name was brought up as a possible trade bait before Andrew Cogliano was moved to the Anaheim Ducks. Cogliano had failed to play as well as when he was a rookie and was traded.
Gagner also hasn't improved much over his career, so he could still be dangled to see what he would garner in return.
16. Sergei Gonchar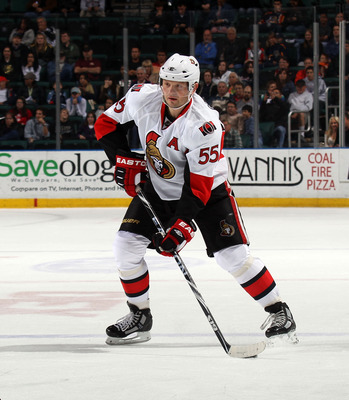 Bruce Bennett/Getty Images
Before joining the Ottawa Senators last summer, Sergei Gonchar played for the Pittsburgh Penguins where he was an effective power play quarterback and high-producing defenseman.
His production cut nearly in half in 2010-11 from 2009-10, although that could be because the Penguins score more than the Senators do.
However, the Sens signed Gonchar to a three-year, $16.5 million contract, $5.5 million a year and as a cap hit.
That's an awful lot to pay for someone who hasn't been effective for them.
Gonchar could still be as effective as he was on the Penguins though for another team. Perhaps a team still looking for defense, such as the New York Islanders, would be willing to acquire Gonchar.
The Senators would certainly appreciate it.
15. Matt Stajan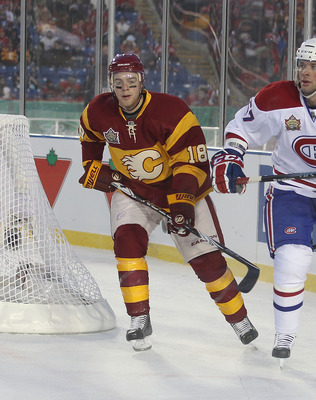 Mike Ridewood/Getty Images
The Calgary Flames acquired Matt Stajan from the Toronto Maple Leafs during the 2009-10 season. Stajan hasn't exactly performed as well as they may have liked, and the team could look to move Stajan, if there's interest.
The center is still only 27 and has scored over 40 points twice in his career, once over 50.
He has scored at least 15 goals four times in his career.
On a high-producing team, Stajan could provide support on the third or fourth line. A team like the Washington Capitals have fairly productive third and fourth lines, and Stajan could mesh well in that kind of role.
14. Ryan Malone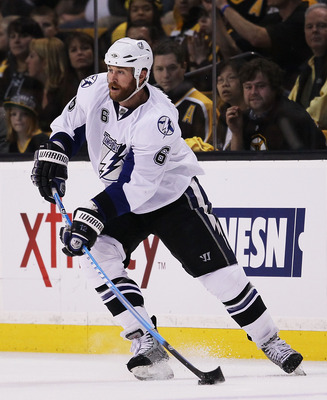 Elsa/Getty Images
Last month, Ryan Malone's name was tossed around in conjunction with the Toronto Maple Leafs. While the Tampa Bay Lightning probably won't want to trade a forward like Malone, it actually could be a possibility.
A player like Malone is good core player and could garner a lot of interest and some good pieces in return for the Lightning.
It certainly seems more plausible than the Steven Stamkos trade rumors.
13. Filip Kuba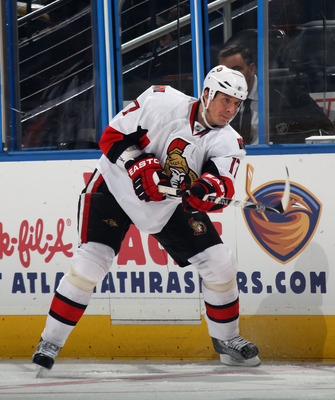 Bruce Bennett/Getty Images
The Ottawa Senators have been trying to trade Filip Kuba since the trade deadline last season and tried again unsuccessfully over the summer.
However, Kuba is still only 34 and could still be beneficial on another team.
Teams still looking for defense might consider trading for Kuba, as he shouldn't require too much in return.
12. Evgeni Nabokov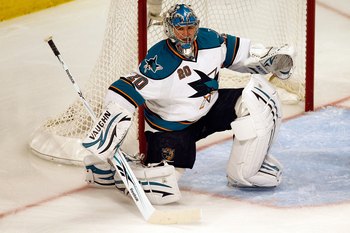 Jonathan Daniel/Getty Images
The New York Islanders acquired Evgeni Nabokov on waivers last season, but Nabokov refused to play for them.
Nabokov is supposedly going to report to Islanders training camp next month, but it's unclear if he'll make the team or not.
After all, the Islanders have three other goaltenders to choose from, Rick DiPietro, Al Montoya and Kevin Poulin. Nabokov may be the odd man out but could still generate some interest for a trade.
11. Jiri Hudler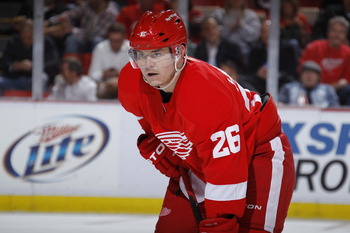 Gregory Shamus/Getty Images
The Detroit Red Wings were looking to trade Jiri Hudler but so far haven't made a move.
The Detroit Free Press reports that Hudler seems to be staying put for now, but if he doesn't put up the numbers expect of him, he'll be moved.
However, perhaps he will be moved even sooner, if there are any takers.
10. Wojtek Wolski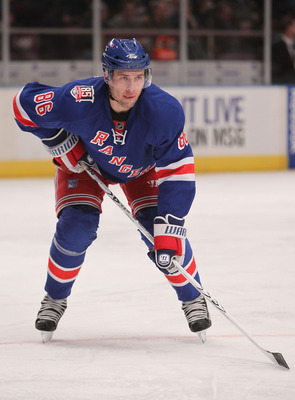 Nick Laham/Getty Images
When the New York Rangers were buying out Chris Drury in June, there was talk that they'd buy out Wojtek Wolski's contract too.
So far, they haven't, but the option is still on the table.
Or perhaps trading Wolski could be a possibility.
9. Scott Gomez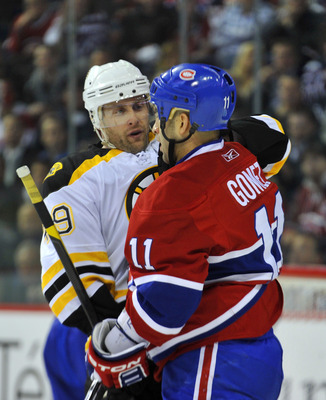 Phillip MacCallum/Getty Images
The Montreal Canadiens would love to be rid of Scott Gomez' mammoth contract, a $7.36 million cap hit for the next three years.
The size makes it difficult for the Canadiens to move him.
However, perhaps if they'll eat part of the contract, they can get a deal done.
8. Mike Komisarek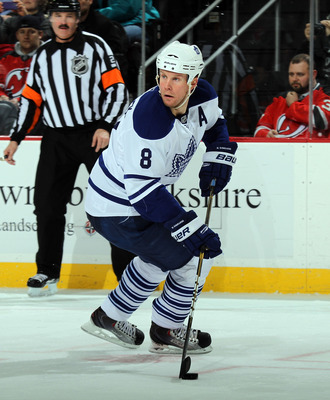 Bruce Bennett/Getty Images
There has been speculation that a Mike Komisarek trade could be imminent.
Perhaps, Komisarek would end up in Long Island, although it would be a lot of pressure playing in his hometown.
Komisarek will be a $4.5 million cap hit for the next three years and that could be too pricey for the Leafs to keep. The Islanders though, could use a defenseman and might be willing to pay that much.
7. Sergei Bobrovsky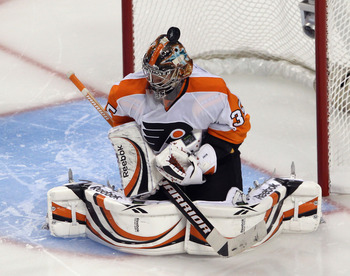 Bruce Bennett/Getty Images
With the addition of Ilya Bryzgalov this offseason, Sergei Bobrovsky is no longer the goaltender of the Philadelphia Flyers' future.
It seems like he'll be traded eventually, although it's hard to say if it will be sooner rather than later.
On the one hand, Bobrovsky is still young and hasn't proven to be a consistent goaltender worthy of the starting spot yet. He could garner more after some development under Bryzgalov.
On the other hand though, will limited playing time behind Bryzgalov, he could not garner as much in the future.
6. Mike Green
Greg Fiume/Getty Images
The Washington Capitals are currently almost $900,000 over the salary cap, so they'll have to do something to shed some salary.
They have options besides making a trade, but they could look to make a trade just to give them some room.
Mike Green is one name that has been brought up in trade rumors involving the Caps.
There should be considerable interest in the defenseman and former Norris Trophy nominee, but at the same time, the Caps would have to be offered a lot to give him up.
5. Zach Bogosian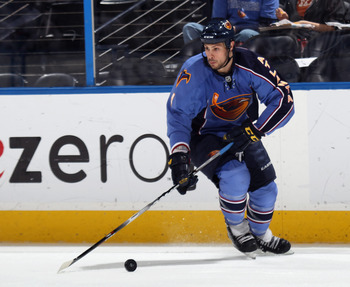 Bruce Bennett/Getty Images
Zach Bogosian is currently an RFA and has yet to agree to terms with the Winnipeg Jets.
Bogosian's name has been coming up in trade rumors for a long time now, so it wouldn't be too surprising to see him dealt.
He's still a young defenseman with lots of potential in front of him, and the Jets could get a lot in return for him.
4. Jason Spezza
Bruce Bennett/Getty Images
The Ottawa Senators could use some drastic moves, and Jason Spezza is another name coming up in trade speculation.
However, his name came up in trade rumors all summer last year, and no move was made, so it's hard to take them seriously.
Spezza has put up 57 points the past two seasons, considerably less than his preceding seasons. That could look really good to many teams, but the Senators could use a higher producer.
3. Cory Schneider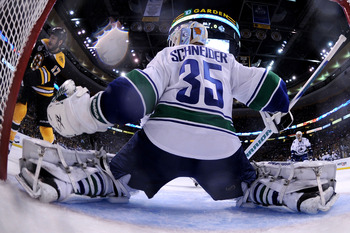 Elsa/Getty Images
With Ryan Kesler out 10 to 12 weeks, the Vancouver Province reports that the Vancouver Canucks may look to make a trade for a top-six forward closer to training camp.
The question is, who would they trade?
One option is backup goaltender Cory Schneider. Schneider is definitely good enough to be a starter and could warrant a lot in return, but he has also been part of a successful goaltending tandem in Vancouver.
2. Alexander Semin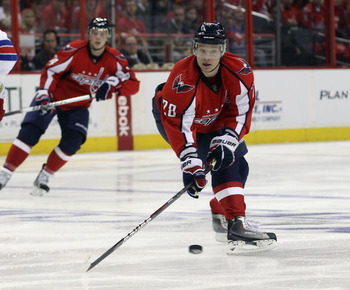 Bruce Bennett/Getty Images
As mentioned earlier, the Washington Capitals are about $900,000 over the salary cap.
If they make a trade, the most likely player might be Alexander Semin. Semin's name has been mentioned in trade rumors for a long time now.
However, Semin is also one of the team's best players when he's healthy. Although he's injury-prone and tends to flop in the playoffs, two things against him.
1. Ales Hemsky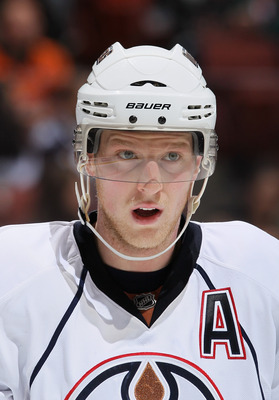 Jeff Gross/Getty Images
Ales Hemsky's name has been involved in many rumors, most of which have been put to rest. However, his name lingers and he could be dealt.
One such rumor has been sending Hemsky to the Los Angeles Kings, although that seems unlikely considering the last trade the two teams made.
He was also linked to the Columbus Blue Jackets earlier in the summer.
A Hemsky trade is unlikely, but as we've seen this summer, virtually any trade is possible.
Keep Reading