Colorado Avalanche: Why Erik Johnson Will Be the Next Captain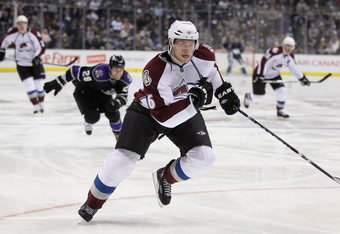 Jeff Gross/Getty Images
The Avalanche are looking to turn the page on what was an incredibly disappointing season.
Things got off to a great start with the drafting of Gabriel Landeskog and Duncan Siemens. The positives continued when the Avalanche put together a very solid goaltending duo of Semyon Varlamov and Jean-Sebastien Giguere.
Signing strong defenders Jan Hejda and Shane O'Brien to the team showed the the Avalanche are committed to getting bigger and stronger.
The next thing the Avalanche need to do that will really start their new chapter in history is declaring their next captain.
Fellow Avalanche writer Austin Snow put together a nice piece outlining the players who stand the best chance of donning the "C" on their jersey next season.
Each of the players listed on that article have shown great leadership qualities for this team, but I believe that Erik Johnson is going to be the one who is given the honor of the captain this coming season for several reasons.
First, his overall skill and ability make him one of the best players on the team. He's reliable in his own zone and can make every kind of defensive play.
He can take the body and lay the big hit, or he can lift an opponent's stick and steal the puck to start a break out.
Second, Johnson has already experienced big-time pressure situations when he played for the 2010 United States Men's Olympic Hockey team in Vancouver.
A captain needs to be the guy who has the calming influence on the team by having been in big-time pressure situations. I would say that playing for the gold medal in one of the most intense games in Olympic history would qualify for that.
Next, the Avalanche organization have a lot invested in Johnson. True, this isn't always the best reason to make somebody your captain, but the Avalanche believe that EJ is going to be the cornerstone of their defense for several years to come, and making that cornerstone the captain of the team makes plenty of sense.
After all, defense wins championships.
My final two reasons for believing that Johnson will be the next captain of the Avalanche are the most important.
First, Johnson was driven by his trade to prove that the Blues were wrong about him.
In a press meeting after practice Johnson could very easily have given your typical, cliche response to the question about being traded but he didn't.
He took a much different route that just showed the drive that he has. Rather than saying that he's just glad to be in Denver and is looking forward to things in Colorado, he said that he wanted to perform in such a way that it would make St. Louis Blues GM Doug Armstrong regret trading him.
A player that is driven to be great, no matter what he uses as his incentive, is always good to have in a leadership position because you want that kind of drive to rub off on the rest of the team.
Secondly, and most importantly, it really appears as if Johnson wants to be the leader of this team.
In a recent article for the Denver Post, Adrian Dater got a chance to chat with Erik Johnson about the upcoming season.
Not only was Johnson very up front about the fact that he believes the Avalanche will be a very competitive team this coming year, Dater reported that Johnson appeared to be the ring leader in running drills for some extra ice time.
He's already taking on a leadership position for this team and doing his best to lead by example.
He's young, he's fiery, he wants to win, he wants to lead and his positive attitude will rub off on the rest of the team. He's absolutely everything that you would want in a team captain.
Who will be the Avalanche Captain next season?
About the only reason that I can find for Johnson not to be captain is that he has only been a member of the Avalanche for a bit less than half of a season.
At the same time, the fact that he has already taken on this kind of a leadership role after being with the team for slightly less than half of a season speaks volumes about the type of leader he is, and the quality captain that he could make for this team.
In the end, I think we will see Johnson wearing the captain's C, and four players splitting duties with the alternate A's.
I believe that those players will be Stastny, Hejduk, Duchene and McClement.
Is it October yet?
Kevin Goff is a Featured Columnist for the Colorado Avalanche and is a member of Bleacher Report's 2011 NHL Draft Team. For more NHL news and discussion,
This article is
What is the duplicate article?
Why is this article offensive?
Where is this article plagiarized from?
Why is this article poorly edited?

Colorado Avalanche: Like this team?