Washington Capitals: Bounce-Back Season Needed from Nicklas Backstrom
August 3, 2011
Christian Petersen/Getty Images
During the 2011 Stanley Cup Playoffs, there was no member of the Washington Capitals who disappointed quite like franchise center Nicklas Backstrom.  
While his regular season wasn't anywhere close to what's expected out of the talented 23 year old, especially after he signed a 10-year deal with a $6.7 million annual cap hit last summer, his postseason was atrocious, as he notched just two assists in nine games.  
This is the Capitals' Year, and They Need Their Best Center To Rebound
Now, looking ahead to the 2011-12 season, the Capitals have arguably the most stacked lineup in franchise history, and appear to have all the pieces they need to make a serious run at the Stanley Cup next spring.  
However, in order for that to happen, they need a much better performance from Nicklas Backstrom, who until last season had been Washington's most consistent forward.  
Backstrom's struggles contributed to the team's decrease in offense from 2009-10, as he is the catalyst that creates many of Alex Ovechkin's scoring opportunities.  
If Backstrom can once regain his offensive touch and his status as a 100-point man, the Capitals will dominate, at least in the regular season.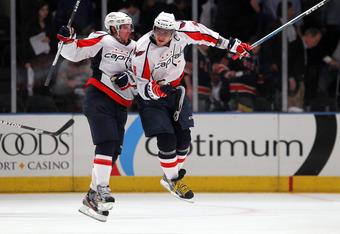 Bruce Bennett/Getty Images
Confidence is Critical
Backstrom is a playmaker who relies a great deal on his vision and instincts in the offensive zone, so he needs to have faith in each in order to be successful.  
In the latter parts of the 2010-11 campaign and the postseason, Backstrom seemed to lose confidence in his ability to find his teammates in scoring position, which can't continue if the Capitals are going to vanquish their playoff demons.  
Washington's power play hinges on its ability to move the puck, and Backstrom is by far the best passer on the team.  
When he struggles to find seams to thread the puck in the offensive zone, the Capitals' attack isn't nearly as dangerous, so it's critical that he regains his confidence in time for the 2012 postseason.  
Centers of Attention 
If the past three postseasons have taught us anything, it's that having depth down the middle is critical to being successful in the playoffs, so Backstrom needs to shine when the chips are down. 
He's more than capable of carrying Washington when needed; all he needs to do is play the way he did for the better part of his first three NHL seasons.  
If he can do that, Washington will be nearly unstoppable come next spring.  
While another stellar regular season will be just the medicine the Capitals need to fix their surprisingly anemic offense, Backstrom's performance in the postseason is what will speak volumes about what kind of a player he really is.