Detroit Red Wings: Kris Draper, Chris Osgood and Moments to Remember
August 3, 2011
Dave Sandford/Getty Images
People's love affair with sports comes from many places. For some it is the strategy and gamesmanship of the game, for others it is to marvel at the skill and power of the athletes. Others are drawn to the competitive nature and some, well, some love to root for the underdog. 
To watch and cheer for someone as they overcome the odds and stand victorious. The underdogs can teach us all about effort and passion. Recently Kris Draper and Chris Osgood retired from the Detroit Red Wings. They have both spent their careers as the underdogs.
In Kris Draper we have the ultimate underdog story. By now, most people know how he arrived in Detroit back in 1993. He was traded for one dollar. Apparently Winnipeg thought his worth was equal to a value food choice at McDonald's. 
Now most players, heck most people, would have been embarrassed by such a slight and would have disappeared from the game. Not Draper though, he took this as a challenge. 
He spent the next 17 years playing for the Detroit Red Wings. During that time, he was able to raise the Stanley Cup as champion four times as a valuable and integral part of the those championship teams. 
In the mid 1990's, he became part of one of the most beloved and effective lines in Red Wing history. He, along with Kirk Maltby and Joe Kocur would be known as the Grind Line. Later Darren McCarty would replace Kocur, but their success remained.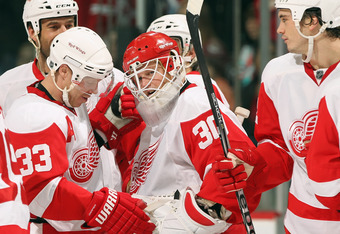 Doug Pensinger/Getty Images
Their job was to shut down the other team's top line, and led by Draper, who would win a Selke Trophy for his play, they were very good at it. Coach Scotty Bowman would often start playoff games with this line and while they may not have had the eye catching stats, what they brought was just as important. Draper was full of energy and played well all over the ice. His never quit attitude was always obvious.
Later in his career, Draper was named an alternate captain by the team. While the move made him an official leader, he had taken on that role for years. What other sport, team or player can you find someone who beat the odds like Draper.  
The "one dollar man" who played his way into a leadership role on one of the greatest hockey franchises. His effort, hustle and endless heart is why he became and will remain a Detroit favorite for years to come.
Chris Osgood has put together numbers worthy of the Hall of Fame, yet he spent much of his career overlooked. Part of that may be because he played during the same time as Patrick Roy, Martin Brodeur and Dominik Hasek, arguably three of the greatest goalies to ever play. 
Osgood's numbers compare very well to each of them however he wasn't as flamboyant, controversial or edgy as any of them. During his career, he watched as Curtis Joseph, Mike Vernon, Manny Legace and even Hasek tried to displace him. Each time he would bounce back. 
He spent most of his career in Detroit, but in the three years away from the Wings, he still did very good. He tied the Islanders record for goalie wins in a season and lead them to the playoffs for the first time in a decade. 
With the Blues he vastly improved their team, however, in each of these situations the teams thought that they had someone better in waiting.  Neither team has reached the success they had since he left.
With Detroit, he would raise the Stanley Cup three times and was minutes away from the Conn Smythe and a fourth cup. He has been a Vezina finalist and a two-time Jennings winner. He ranks among the best in wins and shutouts during the playoffs and is 10th all time in regular season wins.  He finished his career with the fourth best all time win-to-loss ratio.
Both of these players showed what perseverance is all about. They played in perhaps the best city in America to understand and appreciate their everyman, hard working, blue collar mentality. So when thinking of the greatest memories of their careers, it does not seem right to pick out just one. 
Instead it is better to focus on the lessons they taught us throughout their career. Never give up, always keep going and do not let any obstacle deter you from your goals.