New York Islanders: Nassau Coliseum Vote Fails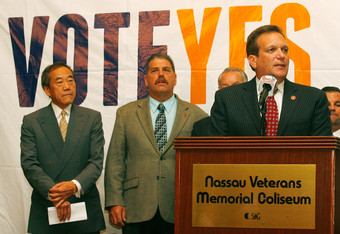 Nassau County executive Edward P. Mangano (right) and Islanders owner Charles Wang (left) speak after the arena referendomwas turned down.
Andy Marlin/Getty Images
The New York Islanders are just a few steps closer to leaving Long Island, and possibly the state of New York.
That is the last thing Islander fans want to hear. Monday, August 1, 2011 could go down as one of the darkest days in the islanders history. The votes came in for the proposed $400 million plan and they were not good.
Not all the votes are in, but according to The Associated Press as of early this morning, "with 99 percent of the vote counted, the referendum failed 56 percent to 43 percent, according to unofficial returns from the Nassau County Board of Elections." The already high-taxed citizens of Nassau County decided to go in a different direction, one that seems to not involve the Islanders.
Islanders owner Charles Wang said after the announcement during a press conference, "I'm heartbroken that this was not passed. We're disappointed that the referendum pertaining to the arena was not voted by the people of Nassau County as being a move in the right direction for growth. I feel that the sound bites ruled the day and not the facts. Right now, it's an emotional time and we're not going to make any comments on any specific next steps."
Wang went on to say, "We're committed to the Nassau Coliseum until the year 2015 and like we've said all along, we will honor our lease."
It was very clear to me that toward the end of the vote this was not going to get done. I personally did not think this would happen, but I was hoping for the best.
Do you think the Islanders will remain somewhere on Long Island?
There was a little controversy that was really not covered at all. Around 6:00 p.m. EST, major thunderstorms came through the area of Nassau County, causing major flooding and the closing of one of the most used railroad lines on Long Island, the LIRR. At this time, many people believed that there would be a flood of "Yes" votes coming in because of the number of people coming from New York City after work.
These closings had many people calling the Nassau County Board of Elections office asking if the voting period could be extended after 9:00 p.m. They decided against it as it is a state law that all polls must close at 9:00 p.m.
This, of course, is not the news Islander fans want. I think people got too caught up in all the negative things (which, personally, I didn't see) and didn't bother to look at the multiple positives.
There is still hope on Long Island. If the Islanders do move from Nassau, there are still places like Queens, Brooklyn and Suffolk County, all three of which are on Long island.
Remember, we are Islander fans. We're used to being down and out. But, we have showed in the past that we can rise up and win against all odds. I am confident that something will be done to keep the Islanders somewhere on Long Island. Mark my words, it will happen.
This article is
What is the duplicate article?
Why is this article offensive?
Where is this article plagiarized from?
Why is this article poorly edited?

New York Islanders: Like this team?