Scott Hartnell: Philadelphia Flyers' Dark Horse This Year
August 2, 2011
Mike Stobe/Getty Images
Scott Hartnell is a name tied to a good deal of trade rumors this offseason. The Philadelphia Flyers have set a precedent with two blockbuster trades already. It should come as no surprise that Philadelphia Flyers GM Paul Holmgren could be shopping Scott Hartnell.
While Scott Hartnell's contract will have a cap hit north of $4 million, there is something to be said for him. In the past six seasons Scott Hartnell has failed to eclipse the 20-goal mark once.
The Philadelphia Flyers gave up significant offense with the Jeff Carter and Mike Richards trades.
If Paul Holmgren does in fact decide to trade Scott Hartnell, he would need to get not just offense, but a physical player. While Scott Hartnell isn't the most gifted goal scorer, he is a Flyer through and through.
Now don't get me wrong. I know Hartnell's shortcomings. He takes dumb penalties at times and can sometimes trip over his own feet.
The biggest knock on the guy is his paycheck. Especially when you consider the all-time active scoring leader just signed with the team at 3.3 million.
However, Scott Hartnell has shown to be a clutch guy at times. Go ahead and check out the video included. In it you will see a player that can battle for the "ugly" goal.
While I think the Philadelphia Flyers are set to make a serious run this year, they won't do so without a player like Scott Hartnell. There are other players in that mold on the roster. But not enough and without the experience Scott Hartnell brings.
Wayne Simmonds is a guy that plays a style similar to Scott Hartnell's. But Scott Hartnell is a guy that has "been there, done that."
He has scored big playoff goals when the team desperately needed it. On top of that, he occasionally drops the gloves when needed.
With the influx of youth and inexperience, the Philadelphia Flyers would be best served to keep a Scott Hartnell in their lineup.
That is not to say trading Hartnell would hurt. Perhaps with his salary moved, Paul Holmgren can pick up another 20 goal scorers that can battle in front of the net.  
Such a deal would more than likely need a Sergei Bobrovsky-type player packaged with it. Otherwise who is going to take Scott Hartnell and his salary for a player of the same skill and less salary?
As lopsided as Scottie Hartnell's contract may be, there are others on the team the Philadelphia Flyers can easily move. Braydon Coburn and Matt Carle are two names that come to mind.
When not beside Chris Pronger, these two can look lost at times. Braydon Coburn is prone to misplaying the puck.  Matt Carle just gets plain careless or out-played physically. Both have one year remaining on their contracts.
With Chris Pronger recovering from back surgery, it will be all hands on deck for Flyers defensemen.
Even still with one year remaining on each of their contracts, it might be a whole lot easier to move one or even both of those players than Scott Hartnell.
The Philadelphia Flyers offense is set. It doesn't have a great concern. If you take Scott Hartnell out of the picture that all could change.
Why do I say this?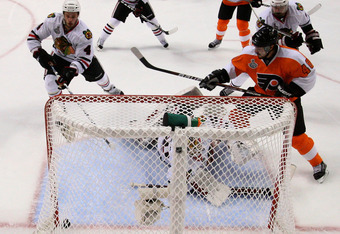 Bruce Bennett/Getty Images
When you look at the Flyers' lines they have a good mix of skill, grit, youth and experience.
While Scott Hartnell is not the most skilled player he definitely has the grit and experience the Philadelphia Flyers need. If you trade him there will be a bigger void left than the two players I mentioned.
The 2011 playoffs were not kind to the Philadelphia Flyers. Besides goaltending being a major contributor to their ugly departure. The Flyers just got plain old manhandled by the Boston Bruins.
I won't sit here and try to say Scott Hartnell played his best—he didn't. But he was not horrible either.
I've always looked at a successful hockey roster as a good meal. You need your appetizer, soup or salad, main course, side dishes and dessert. Oh, and don't forget the wine!
The Philadelphia Flyers have that mixture this year. They have the tough players (appetizer), scoring touch (soup or salad), goaltending (main course), power play/penalty kill (side dishes), fighters/agitators (dessert) and coaching (glass of wine).
Let's face it: If Scott Hartnell didn't have that big contract we would love him. Even if he is traded, expect the Flyers brass to bring in a serious upgrade. Even then Scott Hartnell could be the dark horse for this year's Philadelphia Flyers.