Jim McIsaac/Getty Images
April 21, 2015
After Brayden Schenn was traded to the Flyers just before the 2011 draft, he immediately became the Flyers' best prospect. He is considered the best prospect in the NHL overall with a dominating season in the WHL (22 goals, 57 points in 29 games), mostly playing with Saskatoon. Schenn also tied a record with 18 points in the WJC.
He is not, however, by any means the only promising up-and-coming player for the Flyers. Here is a list of the best of the rest: 
1. Erik Gustafsson
Eric Gustafsson is a smallish defenseman (5'10", 180) who had five goals and 44 assists in 72 games and earned himself a three game look for the Flyers this season. He has been an excellent puck distributor at every level, even dating back to his days playing for Northern Michigan University.
Gustafsson was signed as a free agent in 2010 at the end of his junior year in college, and his professional career has taken off since then. He represents a type of mobile, two-way defenseman that plays a good physical game. Gustafsson skates well enough to adapt to the new NHL and should be a reliable starter in the coming years.
2. Eric Wellwood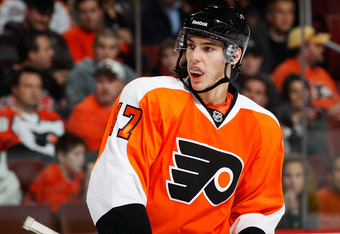 Mike Stobe/Getty Images
Eric Wellwood is the younger brother of Kyle and stand 5'11" and about 175 pounds. He is rather on the small side, but skates very well and plays both sides of the puck. Eric Wellwood is the kind of forward you need to work hard on the penalty kill, he projects to be a second or third-line winger.
In 2009-10, he had 31 goals and 37 assists playing for Windsor of the OHL. His offensive statistics from last season with the Phantoms of the AHL may not overwhelm you (28 points in 73 games), but he was called up for a few games at the end of this season.
Wellwood was drafted in the sixth round in 2009, and was an excellent draft choice considering how many players with less potential were taken before him. He does have the potential of being a great two-way player, with the capability of scoring in the range of 20 goals and 50 points.
3. Kevin Marshall
Marshall is a confident and tough defenseman who was drafted 41st overall in the 2007 Draft. Scouts were initially concerned about Marshall needing to improve his puck movement in order to play a better all around game, which he has improved gradually and has helped his stock as a prospect.
Marshall is edgy and tough as nails, just the type of player who projects as a fan favorite in Philadelphia. He is very hard to knock off the puck at over six feet and nearly 210 pounds, and has the kind of size and skating ability that projects well for a future in the NHL.
Marshall is more of a defensive defenseman than he is a puck-mover, even in spite of all his improvements, but he will be a top four defenseman one day.
4. Brendan Ranford
Brendan Ranford has been putting up solid numbers with Kaloomps of the WHL, with 33 goals and 53 assists in 68 games. Ranford is willing to go to the dirty spots on the ice in spite of a size disadvantage (5'10", 182) that might mean that it will be easier to stop him at the NHL level.
He does have NHL genes because his uncle is Bill Ranford, a goalie who was most famous for his work with the Oilers and Bruins over a career that spanned more than 15 years.
The primary concern for Ranford is obviously not his talent or knack for scoring, but he does have to prove that his game works at the NHL level. He does play well on both sides of the puck, and could prove to be a good choice at 209th overall in the 2010 draft.
5. Ben Holmstrom
Holmstrom is a depth forward who has impressed the organization and may get the chance to show his skills on the third or fourth line this year. After a four year career at UMass-Lowell, Holmstrom may not score very often (38 points in 78 AHL games for the Phantoms), but he does skate well and plays a physical, grinding style.
His defense as a forward is second to none, clearly the best in the organization and top 10 of any prospects not in the NHL right now. Holmstrom projects as a perfect player to fill in some of the depth on the bottom line that the Flyers may lose from year to year (i.e. Darroll Powe). 
Like the new article format? Send us feedback!