Nashville Predators: Could Shea Weber's Possible Departure Mean Relocation?
August 1, 2011
Jeff Gross/Getty Images
There are two topics that have been plaguing the National Hockey League for the last few months. One is future team relocations, the other is Shea Weber's contract.
We'll tackle the latter first. There are constant contradicting rumors being tossed around about Shea Weber's contract.
Some will say "the Predators want a deal done by the end of the week" (which has been said for the last month or so) while others will state that talks between the Predators and Weber's agent have completely stopped.
Both sides have an arbitration hearing scheduled for Tuesday, August 2, a day before recently signed Zach Parise was supposed to have his arbitration hearing.
To put it simply, there are three different options here. The first is that Weber could sign a long-term deal with Nashville, the second is that he could sign a one-year deal and the third is that he could walk away or be traded to another team.
Obviously, Nashville would prefer the first option, but they would certainly be open to accepting an extra year to talk to him about other contract options or get more time to find a decent trade proposal.
Shea Weber is the guy I consider to be the best defender in the NHL under the age of 30. Not everybody will agree with that statement, but everybody does agree that Weber is a great defenseman in his own right.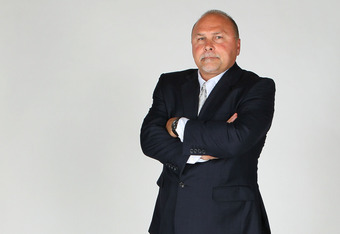 Jeff Gross/Getty Images
The question is, if Weber is so great and Nashville has so much cap space, why is it so hard to reach a deal? Nashville could easily offer him as much money as he wants, right? Wrong.
Most hardcore hockey fans already know this, but the fact is that there are about a dozen teams in the league that hang right on or around the NHL's salary floor. Nashville is one of those teams. Despite recently being a playoff team more often than not, they don't generate enough money to spend lots on player contracts.
Now, with a huge increase in the cap floor, Nashville is required to spend at least another $6.8 million in order to meet NHL standards, but they have to sign three more players. Shea Weber could easily demand every bit of that $6.8 million on his own.
While lack of money is probably not the case here, there is obviously something stonewalling a deal between Weber and the Predators.
The fact that Weber is the team's franchise player and they have issues with generating cash means that, if Weber isn't signed, the Predators could be in for a rough ride.
What I mean by that is there are a lot of teams facing possible relocation in the NHL. The Phoenix Coyotes spearhead the group that includes the Florida Panthers and the New York Islanders, pending a Nassau County vote on August 1, to build a new arena.
Most people will say that Nashville isn't nearly as likely to relocate as the teams listed above, and I wouldn't disagree, but does Nashville become one of those teams if they lose Weber?
No doubt Weber is the franchise player of the team's 13-year history, and losing a player of his caliber would be a blow to any GM. But this isn't just the loss of a player—it could be the loss of an entire franchise.
Weber, along with head coach Barry Trotz, has been a cornerstone of the Predators' success. As a good team, they're barely keeping their heads above water financially. But as a bad team, who knows what could happen, and it's not necessarily a stretch to believe that losing Weber could sink the team out of the playoffs for an extended period of time.
Could the Predators find another star player after losing Weber? Absolutely. It's possible, but it's not probable. They haven't had early draft picks in quite a few years which hurts their prospect pool, and their biggest hope offensively, Alexander Radulov, shows no interest in coming to the NHL or, more importantly, to Nashville.
Even if Radulov did come back, he only has one year to fulfill on his contract with the Predators before he could scurry away to another team willing to offer him the big bucks.
And that is exactly what makes re-signing Weber a task of the utmost importance. Sure, there are always star free agents to be found every July 1, but there are two motivators every player has to sign with a team. One is money, the other is winning.
We've already established that Nashville doesn't have money, and if they lost Weber you could seriously question their ability to win.
With all that in mind, when considering the contract talks between Shea Weber and the Predators, fans should remember that losing Weber wont just mean the loss of a player—it could mean the loss of a franchise in Nashville, Tennessee.
For daily sports coverage you can become a fan of Jordan Matthews or follow him on Twitter below.