NHL Free Agent Rumors: Predicting Where the Top 20 Players Left Will End Up
Jeff Gross/Getty Images
We're a month into NHL free agency and the most intriguing names have already been scooped up. While there are still some chances for the remaining free agents to sign with NHL clubs, some veteran UFAs have moved on and signed in Russia's Kontinental Hockey League.
Veteran forward Alex Kovalev returned to his homeland after failing to sign in North America, signing a two-year deal with Atlant Mystichi.
Meanwhile, Brent Sopel inked a two-year deal with Metallurg Novokuznetsk.
There are still many free agents left and as training camp inches closer, many of these players will either retire or take their game overseas, to one of the many European leagues available.
Here's the top 20 players still available and predictions as to where they'll land.
20. Steve Staios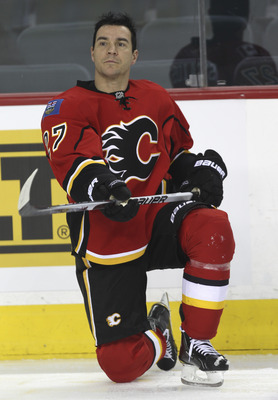 Mike Ridewood/Getty Images
Steve Staios has spent the past season and a half with the Calgary Flames, after being traded to Calgary from the Edmonton Oilers.
Staios has played alright for the Flames, but at 38 years old his best years are behind him and his productivity has dwindled considerably.
There hasn't been much rumored interest in him at this point, a month into free agency.
Destination: Retirement
19. Chris Clark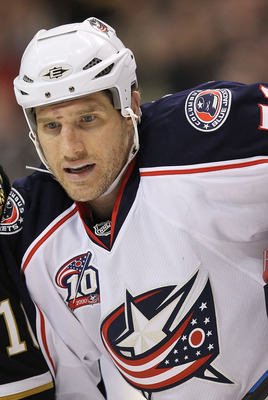 Ronald Martinez/Getty Images
Chris Clark has spent the last season and a half playing for the Columbus Blue Jackets. Before that, he played for the Washington Capitals for almost five seasons, where he served as captain.
With the Blue Jackets' new acquisitions this summer, re-siging Clark became unnecessary.
However, at 35, Clark still has a couple years ahead of him to contribute to a new team and could be a good addition for a team looking for a third or fourth liner.
The past two seasons he's scored 10 and 13 points, but could probably contribute a little more if healthy.
Destination: Anaheim
18. Mike Grier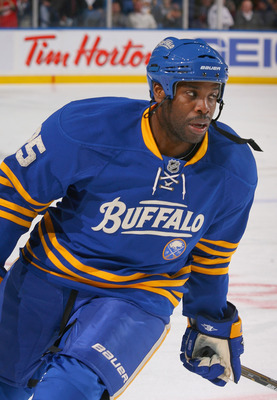 Rick Stewart/Getty Images
Mike Grier is 36 years old and has moved around a fair amount in his career, playing for the Edmonton Oilers, Washington Capitals, Buffalo Sabres and San Jose Sharks.
Originally, Grier was considering retirement and said that he'd only return to play for Buffalo.
However, Buffalo seems uninterested in re-signing Grier and he's changed his tune, saying that he'll consider playing for another team.
He's averaged about 13 points a season in the past few years, but his veteran presence and size could add to a team's roster.
Destination: Montreal
17. Pascal Leclaire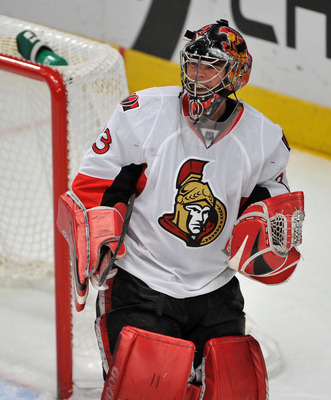 Christopher Pasatieri/Getty Images
There's really no team that is still in need of a goaltender for the 2011-12 season. And if there were, of the last three remaining goaltenders (Marty Turco, Ray Emery and Pascal Leclaire), Leclaire would probably be at the bottom of the list.
This leads one to believe that perhaps the 28 year old Leclaire's time in the NHL is up, at least for now.
Last season, he only played 14 games in the NHL, giving other NHL teams no real incentive to give Leclaire another shot.
He'll move to one of the European leagues for 2011-12.
Destination: Europe
16. Paul Mara
Al Bello/Getty Images
Paul Mara has played for a few different teams during his NHL career: Tampa Bay Lightning, Phoenix Coyotes, Boston Bruins, New York Rangers, Montreal Canadiens and Anaheim Ducks.
Most recently, the Ducks traded Mara back to the Montreal Canadiens for a fifth round draft pick.
Now, the Canadiens haven't re-signed the defenseman and he's looking for a new home.
At 6'4", Mara has size going for him.
Destination: St. Louis
15. Nick Boynton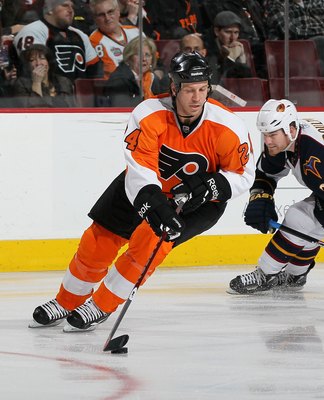 Jim McIsaac/Getty Images
Nick Boynton is 32 years old. The defenseman is looking for a new home after not being re-signed by the Philadelphia Flyers.
Before the Flyers, Boynton played for the Chicago Blackhawks, Anaheim Ducks, Phoenix Coyotes and Boston Bruins.
Since he's still available and lower on the list of defenseman still available, a team could get Boynton for a bargain price.
Destination: Boston
14. Marty Turco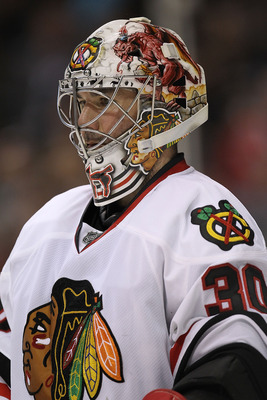 Ronald Martinez/Getty Images
Last season, Corey Crawford's excellent play for the Chicago Blackhawks made Marty Turco obsolete.
Now, Turco is a UFA and looking for another gig, but so far, nothing has come up. Prior to Chicago, Turco spent a lot of good years with the Dallas Stars.
Turco could be a good backup goaltender to have, but it seems that all the teams have their goaltending situation covered.
The 35-year old Turco is out of luck. At least he has broadcasting going for him.
Destination: Retirement
13. Jarkko Ruutu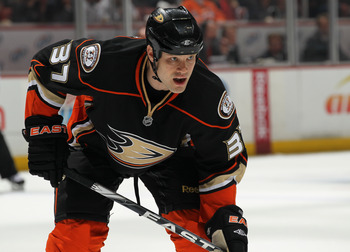 Stephen Dunn/Getty Images
The 36-year old Jarkko Ruutu has had a long-tenured NHL career playing for the Vancouver Canucks, Pittsburgh Penguins, Ottawa Senators and most recently, the Anaheim Ducks.
However, Ruutu is mainly known for his pest antics, not for his productivity on the ice.
It looks like his NHL career has come to a close, but he still has some options in his native Finland.
I don't speak Finnish and Google Translate was barely a help, but it seems that a Finnish team may have some interest in signing Ruutu.
Destination: Finland
12. Chris Campoli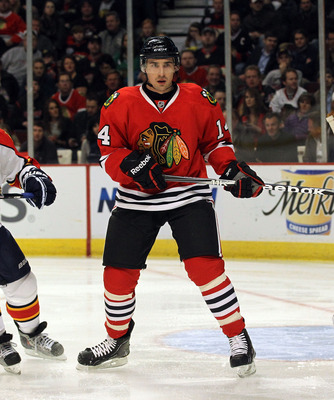 Bruce Bennett/Getty Images
After becoming too expensive for the Chicago Blackhawks to retain, Chris Campoli was cut loose, becoming an unrestricted free agent.
While some may be surprised that Campoli hasn't signed yet and interpret that as lack of interest, it's very possible that Campoli's camp is juggling multiple offers and in the middle of negotiations.
After all, Campoli is young and has a lot of potential in front of him and could be a better option than the other defenseman left on the market, most at the end of their NHL careers.
Destination: Phoenix
11. Bryan McCabe
Nick Laham/Getty Images
Bryan McCabe was a popular name at last year's trade deadline and the Florida Panthers moved their captain to the New York Rangers.
After a lackluster performance though, the Rangers decided not to re-sign the free agent defenseman, instead going in another direction.
McCabe is still on the market and despite a poor end to 2010-11, is still one of the better options left on defense.
Plus, he's skilled on the power play.
Destination: Calgary
10. Scott Hannan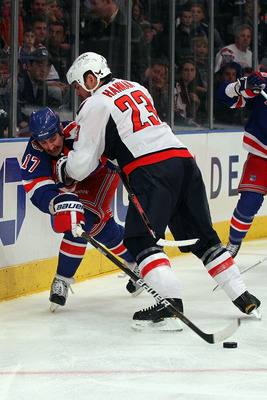 Bruce Bennett/Getty Images
Scott Hannan has played for the San Jose Sharks, Colorado Avalanche and most recently, the Washington Capitals in his NHL career.
He's 32 and still has a few good years ahead of him, probably.
Hannan isn't an offensive defenseman, which may be one reason he's still on the market. However, he's good on defense and probably one of the best options out there for teams needing sheer defense.
Destination: New York (Islanders)
9. Chris Drury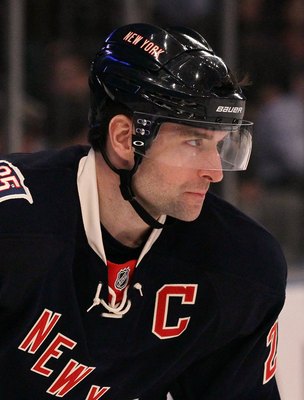 Jim McIsaac/Getty Images
The New York Rangers bought out Chris Drury's contract because his health has been an issue and they didn't want to waste the cap room on a potentially sidelined player.
However, for a much smaller price, Drury could be a good player to take a chance on.
There has been a few teams mentioned in rumors surrounding Drury and the latest rumor is the Los Angeles Kings.
Drury could be another good veteran presence for the young team in Los Angeles. Plus, the Kings were looking for another forward, but have very little cap space left to play with.
Destination: Los Angeles
8. J.P. Dumont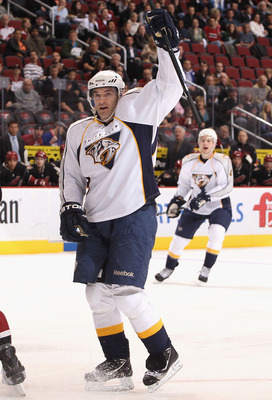 Christian Petersen/Getty Images
The San Jose Sharks traded Dany Heatley and Devin Setoguchi this summer to the Minnesota Wild for Martin Havlat and Brent Burns.
Heatley and Setoguchi combined for over 100 points last season and that's tough to replace, particularly with their cap room.
However, there are a couple veteran forwards on the market that could find their productivity again and come at a bargain price.
At 33, J.P. Dumont could be that guy. He only scored 19 points this past season, but in the two previous seasons he scored 45 and 65 points. Dumont could easily find that productivity again with a high-scoring team like the Sharks.
Destination: San Jose
7. Mike Modano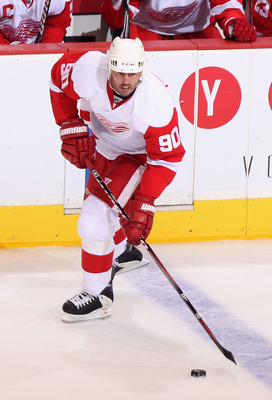 Christian Petersen/Getty Images
After being a fan favorite and one of the most successful players in the Dallas Stars/Minnesota North Stars franchise, Mike Modano and the Stars parted ways last year.
Modano joined the Detroit Red Wings on a one-year contract.
Now, Modano is a UFA and the Wings don't seem interested in bringing the veteran forward back for another season.
Fans are waiting to hear if Modano wants to return or intends to retire. The Detroit Free Press and NHL.com are reporting that Modano has hinted at retirement and will probably announce soon enough.
Destination: Retirement
6. John Madden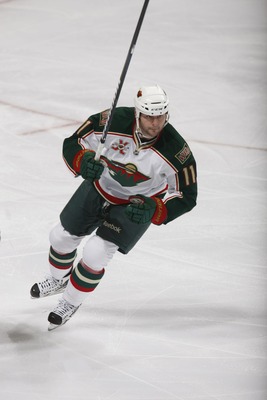 Dale MacMillan/Getty Images
John Madden spent the majority of his NHL career playing for the New Jersey Devils. Then, 2009, he left the Devils for the Chicago Blackhawks. This past season, Madden played for the Minnesota Wild.
The 38 year old is now an unrestricted free agent and is still looking for a team.
The veteran is a good two-way center and has veteran experience that could aid his new team.
Madden had good years in Jersey, perhaps he'd like to end his career where he began?
Destination: New Jersey
5. Cory Stillman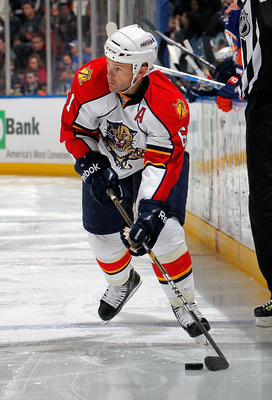 Paul Bereswill/Getty Images
Cory Stillman has played for the Calgary Flames, St. Louis Blues, Tampa Bay Lightning, Carolina Hurricanes, Ottawa Senators and Florida Panthers over the course of his career.
Most recently, he played for the Hurricanes.
At 37 years old, Stillman's best years are behind him and retirement is inching closer.
However, Stillman can still add veteran experience to a dressing room and some scoring to a team's third or fourth lines.
Destination: Nashville
4. Sergei Samsonov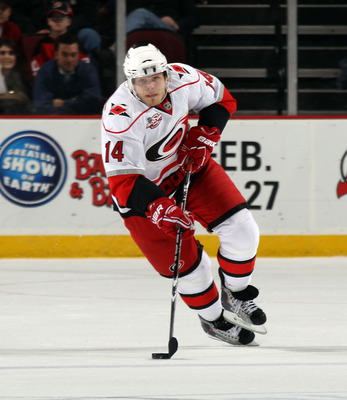 Bruce Bennett/Getty Images
Sergei Samsonov has played for the Boston Bruins, Edmonton Oilers, Montreal Canadiens, Chicago Blackhawks, Carolina Hurricanes and Florida Panthers over the course of his career.
In 2008-09, Samsonov scored 48 points for the Hurricanes. Then, the next season he only scored 29. Midway through 2010-11, the Canes sent him to the Panthers.
Between the two teams though, Samsonov scored 40 points.
The Hurricanes could use another player who can put up points, after losing Erik Cole to the Montreal Canadiens in free agency.
Destination: Carolina
3. Nikolay Zherdev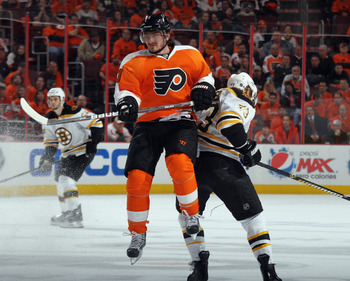 Bruce Bennett/Getty Images
Nikolay Zherdev has gone back and forth between the NHL and KHL for years now. Last season, he returned to the NHL to play for the Philadelphia Flyers.
This summer, Zherdev has been involved in some controversy, which could be affecting his stock on the free agent market.
Or, it could be his limited ice time last season with the Flyers. However, Zherdev was productive when he was on the ice.
Now, Zherdev has expressed interest in the Winnipeg Jets. It's unknown if the Jets would consider signing Zherdev, but he could probably help them put up points, something they were looking for this summer.
Destination: Winnipeg
2. Ray Emery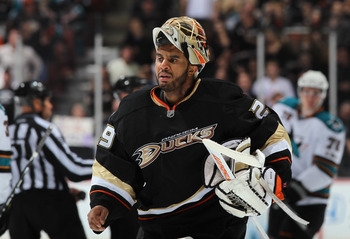 Jeff Gross/Getty Images
After a successful return from a career-threatening injury for the Anaheim Ducks last season, it seems surprising that Ray Emery has yet to sign a contract for 2011-12.
Perhaps, teams think he's still a risk to sign as their starting, or even their backup, goaltender.
The Chicago Blackhawks have signed Emery to a tryout contract, meaning he will attend their training camp to fight for a position. The team holds his rights until October 1, when they can decide to sign him or release him.
Will he end up with Chicago? Chances are yes. After all, he's battling for a backup spot against rookie Alexander Salak. Emery should be able to beat him easily for the backup to Corey Crawford.
Destination: Chicago
1. Teemu Selanne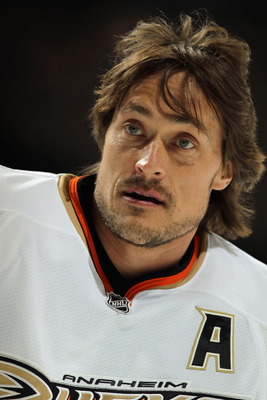 Doug Pensinger/Getty Images
Teemu Selanne is 41 years old, but coming off one of his best seasons in recent years with the Anaheim Ducks.
Last season, Selanne scored 31 goals and 80 points; his highest totals since 2006-07, the year the Ducks won the Stanley Cup.
After such a successful season, it will be hard to walk away from the game.
Destination: Returns for another year in Anaheim
Keep Reading