Hockey Fight Videos: Top 25 Best Knockouts in NHL History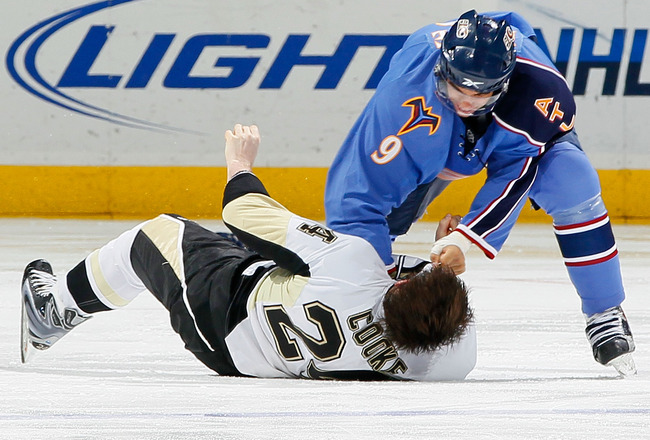 Kevin C. Cox/Getty Images
During the first day of NHL action in the 2010-2011 season, two of the NHL's biggest heavyweight fighters squared off in the Battle of Alberta.
The Edmonton Oilers' Steve MacIntyre and the Calgary Flames' Raitis Ivanans squared off late in the game, with devastating results.
MacIntyre dropped Ivanans, who has not played since due to a concussion. The fight ranks among the NHL's most devastating knockouts of all time.
Here's a look at some of the most decisive fights in NHL history, all of which ended in one player being dropped and unable to continue as a result of a punch.
(Credit to DropYourGloves.com for the internet's best source of hockey fight records, and HockeyFights.com for the internet's most comprehensive source of hockey fight videos.)
No. 25: Colton Orr vs. Matt Carkner (February 6, 2010)
These two had three fights during the 2009-2010 season which ended in one player getting dropped.
No. 24: Jody Shelley vs. Colton Orr (February 8, 2010)
Just two days after his fight with Carkner, Orr took on Jody Shelley, with opposite results.
No. 23: Rob Ray vs. Steve Webb (November 22, 1997)
Ray was simply displaying the NHL's frustration with those hideous New York Islanders uniforms.
This was a great toe-to-toe fight before the final uppercut took out Webb.
No. 22: Dana Murzyn vs. Dave Barr (March 19, 1986)
It's hard to see at first, but watch after Barr's helmet flies off.
Murzyn of the Whalers uses two short head shots, one uppercut, then five straight rights.
Finally, he goes to an uppercut, which stuns and floors Barr.
No. 21: Kevin McClelland vs. Paul Baxter (October 25, 1985)
Like the Ray-Webb fight two slides prior, this was a good toe-to-toe bout that ended when one man landed a better shot.
McClelland stunned Baxter, dropping him to his knees. Then he landed another that put Baxter all the way down.
No. 20: Johnathan Aitken vs. John Tripp (January 18, 2004)
Watch how far Aitken's arm is pulled back before the final blow. It's actually possible to notice the leg movement, and see his back skate drive into the ice.
With a leg drive and a full swing haymaker connecting, it's no surprise how bad Tripp was hurt afterwards.
No. 19: Rob Ray vs. Dennis Bonvie (November 14, 1998)
Ray's second appearance in the countdown, he absolutely buckled Bonvie with a beautiful punch.
No. 18: Clark Gillies vs. Ed Hospodar (December 30, 1981)
Might be a bit hard to see this one, but Gillies landed a ferocious uppercut, causing some difficulty for Hospodar.
No. 17: Behn Wilson vs John Hilworth (February 9, 1980)
Behn Wilson is one of hockey's greatest all-time fighters, but probably one of the least known.
He was a man that should not be made angry. This is why.
No. 16: Todd Ewen vs. Bob Probert (January 24, 1987)
Hockey fight enthusiasts widely agree that Bob Probert is the best ever, which makes this an incredible upset victory for Todd Ewen.
No. 15: Derek Boogaard vs. Trevor Gillies (November 6, 2005)
The late Derek Boogaard was hockey's most intimidating player. Gillies lost grip and left himself wide open here.
The "Boogeyman" finished him.
No. 14: Bob Probert vs. Gary Nylund (January 11, 1987)
What's incredible about the force of this punch is that Nylund was leaning forward when the punch landed, but ended up on his back.
No. 13: Joey Kocur vs Mike Eagles (November 21, 1992)
Joey Kocur was Probert's "Bruise Brother" in Detroit. Though Probert was a better all-around fighter, Kocur's punching power was unmatched.
No. 12: Stu Grimson vs. Reid Simpson (December 28, 2000)
All it took was one shot from the "Grim Reaper" to take out Simpson.
No. 11: Marty McSorley vs. Jeff Odgers (April 10, 1993)
Before Marty McSorley made a terrible mistake in an infamous cheap shot on Donald Brashear, he was known as Wayne Gretzky's bodyguard.
This fight may have had nothing to do with The Great One, but it was a great shot by McSorely.
No. 10: Evander Kane vs. Matt Cooke (April 10, 2010)
No knockout on this list will be more widely appreciated by NHL fans than Kane's finish of Matt Cooke.
Cooke has a well-deserved reputation for being a cheap player. Several knee-on-knee hits and blatant elbows to opponents' heads have made him one of the league's most despised players.
No. 9: Scott Mellanby vs. Jeff Jackson (November 28, 1987)
It's surprising Jackson lasted after the first bomb Mellanby landed when the two started throwing. As soon as the last punch connected with Jackson's chin, he was out.
No. 8: Rob Ray vs. Jim Kyte (March 10, 1996)
Ray makes the countdown yet again.
Kyte was getting the better of his opponent, but all it took was one punch from Ray to turn the fight around.
No. 7: Dan Carcillo vs. Krys Barch (April 3, 2008)
After a few failed attempts, Carcillo decided grabbing on wasn't worth the patience.
No. 6: Steve MacIntyre vs. Raitis Ivanans (October 7, 2010)
Here is the knockout discussed in the slideshow's opening. MacIntyre was able to draw Ivanans in right before the two finishing punches.
MacIntyre actually held onto Ivanans after the punch in order to prevent him from falling hard on the ice.
No. 5: Colton Orr vs. Todd Fedoruk (March 21, 2007)
This is how to do your job as an enforcer. As the announcers will tell you, Orr was dressed in order to deal with the problem that was Todd Fedoruk.
Right from the start of the game, Orr made a statement about what his team wasn't going to allow.
No. 4: Matt Johnson vs. Andrew Peters (December 13, 2003)
Give Peters credit for coming back up after being stunned, but it's quite clear he was done after Johnson dropped him to his knees.
The second time, Peters went down like a dead tree.
No. 3: Aaron Downey vs. Jesse Boulerice (February 11, 2003)
This broke the jaw of Boulerice.
Seven years later Boulerice would drop Downey in a preseason fight, getting his revenge.
No. 2: Derek Boogaard vs. Todd Fedoruk (October 27, 2006)
"If he had forethought, I don't think he would've done it."
Fedoruk needed a metal plate implanted in his face after this fight.
No. 1: Joey Kocur vs. Jim Kyte (November 25, 1988)
Contrary to the announcer's mistakened belief that Kyte hit his head on the ice, it was all Kocur's right hand doing the damage here.
It's fitting that Joey's last name begins with K-O because he's the NHL's all-time hardest puncher. It's no pleasure to be on the receiving end of a Kocur right cross.
Be sure to watch this video till the end.
Keep Reading

Detroit Red Wings: Like this team?