Is Pittsburgh Penguins' Tyler Kennedy a Top 6 Forward or an Energy Line Guy?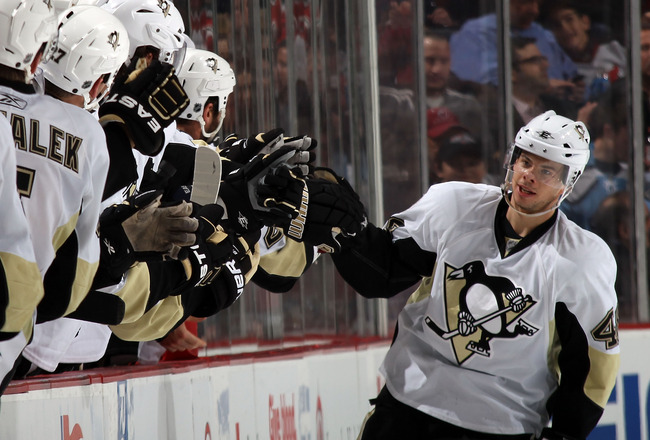 Bruce Bennett/Getty Images
Because of injuries, the 2010-11 Pittsburgh Penguins ended up being a disappointment on the overall expectation of a deep playoff run and chance at capturing the franchise's fourth Stanley Cup. The optimistic Pens fan will consider the various pleasant surprises that popped up during the season.
Arguably the most pleasant surprise of the bunch would be the emergence of Tyler Kennedy as a consistent goal scoring threat. While hitting a career high 21 goals may not seem like a reason to do cartwheels to a casual observer, the fans that watch game in and game out know that in previous seasons TK was very streaky when it came to putting the puck in the net.
Last season, Kennedy broke free of that by stepping his game up during the injury-riddled season. This career high productivity earn him a two-year $2 million contract.
Now that we are in to the month of August, the season is not all that far away. Training camps will take place in September, as will pre-season games. The good news ladies and gentlemen, is that we are nearing on-ice competition once again!
The article cited above was completed July 2nd by Dave Molinari of the Pittsburgh Post-Gazette. Molinari was already thinking what we will discuss in the following slides: where will Kennedy play next season?
Regarding the Penguins plans for Kennedy, Molinari wrote "they still do not know exactly where he will fit in next season. Just that he almost certainly will assume a more prominent role than he has to this point in his career."
Molinari's column also featured a quote from Penguins coach Dan Bylma on that matter.
"He did better [on lines with] Malkin and Crosby than he had done in years prior," Bylsma said. "He made some plays, complemented them, didn't defer to them. He showed that he could complement them and play with them."
There will be many factors that determine whether Tyler Kennedy assumes a top six forward role, of if he returns to a blue-collar, energy line role. Some of the key factors are contained in the slides ahead.
Goal Scoring Consistency
Doug Pensinger/Getty Images
Tyler Kennedy has now played in four season with Penguins. In 266 career games, he has 59 goal. The 2010-11 season saw him net his career high total with 21 goals.
It is difficult to find much documentation of it online, but any viewers of Root Sports Penguins coverage are aware of the story that one day after practice, Coach Bylsma and TK had a heart to heart chat. Whatever Byslma said to Kennedy, expressed his confidence in him and perhaps served as the spark to his consistency in finishing.
One needs to look no further than Yahoo! Sports game log to see that Tyler Kennedy was at his best in the second half of the season. This was also the time that the team needed him (or anyone that could suit up) the most.
Kennedy scored 14 goals in the 31 games after February 1st. Now the question is, "can he keep it up?"
It seems that Bylsma has full confidence in Kennedy as a goal scorer. The organization re-signed him at a very good price so even if Kennedy goes back to inconsistency, he will still be able to contribute in other ways.
The bottom line is Kennedy will probably get a chance on one of the top two lines, likely alongside Evgeni Malkin. But if he is not able to produce after at 10 or 15 game stretch, he could find himself back towards the lower lines.
Jordan Staal as a Wildcard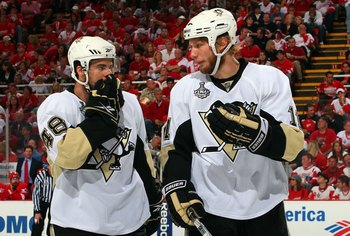 Jim McIsaac/Getty Images
As mentioned in the last slide, Kennedy will likely play alongside Evgeni Malkin. That was a bit of intentionally misleading text on my part.
Most likely, the season is going to start with Malkin at wing instead of center. That means a potential line of Kennedy, Malkin, and Jordan Staal.
Kennedy and Staal have spent extensive time together throughout their careers, often as part of the Penguins third line. They have proven to work well together in the offensive zone and often use their excellent cycling abilities to help wear opponents out in their defensive end for a minute or more at a time.
Regardless of the line he plays on, it seems very likely that Kennedy will spend a significant portion of the season paired with Staal. Once again, the bottom line appears to point Kennedy towards a top six role since Jordan Staal is also likely to serve in that capacity.
Third Line?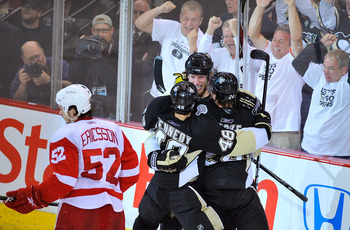 Jamie Sabau/Getty Images
It may take a bit of time for Pens fans to remember, but there is another player that could have an affect on what role Tyler Kennedy takes on in the upcoming season. His name is Matt Cooke.
One can hardly blame a fan if they have forgotten that Matt Cooke is employed by the Pittsburgh Penguins. He was suspended multiple times and the center of much controversy last season.
As of March 24th, Cooke was suspended for the rest of the regular season and the entire first round of the playoffs. The Penguins as an organization supported the suspension.
It will remain to be seen if Cooke can clean his act up and save his hockey career. If he can remove the unnecessary and dangerous "intent-to-injure" aspect of his game, Cooke is a valuable player.
The way that a third line of Kennedy, Staal, and Cooke clicks is rivaled by few in the NHL. It can seem like an eternity when they put on their frequent "cycling clinics".
During the Stanley Cup winning season, they frequently were used against the opposing team's top line. Their ability to take the pressure to those lines helped minimize the damage done by opponent's top talent and helps the team play "Penguins hockey", where they actively look to set the tempo and keep the puck in the attack zone.
In doing so, Cooke, Kennedy, and Staal grind those (players) down to paraphrase Coach Byslma from the HBO "Penguins-Capitals 24/7" series. Again, the bottom line is that Kennedy will likely get his start on the top lines, but when the team needs a spark or defense, these guy may still spend some time together even early in the season.
Intangibles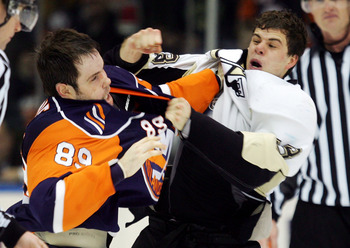 Jim McIsaac/Getty Images
There are plenty of other factors that can affect Tyler Kennedy's role with the team. Namely, what amount of time will he spend on the power play, the penalty kill, or in the penalty box?
As far at the penalty box goes, Kennedy has shown that in four season he is not a penalty prone player. If he is overmatched in top six role, this number could go up. While it will not be known until it happens, this is something to consider.
Kennedy also has a 5-3 record in regular and post-season fights according to hockeyfights.com. He is not a large man at 5'11", 183 lbs., but he will come to a teammates defense when needed. It would seem more likely that he would do this alongside Malkin and Staal than with Staal and Cooke.
TK could also possibly see time on the PK in the upcoming season. With Max Talbot and Mike Rupp gone, there will be a shot for increased ice time on a unit that will have a lot to prove because of the losses of two top members.
Lastly, the power play. Penguins fans around the globe shudder or weep openly when thinking of the PP performance last season. Kennedy netted seven power play goals. The team may have only had nine for the entire season based on how cruddy they looked.
Each of the items listed above will not likely contribute or detract too much from Kennedy's placement on a line. It is worth noting that if the Penguins are as penalty prone as they were last season, Jordan Staal and Tyler Kennedy could be forced away from time with Malkin since he does not kill penalties most of the time.
Bottom line, if Kennedy sees increased ice time on both the PK and PP, you can once again expect him to be in a top six role.
Coach Bylsma's Decision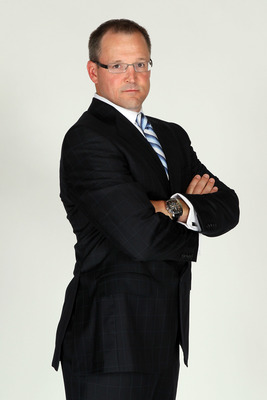 Jeff Gross/Getty Images
Dan Bylsma loves an underdog. You can see evidence of that in the way he responded to Dustin Jeffrey and Mark Letestu last season.
Since he seems to be partially responsible for sparking the confidence boost in Tyler Kennedy, it does not seem likely that Byslma will pull the rug out from under him.
Our final bottom line here is that Tyler Kennedy will probably start the season in a top six role, alongside of Evgeni Malkin and Jordan Staal. Hopefully he continues to fill the net.
If he does not and returns to earth with his goal scoring, Kennedy has enough other attributes that he will still be a very valuable member of this team.
My opinion is just one in a sea of a millions of Penguins fans though, what do you think? Leave a comment about how Tyler Kennedy will best be used this season.
Additional Evidence
Just for the heck of it, for anyone that is not able to go to Penguins games nor is familiar with the in-game video pieces, the WWE's Mr. Kennedy filmed a video for the announcement after TK scores a goal.
This has nothing to do with any of the previous slides, but why not have a little fun? KENNEDY!!!!!
Keep Reading

Pittsburgh Penguins: Like this team?