NHL: The 13 Best Goal-Scorers Still Available and Where They'll Go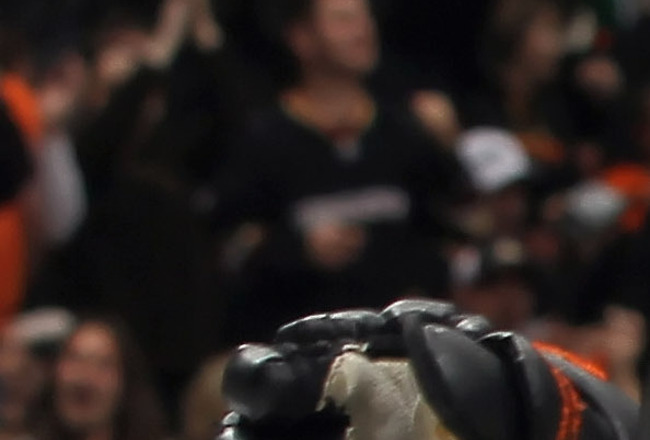 Jeff Gross/Getty Images
There is still time left for NHL teams to snag some fire power as we head into the 2011-12 season. Many players are left out there including former All-Stars, Stanley Cup winners and 30-goal scorers.
I'm not going to try and convince you that each of these players are going to lead their team in points when they do ultimately sign on the dotted line for a club, although it wouldn't be a stretch to do so. Remember Clarke MacCarthur in Toronto last year? A modest signing by the Leafs turned into one of their top offensive threats for the entire 2010-11 campaign.
Goal scoring is fickle, compared to the old days, where guys were scoring 50 like it was going out of style. Last season, Corey Perry needed some help down the stretch to get to 50 goals and he was the only one to reach the plateau last year.
Now, it is more about character and what an individual brings to the locker room that is more focused on at this point. That isn't to say each of these guys don't still have a goal scoring prowess that they bring every night but I digress.
There are still plenty of guys left that can put the puck in the net. Here are 13 of them.
13. Todd White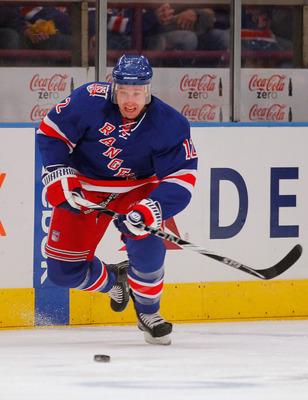 Paul Bereswill/Getty Images
Last season, Todd White spent most of his time in the AHL, due to his goal scoring reaching an astonishing halt. He had one goal in 18 games with the New York Rangers and when your cap hit is over $2 million, that's just too much of a burden for the Rangers to bare.
His tenure with the Connecticut Whale wasn't all that great either. After being sent down around Christmas time, he scored two goals in nine games.
He is not the scoring threat he was when he scored 25 goals for Ottawa in 2002-03 or the 22 goals he scored in Atlanta in 2008-09, the only season he has played all 82 games worth.
No team would take him from waivers a year ago, based on the amount of money he was signed to, however, as a free agent, he could sign a smaller deal and help out from time to time, when the goal scoring is at a bare minimum.
He may not pop in those 20+ goals he did before but would you take him on your team?
Prediction: RETIREMENT OR KHL
12. Chris Clark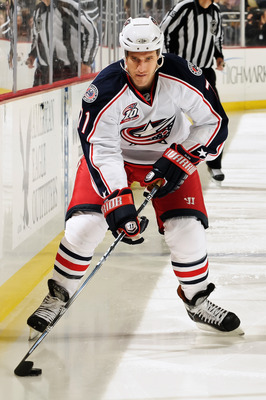 Jamie Sabau/Getty Images
The former captain of the Washington Capitals has fallen into a slump. When he was traded to the Columbus Blue Jackets in December of 2009, he had already fallen out of the loop with the team he led since 2006. He was userped by superstar Alexander Ovechkin, the same player that helped Clark become a 30-goal scorer in the 2006-07 season.
One would think Ovie was the reason for Clark's success in his final years in the U.S. capital but with that success comes the question on whether or not Clark can do it again with another superstar caliber player.
The injury bug changed Clark, however. In the same respect that he had success in Washington, it was limited to when he was able to show that flare for goal scoring. Following his 30-goal season, he was riddled with a groin injury that kept him to 18 games in 2007-08.
It got worse from there.
A wrist injury left Clark out of the lineup for a while. In fact, following the 2007-08 season, Clark played 70 more games for the Capitals before his trade to Columbus, where he didn't exactly get back to form.
What does the 35-year old have left in him?
Prediction: He will wait until the start of training camp. If he still isn't signed, he will retire.
11. John Madden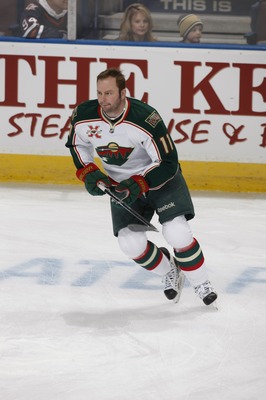 Dale MacMillan/Getty Images
The longtime Devil is right at the end of his career and John Madden can still be a great supporting offensive threat for any team.
At 38, the former three-time Stanley Cup Champion is a former 20-goal scorer and although he has dropped his goal scoring input to 10 in 2010-11, he still carries plenty of experience with him that any team can use if they want to go on a Stanley Cup run.
Remember, his first two Cups were with New Jersey in 2000 and 2003 and then he won another Cup in Chicago in 2010 so he has recent success on his side.
Prediction: Signs a small contract with Chicago, maybe for one more Cup run.
10. Antti Miettinen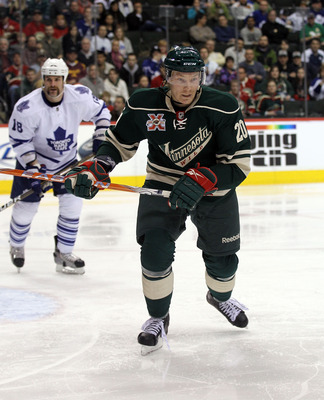 Bruce Bennett/Getty Images
Still young in his NHL career, Antti Miettinen would bring a good penny, considering he can still put in 15 goals like it's nothing. The fact that he still isn't signed baffles me. He deserves to have a contract between $2-3 million a year.
He had a cap hit of $2,333,333 last season but doesn't have much playoff experience besides Dallas' playoff run in 2007-08.
He scored 16 goals and 35 points in 2010-11 for the Minnesota Wild.
Prediction: He will sign a three to four year deal with a cap hit of $2.5 million. Where he will go is a good question. Dallas will be my guess, after losing Brad Richards, they can use some firepower. Though Miettinen is a winger, Dallas can use him back.

9. Kyle Wellwood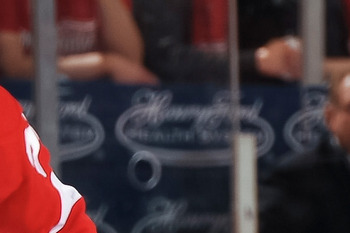 Jamie Sabau/Getty Images
Kyle Wellwood was a young and coming sniper with Belleville and Windsor of the OHL, but since joining the NHL, he has shown more of a supporting role. He has never scored more than 18 goals in a season and may need a full season in the KHL to get back into form.
The Sharks took a chance on him and he performed well, but not well enough to get them the ultimate prize.
Wellwood scored five goals and 13 points in 35 games with the Sharks in 2010-11.
Wellwood can find the net when he wants to but without consistency, he won't find a multi-million dollar contract offer.
Prediction: He will spend some time in the KHL and possibly get signed to a deal near the trade deadline to a team in the hunt for the playoffs. Wellwood's recent playoff experience could pay dividends...if he performs.
8. Bryan McCabe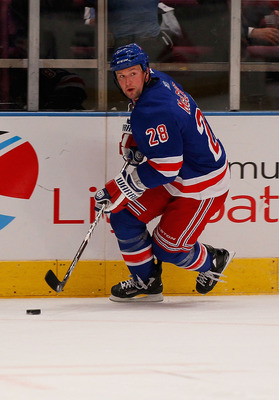 Mike Stobe/Getty Images
As a Leaf fan, I cringed when I wrote McCabe's name down for this list. Though, he has scored a few goals in his heyday...on his own net.
Okay, no more cheap shots. Truth be told, when McCabe is effective, he is one of the best power play specialists in the league. A great shot, good vision and has leadership qualities that is evident on and off the ice.
His goal scoring has been iffy in recent years and has only scored more than 10 goals once since his heavily publicized departure from the blue and white.
He was taking a cap hit of $5.75 million last season but with his offense dwindling and at the age of 36, one can assume McCabe's time is coming.
Prediction: One-year contract, ball parked around $3 million to Toronto...just kidding. A team like Minnesota or the New York Islanders could use his services.
7. Sergei Samsonov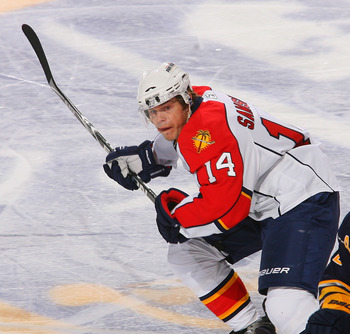 Rick Stewart/Getty Images
He isn't as productive as his days in Boston but Sergei Samsonov still has some play making ability. He is known as a dangler and although he was a $2,533,333 cap hit, Samsonov wasn't a good fit in Carolina. He finished the 2010-11 season with the Florida Panthers, after being traded at the deadline by the Canes.
He scored 13 goals and 40 points in total last season.
He came close to being a 30-goal scorer in Boston, scoring 29 goals in two consecutive seasons so his potential for scoring is known around the league.
He won't pocket that many goals nowadays but if he fits in with the right team, he can be a great top-6 forward and score 20 goals, something he hasn't done since he went down with a wrist injury at the beginning of the 2002-03 season.
Prediction: A team like Nashville or Columbus will sign him for under $2 million. A one-year deal but it wouldn't be a stretch to say it could be a two or three year.
6. Alexei Yashin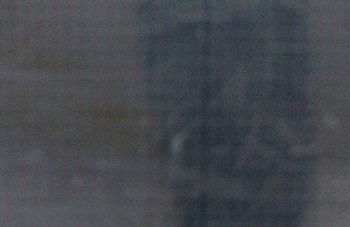 Jim McIsaac/Getty Images
Alexei Yashin hasn't played in the NHL since the Islanders bought out his contract after the 2006-07 season.
His time in the KHL made him think that he may have some steam left in the tank for another season in the NHL.
The 37-year old has created some buzz, mostly amongst the teams that missed out on the Jagr sweepstakes. Yashin has been rumoured to have been discussing a contract with the Islanders in the last number of weeks.
The last time Yashin was in the NHL, he scored 18 goals and 50 points.
Prediction: He won't earn nearly the same amount of cash he was earning in his last NHL contract. He could earn a cap hit of $2 million, not Jagr cash but then again, Yashin isn't Jagr and Philadelphia is done spending cash.
He might go back to the Islanders but you can't rule out Pittsburgh or Detroit. It will be a one-year deal.

5. Cory Stillman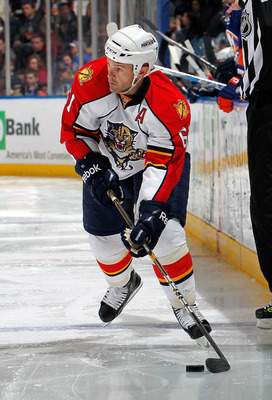 Paul Bereswill/Getty Images
Another veteran on the list and he is one with a winning resume. Cory Stillman won two consecutive Stanley Cups in 2004 and 2006 (remember the Lockout?) with Tampa Bay and Carolina.
His point production has come down in recent years but you can blame that on all the injuries. Perhaps it is time for Stillman to hang up the skates but if he has his way, he will get in another year.
Stillman played in his 1,000 game this past season, a milestone most players look to attain before even considering retirement.
Stillman split last season with Florida and Carolina, scoring 12 goals and 39 points in 65 games.
Prediction: Stillman will wait it out and possibly get signed to a one-year deal. I would like to see him play another year in Carolina but it seems unlikely. It looks more and more like he will retire but there is always the KHL if he wants to play another year.
4. J.P. Dumont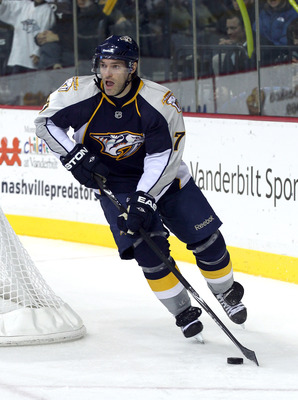 Bruce Bennett/Getty Images
J.P. Dumont was bought out by Nashville following a campaign that saw him score a mere 10 goals and 19 points in 70 games.
Dumont is only 33 and might just need a fresh start on a new team. He is known for excelling on a new team. His first two years in Buffalo, he scored 23 goals each time and in his first two seasons in Nashville, he scored 21 goals and 29 goals respectively.
Prediction: A two-year contract could be the safe bet here as he tends to drop off a bit after his first two years with a franchise. If the contract goes longer, don't expect a no-movement clause like he had in his last contract.
If he needs motivation to do better, you could expect him to receive $3 million in his first year and get a raise of $500,000 or $1 million in his second year with performance bonuses.
Columbus and Minnesota both have the cap room to strike a deal.

3. Nikolai Zherdev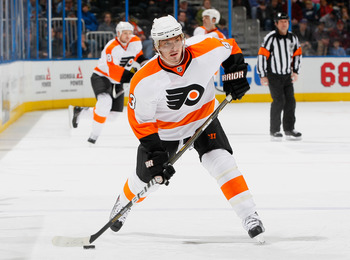 Kevin C. Cox/Getty Images
Nikolai Zherdev has been racking up the air miles in recent years. After playing a full season in both Columbus and New York (Rangers) in 2008 and 2009, he left for Russia and played a season there. He came back last season and played 56 games for Philadelphia, racking up 16 goals and 22 points.
Zherdev is a dynamic player but doesn't have much playoff experience.
Prediction: There are rumors that he has signed back in Russia. He will remain on this list anyway because this signing is not official. If true, the team that signed Zherdev is Atlant Mytishchi, the team Zherdev played for in 2009-10. It is also the team that signed Alex Kovalev.
2. Chris Drury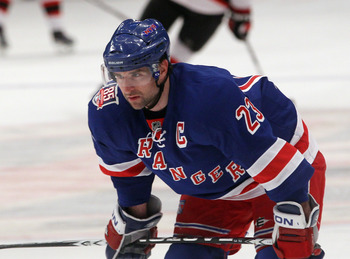 Jonathan Klein/Getty Images
Chris Drury scored 15 goals in 101 games between his last two seasons with the New York Rangers. When you combine that with the fact that his cap hit was over $7 million, it was too much.
The former 30-goal scorer was bought out of his contract with the Rangers and hit the open market with a few suitors that are currently looking for his services.
Prediction: According to this report, Drury is looking to stay in the Eastern Conference, preferably in the Northeast. The New York area is still appealing to Drury but Toronto is also considering signing the former Sabre captain.
If Burke can make a deal to clear a bit of cap space, Drury may be in another blue and white jersey come 2011-12.

1. Teemu Selanne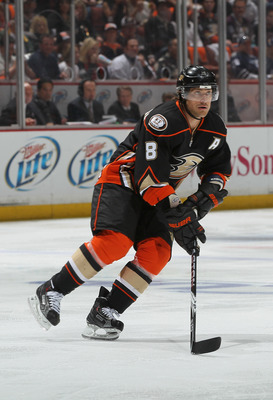 Jeff Gross/Getty Images
Teemu Selanne is the hottest commodity on the free agent market.
Why wouldn't he be?
At 40 years of age, Selanne scored 31 goals and 80 points for the Ducks in 2010-11.
He has a Stanley Cup ring and looks to have at least a couple years left in him. He could be the next Gordie Howe or Chris Chelios in terms of playing into his mid-40's, based on his resurgence last season.
Selanne earned $4.5 million last season, including bonuses and based on his stats, he could stand to receive over $5 million this upcoming season but may take a discount.
He has played over 1,200 games, scored more than 600 goals and is the holder of most Anaheim Duck franchise records including goals, assists, points and power-play goals.
Prediction: Selanne wants to stay in Anaheim and at this point in his career, keeping his family in one area will best suit his needs. Look for the Ducks to iron out a contract for the former 50 goal scorer.
Where will all these players sign? Will any of these players retire? What do you think?
Keep Reading