NHL Free Agents 2011: The 16 Biggest Winners of Free Agency So Far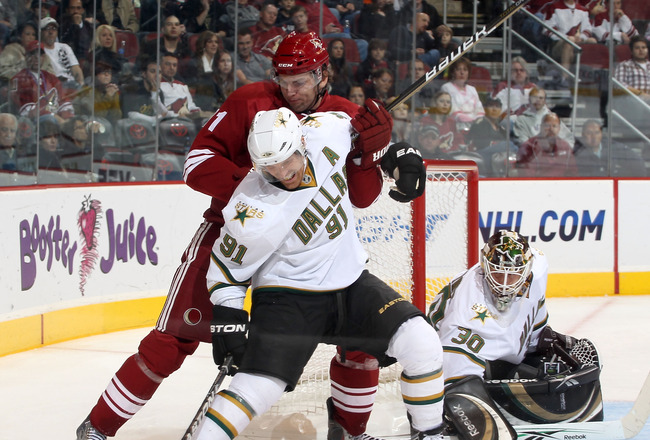 Christian Petersen/Getty Images
As we take a look back at the month that was for NHL Free Agents, we look at who made the best moves and who bettered their clubs for the long-term. Another month will follow July, as we move into the dog days of August, where training camps will soon open after the month finishes.
Easy solutions to the best teams in free agency could lie with the Rangers, Sabres and Flyers, but there are others who have made some savvy moves that may not have been the big news makers, but they easily made their team better.
Here's a look at your top 16 free agent winners of the offseason so far.
16. San Jose Sharks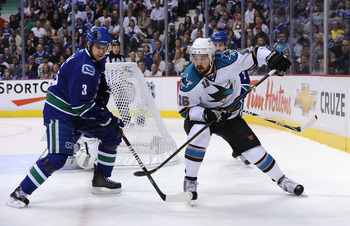 Harry How/Getty Images
Some Notable Free Agents Signed or Re-signed
Devin Setoguchi (subsequently dealt to bring in defender Brent Burns), Thomas Greiss, Alex Stalock, Jamie McGinn, Benn Ferriero, Michael Handzus, Jim Van Der Meer
The Sharks did a good job of re-signing their restricted free agents, but the big signing was Setoguchi, who was used to bring in Brent Burns, that second option to bring the puck up and lead the defence for the Sharks. Last season, many believed if the Sharks had better defence, they may of made it to the Stanley Cup Final.
15. Vancouver Canucks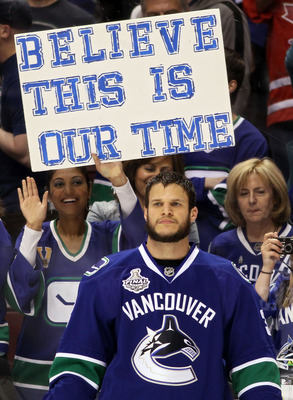 Elsa/Getty Images
Some Notable Free Agents Signed or Re-signed
Kevin Bieksa, Sami Salo, Maxim Lapierre, Marco Sturm, Mark Mancari, Alexander Sulzer
The Canucks as expected were able to only sign two of their unrestricted free agent defenders as Christian Ehrhoff took his act to the Empire State as he signed a monster deal with the Buffalo Sabres. Other than that, the Canucks added some good depth to an already strong team. The addition of Marco Sturm, if healthy, may be one of the more underrated signings all offseason.
14. New York Islanders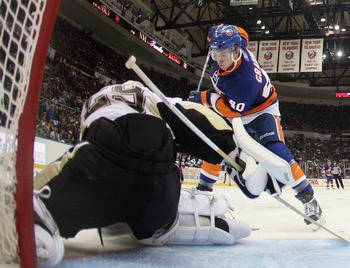 Bruce Bennett/Getty Images
Some Notable Free Agents Signed or Re-signed
Kyle Okposo, Ty Wishart, Michael Grabner, Marty Reasoner, and Matt Moulson.
Some pretty decent restricted signings here and a great veteran depth signing in Marty Reasoner, who will add to the depth of the Islanders squad, but also help improve their already potent penalty kill.
13. Columbus Blue Jackets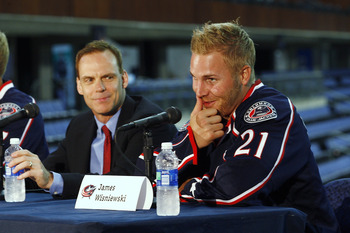 John Grieshop/Getty Images
Some Notable Free Agents Signed or Re-signed
James Wisniewski, Marc Methot, and Curtis Sanford
The powerplay for the Jackets last year was pretty anemic, finishing 29th out of 30 teams with a power-play percentage of only 14 percent.
With the recent trade to get Jeff Carter, and now the recent signing of Wisniewski, the power-play quarterback, the Jackets should at least have an improved power-play heading into next year. The resigning of Marc Methot helps stabilize a young defensive core, which may see rookie John Moore make the squad next year.
12. Chicago Blackhawks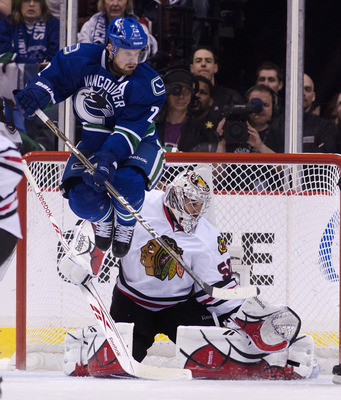 Rich Lam/Getty Images
Some Notable Free Agents Signed or Re-signed
Corey Crawford, Viktor Stalberg, Michael Frolik, Andrew Brunette, Jamal Mayers, Steve Montador, Sean O'Donnell, Daniel Carcillo
The Blackhawks didn't sign any big name free agents, because honestly they really didn't have to. What they did do however was sign some great veteran depth players and re-sign their starting goalie to a three-year contract worth $2.67 million a season.
Brunette, Carcillo, O'Donnell, Mayers and Montador all bring edge to their game and their additions will only make this team stronger going forward.

11. Colorado Avalanche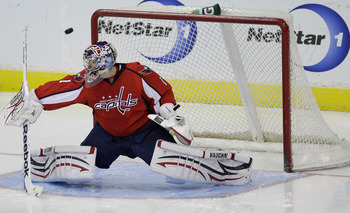 Rob Carr/Getty Images
Some Notable Free Agents Signed or Re-signed
Semyon Varlamov, Jean Sebastien Giguere, Jan Hejda, Chuck Kobasew, Milan Hejduk, Kyle Cumiskey, Matt Hunwick, Ryan O'Byrne, TJ Galiardi, Ryan Stoa, David Jones, Kevin Porter, and Ryan Wilson.
The Avalanche made a pretty good mark on the free agent market as they re-signed a bunch of restricted free agents and managed to sign a few others to contracts.
GM Greg Sherman took a risk by trading for restricted free agent Semyon Varlamov, but it paid off as the team signed him to a contract. They added another goaltender in J.S. Giguere to the fold who will help develop Varlamov and is expected to make about 30-35 starts this season.
The underrated addition may be Jan Hejda, as Hejda was signed to open up free agency. Hejda's play in his own end will only help out a defensively inept squad which lead the league in goals against last season.
10. St. Louis Blues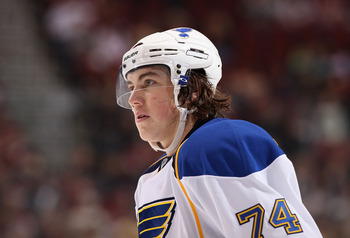 Christian Petersen/Getty Images
Some Notable Free Agents Signed or Re-signed
TJ Oshie, Patrick Berglund, Roma Polak, Vladimir Sobotka, TJ Hensick, Matt D'Agostini, BJ Crombeen, Jamie Langenbrunner, Jason Arnott, Kent Huskins, Brian Elliott and Scott Nichol.
I really like what the Blues have so far this offseason. They managed to re-sign a bunch of restricted free agents to reasonable contracts, and also added some much needed quality veteran depth to an already good young squad. The additions of Langenbrunner and Arnott were not only good signings on the ice, but great signings off the ice as both have captained teams before, and both are legit good people in the NHL.
9. Montreal Canadiens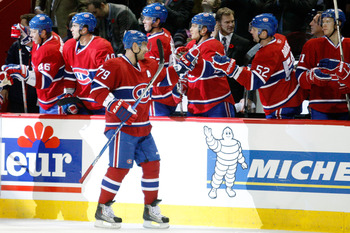 Richard Wolowicz/Getty Images
Some Notable Free Agents Signed or Re-signed
Andrei Markov, Erik Cole, Andrei Kostitsyn, Josh Gorges, Max Pacioretty, Yannick Weber, Peter Budaj, Alexei Yemelin and Ryan White.
The Canadiens still have not addressed their need for a big No. 1 center, but the Habs did however re-sign one of the best unrestricted free agent defenceman available in Andrei Markov, added some size up front with the addition of Erik Cole, and managed to re-sign a handful of restricted free agents. The addition of prospect Alexei Yemelin may be the most underrated move this offseason for GM Pierre Gauthier.
8. Tampa Bay Lightning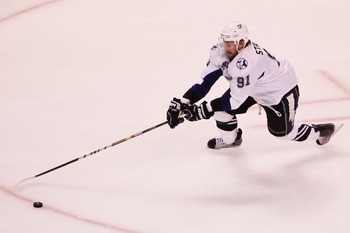 Jim Rogash/Getty Images
Some Notable Free Agents Signed or Re-signed
Steven Stamkos, Teddy Purcell, Eric Brewer, Mathieu Garon, Bruno Gervais and Matt Gilroy
The big signing here of course is Steven Stamkos. Stamkops, whom I believe is a bargain, even at $7.5 million a season, will again prove to be one of the best pure snipers in the league next year. He's the second highest paid player on the Lightning behind Vincent leCavalier, whose contract is now an albatross around the Lightning's neck.
The other signings of Brewer, who will stabilize the back end, Purcell who will help fill the void left by Simon Gagne (Los Angeles), and Mathieu Garon, the void left by Mike Smith (Phoenix).
7. Carolina Hurricanes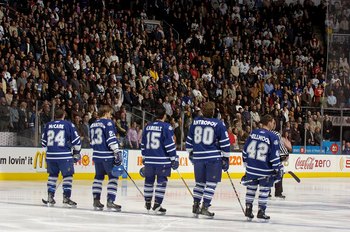 Dave Abel/Getty Images
Some Notable Free Agents Signed or Re-signed
Tomas Kaberle, Joni Pitkanen, Brandon Sutter, Jussi Jokinen, Brian Booucher, Anthony Stewart, Alexei Ponikarovsky, and Jiri Tlusty.
The Hurricanes best move may likely be the re-signing of Joni Pitkanen, whom I thought may of left the team for colder pastures, but that was not the case. Pitkanen decided to stay south and stick with the Canes, as did Jokinen, Sutter and Tlusty.
Speaking of Tlusty, the ties with Paul Maurice likely helped woo the likes of Alexei Ponikarovsky and Tomas Kaberle into the fold as well.
Anthony Stewart was not tendered a contract by Winnipeg and became a free agent. His signing will hopefully give some size and skill up-front to a Canes squad that lost veterans Erik Cole, Sergei Samsonov and Cory Stillman this offseason.
6. Florida Panthers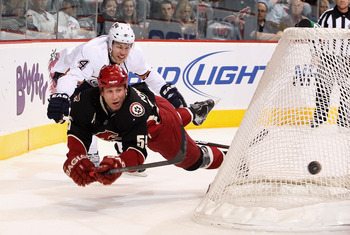 Christian Petersen/Getty Images
Some Notable Free Agents Signed or Re-signed
Ed Jovanovski, Scottie Upshall, Tomas Fleischmann, Sean Bergenheim, Tomas Kopecky, Jack Skille, Tim Kennedy, Marcel Goc, Matt Bradley and Jose Theodore.
The Panthers biggest loss this offseason was when starting goalie Tomas Vokoun bolted for the American Capital rather than re-signing for more money with the Panthers. With him gone, GM Dale Tallon elected to sign fellow southpaw Jose Theodore to help fill the void. He will likely work in tandem with Scott Clemmensen, and maybe by years end, Jacob Markstrom.
The other signings may of been a tad too much, but nonetheless, they've improved their scoring, depth and defence all with these signings, and the bypassed trades that brought in the likes of former Blackhawks Kris Versteeg and Brian Campbell.
5. Toronto Maple Leafs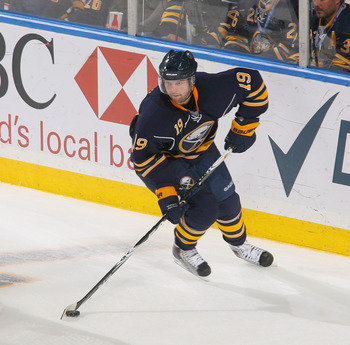 Rick Stewart/Getty Images
Some Notable Free Agents Signed or Re-signed
Tim Connolly, James Reimer, Tyler Bozek,Clarke MacArthur, Carl Gunnarsson, Matt Lashoff, Darryl Boyce, Joey Crabb, and Phillippe Dupuis. (Eventually you can add Luke Schenn to the list after Brian Burke returns from his vacation and resumes contract talks.)
The Leafs addressed one of their biggest needs this offseason and managed to sign the second best center option available in the free agent market. Some say they've overpaid, some say Connolly will get ridiculed for his soft play and lack of heart, but I have a feeling he'll produce nicely in Toronto.
He's got some serious competition for the No. 1 center spot as Mikhail Grabovski will be hot on his heels as well as Tyler Bozak, Matt Lombardi (if healthy), Nazem Kadri, and Joe Colborne in time.
They also managed to re-sign nearly all their restricted free agents, tendering them all contracts and signing them fairly quickly.
The Leafs also added John Michael Liles to the defensive corps which should be together for a long time. I'm expecting at least a five-year contract handed out to Schenn as well.
4. Buffalo Sabres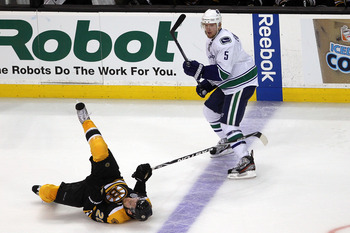 Bruce Bennett/Getty Images
Some Notable Free Agents Signed or Re-signed
Christian Ehrhoff, Ville Leino, Drew Stafford, Andrej Sekera, Nathan Gerbe, Mike Weber and Jhonas Enroth.
There really isn't much the Sabres didn't do right this offseason so far. They managed to sign likely the best offensive defenceman available, albeit they signed him to a ridiculous term contract of 10 years. Other than that, the move I like the most was the signing of Ville Leino, whom I believe to be an extremely underrated player in the NHL.
Re-upping Drew Stafford who played out of this world last season was another smart addition andgetting the remainder of those restricted free agents signed was a huge move for Darcy Regier and the new Sabres ownership.
3. Washington Capitals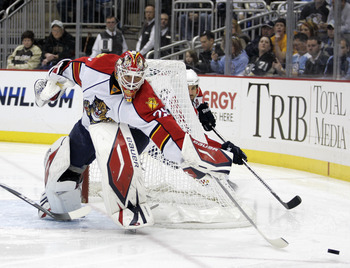 Justin K. Aller/Getty Images
Some Notable Free Agents Signed or Re-signed
Tomas Vokoun, Brooks Laich, Joel Ward, Troy Brouwer, Karl Alzner, Jeff Halpern and Roman Hamrlik.
Now we make our way into the upper echelon for free agent additions. The Capitals start it off with the additions of Tomas Vokoun and Joel Ward to an already stacked roster. The extra additions of Troy Brouwer and Roman Hamrlik add some quality depth to the squad.
The more surprising move was them re-signing Brooks Laich. I never imagined them being able to afford Laich, and right now I'm correct, as the Caps are over the salary cap by about $900,000.
They will likely have to drop or trade someone like Mike Knuble to get back under the cap, but nonetheless, expect the Capitals to again be a force next season.

2. Philadephia Flyers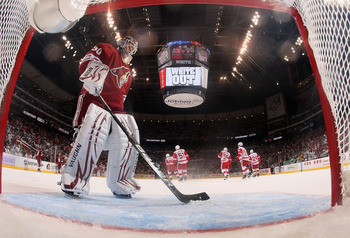 Christian Petersen/Getty Images
Some Notable Free Agents Signed or Re-signed
Ilya Bryzgalov, Jaromir Jagr, Jakub Voracek, Max Talbot, Andreas Nodl, Andreas Lilja
The Flyers made the most notable free agent goaltender signing by signing goalie Ilya Bryzgalov to a new nine-year contract. The contract breaks down as such $10 million in the first year, then $6.5 million, $8 million, $6 million, $6 million, $5.5 million, $5.5million, $2.25 million, and lastly $1.25 million in the subsequent eight years.
Other than Bryzgalov, the Flyers underwent great change by dealing Jeff Carter and Captain Mike Richards for Brayden Schenn, Jakub Voracek, Wayne Simmonds, Sean Couturier, and a few other draft picks.
The Flyers also signed forward Jaromir Jagr, the most prized free agent outside the NHL. Jagr is looking at one last kick at the can before he calls it a career. By choosing the Flyers, I really think he's lost a lot of respect from fans in Pittsburgh, but we'll see when the season starts.
1. New York Rangers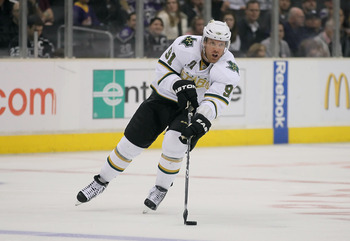 Jeff Gross/Getty Images
Some Notable Free Agents Signed or Re-signed
Brad Richards, Brandon Dubinsky, Artem Anisimov, Brian Boyle, Michael Rupp, Ruslan Fedotenko and Ryan Callahan.
Personally I think the Rangers came out as the top team for the first month of free agency. They managed to land the most prized forward this year along with being able to afford their big three free agents in Dubinsky, Callahan (deal coming soon hopefully) and Artem Anisimov.
The Rangers will be much improved offensively if healthy and look for them to possibly get past the first round next year if all goes well for them.
.
Keep Reading