Anaheim Ducks: The Importance of Teemu Selanne's Return
July 22, 2011
Abelimages/Getty Images
(article updated: 9/15/11)
Teemu Selanne has played in 1,259 games in his NHL career. He has 637 goals and 703 assists for 1,340 points. Not so long ago, those totals would have been deemed impossible.
It was 2004 and he was coming off a dismal season in Colorado. The NHL locked out, and the former Calder winner underwent knee surgery. He had signed with a team in the Finnish Elite League, but was unable to play because of his rehabilitation.
Given his mile high struggles and the surgically repaired knee, most thought it was the end for Selanne. But when hockey came back, so did he, signing a one-year, $1 million deal to return to Anaheim. The contract was supposed to be for the Finn's farewell campaign. But the So-Cal sunshine gave new life to his career and he responded with 40 goals and 90 points.
Six years, a Stanley Cup ring, and countless records later, the future Hall of Famer is facing familiar questions. "Is it the end? How is his health? Can he still be productive?" 
Given that he had another operation on his knee following 2010-2011, those questions seem justified, just as they were in 2005. His doubters have been proved wrong before, though.
With his future still in question, here is what we know:
Coming into this offseason the Ducks had 22 total free agents. Selanne was and remains the most important one. Sorry Jarkko Ruutu fans, the Ducks will be just fine without him. But if Anaheim lacks even a little Finnish Flash, they could be on the outside of the Western Conference Playoff picture. That is how important he is to this team -- to this franchise.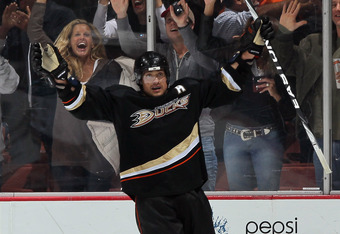 Jeff Gross/Getty Images
Since the lockout that took away the 2004-2005 season, Selanne has played in 380 regular season games and has scored 389 points; none more surprising than the 80 he put up this past season.
Despite standing on that proverbial hill, the winger looked like the kid we fell in love with for shooting his glove out of the sky in 1993.
49 assists and 31 goals (including 34 power play points) are astounding numbers. But not only was he dazzling, he was clutch. In the final 11 games of the regular season, with Anaheim jockeying for playoff position, Selanne had ten goals and 16 points. He went on to score six more goals in the Ducks' opening-round playoff loss to Nashville.
Even at his "old age," his combination of skill and experience is key to this Ducks team that is somewhat thin on offense aside from their big line of Ryan, Getzlaf, and Corey M-V-Perry. While the latter deservedly took home the Hart Trophy, Selanne's contributions were just as important to Anaheim's success. And his presence on the ice is just as vital for the fan base that quacks for No. 8.
So with the possibility of a curtain call in Winnipeg in December, will it be one more year for Selanne? Or a ride down Pacific Coast Highway in one of his collector cars with that perfect feathered hair flowing in the wind?
Ducks fans – including Anaheim GM Bob Murray – likely their prayers every night since the season ended. Today those prayers were answered with Selanne announcing he'll be back for a 19th season in the NHL. 
See you in Helsinki, Flash. And in the words Bart Scott made famous..."CAN'T WAIT!"
Follow Stephen Nelson on Twitter: @Stephen__Nelson