NHL Free Agency: Why New York Rangers GM Glen Sather Needs Some Praise
July 21, 2011
Bruce Bennett/Getty Images
A Bleacher Report writer put up a list of the 10-worst general managers in NHL history. Glen Sather was ranked No. 2, behind Mike Milbury.
Can anybody argue with that? As a Rangers fan, I have been embarrassed by Glen Sather on multiple occasions. Tom Urtz Jr. wrote an article today that ranked the six-worst free-agent signings of all time by the New York Rangers. All of them were signed by Glen the Savior.
Can we go over some quickly?
Michal Roszival, Bobby Holik, Wade Redden, Scott Gomez, Chris Drury.
It is disgusting how this man still has his job. If it wasn't for his friendship with all of the Knicks and Rangers fans sworn enemy James Dolan, Sather would be another team's GM or a broadcaster like Mike Milbury. But Dolan gives his friends his loyalty, even when they embarrass an organization (Isiah Thomas).
Having said all of this, it is about time Sather gets some credit. Sather has given the draft over to Gordie Clark, who has improved the Rangers system dramatically. With players like Chris Kreider, Christian Thomas, Dylan McIlrath and Carl Hagelin, the Rangers have a future to look forward to.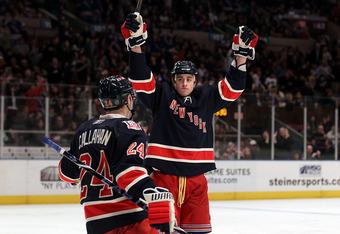 Jim McIsaac/Getty Images
A part of that future is Brandon Dubinsky, who was signed today before an arbitration settlement was given for a $4.2 million cap hit over four years. Dubinsky wanted $5.25 million for five years and the Rangers lowballed him at $2.6 million. The Rangers won that battle and keep a home-grown player who led the team in goals last season.
With the inevitable signing of Ryan Callahan, the Rangers will have retained all of their RFA's and signed Brad Richards, the prize of the 2011 free-agent class.
The Rangers desperately needed a power play quarterback as well as a bona fide No. 1 center to play consistently with Marian Gaborik. After playing mainly with Vinny Prospal (who along with Ruslan Fedotenko were minor signings that helped the Rangers tremendously) in 2009-10, Gaborik scored 42 goals. Last season, Gaborik never played with a consistent center and his game suffered. Hopefully signing Richards will provide the stability for Gaborik to be a force for again.
Back to Richards, the former Conn Smyth winner can provide a solid 70 points per year while being a quiet leader much like Chris Drury for the young Rangers. Not only that, Richards' cap hit is only $6.7 million, which is quite low for someone of his caliber. A very good signing by Sather.
June 30, 2009 was a tremendous day for Rangers Nation. This was the day that started to turn the Rangers around. Scott Gomez, and his $7.35 million cap hit, was traded to Montreal, who thought that pairing him with former teammate Brian Gionta would lift him out of his Broadway slump. The experiment failed.
The Rangers meanwhile were then allowed to sign Marian Gaborik with the cap space. They got back Chris Higgins in return, who turned out to be a bust, but also received Ryan McDonagh, a future top-four defender. This trade really turned around the fortune of the Rangers.
Sather also traded Michal Roszival and his $5 million cap hit to his favorite trading partner, the Phoenix Coyotes for Wojtek Wolski, a very inconsistent player but he may save the Rangers almost $3.5 million in cap space if they buy him out. Which was reported by Larry Brooks of the New York Post.
Glen Sather has certainly made his trading mistakes (Enver Lisin definitely didn't work out the way he planned), but he certainly had made a mess and, to give credit where credit is due, he cleaned it up.
The Rangers are certainly on the right track after all of those years of doing it the wrong way. Was Glen the Savior responsible for that? Yes he was. He was wrong 100 percent. But with the help of John Tortorella and others in the front office, he has finally changed his ways.
The Rangers may not win a Stanley Cup under his reign, and to all Rangers fans, the Savior's tenure as GM has been a failure. That does not mean, however, that he doesn't deserve some credit. The Rangers finally have a core to work with and a bright future ahead. If the Rangers are successful in the coming years, people may be hesitant to give Glen the Savior any credit because of his past failures.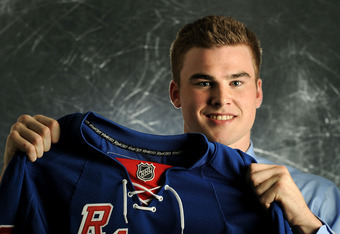 Harry How/Getty Images
But remember this, he made a mess, cleaned it up and has now put the Rangers in a position where they can grow into a contender. I think I can speak for all Rangers fans when I say I can't wait.
I'm not asking you to love the guy, but be fair to him and give credit where credit is due. And he deserves some credit.
Let's Go Rangers.
Thanks for the read and feel free to comment
As always keep the military in your thoughts and prayers