Best Wrist Shots in NHL History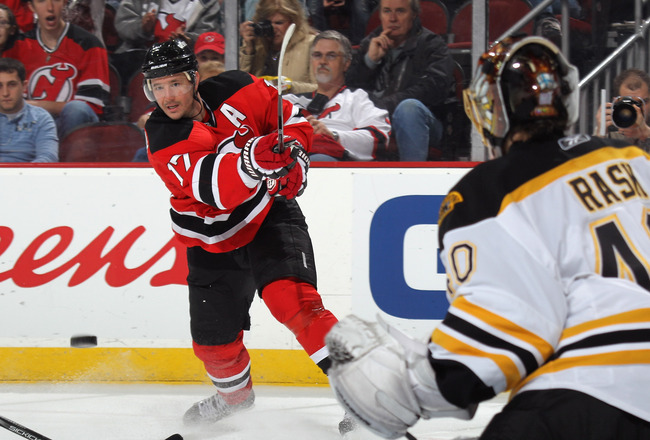 Bruce Bennett/Getty Images
What better offensive weapon is there than a strong and accurate wrist shot? It's more deceptive than a snap shot, more accurate than a slap shot, and when performed by certain individuals, can be released quicker than any other attempt at goal.
Slap shots steal the show, clocking the top speeds on the gun, and dangles get the highlight reel, but the wrist shot is the most fundamental necessity of any offensive player (besides skating, of course). A quick look at this list of names will leave no doubt that a wicked wrister translates to success on the ice.
Take a journey through time with me, as I examine the players with the fifty best wrist shots in the history of the NHL. Also, feel free to follow me on twitter @MatthewFairburn.
Mike Gartner
Mike Gartner had an incredible career in the National Hockey League, due at large to his insane wrist shot. Gartner could collect the puck and fire a bullet before the goalie even knew what hit him. There's a reason he has the NHL's sixth most goals in history.
Darryl Sittler
Scoring ten points in a game is no small task. Though, with a wrist shot like Darryl Sittler's, it couldn't have been that tough, right?
Brandon Bochenski
Brandon Bochenski didn't have much of an NHL career, but he sure had one hell of a wrist shot. His sakting ability did not match his ability to fire the puck, unfortunately.
Lanny McDonald
There was plenty to like about Lanny McDonald. He had a sweet mustache, he was a journeyman, and a hell of a player at that. Sometimes lost in the shuffle is Lanny's mean wrist shot. Just ask the Canadiens about it.
Dany Heatley
Say what you want about Dany Heatley's attitude and his off ice antics, but the superstar can put the damn puck in the net. Chief among his plethora of offensive weapons, Heatley's wrist shot is perhaps his most impressive attribute.
Steve Shutt
There isn't much video from back in the day, but what is available casts the wrist shot of Steve Shutt in an admirable light. His 424 goals speak volumes to his nasty wrister as well.
Sergei Fedorov
It's hard to imagine that Sergei Fedorov had the third best wrist shot on his team at one point. However, when Fedorov suited up in a Washington Capitals' uniform with Alex Semin and Alex Ovechkin, that was the case.
That being said, Sergei makes quite the case as the best wrist shot on the team in the above video. Fedorov is no stranger to kill shots, and the Rangers learned that the hard way here.
Martin Havlat
Having long been bounced around the league, Martin Havlat is in possession of a wrist shot capable from finding twine from anywhere in the offensive zone. In addition to his incredible wrist shot power, Havlat has some of the best accuracy on his wrister that the league has ever seen.
Jeremy Roenick
Jeremy Roenick has one of the most colorful personalities in the history of the NHL, to put it lightly. However, Roenick was about more than just his mouth and his beautiful hair. Roenick was also one of the most accurate shooters this league has ever seen.
Stephane Richer
Though not many people know his name, Stephane Richer was an instrumental piece to the excellent New Jersey Devils' teams of the mid 90's.
Luck for Richer, his nasty wrist shot did not fail him on the game's biggest stage.
Phil Kessel
There's a reason Brian Burke had to give up a king's ransom to make Phil Kessel a Maple Leaf. The Minnesota native can fly and he can absolutely fire the puck.
This video should offer a nice sample of Kessel's versatility as a goal scorer.
Ray Sheppard
Another blast from the past on this list for those of you who enjoyed mid-90's hockey, because I sure do.
Anybody know how exactly Sheppard managed to get that kind of shot off from the position he was in? Yeah, me either.
Ray Bourque
Probably best known for his excellent slap shot, Ray Bourque had a unique ability to place the puck just about wherever he wanted from the blueline with any shot he chose.
Richard Martin
Another obscure name for you all, Richard Martin could fire the puck with the best of them. More importantly, Martin was immune to pressure, getting it done in the postseason with 53 points in just 63 games played.
His goal in the above video is evidence of the prolificness of Martin's wrist shot, which was well ahead of its time.
Milan Hejduk
A player that has seemingly flown under the radar for his entire career, Milan Hekduk has quietly out together an impressive array of statistics and great goals. Hejduk now has over 750 points in his NHL career.
Evgeni Malkin
It did not take long for Evgeni Malkin to emerge as one of the elite goal scorers in the NHL. The Russian superstar has already amassed over 400 points in just 352 games. Thus, it should come as no surprise that the Penguins struggled in his absence this season.
Take a look at the ten best goals of Evgeni Malkin's career and admire his deadly shot.
Mats Sundin
Arguably the greatest Toronto Maple Leaf of all time, Mats Sundin averaged more than a point per game during his NHL career. The Swedish big man was feared by goaltenders across the league for his lightning quick release on his powerful wrist shot.
Mike Fisher
Mike Fisher is on record as having the hardest slap shot in Ottawa Senators' history. Some people think his wrist shot is actually harder.
Velocity aside, his quick release is what made him so valuable to the Senators for all of those years. he may not be the best all around player, but Mike Fisher sure can shoot.
Petr Nedved
When the game grinds on, and the players are running on fumes, everything falls back to fundamentals. Just ask Petr Nedved, who was undoubtedly gased on the above play, but managed to rely on his awesome wrist shot to seal the deal for the Pittsburgh Penguins.
Rick Nash
Rick Nash has been the face of the Columbus Blue Jackets since he entered the league, and his bounty of offensive skills have made him a diverse weapon for the young franchise.
Characterized as a power forward, Nash has the skills of a sniper and a playmaker rolled into one. His wrists are so powerful that he manages to fire shots when it seems impossible. Check the video.
Teemu Selanne
Teemu Selanne is the best player in the history of the Anaheim Ducks, and quite possibly the best Finish player of all time. He had wheels, loyalty, heart, and one of the meanest wristers in the land for years and years. In fact, he's still got it.
Ryan Hollweg
Ok, so he's not even a full time NHL player, and yeah, he can't skate all that well, but can anyone argue with the wrist shot Ryan Hollweg can let go? I mean, the rest of his skill set aside, there are players who would love to be able to add Hollweg's wrister to their repertoire.
Mike Modano
There's a funny thing about the wrist shot. Unlike speed, or even a slap shot, the wrist shot can sometimes get better with age. Mike Modano became the all time leading goalscorer in United States' hockey history with a nasty wrist shot. How fitting is that?
Joe Nieuwendyk
Recently inducted into the Hockey Hall of Fame, Joe Nieuwendyk is as worthy of the honor as anyone in that fine establishment. Moreover, Joe had a wrist shot that made the opposition cringe. He was so accurate with each of his shots which made him a terror to play against.
Jeff Carter
Jeff Carter was traded this offseason to start on of the most shocking series of trades in the history of the NHL. Often praised for his skill but scolded for his fragility, Jeff Carter was never really able to put it all together for a full regular and postseason in a Flyers' uniform.
However, nobody will deny that Carter has arguably the best wrist shot in the game today. Anyone who denies that fact needs to watch the above clip.
Maurice Richard
Before there was Gretzky, Lemieux, and Messier, Maurice "Rocket" Richard was the most prolific goalscorer the game of hockey had ever laid eyes on.
Name an offensive weapon, and Maurice Richard had it and knew exactly what to do with it. Why else would the annual leader in goals be given a trophy named after the Richard?
Marcel Dionne
There isn't much video on Marcel Dionne, but I think his 700 plus career goals speak volumes of his ability to put the puck in the back of the net.
Brett Hull
Brett Hull is not one of the most popular players to ever play the game of hockey, but he is one of the most talented. Slap shots, wrist shots, snap shots, you name it, Brett Hull could use it to make you pay.
Jaromir Jagr
Some may think Jaromir Jagr simply played second fiddle to Mario Lemieux, but the best Czech player to ever grace the ice was more than just a sidekick. Jagr was one of the best offensive players of his generation.
His two best attributes? Speed and his wrist shot.
Luc Robitaille
Luc Robitaille has long been considered one of the finest wrist shot artists in the history of the NHL. His 700 plus goals in the regular and postseason combined attest to that fact.
Robitaille loved the game of hockey and devoted himself to it. His work paid dividends, as Robitaille developed one of the nastiest wrist shots the game has ever seen.
Alexander Mogilny
70 goals in a single season is no small feat. However, when you can catch a pass and fire a wrist shot as quickly as Mogilny was able to do throughout his career, the task becomes a bit more attainable.
Not many players did it, but Mogilny put up the historic season thanks to that shot you saw above.
Bobby Hull
Here's a man who ought to need no introduction; Bobby Hull. Hull captured the hearts of Blackhawks' fans with his overpowering shot and unparalleled leadership abilities.
600 is goals is an amazing mark, and a tribute to the lethal shooting ability the Golden Jet possessed.
Paul Kariya
Paul Kariya is best known for his wheels and getting smoked by Scott Stevens. However, Kariya's feet weren't the only insanely quick part about him. His wrists and hands could turn a rolling puck into a bar down wrister in the blink of an eye.
Ilya Kovalchuk
The easiest way to defend a good shooter? Keep him off balance, of course. Well, unless that shooter's name is Ilya Kovalchuk.
Despite being knocked off of his first shot, Kovalchuk collects himself and deposits a laser beam into the top corner with very little balance.
When it's all said and done, we may look back on Kovalchuk as the greatest pure shooter of our generation.
Mike Bossy
Just imagine what could have been of Mike Bossy's career had he not been injured so often. Despite having his career cut short, Mike Bossy is considered in most hockey circles as one of the most talented players of any generation.
New York Islanders' fans can appreciate the talent this guy had, especially since it resulted in championships for their franchise.
Pavel Bure
A magician with the puck, there was nothing Pavel Bure couldn't do when it came to offensive playmaking. His slap shot could be stacked up against the likes of Al MacInnis, and his wrister was as dangerous as it gets.
Petr Sykora
Petr Sykora made a living in the NHL as a sharpshooter. He was a solid all around player, but his claim to fame was his insanely accurate wrist shot.
If you gave Sykora an opening, he was going to take it. That's just what he did to the Red Wings in the Stanley Cup.
Peter Forsberg
Peter Forsberg had an illustrious career as one of the best two way forwards in the league. He could deke anybody out of their skates and deliver a tape to tape pass from anywhere on the ice.
Lost in the shuffle is how well Forsberg could shoot the puck. Often times it was his great hands getting him open, but Forsberg could definitely finish with the puck on his stick.
Jarome Iginla
Approaching 500 career goals, Jarome Iginla has racked up the points due to a terrific blend of power and speed to go along with his scorching shot. When left open in the slot, there aren't many goalies who are going to be able to stop his wrist shot point blank.
Brandan Shanahan
Brendan Shanahan was one of the most dominant players in the history of hockey. He truly could do it all. His power was his best asset, but he could also makes plays and finish with the best of them.
Shanahan had a very heavy shot with both his wrister and slap shot. He's a no-brainer for this list.
Wayne Gretzky
Wayne Gretzky didn't always have a traditional wrist shot, but the sheer creativity of his shots earns him a spot on this list. The Great One was always a step ahead of the defense and could beat the defense and goaltender in so many different ways. The sports world is running out of words to desribe Wayne Gretzky, so I'll let the video do the talking.
Guy Lafleur
The game misses players like Guy Lafleur. His wrist shot may not be the hardest shot, and Lafleur may not have been the sharpest sniper, but the puck was always on net, and quite often it was in the net.
All too often guys fire the puck wide and over the net, but Lafleur made every one of his shots count.
Mario Lemieux
As with some of the other great players on this list, Mario Lemieux wasn't known for his ability to take a wrist shot. He had tons of other attributes that contributed to his tremendous success in the league.
That being said, it's tough to exclude a guy like Lemieux, who could really fire the puck when he had to.
Alexander Ovechkin
Given the way the game has evolved with stronger players and better sticks, Alexander Ovechkin might have the prettiest wrist shot the hockey world has ever seen.
Every time he crosses the blueline, the opposing team holds their collective breathing, knowing that Ovi can make them pay from just about anywhere in the offensive zone.
That shot is scary good.
Alexei Kovalev
The award for most accurate wrist shot of all time has to go to Alex Kovalev. Sure, he won't overpower too many goaltenders, but Kovalev can literally place his shot anywhere he pleases from any distance. It was borderline ridiculous.
Mark Messier
Some players have a sixth sense about where to shoot the puck in order to score. Mark Messier was one of those players.
Of course, it didn't hurt that Messier had one of the greatest wrist shots of all time at his disposal.
Alexander Semin
I know, it seems crazy. Alexander Semin has a nice wrist shot, but one of the best of all time? You bet.
Whether it be the new composite sticks or his workout program, Alex Semin can flat out rifle a wrist shot.
Wendel Clark
There are certain shots that force a team to run the offense through them. Wendel Clark had that kind of shot.
Check out the above video. The Leafs had their backs against the wall, and the entire team was trying to get the puck to Clark. Rightfully so, as Clark buried the biscuit in the back of the net.
Markus Naslund
For my money, there aren't many players that had a better wrist shot than Markus Naslund. It seemed like each and every one of his goals came from the wrist shot. The Canucks ran the offense through him because that shot was pure gold.
Joe Sakic
Among the many arguments hockey fans have, one that should be a consensus is the fact that Joe Sakic had the greatest wrist shot in NHL history. There is no debate. Sakic had the strongest wrists I've ever seen. He was capable of taking a puck from any angle and distance and putting a formidable shot on the net.
Take the time to watch some of his highlights and find me a better wrist shot. I'll bet you can't do it.
Keep Reading