NHL Free Agents 2011: Taking a Look at Colorado Avalanche's Defense Post-Frenzy
July 20, 2011
Christian Petersen/Getty Images
"Bear" Bryant coined the phrase "Defense wins championships." And the guy would know—he won six national titles in his tenure as a college football coach.
Over the past few years, one of the major flaws of the Colorado Avalanche was their lack of a strong, tough defense to play with. The team continuously drafted, traded for and played undersized, offensive defensemen.
That mantra has now changed. The defensive corps of the Avalanche looks much different than the one that started last season. The team has addressed their lack of size on the blue line, and opponents next year will notice.
Let's jump back to the beginning of last season. The opening night Avalanche roster included John-Michael Liles, Kyle Cumiskey, Scott Hannan, Kyle Quincey, Ryan Wilson and Adam Foote. Not a terrible group on paper. Liles has always been a consistent performer—offensively at least—Hannan was a reliable stay-at-home defenseman, Quincey had a great training camp and Wilson and Cumiskey were supposed to be improving young talent.
Fast-forward one month. The Avalanche trade recent draftee Michael Bournival to Montreal for a big defenseman in Ryan O'Byrne. This trade is one approved of by most fans given O'Byrne's play through the season. The guy is not an All-Star, and can make mistakes in his own end like anyone else. But he earned the respect of Avalanche fans when he had his face sliced open by Edmonton Oiler Taylor Hall in February and proceeded to finish his shift while bleeding profusely.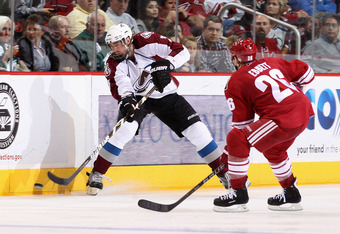 Christian Petersen/Getty Images
A few weeks later, Colorado pulled off a head-scratching trade with the Boston Bruins, sending highly touted defensive prospect Colby Cohen to the East Coast, and receiving undersized, underperforming defenseman Matt Hunwick in return. Hunwick would proceed to become the scapegoat for many of the teams troubles through the rest of the season, although his play began to improve later in the year.
The question fans were asking following this trade was: "Why trade a bright, young, 6'3", 215-pound defensive prospect for a 5'11", 190-pound offensively minded defenseman who is underperforming?"
The answer would come one day later, when Colorado traded stalwart shutdown guy Scott Hannan to Washington, acquiring winger Tomas Fleischmann. Colorado management knew the Hannan deal was going to go down, which is why they traded for Hunwick, another NHL regular to compensate for the loss of Hannan.
"Flash," as he is nicknamed, went on to star for Colorado alongside Matt Duchene before being sidelined for the season with blood clot issues. Health again seemed to play a part in Colorado's desire to re-sign him, and he left for Florida as a free agent at the end of the season.
The few months that followed may have been the turning point for Avalanche management in their approach toward defense.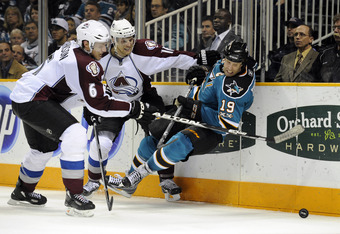 Thearon W. Henderson/Getty Images
Mired in a horrendous streak of losses that started in January, the Avalanche approached the end of February with a defensive corps that averaged a hair over 6'0" and 201 pounds. In addition to players mentioned above, the rotation included Jonas Holos and Kevin Shattenkirk, both rookies.
GM Greg Sherman decided to do something about it. Having played against teams like Vancouver and San Jose, whose defensive players averaged well over 6'0" and 200 pounds, Sherman wanted to get bigger—and get bigger he did.
The Avalanche shocked the hockey world on February 19th by trading blossoming power forward Chris Stewart, star rookie Kevin Shattenkirk and a second-round pick to the St. Louis Blues for former first overall draft pick Erik Johnson, Jay McClement and a first-round pick. The major piece in this deal was Erik Johnson. "EJ" is 6'4" and 234 pounds—a big guy in the defensive end. He is only 23 years old, and has a lot of upside to him.
In Johnson, the Avalanche are hoping they have a No. 1 guy on the back end for years to come, in the likeness of Rob Blake and Chris Pronger.
Colorado didn't stop there.
Just before the draft, they traded fan favorite John-Michael Liles to the Toronto Maple Leafs for a second-round pick in the 2012 draft. Liles had been on the trading block for years prior, and should do well in Toronto. In Colorado, he never quite developed into that power-play quarterback most hoped he would. He was susceptible to many mistakes in his own end, and was streaky offensively.
Once the free-agent signing period began, the Avalanche made one of the more under-appreciated moves of the day in signing Jan Hejda out of Columbus. Hejda is a consistent defensive defenseman with a slight touch of offensive support. He measures in at 6'4" and 237 pounds—another big guy on the back end.
Finally, Colorado added journeyman tough guy Shane O'Brien. O'Brien has been with a couple NHL teams in his career, and is not a top-pair guy by any means. His size though—6'3", 230 pounds—is what made him attractive to the team. He can hold his own in the defensive end, and will be expected to punish opposing teams' forwards trying to get to the net.
Assuming the Avalanche are done signing free agents, we have a clearer picture of what the defensive makeup of the Avalanche will look like on opening night of the 2011-2012 season.
Leaving out UFA Kyle Cumiskey, Colorado's defense corps averages nearly 6'3", 221 pounds.
That's an increase of three inches and 20 pounds, and it is going to make a huge difference this upcoming season.
No longer will opponents be able to fight their way to the net and crash into the goalie like they had previously. The larger presence around the net will allow the team to win more puck battles down low and get the puck out of their zone, decreasing scoring chances. And Colorado will have much more of an advantage in the physical game—a key component to the Boston Bruins' Stanley Cup victory over the Vancouver Canucks in seven games earlier this spring.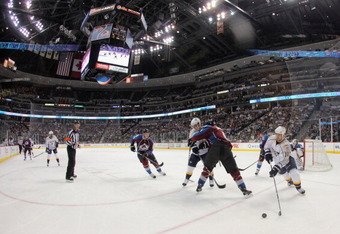 Doug Pensinger/Getty Images
The icing on top of the cake of Colorado's current situation is their prospect pipeline. Waiting in the wings are top WHL defensemen Stefan Elliott and Tyson Barrie. Elliott and Barrie were named the top WHL defenseman each of the last two years, respectively, which should make fans excited.
Both were expected to compete for a roster spot this fall, but with the signings of Hejda and O'Brien and re-signing of Ryan Wilson, there may not be room for either of the two youngsters. That being said, both will be ready should there be any injuries in Colorado, and having the two of them makes the loss of Cohen and Shattenkirk sting a bit less.
Additionally, the Avalanche drafted defensive defenseman Duncan Siemens with the 11th overall pick in this year's draft, acquired from St. Louis in the Stewart/Johnson trade. Siemens is projected to become much like Adam Foote—a tough, in-your-face player who stands up for his teammates and most opponents hate to play against. Standing at 6'3", Siemens should fill in nicely in a couple years.
The loss of players like Liles and Shattenkirk hurts, as both players contributed greatly to the team's offense, but as stated at the top, "defense wins championships." So that's what the Avalanche went out and got.
They may not be a group full of All-Stars, but the Colorado Avalanche have significantly improved their blue line, and it should be a fun group to watch this season.