Washington Capitals: A Possible 2011-2012 Roster Scenario
July 22, 2011
Greg Fiume/Getty Images
When the Washington Capitals entered this offseason, they said there would be changes to the lineup.
There were.
The Capitals started off by signing Swedish checking-line forward Mattias Sjögren to a two-year contract. They then entered the draft with a pick at 26th overall, but would ship it to Chicago for another speedy checking-line forward, Troy Brouwer, who they would later sign to a two-year contract as well.
They bought out Tyler Sloan and re-signed forward Brooks Laich to a six-year contract. This year's free-agency crop was a thin one, but the Caps definitely made the most of it, signing forward Joel Ward and Jeff Halpern and defenseman Roman Hamrlik on the first day, as well as trading injury-prone but starter-quality goalkeeper Semyon Varlamov to the Colorado Avalanche for a first-rounder (possible lottery pick) in 2011 and a conditional second-round pick.
On the second day of free agency, the Capitals made a big move, signing unsettled goalie Tomas Vokoun to a bargain $1.5 million, one-year contract. They signed Hershey-bound Jacob Micflikier, Matt Ford and Chris Bourque (!) to two-way contracts, as well as prospect center Christian Hanson, a highly underrated acquisition who's going to be given a real chance at a roster spot this season.
They traded Eric Fehr to the Winnipeg Jets for a 2011 fourth-round pick and rugged prospect Danick Pacquette. Finally, the Caps re-signed Mathieu Perreault and Francois Bouchard for the upcoming season, and made arguably the most important move by locking up star defenseman Karl Alzner for the next two seasons. Quite a few weeks...
This begs the question: Are they done?
Right now, the roster is good, really good, but too expensive. If everyone is healthy, the team is over the salary cap ceiling. A move likely needs to be made. Right now, I have the opening night roster as follows:
Alex Ovechkin-Nicklas Bäckström-Joel Ward
Alexander Semin-Marcus Johansson-Mike Knuble
Troy Brouwer-Brooks Laich-Mattias Sjögren
Matt Hendricks-Jeff Halpern-Jason Chimera
(Jay Beagle)
Karl Alzner-John Carlson
Mike Green-Roman Hamrlik
Dennis Wideman-Tom Poti (unless injured)
(Jeff Schultz-John Erskine)
Tomas Vokoun
Michal Neuvirth
Good, but too pricey.
To me, there are too many players out of position. Alex Semin, Brooks Laich, Mattias Sjögren and Jason Chimera are all playing out of their natural, preferred positions. I think the cause of this problem is at third-line center.
Prospects Cody Eakin and Christian Hanson could fill that position, but they could definitely do with spending next season in Hershey. You might have to go outside the organization. 
So let's take a look at some potential moves...
Imagine the Caps made another trade. Imagine they traded Jason Chimera and Jeff Schultz, as both appear surplus to requirements. What would the return be?
You could go after another defenseman for when Tom Poti can't play, but John Erskine showed last year that he cannot only play at the NHL level, he can be very effective.
You could try to get a center through that trade, but there aren't many on the trade block. You could also try to build on the nine picks you have for the upcoming 2012 draft, a very deep one. Maybe a high pick and a decent prospect?
Washington Capitals Send: Jason Chimera and Jeff Schultz.
Montreal Canadiens Send: Prospect and 2011 third-round pick (?).
While this trade is obviously a long shot, it makes sense. You get a (hopefully) good prospect as well as a good pick in a round that has brought in Cody Eakin and Stanislav Galiev. Montreal address two major needs—size and aggressive play—and the Caps shed more than $4 million in salary cap space (all calculations via capgeek.com).
You now have lost two components, however, and you need to go elsewhere to fill that roster spot. That's when you dip your toe back into free agency.
Many of the top free agents haven't been signed yet. Many of them are centers.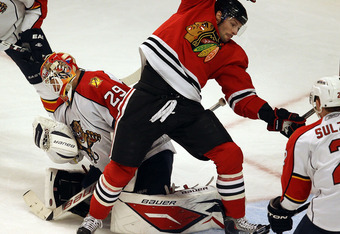 Jonathan Daniel/Getty Images
A couple intriguing options are Kyle Wellwood and Chris Drury, but Wellwood is often injured and Drury was bought out this past offseason so it seems unlikely. The Caps have expressed interest in John Madden, but at 38 he wouldn't be more than a fourth-liner.
Another option is Alexei Yashin, 37-year-old NHL legend who is a free agent over in the KHL.
One option I find interesting is JP Dumont, from the Nashville Predators. He didn't put up great numbers last year (10 G 9 A 19 P 70 GP) and he was bought out as a result. He was, however, injured quite a lot and in the three seasons before when he put up 72, 65 and 45 points, respectively.
While his points totals have been going down in recent years, it's definitely worth taking a risk on him because he's never had the opportunity to play on a team like this, with linemates like this and on a power play like this, and no one knows what he may be capable of.
He would be able to carve out a nice niche for himself here in Washington, though, and if you signed him to a one-year, $2 million contract you would be left with a little flexibility as well as the two bottom-line centers would be on one-year contracts (room for Eakin next season).
Alex Ovechkin-Nicklas Bäckström-Joel Ward 
Brooks Laich-Marcus Johansson-Alexander Semin
Troy Brouwer-JP Dumont-Mike Knuble
Matt Hendricks-Jeff Halpern-Mattias Sjögren
(Jay Beagle-DJ King)
Karl Alzner-John Carlson
Mike Green-Roman Hamrlik
Dennis Wideman-Tom Poti (unless injured)
(John Erskine)
Tomas Vokoun
Michal Neuvirth
Better than before, and now definitely under the salary cap roof.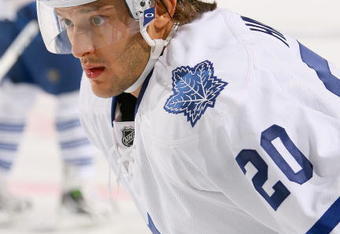 Rick Stewart/Getty Images
Capgeek.com Cap Calculator
Forwards
Alexander Ovechkin ($9.538 million), Nicklas Backstrom ($6.7 million), Joel Ward ($3 million), Brooks Laich ($4.5 million), Marcus Johansson ($0.9 million), Mike Knuble ($2 million), Troy Brouwer ($2.35 million), J.P. Dumont ($2 million), Alexander Semin ($6.7 million), Matt Hendricks ($0.825 million), Jeff Halpern ($0.825 million), Mattias Sjogren ($0.9 million), Jay Beagle ($0.512 million), D.J. King ($0.637 million).
Defensemen
Karl Alzner ($1.285 million), John Carlson ($0.845 million), Mike Green ($5.250 million), Roman Hamrlik ($3.5 million), Dennis Wideman ($3.937 million), Tom Poti ($2.875 million), John Erskine ($1.5 million).  
Goaltenders
Tomas Vokoun ($1.5 million), Michal Neuvirth ($1.15 million).

Buyouts: Tyler Sloan ($0.233 million)
Salary Cap (without bonus cushion): $64.3 million
Cap Payroll: $63,465,128
Bonuses: $0
Cap Space (23-man roster): $834,872 
Thoughts?
Follow @capgeek on Twitter