NHL Trade Rumors: 6 Summer Blockbusters That Could Happen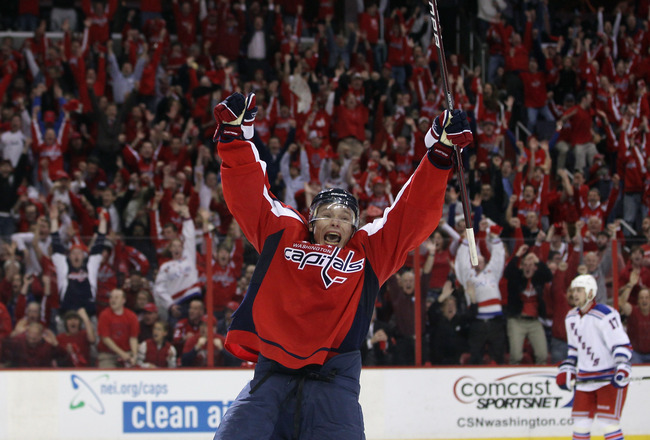 Bruce Bennett/Getty Images
The 2011 NHL offseason has presented us with a number of blockbuster deals that have featured big-name players and big-money contracts changing addresses.
Stars like Dany Heatley, Mike Richards, Brian Campbell, Jeff Carter, Ilya Bryzgalov, Robyn Regehr, Martin Havlat and Brent Burns have all been dealt to new teams since the Stanley Cup Finals ended in June, and there may be some other big names who follow suit soon.
Teams like Winnipeg, Florida and Ottawa that are in rebuilding processes may be looking to add veteran talent, while others such as Washington, Buffalo and New Jersey could be looking to shed a piece or two in order to create more cap room to work with for the season.
With that in mind, here's a look at six trades that could happen before the opening night of the 2011-12 NHL season.
6. Niklas Hagman to the Columbus Blue Jackets for 2012 2nd-Round Pick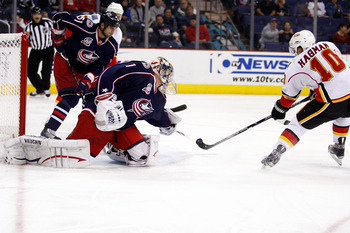 John Grieshop/Getty Images
After presumed first line winger Kristian Huselius went down with an injury that will keep him on the shelf for 4-6 months, the Columbus Blue Jackets have been forced to look elsewhere to fill his spot on the top unit.
Calgary is looking for a trade partner, as they need to unload some salary in preparation for next season, at least if they want the luxury of having any cap room whatsoever.
That's where this trade comes in. The Calgary Flames would be overjoyed to part with Hagman's $3 million annual salary, and the Blue Jackets would be receiving a player who has proven he's capable of putting up 20 goals and 40 points on a consistent basis.
Hagman's numbers could improve if he plays with Rick Nash or Jeff Carter, so it may be worth Columbus' second-round pick in next year's draft to obtain his services.
5. Travis Zajac to Winnipeg in Exchange for Alex Burmistrov and 2nd-Round Pick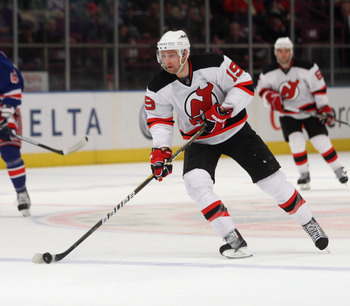 Jonathan Klein/Getty Images
Since the signing of Ilya Kovalchuk in the summer of 2010, the New Jersey Devils have been starved for cap space.
Now with Zach Parise up for arbitration, it's time for the Devils to make a move in order to alleviate the money required to re-sign their franchise winger to a long-term deal.
One such way to do so would be to ship top-six centerman Travis Zajac to a team in need of offensive help, such as the Winnipeg Jets. Fortunately for the Jets, they have a collection of promising young players they can offer up in return, such as skilled two-way winger Alexander Burmistrov, who showed flashes of brilliance during his rookie season.
Burmistrov is the type of defensively sound forward who would fit in seamlessly with the Devils's style of play, and would open up $2 million on cap room that New Jersey desperately needs.
Zajac would give Winnipeg a true second line center, capable of chipping in 50-65 points, which would be a welcome addition to the Jets lineup.
4. Daniel Alfredsson to Detroit for Jiri Hudler and a 5th-Round Pick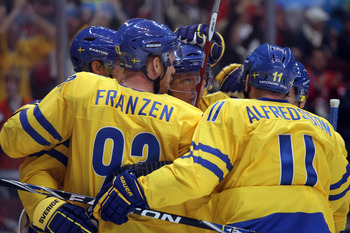 Jamie Squire/Getty Images
At some point, Daniel Alfredsson should be given a chance to win a Stanley Cup before his decorated career comes to an end.
That time is now upon us, as Alfredsson is 38, and his Ottawa Senators are squarely in the midst of a rebuilding phase.
Alfredsson, as the team's captain, won't be moved unless he agrees to it, but at this stage in his career, why wouldn't he? There are a handful of teams that would make sense for the skilled Swede, and the Detroit Red Wings are one of them.
The Red Wings have become known for getting everything out of older players (minus the Mike Modano experiment), and Alfredsson would fit in well considering how many of his Swedish Olympic teammates play in Detroit.
In return, the Senators would receive a talented two-way forward in Hudler, who they could choose to sign to a long-term deal in order to help speed up their rebuilding process.
While this deal is obviously a long shot, it's one that would appear to make sense for all parties involved. Alfredsson would get his opportunity to challenge for a Cup, and Hudler would get the chance to play a larger role in his team's offense.
3. Brad Boyes and a 2012 3rd-Rounder to Toronto for Nazem Kadri
Bruce Bennett/Getty Images
Simply put, with the team up against the salary cap in terms of contracts, the Buffalo Sabres can't afford to be paying $4 million to a player who hasn't scored more than 17 goals in two seasons.
Heading into the season, the Sabres are currently paying six forwards $4 million or more annually, but at least one of those players will find themselves outside of the team's top two lines after Tyler Ennis' coming-out party during the 2011 playoffs.
With that in mind, Brad Boyes is likely the one on the outside looking in, so General Manager Darcy Regier must be considering moving the 29-year-old sniper before the 2012 NHL season begins.
A potential destination for Boyes could be Toronto, as the Maple Leafs have been on the market for offensive help for the last two seasons. If Boyes receives the ice time and special teams opportunities he did earlier in his career, it's possible he could one again emerge as a 40-goal scorer, which is why Toronto would consider the deal.
In exchange for Boyes and a third-rounder, the Leafs would have to give up top prospect Nazem Kadri, though that loss isn't as great as it seems.
Kadri hasn't played as well as Brian Burke and the Leafs had hoped when they drafted him seventh overall in 2009, and the Leafs may not have time for him to develop.
2. Alexander Semin to Florida for David Booth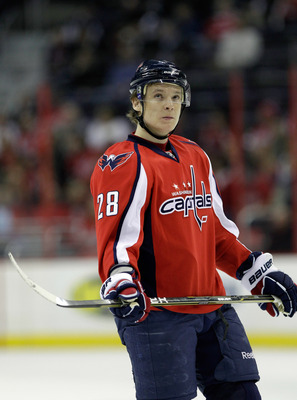 Rob Carr/Getty Images
At first glance, this deal looks like a steal for the Florida Panthers, but in reality, it's a deal that would make a surprising amount of sense for both teams involved.
First of all, Semin has been at the center of trade rumors for the last year and a half, largely due to his inconsistent play in the postseason.
On a team loaded with offensive talent, Semin is becoming too expensive for the Capitals to keep in the long-term, so it may be better for general manager George McPhee to secure assets for the future in return for the sublimely skilled winger.
One such asset would be Florida Panthers' sniper David Booth. Booth is a gifted scorer who would get opportunities to play with talented playmakers in Washington, and Semin would get the chance to be the top gun on a rebuilding team.
The Capitals could afford Booth's contract, and the Panthers would create themselves an opportunity to keep one of the most gifted offensive stars in the game for the foreseeable future.
While it's a long shot, it's a possibility that would be intriguing for both teams involved.
1. Ales Hemsky and a 2nd-Rounder to the Islanders in Exchange for Kyle Okposo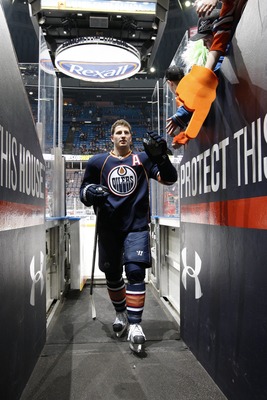 Dale MacMillan/Getty Images
The New York Islanders have been without a bona-fide top-line winger since the days of Zigmund Palffy, and the addition of an all-world talent like Ales Hemsky would solve that problem.
Hemsky, the oft-injured winger does not appear to be anywhere close to re-signing with the Oilers beyond the 2011-12 season, so he may be deemed expendable by Edmonton's management team.
Conversely, the Islanders have a ton of cap room and a collection of promising young offensive prospects to offer up in return.
One name the should catch the Oilers' eye is Kyle Okposo, who like Hemsky, has battled injuries for the last couple of seasons. Okposo isn't quite the offensive talent that Hemsky is, but he's under contract through 2016, and brings a physical presence to the table that would be a welcome addition to Edmonton's lineup.
Whether or not General Manager Garth Snow is even willing to part ways with Okposo has yet to be seen, but with Hemsky on the market, the Islanders should be one of the teams in the hunt for the talented 27-year-old's services.
Keep Reading