Maple Leafs Trade Rumors: Ryan Malone-to-Toronto Rumor Resurfacing
July 18, 2011
Elsa/Getty Images
According to sources, and the Tampa Bay Lightning official blogger, trade rumors are swirling around the Lightning and Leafs today, and no, these rumors do not revolve around Steven Stamkos.
This rumor revolves around Ryan Malone.
The Leafs are said to be giving up goalie prospect Jussi Rynnas and a third-round pick in return for Malone and Carter Ashton.
The first question obviously that comes to mind is why the heck would the Bolts even think of doing that?
Here's the reason why they could pull the trigger.
The Lightning have about $14 million in cap space right now, but this is without contracts of around $9 million for Stamkos and about $2.5 million to Purcell, that would put the Bolts around $2.5 million away from the cap. For a small market team like that to be that close to the cap, and still have long-term contracts to aging veterans such as Malone, Vincent LeCavalier and winger Martin St. Louis, I truly believe something's got to give down in Tampa Bay.
For the Leafs, with the emergence of James Reimer last season out of thin air, and with Jonas Gustavsson looking for a rebound year, the Leafs have some goalie prospects to spare. Adding to the confusion and clutter, the Leafs signed Swedish goalie Mark Owuya out of Djurgadens of the Swedish Elite League.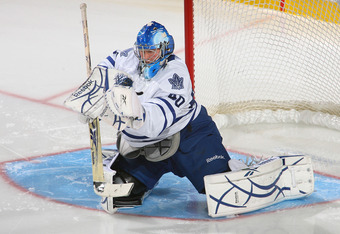 Rick Stewart/Getty Images
Rynnas right now is a replaceable part, but a useful part for an organization with no real goalie prospects outside of Dustin Tokarski, who I believe is overrated anyways.
Even with that move pulled off, the Leafs would be over the cap and would need to shed some salary to re-sign Luke Schenn. An obvious move afterwards would follow with the trading of defender Mike Komisarek. With Komisarek gone, all these moves can fall into place nicely.
Malone has long been sought after by Brian Burke. He plays with the right amount of truculence, belligerence and testosterone to fit right in on any of Burke's rosters.
Malone has a no-movement clause until the 2012-13 season and can only approve of trades if he wants to go there. With $4.5 million owed to him over the next four seasons, his contract really doesn't fit in with the Leafs, who appear to have every contract expire in the two years, other than Phil Kessel and Dion Phaneuf.
Brian Burke said earlier he believe his wheeling and dealing was over for the offseason, but not looking at trade proposals after the first week of the offseason would be just plain lazy and irresponsible. Burke knows what he's doing, and how he's playing the media right into his hands,
The lineup with Malone would look like this:
Malone/Connolly/Kessel
Kulemin/Grabovski/MacArthur
Kadri/Bozak/Lupul
Brown/Zigomanis(Lombardi)/Armstrong
Phaneuf/Aulie
Liles/Schenn
Gunnarrson/Franson
Reimer/Gustavsson
The original move may make for more headaches initially for Burke, but if he does what I'm thinking he would do, that lineup above this paragraph is one of Toronto's deepest, and best forward groups since the days Mats Sundin was flanked by Gary Roberts and Alexander Mogilny, and Joe Nieuwendyk was flanked by then youngsters Nik Antropov and Alexei Ponikarovsky to form the Sky Line.