James Neal, Eric Tangradi Have Chance To Solidify Pittsburgh Penguins Wings
July 19, 2011
Justin K. Aller/Getty Images
The Pittsburgh Penguins feature one of the most well-rounded lineups in hockey and have done so for the better part of the post-lockout era. As evidence, the Penguins have appeared in five straight postseasons, including two trips to the Stanley Cup Finals and the 2009 championship.
Despite the success, Pittsburgh faithful have long clamored for one thing:
Wingers for Sid. Wingers for Geno. Wingers, wingers, wingers.
Even when the Montreal Canadiens managed to expose the team's perforated defensive corps in the 2010 playoffs, the perception remained that Pittsburgh's most pressing need was to solidify the secondary scoring.
After bolstering the defense through free agency last summer (and subsequently enjoying one of the best defensive seasons in franchise history), there remains only one possible hole in the lineup.
That area of weakness, again, may sit on the wings.
James Neal and Eric Tangradi will have their chances to remove all traces of that gripe this season. First, though, a look at just how badly the team needs offense from its flanks:
Pittsburgh's highest goal-scoring left winger in 2010, Chris Kunitz ranked 24th in the NHL at his position. Only he and James Neal cracked the league's top 30 goal scorers on the left side, and just a handful of Neal's goals came with Pittsburgh.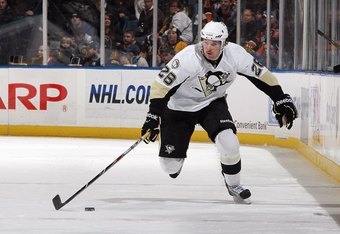 Jim McIsaac/Getty Images
On the right wing, no Pittsburgh skater finished in the top 45 in goals (Pascal Dupuis ranked 46th with 17 tallies).
Part of this is certainly due to the patchwork lineup that had to be assembled nearly every night of the second half, but the problem extends well beyond last year. Through a series of trades, it seems Pittsburgh will finally have a complement of legitimate scoring threats to skate alongside its star pivots.
Chris Kunitz and Steve Sullivan are known commodities. Assuming the good health of the team's franchise centers, James Neal and Eric Tangradi will be the names to watch in 2011-12.
Tangradi, 22, was the second piece of the "Ryan Whitney to Anaheim" deal, arriving in Pittsburgh, along with Chris Kunitz at the 2009 trade deadline. The 6'4", 221 lb. winger has the build of a prototypical power forward, and is expected to make the jump to the NHL full-time this season.
Tangradi, perhaps Pittsburgh's most NHL-ready prospect, took on a bit of a leadership role at the team's prospect development camp last week.
"This is a good opportunity for a guy like Eric Tangradi, who has been through the camps and understands how we want to do things and what type of systems we want to play," said Wilkes-Barre/Scranton head coach John Hynes, who helped to oversee the camp. "But more importantly, (he understands) the attributes we want to have in our players."
"It's a good situation for him to take on that leadership role and be able to lead by example on and off the ice."
If Tangradi is taking a leadership role when playing with the younger guys in the system, it may be time for him to take on a full-time NHL role when the season opens.
The Penguins haven't been able to replace Ryan Malone since he departed for Tampa Bay prior to the 2009-10 season. Tangradi has been pegged to assume the role, but has yet to do so convincingly.
There was sentiment last season that the Philadelphia native was to have made the jump full-time by Christmas. While he eventually became a regular due to injuries, Tangradi himself was injured in the Islanders gong show by Long Island knucklehead Trevor Gillies, and missed more than 20 games with a concussion.
For Tangradi to make the jump full-time he'll have to become dominant on the boards and in front of the net—he is not built to skate like the wind, as much of the roster is.
Part of his success will also depend on the coaching staff putting him in position to succeed. Occasional call-ups and limited fourth-line minutes are no way for the big man to develop. He needs to play top-line minutes with top-flight players, and even spend time on the power play.
The Penguins only scored two power-play goals in their final eight games, including the seven-game Tampa series. In both instances, Tangradi was on the ice, planted squarely in front of the opposing goaltender, creating havoc.
Tangradi can fill that role at even strength, and the Penguins have been starved of a net-front guy for three straight seasons. Spending time on the power play and on Evgeni Malkin's line may be just what he and the Penguins need.
Neal, 23, was acquired last season in the trade that sent D Alex Goligoski to Dallas and also brought D Matt Niskanen to Pittsburgh. In two-plus seasons with Dallas, Neal totaled 72 goals and 131 points in 214 regular-season games, or an average of .612 points per game.
In Pittsburgh, Neal struggled. He scored only once during the regular season and once more in the playoffs, the winning goal in Game 4. Despite landing 212 shots (89th in NHL) in the regular season with Dallas and Pittsburgh, his 22 goals gave him a paltry 10.4 shooting percentage, 245th in the league.
Cries of "bust" began to surface as the Tampa series marched to its inevitable collapse. However, Pittsburgh has yet to see what Neal can do with a complement of skilled centers.
With Crosby or Malkin feeding him the puck, Neal should start to bury some shots. While he had his fair share of near misses last season, one imagines goal scoring becomes easier when the left winger isn't the strongest member (by far) of the line.
Teams got to bear down on Neal last year, as an aged Alex Kovalev and injured Mark Letestu were little threat to score.
Dan Bylsma has stated that he wants to work James Neal onto Crosby's line as a right winger, keeping Kunitz on the left. He should also see time on the top power-play unit with Crosby, Malkin, Letang and, perhaps, Chris Kunitz.
Neal scored at least 20 goals in each of his three seasons with the Stars. While Brad Richards is one of the best centers in hockey, he can't be placed higher than Crosby or Malkin. Neal will have the chance to enjoy career-best numbers in a contract year.
The key for Tangradi and Neal to solve Pittsburgh's problems on the wings is for each to become comfortable in a role. Neal is physical and fast—a Pittsburgh Penguins prototype. Tangradi has the physical tools to help Evgeni Malkin regain his 2008 form, where Malkin excelled with a big body in front of the net to create traffic.
If those two can emerge alongside the team's big two centers, Pittsburgh will finally have the scoring depth it has long searched for.