Corey Crawford: Chicago Blackhawks' Next Vezina Trophy Recipient in 2011-12?
July 16, 2011
Rich Lam/Getty Images
In the National Hockey League, the Vezina Trophy is awarded every year to the goaltender who is "adjudged to be the best at this position."
Many great goalies in NHL history have been able to say they are recipients of this prestigious award.

Past legends like Terry Sawchuk, Jacques Plante and, of course, Tony Esposito; modern legends such as Dominik Hasek, Martin Brodeur and Patrick Roy. All these great men can lay claim to the Vezina Trophy.
This upcoming season, Chicago Blackhawks goaltender Corey Crawford has a legitimate chance to join that elite club of Vezina winners.
Drafted in 2003 with the 52nd overall pick in the NHL draft, Crawford had toiled in both the Quebec Major Junior Hockey League (QMJHL) and the American Hockey League (AHL) from 2003 to 2010, receiving only brief call-ups to the Blackhawks in between.
At the start of the 2010-2011 NHL season, Chicago was faced with the departure of Stanley Cup stalwart Antti Niemi to the San Jose Sharks, and fellow netminder Cristobal Huet being loaned out to hockey club HC Fribourg-Gottéron SA of the Swiss National League A, as a means relieve the Blackhawks salary cap issues.
Both moves were made with money in mind, however, both left us destitute in the goaltending department.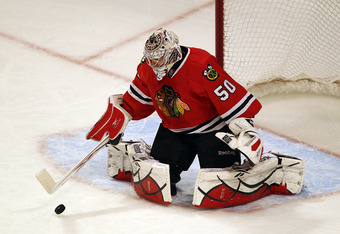 Jonathan Daniel/Getty Images
The Blackhawks signed free-agent Marty Turco to a one-year contract in August of 2010. He was signed to replace Niemi as the team's starting goaltender.
It was also at this time that they promoted Crawford to be the backup goalie, thus giving him the opportunity he had long been waiting for.
Crawford began the season behind Turco, but that lasted only so long.
In 29 games of action, Turco put forth a subpar effort, posting an 11-11-3 record, with a 3.02 goals-against average (GAA). It was time for change.
Corey Crawford was then named the team's starting goaltender.
For the rest of the season, he never looked back.
Crawford was on a total mission, displaying skills not seen in Chicago since the days of Ed Belfour in his prime.
During one of the better periods of his warpath, he went 176:09 before giving up a goal (Jan. 7 to Jan. 15), the longest by a Chicago goaltender since Tony Esposito from Jan. 16 to Jan. 30, 1972. This was a significant moment, but it certainly wasn't the last great thing he would do this past season.
Crawford established career highs in almost every statistical category in his first full season, in addition, his dominance allowed him to compile a 33-18-6 record in 57 appearances, with 55 of those being games started. 
Crawford posted 33 wins, the most seen in Chicago since 2001 and equal to a total that has not been exceeded since 1993-94 by Belfour.
I could continue to rant and rave about each of the statistics Crawford did absolute work in, but this article isn't about pure statistics.
It is an article to promote the rise of one of the premier young netminders in the NHL.
Crawford led the team into the Stanley Cup playoffs last season, and was a primary reason why we were able to take the No. 1-seeded Vancouver Canucks to seven games before being eliminated in the first round. 
He is a goaltender with excellent vision, great hands and a drive to be the best, and he will do nothing but continue to prove it.
Those qualities netted him the spot of goaltender on the 2011 NHL All-Rookie team.
He will earn a far greater honor in 2011-2012; he will be a Vezina Trophy winner.
I'm calling that now, and I'm absolutely not afraid to say it.
Blackhawks fans, be proud, because "Crawf" is exactly what we want in a goaltender—a goaltender who will soon once again take us back to the glory of a Stanley Cup championship.