NHL Free Agency: Kristian Huselius' Injury Puts Columbus Back in FA Market
July 14, 2011
Jamie Sabau/Getty Images
After the Columbus Blue Jackets signed defenseman Radek Martinek a few days ago, the team believed that they were done with the bulk of their free agent search. The only other player they may have required was a veteran winger who could play on the third or fourth line.
However, according to the Columbus Dispatch, the Jackets are not done just yet.
It has been reported that top-six forward Kristian Huselius tore a pectoral muscle while lifting weights and will require surgery that will happen today in Columbus.
The Swedish winger will be out of action for the next four to six months, meaning he will miss the beginning of the upcoming season.
"It's a tough, tough injury for Kristian," Blue Jackets GM Scott Howson said. "He was still rehabilitating the hip (surgery in April) but was going to ready to go for training camp. This is a pretty significant setback."
Howson believes that the earliest Huselius could re-join the team would be in November, but because of the long recovery required after this type of surgery, believes it will not be until January.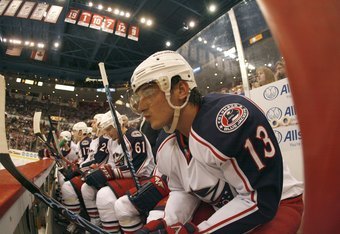 Gregory Shamus/Getty Images
Huselius struggled with hip and groin injuries for the entirety of last season, only playing in 39 games. He was never 100 percent when able to play and finished with only 14 goals and nine assists.
The injury throws a wrench into the Blue Jackets plans for next season as it was predicted that Huselius would be part of the first two lines, most likely playing on the first line alongside Rick Nash and Jeff Carter.
Now, according to Howson, the Jackets will turn to free agency yet again to try and find another top-six forward to fill in for Huselius. Howson seems confident he will be able to find someone:
"I'm sure I'll get some phone calls beginning (Thursday)," Howson said.
As confident as Howson seems, the list of free agent wingers still available is nothing to write home about.
The shot list includes veterans Vaclav Prospal, Sergei Samsonov, Cory Stillman, and recently bought out captain Chris Drury.
Although all of these players could somehow contribute to the Blue Jackets, all are past the prime of their careers and will likely not be able to contribute the way Huselius can when healthy (He has had 60+ point seasons in three of the last five years).
Another free agent that the Jackets could look at, even though Howson probably does not even want to consider, is Nikolay Zherdev. Howson was personally responsible for shipping Zherdev to the New York Rangers in exchange for current defenseman Fedor Tyutin and Christan Backman back in 2008.
Originally drafted by the Blue Jackets in 2003, Zherdev was not the most-liked around the locker room and in the front office as he followed the tune of his own horn, continually frustrating then-coach Ken Hitchcock.
The 26-year old Russian also carries a lot of personal issues with him, including his most recent incident where he was arrested after a violent event with his wife in March.
If the Blue Jackets decide that free agency is not where they can find an answer for Huselius, another option is promoting one of their many young prospects up to the big leagues.
"Top prospect Ryan Johansen has a spot to lose and Howson has mentioned Maksim Mayorov as a player he envisions at the big club next season, but the injury could open the door for the likes of Cam Atkinson and Tomas Kubalik."
Atkinson put up incredible numbers in his last two seasons in Boston College with 61 goals and averaged a point a game in his five-game stint with the Springfield Falcons after his collegiate career ended.
Atkinson has participated in the Blue Jackets developmental camps the last two offseasons and has been one of the most talented participants.
In his first professional season, Tomas Kubalik was able to lead the Falcons in scoring with 24 goals and 29 assists and according to Bart Logan is an upgrade from former Blue Jacket Jakub Voracek.
"The lanky Czech (6-foot-3, 215 pounds) has vastly improved his skating ability in recent seasons and, as opposed to another Czech draft pick that the Blue Jackets sent to Philadelphia, isn't afraid to use his size in the corners and digging in front of the net."
Whether the Jackets find a free agent who fits their needs or promote one of their talented youngsters, the injury to Kristian Huselius puts a damper on the team's overall positive offseason.