NHL Free Agency: Steven Stamkos Should Not Get an Offer Sheet from the Islanders
July 12, 2011
Elsa/Getty Images
The New York Islanders have $10 million remaining before they hit the cap floor and a team that is ready to contend for the playoffs if it stays healthy. In effect, it has been suggested that the Islanders be amongst the teams in discussions with Steven Stamkos. And while Stamkos is undisputedly an excellent rising talent, this is not the type of move that Garth Snow should be considering.
For a franchise that has signed many free agents to long-term deals that didn't really pan out (Yashin and DiPietro, to name just two), one cannot understand why this kind of a deal has any appeal. Applying the franchise player label to Stamkos might not send a positive message to the young players that have given their all in the midst of extreme adversity in the last few years on the Island.
A few depth signings would probably be a better solution for the Islanders, who have proven that they can put the puck in the net with the best of them. Some veteran help on defense would probably be for the better, but it is not as though the Islanders are starved for young talent.
In fact, the mix of veterans and young players on the Island has created a healthy atmosphere and good chemistry in the clubhouse. This chemistry should be kept in mind by GM Garth Snow during the offseason. The Islanders have thrived against all odds by providing another chance to players who have been rejected by other organizations (e.g. Moulson and Grabner). This is almost like a third avenue for obtaining talent, and it has not failed to amaze many NHL analysts and writers.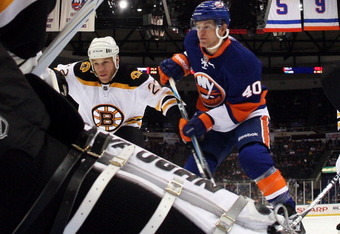 Bruce Bennett/Getty Images
How bad did the Canucks and Panthers look after Grabner's performance last season? Watching his speed and scoring touch must have been very painful for those franchises. 
In any case, the Islanders have also built up the confidence of their emerging young players (e.g. Hamonic and Poulin), who have seen more NHL ice time than they could have expected. The new era in New York has been built through draft picks and second chances, not through the big spending that dominated the early part of the last decade. Signing Stamkos might signal the beginning of the end for a franchise that has been operating at a loss.
In any case, Tampa Bay will most likely re-sign Stamkos, who is comfortable playing with Martin St. Louis and has been producing goals at an alarming rate. He just might be the elite player that everyone thought that he might be when he was drafted.
That doesn't mean that the Islanders should try to sign him. If the Islanders envision making the playoffs (which they have a good chance of doing), they will have to pick up some depth players that will help push them past the first round. That would be $10 million well spent.