NHL Free Agency: Blackhawks Signings Stalberg, Richards Signal Busy Week
July 11, 2011
Claus Andersen/Getty Images
The Chicago Blackhawks announced over the weekend that they had come to terms with Viktor Stalberg, who will be making $875,000 in each of the next two seasons.
Obviously, that was the weekend's big news to Hawks fans, but GM Stan Bowman addressed another of his restricted free agents.
Lost in the Stalberg signing was news that the Blackhawks had re-signed goalie Alec Richards to a two-year contract. The two-way deal figures to see the former Yale netminder in AHL Rockford for the next two seasons, but the signing is important both for organizational depth as well as what it likely means at this point of the summer.
As previously mentioned, the cupboard is bare in terms of goalies in the organization. Mac Carruth stood out in prospect camp, but is 19 and hasn't played above the junior level.
Aside from Richards, who played 44 games in net for the IceHogs, no other Hawks prospects have played a professional game.
Richards, who stands 6'4" between the pipes, has made progress since Chicago signed him as a free agent back in 2009. It remains to be seen if he will eventually become an NHL player, but with little immediate depth behind Corey Crawford and Alexander Salak, it makes sense to continue Richards' development.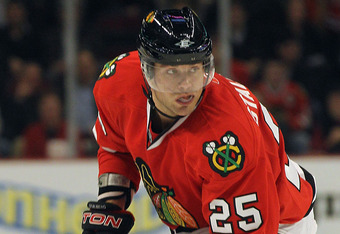 Bruce Bennett/Getty Images
More importantly, Bowman now seems ready to get some organizational housekeeping done.
Along with Michael Frolik and Chris Campoli, who have not yet re-signed, Bowman must address RFA's Brian Connelly, Rob Klinkhammer, Ivan Vishnevsky and Nathan Davis. All were tendered qualifying offers by the club.
Connelly and Klinkhammer should be signed to two-way deals in the next week or so. Davis may also be brought back.
Vishnevsky signed to play in the KHL this summer. It's my guess that Bowman must believe the defenseman's rights are worth holding onto. The Hawks qualified him, but I wouldn't expect him to sign this summer.
Most of us aren't going to hold a parade for RFA signings like Richards and his fellow prospects, especially with Campoli's arbitration hearing looming. However, we may begin to see Bowman wrap up several deals in the coming days. That could include coming to terms with Frolik or even a deal involving the newly signed Stalberg.
Watch for the Hawks to log some transactions, be they big or small, this coming week.