We Are All Proud of Our Favorite Sports Teams, but What Makes Us Proud?
July 10, 2011
Bruce Bennett/Getty Images
I was driving in the rain last night listening to New York sports radio. Mets fans were calling up the station, happy their team is in a good spot with so many injuries, but hesitant to be optimistic. The host of the show, Steve Somers, then said something that made me stop and think. He said something to the effect of "the Mets are not the most talented team, but they are something for fans to be proud of."
So then I started thinking "What makes me proud of my teams?"
It's such a simple question, yet the answer can be very complex. I saw different examples of it through three of my favorite sports teams this season alone as well as others that I can associate with other teams. Let me explain.
The New York Jets made me proud this season because of their wins. While they came short of the Super Bowl, they made it to the AFC Championship Game for the second year in a row, knocking off the rival New England Patriots in the process. The Jets were very talented and made me proud because I associated them with their talent (as well as their talking). Winning is the simplest way to make a fan base proud to be associated with your team.
While the Jets are either loved or hated (mostly hated), Jets fans had something to be proud of with a history of futility. The statement "Play like a Jet" makes me proud to wear my jersey or hat.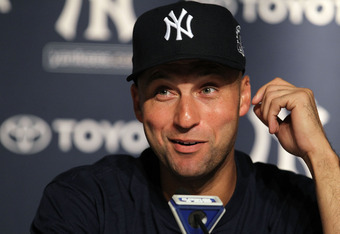 Nick Laham/Getty Images
The New York Rangers were different. The Rangers had a young team that was not the most talented, but was known throughout the league for their work ethic. The Rangers won games this year not because of talent, but because they flat-out out-worked other teams. Their hard work made me proud of them. They were amongst the leaders in blocked shots and sacrificed their bodies for the team.
Their teamwork and hard work made me proud to be a Ranger fan. While they barely made the playoffs and were quickly eliminated by the Capitals in the first round, I was still very prideful of being a Ranger fan. Like the Jets, the statement "I am a Ranger" made me proud to be associated with them.
The New York Knicks have been down on their luck in previous years. After the Isiah Thomas disaster and multiple losing seasons while having one of the league's highest payrolls, there wasn't too much to be proud of being a Knick fan. This year, they signed Amar'e Stoudemire and traded for Carmelo Anthony and finally there was some electricity in Madison Square Garden that was not being provided by the Rangers. The Knicks tradition was back and alive and we were watching it before our eyes.
The Knicks made it fun to watch them again and many New Yorkers finally felt some pride in their basketball team. The Knicks made the playoffs for the first time in seven years and have a bright future.
Fans are proud of their Knicks again because they are revitalizing tradition. I finally began to associate the Knicks again with Patrick Ewing, John Starks and Willis Reed and not Eddy Curry, Stephon Marbury, and the fat Zach Randolph. The Knicks were back and so was the pride that the fans had been missing for years.
Then you have teams like the Yankees who are keeping up with their brand. The Yankees have a long tradition of winning and continue that tradition to the present day. Yankee fans can remember the greatness of Joe DiMaggio and Mickey Mantle because the winning tradition keeps happening with Derek Jeter (congratulations on your achievement) and CC Sabathia.
This makes Yankee fans proud of their team.
Similarly, you have franchises like the Toronto Maple Leafs who have not raised a Stanley Cup since 1968, yet have one of the most prideful fanbases in all of sports. What makes them so proud of their Leafs? The love of the game and of the team. The past brings fans together and the game of hockey brings people together now no matter how bad the team is.
Pride is shown by these fanbases by what they associate with their respective teams. Now this doesn't mean that the Yankees or Jets don't work hard, but each fan base is proud that they can associate something with themselves with their team.
Does an individual player make you proud to associate yourself with that team? For example, Derek Jeter has handled himself with nothing but class throughout his entire career. Does seeing him accomplish something great today make you proud to like the Yankees?
Or how about Mike Bibby, who walked away from his large contract with the Wizards after being traded and signing with the Heat for the league minimum for a chance to win (I know we all hate the Heat but we would all applaud him if he didn't go to Miami)?
Do players like this make you proud to associate yourself with a team?
Now people may say, "well as long as my team is competitive, I am proud of them." But is that always true? For example, two years ago the Cincinnati Bengals were 11-5 and won the AFC North with a team that consisted of players like Pacman Jones and Tank Johnson, players who had trouble with the law (not that other teams don't have these types of players but the Bengals are known for giving players a second chance. This could make their fans prideful, I don't know).
Would you be embarrassed if this was your favorite team? Even though they are winning, are you truly proud of them because the players have questionable off-the-field behavior? 
There are many ways that a team can make you proud to support them. I touched on a few but I know there are more. So this is where you come in. Comment on this article and tell me why you are proud of your favorite team. Is it because of tradition, winning, the hard work or something else? I want to hear from everyone as to why you are proud to wear your team's jersey.
As I said before, it is such a simple question, but the answer can be so complex.
Thanks for the read and always remember to keep the military in your thoughts and prayers.
P.S. Just because I didn't use a team or player on here doesn't mean that hey don't fit the description I use. Almost all teams can be associated with hard-work. I just don't want to offend anybody.