NHL Free Agency 2011: 11 Players Who Won't Fit With Their New Team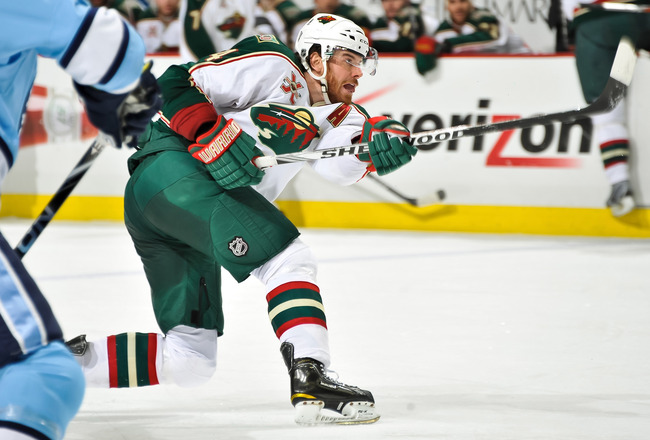 Jamie Sabau/Getty Images
As excited as fans can be about new players coming into their lineup, there's always a handful of players every year who don't quite live up to what is expected from them their first year.
Whether it's a lack of chemistry with their teammates, an injury or just an atmosphere they don't enjoy, these offseason busts can really bring a team down and possibly even cause a team to miss the playoffs, causing staff changes and other potential changes.
While nobody hopes this will happen, there will inevitably be some players that moved teams this offseason who will not fit with their new teams.
Here is my list of 11 players who might fall into this category.
If you like this article, follow me on Twitter for news, updates, analysis, and links to new articles as I post them!
Jean-Sebastian Giguere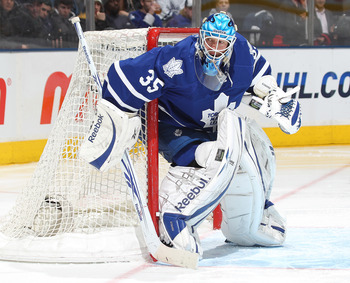 Claus Andersen/Getty Images
After losing the starting job to rookie James Reimer and his backup job being threatened by Jonas Gustavsson, Jean-Sebastian Giguere decided to pursue greener pastures this offseason by signing with the Colorado Avalanche.
His deal, a two-year, $2.5 million contract, isn't too bad and is actually a pretty good deal when combined with the Avalanche's other big goaltending pickup in Semyon Varlamov.
However, I think the Avalanche will quickly discover that Giguere's game has really never recovered from his prime with the Anaheim Ducks and that Varlamov will be a much more solid starter in the long run.
That being said, $1.25 million per year is a bit pricey for a backup goaltender.
Even though Giguere won the Ducks a Stanley Cup in 2007 and has a phenomenal resume, his play has continued to decline and I think he may let go at the end of next season in favor of a different, cheaper backup goaltender that they can hold on to for a longer period of time.
James Wisnewski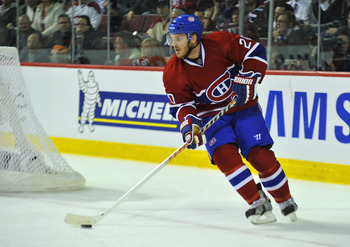 Phillip MacCallum/Getty Images
Anaheim Ducks fans will not soon forget the two straight summers in which James Wisnewski filed for salary arbitration after failing to reach an agreement.
After seeing the deal he struck up with the Columbus Blue Jackets this offseason, it's taught me one thing: Wisnewski is greedy in salary negotiations and in my opinion, overvalued.
For that reason, I think the Blue Jackets will come to regret giving him a six-year, $5.5 million cap-hit-per-year contract soon.
Sure they have the money to pay it, and he will greatly help their blueline that was suffering royally as it was, but I wouldn't put him on a list of the league's elite defensemen, and I really don't think he's worth what he's being paid.
On most teams, Wisnewski would be a second-line defenseman and now he's being paid more than guys like Shea Weber, Tomas Kaberle and Jack Johnson, all of whom I believe to be better players.
I'm not saying he won't work with the Blue Jackets. What I am saying is he will definitely not work at a level that warrants a deal that causes Columbus to give up $5.5 million per year in cap space.
Andrew Brunette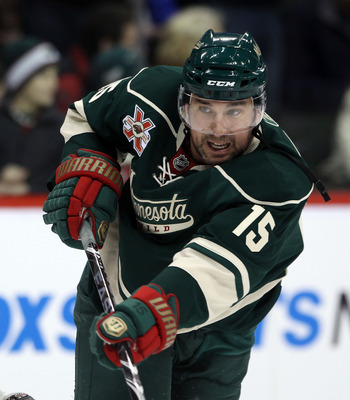 Bruce Bennett/Getty Images
I'm not really sure what the Blackhawks were thinking this summer when they signed several players who are all well over the age of 35 to contracts.
Were they just trying to copy the Detroit Red Wings' formula for success? Or do they really think that veteran presence is what this squad needed to boost itself back to glory?
While experience is invaluable in a player, there comes a time when guys have aged so much past their prime where they really aren't worth it.
I believe Andrew Brunette was one of those players.
He'll provide some good depth at the center position, but he's not exactly the type of player who you'd think of when you think of the Blackhawks' style of speedy, high-skill play.
To me this almost looks like a desperate move to try to fill the holes in the lower lines due to the departures of Tomas Kopecky and Troy Brouwer.
I really don't think Brunette will fit the Blackhawks lineup well at all. He's just too far past his prime to really be effective on a lineup that is so heavily based on high-skill and high-speed play.
Curtis McElhinney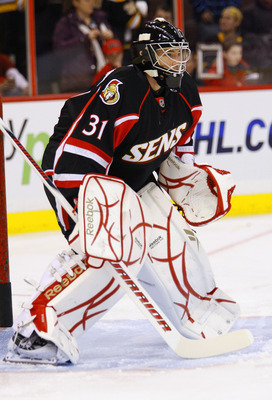 Phillip MacCallum/Getty Images
After several seasons as the backup to Miikka Kipursoff in Calgary, Curtis McElhinney has struggled to find a home in the NHL.
It appears now that he's going to be finding a home as a depth move at the goaltender position for a Phoenix Coyotes team that just lost Ilya Bryzgalov to free agency.
The Coyotes went goaltender crazy this offseason to try to make up for their losses, but the crew they brought in is a far cry from what they had before.
McElhinney is joined by both Mike Smith (relegated to the backup position after a trade at the beginning of last season brought in Dwayne Roloson for some stability) and a re-signed Jason LaBarbara.
From the looks of things, McElhinney might see very few games even dressed for the Desert Dogs this year, unless the play of one of these two goaltenders goes downhill fast.
This could happen easily, as none of these guys have proven themselves to be a solid starting goalie. However, I do think McElhinney won't fit very well with the team he signed for if he hopes to see any game action even from the bench.
Simon Gagne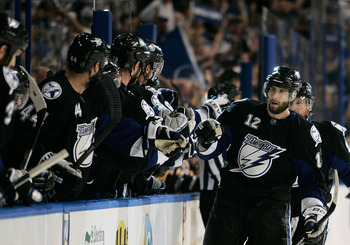 Justin K. Aller/Getty Images
This was a brilliant move for the Los Angeles Kings to bring in the speedy young forward and boost an offense that was more or less anemic last season.
However, I think the Kings are putting a little too much pressure on him.
Gagne has scored 40 points in each of his last two seasons, and while that's not a bad number, it's not really the numbers you can bank on to lead your offense and still expect to win games.
If the Kings plan on using him as a support-role or second-line winger, then I think he'll do great.
The only problem at that point as well is he too is a bit pricey for that kind of a player. Assuming he scores 40 points again next year, that breaks down to costing the Kings just under $100,000 per point in cap hit.
Combine this with the fact that he'll be playing on a unit that's much different from the Tampa Bay squad which he's coming from (he'll likely be seeing time with Dustin Penner, Dustin Brown and/or Brad Richardson), I'm not sure he'll fit the LA system as perfectly as the Kings would hope.
Still, if I had to grade the potential for busts on this list, I'd say this one is far less likely to be a failure than others.
Andy Sutton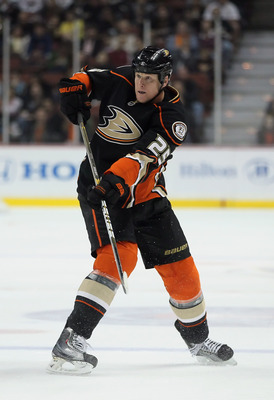 Jeff Gross/Getty Images
First it was Ryan Whitney, and now it's Andy Sutton...is it just me or have the Edmonton Oilers really just kind of become a dumping ground for failed Anaheim Ducks defensemen on way-too-large contracts?
Sutton proved last season that he's not the type of player who can anchor a defense, even though he is a big, nasty physical presence standing at 6'6", 245 lbs.
He makes a lot of very errant passes out of the defensive zone and several times last season made careless passes right through his own slot that were intercepted and quickly thrown right into the Anaheim Ducks' goal.
And injuring his hand in the first game of the season in a needless, undisciplined fight didn't help his reputation from the start either.
Either way, I'm sure Sutton is happy to have a home where he will see regular ice time, instead of constantly battling for lineup inclusion, which he was quickly relegated to in Anaheim with the emergence of their young, talented defense.
That being said, the Oilers better not be expecting him to live up to the shoes left by Kurtis Foster, who they traded away to acquire Sutton.
I think the Oilers made a significant downgrade on this deal, and for that, I call this deal a definite bust.
Tomas Kaberle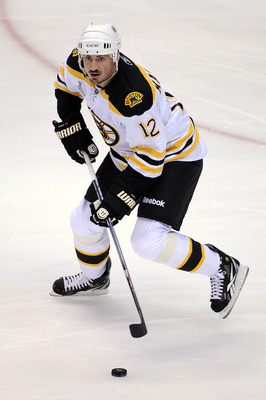 Harry How/Getty Images
While his veteran blueline experience is no doubt an attractive feature in the eyes of the Carolina Hurricanes, Tomas Kaberle is not the quick fix answer they really needed for their defense that's beginning to look extremely rag-tag.
Yes he won a Stanley Cup with Boston last season, but at the same time he was just one member of an entire team, and I wouldn't say his play had the biggest impact for the Bruins either.
For a defenseman that's supposed to be a specialist on the power play, Kaberle scored only four goals all last season, including zero in the playoffs.
In fact it was his play that was blamed for much of the Bruins' powerplay ineptitude during their Stanley Cup run.
This is following up on seasons where he broke the 10-goal barrier three separate times.
Combine this with a defense that really doesn't boast much in the way of significant defensive talent beyond recently re-signed Joni Pitkanen, and the Hurricanes don't have much to offer to support Cam Ward in goal.
If the Hurricanes want to make a serious run at returning to the playoffs next season, they're going to need to fix this before the season starts because simply paying out $4.25 million in cap hit next season for one rather overvalued defenseman isn't going to solve the problem.
Tanner Glass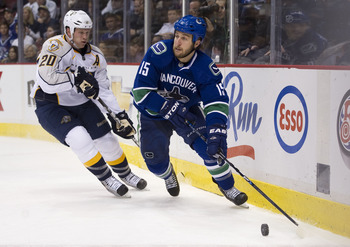 Rich Lam/Getty Images
For a franchise that seemed to be taking a massive step in the right direction by moving to Winnipeg with a solid core of young players and loads of cap space with which to build some good support to make a pretty good team...the newly resurrected Winnipeg Jets franchise has done virtually nothing this offseason to help improve themselves after they abysmally missed the playoffs.
Possibly their biggest import of this offseason was bringing in Tanner Glass, a fourth-line player who managed only 10 points in 73 games with the Vancouver Canucks last season.
The team looked to be heading in such a promising direction last summer when they acquired Andrew Ladd from free agency to support a promising looking Evander Kane and already-threatening Nik Antropov.
And now with over $25 million in free cap space this summer, the Jets have done virtually nothing to even show they want to make a playoff run in their first season back.
Tanner Glass will almost definitely not live up to what the Jets expect of him, and with the way things are looking right now, don't be surprised if the Jets fail to make the playoffs next season, as they really look to be making absolutely no strides toward progress and eventual success.
Glass may not even play poorly next season, however he's not the type of player the Jets really need. They need depth players who can provide secondary scoring. Only 10 points in 73 contests can hardly be used as an argument for depth scoring.
Sheldon Souray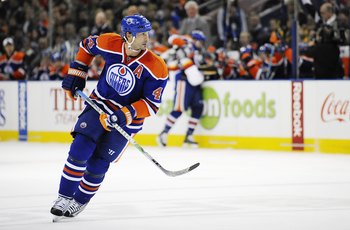 Jimmy Jeong/Getty Images
Was the fact that he hasn't played in the NHL since the end of the 2009-10 season despite playing for what has been the worst team in the entire league the last two years not enough of a hint that this guy should have been avoided?
Apparently not to Joe Nieuwendyk.
Sheldon Souray is getting another gracious shot at playing in the NHL as the Dallas Stars have picked him up on a one-year, $1.65 million contract.
I guess the positive of it is the cap hit isn't too horrible, and if he's successful, this could be one of the steals of free agency.
If not...well let's just say it's a good thing that the contract is only one year.
But seriously, we're talking about a guy who failed to find a roster spot on a defense core that boasts Ryan Whitney, Tom Gilbert and Ladislav Smid as its top players. And he still found himself sent down to the minors, clearing waivers in the process to get there.
This one has enormous free-agency bust written all over it, and for Dallas, who have really never been able to find their replacement for Sergei Zubov, this really looks like a pretty foolish move.

Michal Handzus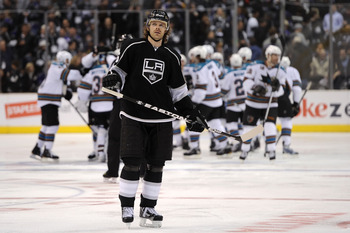 Harry How/Getty Images
The Los Angeles Kings did the smart thing this offseason by letting him walk and replacing him with someone cheaper and better.
The San Jose Sharks did the not-as-smart thing by trading away someone talented and then hoping he would fill those shoes.
Despite making a healthy $4 million per season with the Kings, Michal Handzus had a pretty lackluster season, scoring only 12 goals and 30 points as a second-line player for Los Angeles.
For the most part, he was pretty much invisible the entire year, making very little contribution to the team's success despite playing all 82 games.
Now this Sharks team that just traded away talents like Devin Setoguchi and Dany Heatley will be relying on the one they dubbed "Zus" in LA to be at least a 20-goal scorer to try to maintain that offensive skill.
I really don't think he's going to be able to find the form he had in the prime of his career again, and the Sharks will be a little disappointed with this free agency bust.
Martin Havlat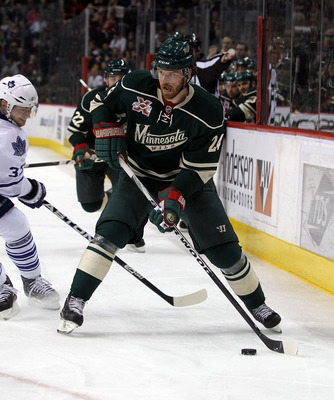 Bruce Bennett/Getty Images
Speaking of the San Jose Sharks again, you have to wonder what they were thinking trading away Dany Heatley after he scored 26 goals and 64 points for them and was an integral part of the Sharks' trip to the Western Conference Final.
I certainly don't know what came into their minds.
Yes, I realize that Heatley was never really loved in San Jose and that his contract was extremely expensive, but at the same time his chemistry with Joe Thornton and Patrick Marleau gave the Sharks one of the most lethal top-lines in the entire league.
And yet, in what had to be the biggest bombshell of a trade this summer, the Sharks swapped him with Minnesota for Martin Havlat.
Havlat is known to be injury prone and has never really fully lived up to his potential as a top-tier goal scorer.
He's going to be replacing Dany Heatley on the top line for the Sharks, where he'll be expected to produce likely around 30 goals next season, something he's done only once in his career.
Plus he'll be playing on an extremely physical Sharks squad whose style of play probably won't fit him very well.
Hence, I'm saying Havlat will be a bust for the Sharks.
If you liked this article, follow me on Twitter for news, updates, analysis, and links to new articles as I post them!
Keep Reading