NHL 2011-2012: What Each Team Needs in Order to Reach Next Level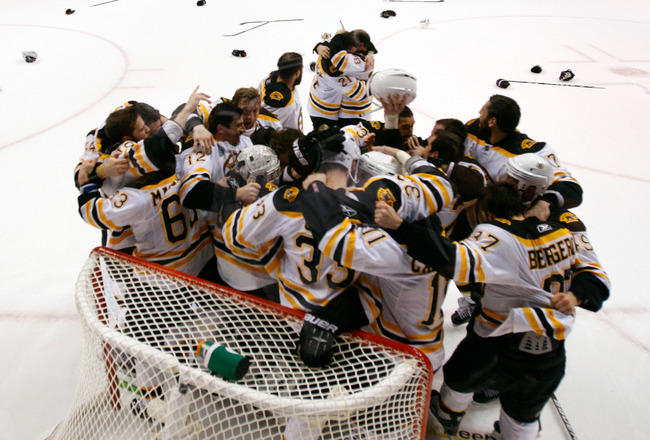 Harry How/Getty Images
During NHL free agency, every team has a shot at the Stanley Cup. Whether a team just drafted first overall in the 2011 NHL draft or finished drying themselves off after two weeks of being drenched in champagne, the offseason is a fresh start for everyone.
The offseason is also a chance for a team to satisfy needs, and every team has them.
The mark of a champion is never being satisfied and always staying hungry. There is always another level to be reached and another goal to be accomplished.
Here is what each team needs to get to that next level.
Anaheim Ducks: Defense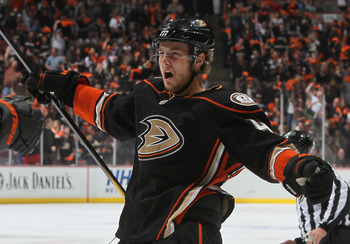 Jeff Gross/Getty Images
The Anaheim Ducks are caught in a painful middle ground right now. They have a roster talented enough to compete for and earn a playoff spot, but they don't have what it takes to get over the hump and contend for the Stanley Cup.
In addition to getting a healthy Jonas Hiller back, providing him with more sound play in their own end is a must for this team. He's an outstanding goaltender with a mediocre defense.
Just imagine if the blueline play picked up ever so slightly. This team could be dangerous.
Boston Bruins: Goal Scorer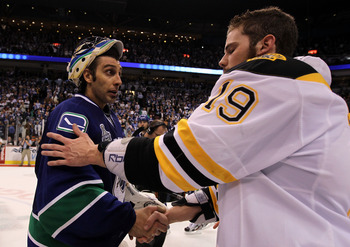 Bruce Bennett/Getty Images
The Boston Bruins won the 2011 NHL Stanley Cup. Now, it's time to move on.
Throughout the Bruins Cup run, Tim Thomas was carrying the team night in and night out. Sure, Boston was able to prey on some weak goaltending against Philadelphia and Vancouver, but they lacked a goal scoring threat throughout the season.
In conjunction with that void, the Bruins also need to step up their powerplay to another level.
A Stanley Cup is great, but that doesn't mean you rest on your laurels.
Buffalo Sabres: Experience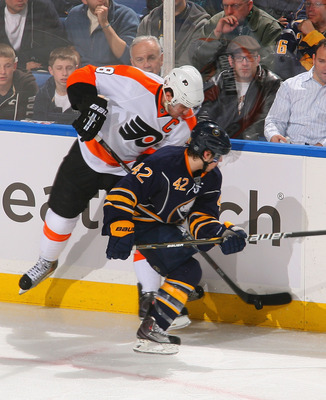 Rick Stewart/Getty Images
The Buffalo Sabres came within one game of eliminating the Flyers and advancing in the playoffs. That seems to be a common theme for Buffalo in recent years.
They have the goaltending and some offensive fire power, and the defense is vastly improved with the additions of Christian Ehrhoff and Robyn Reghr. So, what's missing other than experience?
Calgary Flames: Patience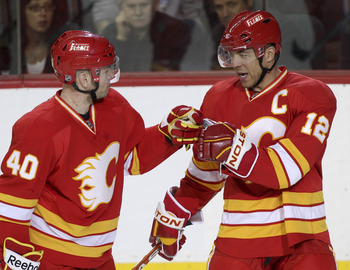 Mike Ridewood/Getty Images
The Calgary Flames are in a bit of a middle ground between rebuilding and being ready to contend.
On one hand they have Jarome Iginla and Mika Kiprusoff, two of the best players at their position in the league. However, they are still a bit in experienced and seem to be working toward rebuilding the rest of the roster.
Carolina Hurricanes: Toughness on the Backend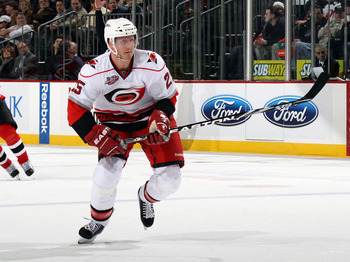 Bruce Bennett/Getty Images
The Joni Pitkanen's and Tomas Kaberle's of the world are vital assets to a team, but without a true physical presence on the blueline, the Carolina Hurricanes are going to have a tough time holding up to the grind of an 82-game regular season, not to mention the postseason.
Chicago Blackhawks: Stay Healthy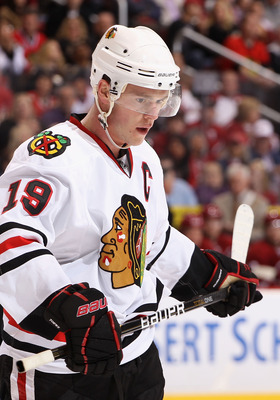 Christian Petersen/Getty Images
Last season was a letdown for the Chicago Blackhawks, due at large to the fact that they piled up so many injuries and couldn't overcome it because of all the depth players they had lost in the offseason.
Now, a solid chunk of the core is still in place from a team that nearly upset the Canucks in Round 1.
If they can stay healthy, the addition of some experience veteran players on their roster will make this team a contender again.
Colorado Avalanche: Development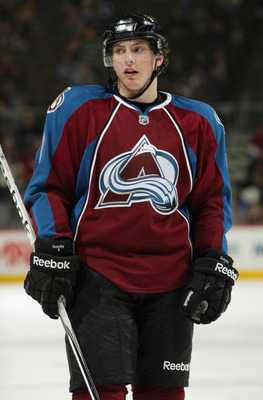 Doug Pensinger/Getty Images
The way the roster looks for the Colorado Avalanche at the moment, it does not appear that the team is ready to compete for a playoff spot without some significant development of their younger players in the offseason.
Matt Duchene and Paul Stastny are excellent players on the front end, but the pool of rearguards is less than inspiring, and the acquisition of Semyon Varlamov doesn't due much to set the goaltending position in stone.
Columbus Blue Jackets: Solid Play from Steve Mason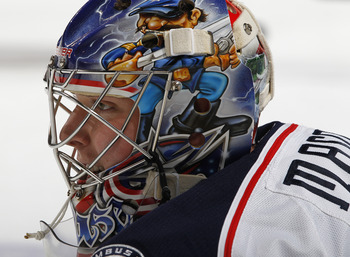 Joel Auerbach/Getty Images
The Columbus Blue Jackets have shown a willingness and ability to shell out money this offseason in order to compete now. The one unsettled component that is the key to this whole operation is Steve Mason.
After a stellar rookie season, Mason has been unable to recapture that form in the last couple of seasons. There is now a fairly talented squad in front of him, so he has no excuses left. It's time to perform.
Dallas Stars: Rebuild on the Fly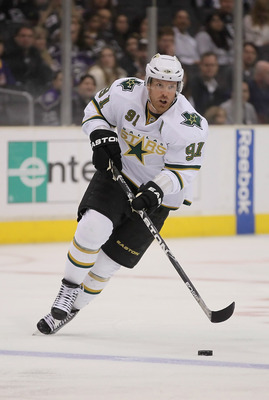 Jeff Gross/Getty Images
After losing such a necessary component to your success in Brad Richards, it's tough to figure out where to go from there.
That being siad, the Dallas Stars still have some talent in place, but need to rebuild on the fly in order to make up for the loss of Brad Richards.
The key component missing from this team a year ago was toughness. Every time the Stars absolutely needed a win they found a way to come up short. They couldn't hold up over the long haul of the season, and failed to step up when key players went down with injury.
A philosophy chance may be the first step toward getting the Dallas Stars back in the playoffs.
Detroit Red Wings: Better Play from Jimmy Howard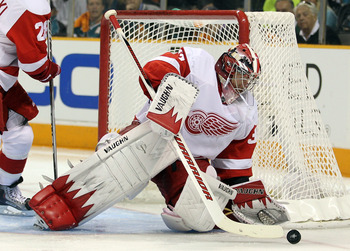 Ezra Shaw/Getty Images
The Detroit Red Wings aren't quite as talented this season as they have been in years past. They still are a definite contender to win the Stanley Cup, but they are by now means a favorite.
One thing that could get this team to the next level is better play in goal from Jimmy Howard. Howard has been solid thus far in his NHL career, but if he was to jump into the top echelon of goaltenders in the league, the Red Wings would be a tough out in the postseason.
Edmonton Oilers: Time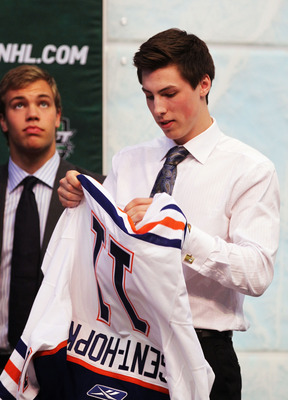 Bruce Bennett/Getty Images
The Edmonton Oilers appear to have all the pieces in place to make a run at the Stanley Cup...in a few years.
It's impossible to expect a team with a core as young as this one to compete for the Stanley Cup or even a playoff spot at this point in their careers. Taylor Hall and company need more time to develop.
Florida Panther: New Ownership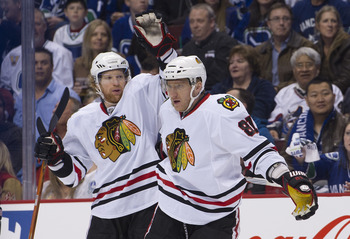 Rich Lam/Getty Images
Don't be fooled by how much money the Florida Panthers have spent this offseason. It was a last ditch effort to get to the new salary floor imposed by the league. The race to floor for the Panthers caused them to overspend for nearly every player that they brought in.
Perhaps the team bettered itself slightly, but there is no way to build a successful team if all you can afford to do is spend to the floor.
This team needs to get out of Florida and find an owner and a fanbase that can keep this team afloat.
Los Angeles Kings: Wings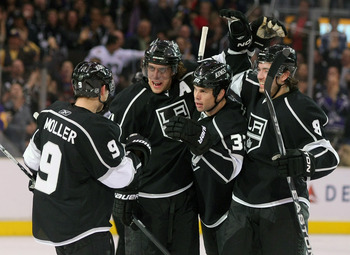 Victor Decolongon/Getty Images
The L.A. Kings got a hell of a lot better this offseason with the additions of Simon Gagne and Mike Richards. However, the club would love to land an elite wing capable of playing alongside Anze Kopitar. Does Gagne have that left in him?
At the very least Gagne and Richards provide the Kings with experience and depth, but the club needs to find some talented players to pair with Kopitar.
Minnesota Wild: Elite Production from Dany Heatley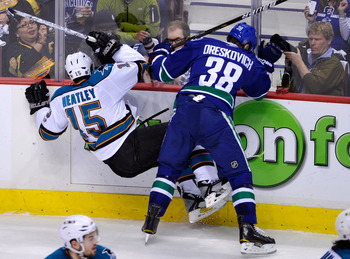 Rich Lam/Getty Images
All season long, I have been talking about the need for an elite goal scorer in Minnesota. Well, Wild fans rejoice, Dany Heatley is heading to Minnesota.
The question now becomes, which Dany Heatley are you going to get. Heatley's production often comes in bursts and tends to care more about himself than the actual team.
However, maybe at this point in his career Heatley will be looking for a Stanley Cup to silence his critics. Wild fans certainly hope so.
Montreal Canadiens: Toughness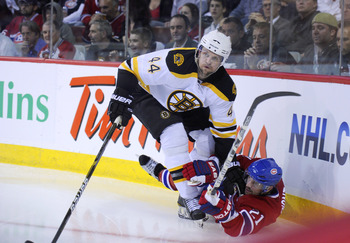 Phillip MacCallum/Getty Images
Until they stop diving and flopping all over the ice, the Montreal Canadiens are never going to win a Stanley Cup. There is plenty of talent on the roster, but the way they play is not ideal for the grind of the NHL Playoffs.
Just look at the past two teams that eliminated the Canadiens from the playoffs. Both the Philadelphia Flyers and Boston Bruins outmanned Montreal with physical play.
Nashville Predators: Elite Goal Scorer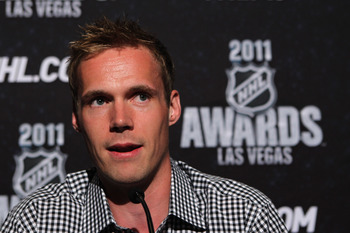 Bruce Bennett/Getty Images
The Nashville Predators are on the brink of competing for a Stanley Cup. However, the club is never going to get there without some sort of talent up front to put the puck in the net.
That being said, it's going to be tough to bring in a guy who can score if they are not willing to spend money.
With Pekka Rinne, Shea Weber and Ryan Suter manning the backend, Nashville is ready to win now.
New Jersey Devils: A Resurgence or Replacement of Martin Brodeur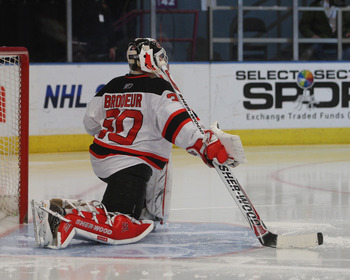 Jonathan Klein/Getty Images
Last season was a bit of a fluke for the New Jersey Devils because of all the injuries the team endured during the early going. Most of the key components are back in the fold, so 2011 should be a bit better.
One unknown for the first time in years for the New Jersey Devils is the goaltending situation. Does Martin Brodeur have enough left in the tank to keep this team competitive?
If not, how long before they pull the plug, and who takes his place?
These are all questions that need to be answered for the Devils in case Brodeur continues his subpar and injury riddled play.
New York Islanders: Goaltending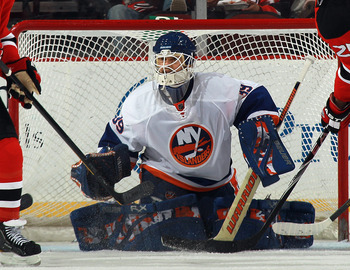 Bruce Bennett/Getty Images
Believe it or not, the New York Islanders are not too far from competing for a playoff spot in the Eastern Conference. The developing talent they have at forward and defense is enough to make them competitive this season.
Unfortunately, goaltending could be an issue for this club. Rick Dipietro has struggled with injuries throughout his entire career, and his play has suffered.
Meanwhile, AL Montoya, who is behind Dipietro on the depth chart, is talented but untested over an 82-game stretch.
New York Rangers: Live Up to the Hype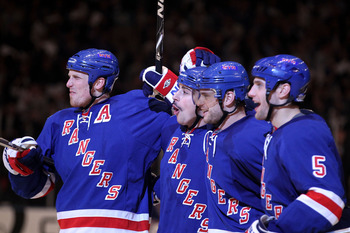 Bruce Bennett/Getty Images
How many times have we heard it? This is the year for the New York Rangers.
Over the last decade it seem like every time the Rangers bring in a high priced free agent or make a big splash via the trade market, everyone is ready to anoint them the favorites in the Eastern Conference.
OK, so they signed Brad Richards. Awesome. But let's not forget about his concussion issues. Richards and Gaborik is a match made in heaven, but only when both of them are healthy and on the ice.
The Rangers are obviously a playoff team and a contender in the East, but let's see how they handle the hype before crowning them Eastern Conference Champions.
Ottawa Senators: Rebuild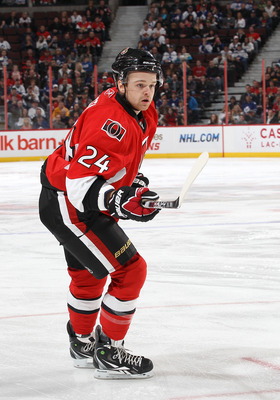 Jana Chytilova/Freestyle Photography/Getty Images
Bryan Murray and the Ottawa Senators seem to recognize that a rebuilding effort is the best way to get this team back into the postseason.
The reckless spending and irresponsible trades have been replaced with solid drafting and the compilation of young talent.
Give this some time, and the Senators could be back in the playoffs within three years.
Philadelphia Flyers: Time to Gel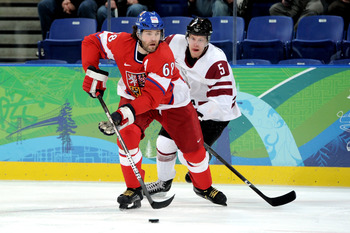 Harry How/Getty Images
Mike Richards, Jeff Carter, Kris Versteeg, Ville Leino and others have been replaced with Ilya Bryzgalov, Brayden Schenn, Sean Couturier, Wayne Simmonds, Jakub Voracek, Jaromir Jagr and Max Talbot.
Needless to say, there has been a massive overhaul in Philly.
That being said, the team is not entirely worse off. Offensively, they may not be on the same level that they were before, but give these guys time to gel and develop and a lot of people are going to be surprised by the outcome.
The core of this team is incredibly young, but there is tons of experience, which should make this transition phase a smooth one.
Phoenix Coyotes: Relocation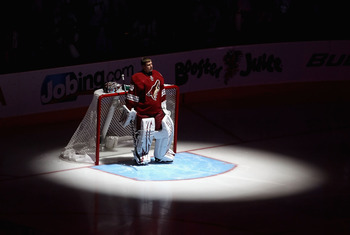 Christian Petersen/Getty Images
Some teams need to just get away. The Phoenix Coyotes are one of those teams.
They don't have the money or the fan support to build a consistent competitor at this point. They were unable to keep Bryzgalov in Phoenix and were only able to lure in mid-level free agents.
The Coyotes are a team that could finish fourth through eighth in the Western Conference year in and year out, but in order to win the Stanley Cup, the Coyotes are going to have to find somewhere else to play.
Pittsburgh Penguins: Stay Healthy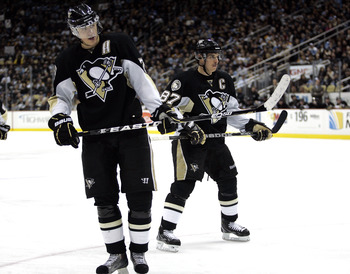 Justin K. Aller/Getty Images
There is no doubt that the Pittsburgh Penguins go as Sidney Crosby and Evgeni Malkin go. It's as simple as that.
When Crosby and Malkin went out for the season, there was little doubt that this team was not going to make a deep postseason run. Marc-Andre Fleury could only carry the club so far.
With Crosby and Malkin healthy, the Penguins are once again contenders for the Stanley Cup.
San Jose Sharks: Postseason Toughness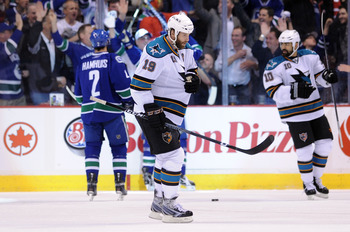 Harry How/Getty Images
The Sharks have built a roster that will be capable of playing all three zones of the ice as opposed to just offense.
However, San Jose still needs to prove that they can handle the grind of the postseason. Is Jumbo Joe the guy that will lead this team to the promised land? I'm not convinced.
St. Louis Blues: Time to Develop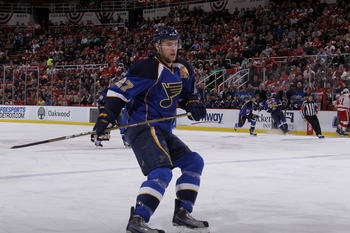 Gregory Shamus/Getty Images
Few teams have the type of young blueliners on the brink of being impact players that the St. Louis Blues are blessed with in Alex Pietrangelo and Kevin Shattenkirk.
In addition, the Blues boast a deep pool of talented prospects as well as a young talented core at the NHL level.
Patience will pay off for Blues' fans.
Tampa Bay Lighting: Keep Steven Stamkos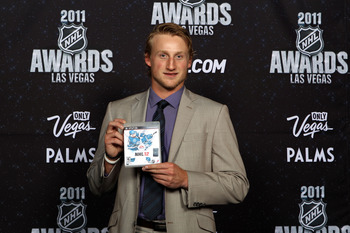 Bruce Bennett/Getty Images
The Lightning may have other needs to fill, but everything is a moot point when a player like Steven Stamkos is left unsigned.
There's not much else to say. The importance of signing a 21-year-old 50-goal scorer is kind of obvious.
Toronto Maple Leafs: James Reimer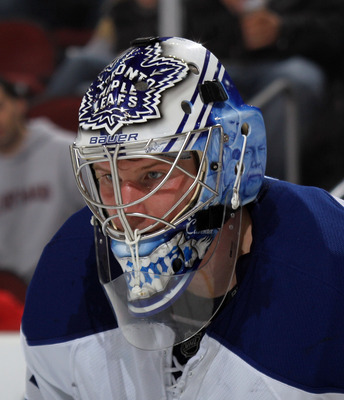 Bruce Bennett/Getty Images
Brian Burke is putting the finishing touches on a roster that is set to push for a spot in the postseason. Of course, there is a lot riding on the continued solid play of James Reimer.
All it takes it one player to fail to live up to expectations, and it could derail the entire rebuilding process. Throw Tim Connolly in that group of players that needs to live up to the hype.
Vancouver Canucks: Balls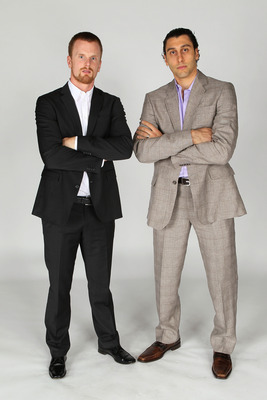 Jeff Gross/Getty Images
Perhaps I'm being a bit blunt, but the Vancouver Canucks need some balls to reach the next level.
On the whole, the Canucks team was disgraceful in the 2011 Stanley Cup Finals. They were complaining on and off the ice, they were shying away from physical altercation and diving for calls.
That's not how to win a Stanley Cup. From the Sedins and Luongo straight on down the roster, the Vancouver Canucks need to man up to reach the next level. There's no other way around it.
Washington Capitals: Composure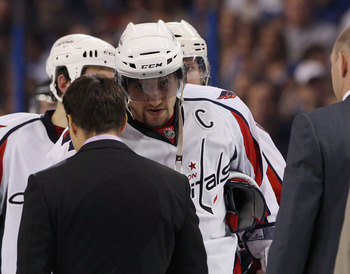 Bruce Bennett/Getty Images
It's almost comical how season after season the Washington Capitals manage to dominate the regular season and fall flat on their faces when the postseason starts.
This team has all of the talent in the world, but without a bit of composure come playoff time, some heads are going to have to roll in the organization.
Winnipeg Jets: Goal Scoring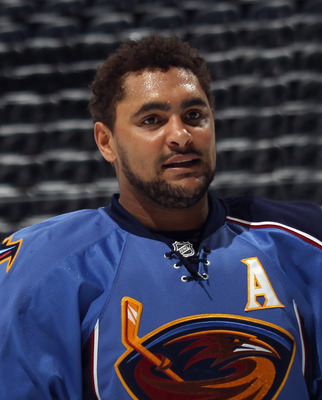 Bruce Bennett/Getty Images
In Atlanta last season, the Thrashers were relying on defenseman Dustin Byfuglien to put the puck in the net.
Heading up to Winnipeg, the Jets are going to need to find an offensive threat to rely on other than Byfuglien. There are some young candidates in play that need some time to develop, but one way or another, someone has to step up.
Keep Reading