NHL Free Agency 2011: Analysis of Carolina Hurricanes' Signing of Tomas Kaberle
July 6, 2011
Harry How/Getty Images
The Carolina Hurricanes have landed their biggest free agent signing in many years.
Defenseman Tomas Kaberle, a 2011 Stanley Cup Champion, was signed to a three-year, $12.75 million contract on Tuesday evening. Moments later, Joe Corvo, another defenseman, was traded to the Boston Bruins, Kaberle's most recent suitor, for a 2012 fourth-round pick.
Kaberle, 33, was approaching the conclusion of his 12th season with the Toronto Maple Leafs when, after years of speculation, he was dealt to the Bruins at this past February's trade deadline.
Though his performance as an elite offensive defenseman was not what Boston expected it to be, Kaberle showed his skills in his own end and playmaking ability moving up the ice in 25 postseason games.
The Czech blueliner, brother of former 'Cane and 2006 Cup winner Frantisek Kaberle, ended up with four goals and 47 points with a plus-four rating for the regular season and 11 helpers and a plus-eight rating in the playoffs.
Kaberle has topped the double-digit goal plateau only three times in his career, the most recent occasion coming in '06-'07, but has amassed more than 40 assists five of the past six seasons.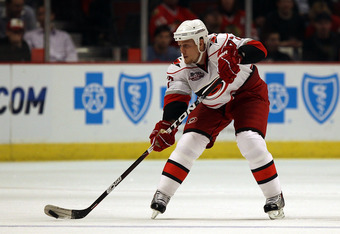 Jonathan Daniel/Getty Images
In 902 career regular season appearances, he's totaled 84 goals, 445 assists and a plus-31 rating and in 102 postseason games over the course of seven playoff berths (though only one since '03-'04), Kaberle has six goals, 33 assists and a plus-16 rating.
Departing Carolina, however, will be a much-loved player in Joe Corvo. The American arrived in Carolina at the '08 trade deadline in a trade involving the departure of Cory Stillman and Mike Commodore from Raleigh, and, despite an 18-game hiatus with Washington at the end of last year, eventually played 220 games with the 'Canes.
In '10-'11, the 34-year-old tied a career high with 40 points (11 goals and 29 assists) with five goals and 18 points coming with the man-advantage.
The 34-year-old is one of the most underrated and skilled power-play defensemen in the league, with 34 tallies (an average of 5.7 per year) coming over his last five seasons, including seven- and eight-goal efforts in '05-'06 and '08-'09, respectively.
On the other hand, Corvo's play in his own end was not top-notch, and ruffled some feathers around Caniac Nation with his lack of consistently solid defense.
His plus/minus rating proves the fact, which, after totaling a plus-37 in the three years from '05-'06 through '07-'08, has fallen to minus-25 combined over his three most recent seasons, including a minus-14 last season, worst on the 'Canes 'D'.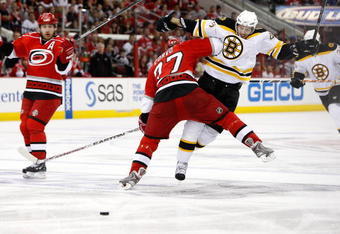 Streeter Lecka/Getty Images
Corvo, entering the second and final year of a two-year deal signing a year ago paying him $2.25 million per season, will join his fifth franchise in Boston; for Kaberle, Carolina is only his third.
Thoughts
In essence, Corvo and Kaberle have simply switched spots. The two defensemen, both known for being strong shooters but a little iffy defending their own goal, have taken each other's power-play defenseman slot with the Bruins and Hurricanes, respectively, with an additional (and almost meaningless) fourth-round pick headed Carolina's way.
At first, we didn't see how either side could be too happy with the moves. For the Hurricanes' GM Jim Rutherford, he'd received a horrible return on Corvo, a decent second-pairing defenseman for just about any team, and given Kaberle a massive contract; three seasons with a $4.25 million cap hit.
On the other hand, for the Bruins' GM Peter Chiarelli, the flat-out switch of Corvo-for-Kaberle is definitely a downgrade, no matter how much Kaberle fell short of expectations; it was, after all, just a short stint, not long enough to prove everything, and they did, nonetheless, still accomplish their biggest goal.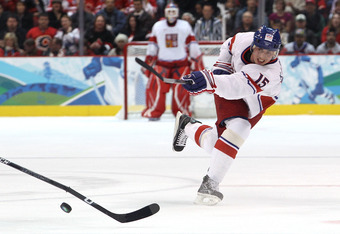 Bruce Bennett/Getty Images
Though Kaberle was technically an unrestricted free agent (UFA) and free to sign with who he liked, Boston was still considered one of the front-runners for inking him up until yesterday.
However, on a second glance, we begin to see the reasoning behind the duo of transactions.
For the 'Canes, a $2.0 million price increase from Corvo to Kaberle isn't truly much less than the real difference between the two players, given the ever-increasing salary range in the NHL these days, and it won't hurt Carolina much; with two RFA's left unsigned at the moment, they're still almost $1.3 million short of the salary floor.
Secondly, Carolina was able to add a big-star name to a functional but low-lying defense, currently consisting of sturdy defensive defensemen Tim Gleason, Bryan Allen and Jay Harrison, potential-laden youngsters Jamie McBain and current RFA Derek Joslin and it's one semi-star, Joni Pitkanen.
Kaberle, who was regarded by many as one of the top three UFA's entering July, is the Hurricanes' highest-profile free agent signing in a long while and, besides typical cornerstones Eric Staal and Cam Ward, adds another rare headline player to the 'Canes.
Plus, for a team that was 20th in the league in attendance in '10-'11, a big exposure- and intrigue-generator like him is never a bad thing.
The comparison of the playoff experience and production between the two players, furthermore, also had to be a deciding factor for Rutherford.
Kaberle comes into Raleigh with well more than double Corvo's career playoff appearances (45), and more than five times as much as Corvo had (20 postseason GP) when he first came to the Hurricanes.
Additionally, from Boston's point of view, they were able to get a utter steal on the Corvo trade and, in the process, found a legitimate replacement for Kaberle's departure, which had knocked Boston's lineup temporarily down to just five defensemen.
After the re-signing of RFA Brad Marchand, who is sure to get at least a few million, later this summer, Boston will also now be able to still have some cap space to work with, standing $8.7 million from the cap right now.
There also seems to be a business-related behind-the-scenes cause for the unexpected flurry. Over the past weekend, Corvo and his agent had "quietly requested a trade," per a radio interview with Rutherford. Looking up to find Kaberle oddly still left unsigned, Rutherford likely saw a the replacement scenario right then.
After the contract proposal, we also hear from that same interview that Tomas' brother Frantisek Jr. and father Frantisek Sr. helped urge Kaberle to the Hurricanes, who he probably had not even thought about before their sudden interest was aroused.
In the long run, though, it won't be the reasoning or business that caused the moves that will eventually classify July 5, 2011, as a brilliant or infamous day in Bruins' and especially Hurricanes' history; it will be the play of the two veteran blueliners that will determine which side came out on top.
And we'll just have to wait on that.
Mark Jones is currently Bleacher Report's featured columnist and community leader for the NHL's Carolina Hurricanes . In his 34 months so far with the site, he has written over 290 articles and received over 320,000 total reads.