NHL Free Agency: Montreal Canadiens GM Pierre Gauthier Knows Best
July 5, 2011
Bruce Bennett/Getty Images
As a Montreal Canadiens fan, I am pleasantly surprised with Pierre Gauthier.
The Habs' general manager has done a fantastic job in both managing the salary cap and addressing the team's needs this summer.
Even in a wild free-agency period, Gauthier locked up the Canadiens' most valuable restricted free agent forwards—David Desharnais and Max Pacioretty—for cheap (both two-year contracts at $850,000 and $1.625 million, respectively.)
After years of longing for a power forward, Gauthier finally landed one in Erik Cole. Although Cole came with a pretty hefty price tag ($18 million over four years), it was the price to pay and I'm happy he took the risk. If Cole can continuously match his 26 goal, 52 point performance from last season, the signing was well worth it.
Not to mention the fact that the big-bodied forward puts a hurting on people on a regular basis.
Gauthier opted to let Alex Auld walk in favor of another backup goaltender, Peter Budaj. The GM stated that he didn't want to keep looking for a new backup every year and so signed the Slovakian netminder to a two-year, $2.3 million deal.
Budaj can probably play more games than Auld, giving coach Jacques Martin the option of resting Price if he sees fit.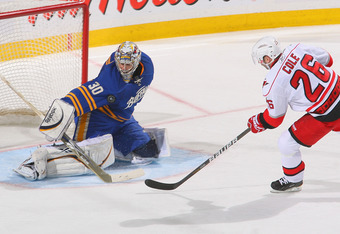 Rick Stewart/Getty Images
The only thing that the Habs are missing now is a bottom-six forward. There is a lot of talk among the Habs' faithful regarding heavyweight Zenon Konopka.
Konopka would be a welcome addition to the Canadiens' roster, but I feel like he would be in very high demand throughout the league. Konopka led the league in penalty minutes last season (307) and is excellent at taking draws (his faceoff winning percentage was 57.7 percent).
Who wouldn't want those numbers?
It would be great if Gauthier could land him, but if he can't, another tough guy like Eric Godard could be in line.
Or how about Chris Drury as a fourth-line centreman? At the right price, the faceoff specialist would be nothing to sneer at.
Whatever the case may be, I trust Pierre Gauthier's judgment as we all should. The man has done a fantastic job and clearly knows what's best for the team. 
I just wish he had signed Anthony Stewart...
Follow Jason on Twitter: @jhytel