Toronto Maple Leafs News: Leafs Acquire Franson and Lombardi for Brett Lebda
July 3, 2011
Frederick Breedon/Getty Images
On Sunday, Brian Burke and David Poile hooked up for a fairly substantial deal, at least from the Maple Leafs viewpoint, as the Leafs dealt depth defenseman Brett Lebda and prospect forward Robert Slaney to the Nashville Predators in return for Cody Franson and Matt Lombardi.
At first glance, you would think the Leafs absolutely sent the Predators to the cleaners with this deal, but on second glance, you could see why the Predators—a small market NHL team—would do the deal.
Matt Lombardi is a major injury risk right now and is still under contract for another two seasons. With this deal in the bag, the Predators gain about $3 million in cap space, putting them dead last in the salary cap in the NHL.
The Predators will be looking at re-signing defender Shea Weber, which will not come cheaply. To add to that, they will need to re-sign two unrestricted free agents by the start of the 2012-13 season as goalie Pekka Rinne and defenseman Ryan Suter's contracts expire following next season.
They also have a few restricted free agents in Colin Wilson, Anders Lindback and Patric Hornqvist to eventually re-sign.
The extra cap space and money stored will help this small market team build their club for the future.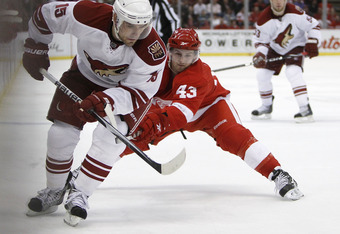 Gregory Shamus/Getty Images
For the Leafs, the prized acquisition is 6'5", 215-pound defenseman Cody Franson. He is one of only a select few to start out his first two full seasons with double digits in points and in plus-minus.
Along with Franson, the Leafs had to take on the $7 million owed to oft-concussed center Matthew Lombardi. In his last full season with the Phoenix Coyotes playing alongside Captain Shane Doan, Lombardi finished with 53 points in 78 contests.
If he remains healthy for the majority of his stay with the club, the Leafs just may have found themselves a prototypical third line center who can not only score, but skate the lights out and win draws. His speed however might fit in better with winger Phil Kessel, who could always use the extra open space on the ice.
At the beginning of the offseason, I called the Leafs acquiring Matt Lombardi for a draft pick; however, this deal just took the cake.
As it stands right now, the Leafs have around $10 million in cap space remaining to resign their three big RFA's in Luke Schenn, Clarke MacArthur and Tyler Bozak. The $10 million should be close to enough to nab all three, but expect another deal or two before all of them are signed, sealed and delivered.
Toronto's Line-up as of today:
Lupul/Connolly/Kessel
Kulemin/Grabovski/MacArthur (RFA)
Kadri/Lombadri/Armstrong
Brown/Bozak (RFA)/Orr/Frattin
Phaneuf/Aulie
Liles/Schenn (RFA)
Franson/Komisarek
Gunnarsson
Reimer/Gustavsson