Examing the Philadelphia Flyers' Shocking Offseason Moves
July 4, 2011
Bruce Bennett/Getty Images
Since around mid-afternoon on Thursday, June 24, nearly half of the Philadelphia Flyers' game roster has been shown the door. Whether it be by trade or simply letting them walk in free agency, the Flyers today are very much different than the Flyers two weeks ago.
Mike Richards, Jeff Carter, Ville Leino, Kris Versteeg, Darrell Powe, Brian Boucher, Sean O'Donnell and Dan Carcillo are now former Flyers.
Brought in to fill the void were a handful of younger, bigger forwards, a much-needed goaltender, as well as an aging veteran whose name you might recognize (hint: it's Jaromir Jagr).
They are Ilya Bryzgalov, Brayden Schenn, Wayne Simmonds, Jakub Voracek, Sean Couturier, Maxime Talbot, Andreas Lilja and Jaromir Jagr.
It is finally safe to say that the roster as it stands today will be very similar to the roster on team's opening night in Boston.
Wayne Simmonds is the last remaining restricted free agent to be signed, and reports are a deal will be hammered out in the next few days.
The time to step back and evaluate the new-look Philadelphia Flyers has come. Stick with me, as I examine each aspect of the restructuring that has taken place.
To begin with, let's breakdown the moves that got the ball rolling.
The movement of Carter had been expected and speculated about for weeks. The Flyers' front-office seemed to agree that if anyone was to go, it would be him. Sure, he was once a 46-goal scorer and had eclipsed the 30-goal plateau three times in his six-year career.
Yet it was his high cap hit and attractiveness to other teams on the market that left him as the most likely candidate to be moved.
Rumored to be in the works for about a week before actually going down, Carter was sent to the Columbus Blue Jackets in return for Jakub Voracek and the Jackets' eighth overall and third-round picks in the NHL Entry draft the next day.
With the eighth pick, the Flyers took highly touted center Sean Couturier.
Less than an hour after news broke of the Carter deal, Richards was sent to the Los Angeles Kings for Brayden Schenn, Wayne Simmonds and the Kings' second-round pick in the 2012 draft.
Trading away Richards, while risky, could pan out to be one of Paul Holmgren's smartest decisions.
Whether he flourishes in L.A. or not has almost no weight on how this deal works out for the Flyers.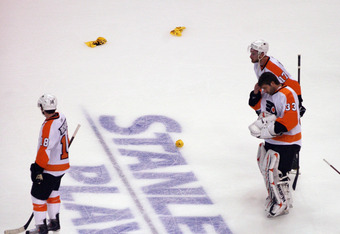 Bruce Bennett/Getty Images
Mike Richards simply was not fit to be captain of this Philly team. Whether it be the collection of players around him, coaching, management, whoever, something caused this relationship to fail.
Brought in to be the team's next great captain, Richie never lived up to the bill. Countless run-ins with the media, rumored tiffs with teammates and coaches, late-night parties and a seeming lack of motivation at times put him in poor favor with fans and media alike around the city.
When your captain is attracting issues rather than addressing them, as he was, they are not doing their job.
Granted, Richards was expected to be more of an on-ice leader than he was off, but more and more frequently, he seemed to lack the motivation that was expected of a captain and didn't play with the same fire he once did for this team.
This is not to say Richards was a poor player by any stretch of the imagination. The simple fact is he wasn't captain material for this team. Had he been given the chance to actually prove himself before being granted the captaincy at such a young age, maybe things could have turned out better.
But as it was, it didn't work out.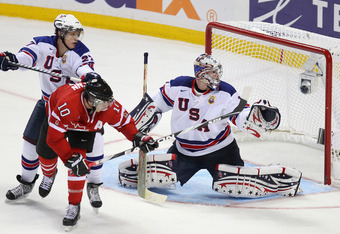 Rick Stewart/Getty Images
As much as Flyers fans everywhere wanted him to, Richards never became the captain he was supposed to be. That is what made this move hardest for most to accept.
Once the initial shock of the moves settled and heads stopped spinning, people began to realize the talent pool Holmgren had reeled in. While losing two top-six forwards isn't the exact blueprint teams use to improve, the Flyers had done so.
On top of taking strides to better team chemistry, the club got younger, faster and bigger.
Jakub Voracek is a 21-year-old winger who at this point in his career has more points than Carter did (134 in three seasons compared to Carter's 132). Drafted seventh overall in the 2007 draft, he is a promising young winger with size and speed along with a fine ability to create plays.
Wayne Simmonds, 22, is a high energy player and was a fan favorite for the Kings. His up-tempo, physical style of play can be compared to that Scott Hartnell. He has about the same scoring touch as Hartnell, as well, with a little more discipline when it comes to taking penalties.
More notably, the Flyers also managed to pry center Brayden Schenn away from the Kings.
Schenn is being regarded as one the most professional ready prospects out there. The fifth overall pick in the 2009 draft, he was the WHL's rookie of the year in 2008.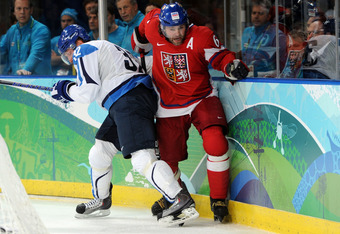 Harry How/Getty Images
Along with that, he was named MVP of this year's World Junior Hockey Championships even though he was on the losing team, scoring 18 points in seven games. Over his four seasons in the WHL, he tallied 315 points in 224 games.
Ironically, his play can be compared to that of Mike Richards. His playmaking ability, leadership qualities, defensive conscience and competitiveness is almost a mirror report of what Richards was said to be.
Hopefully, Schenn is more fit to play for this team.
Lastly, the Flyers used the eighth overall pick they received from Columbus to select center Sean Couturier. Once regarded as the top prospect of this draft, his fall to Philly at eighth was quite shocking.
This past season, he finished tied for fourth in the Quebec Major Junior Hockey League in scoring while taking home MVP honors. He was also named the league's Top 2011 Draft Prospect and was selected as a First-Team All-Star.
Adding to that, he finished second in the league with a plus-55 rating.
At 6'4'', Couturier is a big center with a lot of strength. His average skating ability can be made up for with his overall smart play. He is best known for his playmaking ability, strong puck handling, solid defensive play and ability to win faceoffs.
He may not make the team this year, but within the next three seasons Sean will be ready to make an impact in the NHL.
Moving on to free agency, the Flyers made sure there was no drop-off in shock value when they signed 39-year-old former superstar Jaromir Jagr. Regarded as one of the greatest scorers in league history, most question whether he can still perform after leaving the NHL for three years to play in Russia's KHL.
What needs to be remembered when looking at this signing is what role he will play. Holmgren, by any means, did not sign Jagr to be the team's leading scorer. He can be expected to put up 50 to 70 points, which is around what Richards and Carter put up year to year.
The most glaring question surrounding the signing is whether his reputation of being a cancer to the locker room will be a factor. Given how much the front office used the word chemistry when it came to the Richards/Carter trades, it comes as a surprise that they would bring on someone with that track record.
Apprently, the Flyers felt comfortable enough with his attitude to sign him for a year. Later that day, he impressed the media with his demeanor through a conference call and said all the right things.
Before signing with the team, he reportedly spoke to the expected captain-to-be Chris Pronger as well as Daniel Briere. He even reached out to head coach Peter Laviolette to discuss practices to see how everything runs.
Obviously he likes what he sees and hears from the Flyers.
Add to that the low risk of a one-year contract, and there's promise in the signing. Whether it works out or not, we won't know until the season rolls around.
With Jagr coming in, it became clear forward Ville Leino would not be retained as many Philadelphians had wished (me being one of them).
Leino was received in a trade with Detroit two seasons ago and flourished in the 2010 Stanley Cup run. A strong start to this season was followed by a slight drop-off in production down the stretch, yet he still finished with 19 goals and 34 assists in his first full season in the league.
The Flyers would have loved to keep the 27-year old native of Finland but his asking price was too high for them to accept. Leino ended up signing with the Buffalo Sabres for six years, $27 million ($4.5 mil cap hit per season).
For a player who has one full season under his belt and a mildly inconsistent one at that, $4.5 a year isn't a bargain, and Philly was not willing to pay it.
Also brought in on the first day of free agency was a former member of cross-state rivals the Pittsburgh Penguins, Maxime Talbot. Talbot is regarded as an outstanding leader and positive influence within the locker room.
He plays with heart and passion, exactly the type of player they could've used down the stretch this season. His versatility to play any forward position won't hurt either.
To finish the day, they traded away winger Kris Versteeg to the Florida Panthers in exchange for their second- and third-round picks in next year's draft.
Versteeg had been acquired this past season on Valentine's day in hopes that he would be the scoring partner Mike Richards needed. Things didn't quite work out, and his cap hit was ultimately deemed too much for them to hold on to.
Sending him to Florida, who needs help just to even reach the cap minimum, was the clear best option.
Looking at the team's offensive restructuring over the past two weeks, and here are what the Flyers will ideally look like up front:
Line 1: C-Claude Giroux LW-James van Riemsdyk RW-Jaromir Jagr
Line 2: C-Daniel Briere LW-Scott Hartnell RW-Jakub Voracek
Line 3: C-Brayden Schenn LW-Maxime Talbot RW-Wayne Simmonds
Line 4: C-Blair Betts LW-Jody Shelley RW-Andreas Nodl
The Flyers may lose some scoring with Richards, Carter and Leino gone, but these lines remain very potent. Overall, after all the offensive moves, I see a slight drop-off in offensive production but a huge boost in chemistry with a much healthier locker room atmosphere.
At last we address possibly the Flyers' most important acquisition. That would be goaltender Ilya Bryzgalov, who the team acquired in a trade with the Phoenix Coyotes for his negotiating rights and later signed to a nine-year, $51 million deal.
It has been over a decade since Philadelphia has had a solid goalie in net (see Ron Hextall). Whether the Russian net-minder deserved the lump sum of cash the Flyers dealt to him, he is certainly the best option in goal this city has seen in a while.
Provided he has the same high level of defensive play now backup Sergei Bobrovsky had this season, Bryzgalov could be one of the league's top goalies for the next few years.
To dispel the feeling that Bryzgalov is a poor postseason goalie (because that notion people have bugs the hell out of me), can we quit ignoring his 2006-07 playoff numbers with the Anaheim Ducks? In 10 starts, he had a 1.46 GAA with a .944 SV%. The next year he had a 2.53 with a .922 in four starts. His poor play in this year's sweep to Detroit wasn't something to write home about, but it isn't a microcosm of his career by any means.
Nearly any team in the league would've given him that same contract had they been in the same position as Philly. In a city that desperately needed a goalie after suffering year after year through mediocre one's, something had to be done to bring in a worthy goaltender. Bryzgalov was that man.
Overall, it's been a helluva two week period in Flyers country. Only time will tell how Paul Holmgren's plans work out on the ice. For the time being one can only speculate.
Personally, I applaud the job the Flyers have done in restructuring their team, on and off the ice. They have shown the initiative to go out on a limb and take risks if it means they are a better hockey team form it.
It's not so often nowadays that organizations show a commitment and desire to win as much as they have this offseason.
I believe we will see a younger, more focused, faster, more physical and overall more efficient hockey team this season than last. Losing Mike Richards and Jeff Carter isn't the ideal way to get better, but given the circumstances, it looks as though they have managed to do just that.
If they fail to reach the playoffs or are shown the door in another early playoff exit, some may call for Holmgren's job. If they win it all or at least come close to, Homer could be up for GM of the year.
Whether you agree with the moves or not, and whether you believe the Flyers are better now than they were before, they will be an interesting team to watch, that's for sure.
For now, one question still remains...
Is it October yet?