NHL Predictions: 10 Reasons the Columbus Blue Jackets Will Contend in 2011-2012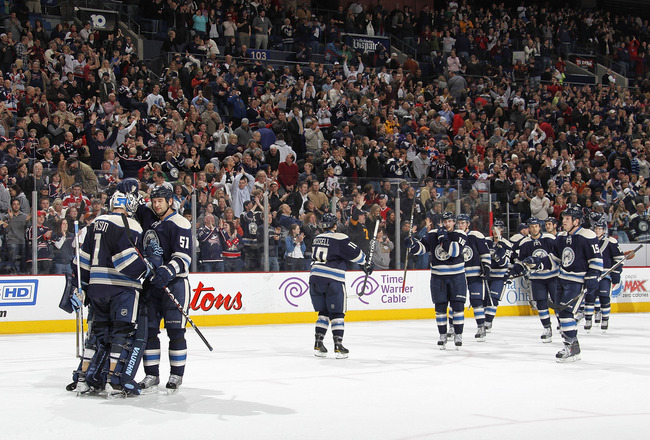 Gregory Shamus/Getty Images
In the 2010-2011 season, the Columbus Blue Jackets had the highest of highs, only to be followed by the lowest of lows. Before the February trade deadline, the Blue Jackets were only a few points out of the eighth and final playoff spot.
The other teams in the league were put on notice that the Blue Jackets were contenders and with a few more wins, would make it to the playoffs for the second time in franchise history. As the wins piled up, the seats in Nationwide Arena began to fill; the fans believed.
But, as quickly as the team had the playoffs in their grasp, it was taken away. The Jackets would go into a downward spiral, only winning three of their final 21 games. They quickly dropped in the standings, finishing the season in 13th place in the Western Conference, a whopping 16 points back from the eighth spot.
General manager Scott Howson was tired of the team's constant shortcomings and knew a change needed to occur.
He began an overhaul of the team, and in the three months since the Blue Jackets season ended, a new contender has emerged in the Western Conference.
Acquired Jeff Carter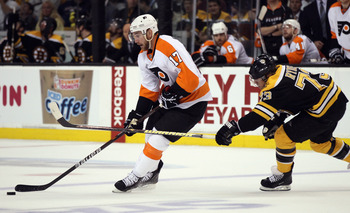 Elsa/Getty Images
Before this year's NHL draft, Jackets general manager Scott Howson made it known that he was looking to deal the team's eighth overall pick.
In return, Howson wanted a top-line center and he would not settle for anything less, even though the team needed much more than just a center.
As the draft was on the horizon, the Philadelphia Flyers emerged as a possible trade partner after they acquired the rights to goaltender Ilya Bryzgalov. The Russian netminder wanted an expensive contract and for the Flyers to sign him, they would have to shed some cap space.
Jeff Carter and his 11-year contract seemed like the easiest contract to deal, but his agent had assured everyone that Flyers GM Paul Holmgren had told Carter he wasn't going anywhere.
However, the day before the draft, Carter was dealt to the Blue Jackets for two picks and the winger Jakub Voracek.
Carter took the weekend to reflect on the deal before speaking with the media, but when he finally did, he was excited to be a Blue Jacket and looking forward to playing along side Rick Nash, as are the Blue Jacket fans.
Ever since Rick Nash became the #1 guy in Columbus, the team has struggled to give him a top center to work with, until now.
Now the team has an all-star center still in his prime at 26-years old and plenty of playoff experience. In the past three seasons, Carter has scored 30-plus goals, including 46 in 2008-2009.
Many people have said that two goal scorers on the same line won't work, but Carter isn't one to shy away from dishing the puck, averaging 32 assists in the past three seasons.
Carter also brings a positive energy with him and didn't wait long to make an impact for the team. After the team acquired him, RJ Umberger, who said at the end of the season that he would wait to see what the team did in free agency before he talked contract extension, has already said he is ready to discuss a contract.
And while the team was trying to sign defenseman James Wisniewski after they had acquired his rights, Carter called the Michigan native, along with Rick Nash and Jared Boll, to try and assist in bringing him in. After Wisniewski signed with Columbus, he would go on to say that the acquisition of Carter was one of the reasons he felt good signing with the team.
The pressure is on Carter to make believers out of Blue Jacket nation and the league that he can lead this team to glory, and he is ready to face it head on.
Took Pressure off of Captain Rick Nash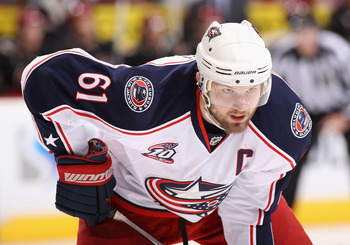 Christian Petersen/Getty Images
As mentioned in the previous slide, the pressure has always been on Rick Nash to perform as the team's star.
If Nash was unable to score on any given night, then points from other Blue Jacket players were hard to find. The team would lean on Nash to carry the team and he would try and do too much to put points on the board.
On numerous occasions, fans would see Nash try and split two defenders and score at the same time. Even though Nash has been successful with that move in the past, it cannot work every time.
With the addition of Jeff Carter as well as James Wisniewski, a lot of that pressure is taken off of Nash. Nash finally is no longer the only "superstar" that the team has on its roster and will play better because of it.
To really show how much these acquisitions help Rick Nash, just look at the stats from last year.
The Blue Jackets ended last season with 210 total goals.
Rick Nash, Jeff Carter, and James Wisniewski ended last season with a combined 78 goals and 105 assists.
Complete Makeover of the Defense
Phillip MacCallum/Getty Images
At the end of the season, Scott Howson made sure that everyone knew that unless you were named Rick Nash, you were not safe in the team's overhaul.
The team decided not to issue qualifying offers to Anton Stralman or Sami Lepisto, and let Jan Hejda try free agency. Stralman and Lepisto are yet to be signed, while Hejda was signed by the Colorado Avalanche.
Another smart move was to buy out the contract of defenseman Mike Commodore. He and coach Scott Arniel didn't see eye-to-eye and it was a move that was best for both.
With only a few hours before free agency began, the Jackets only had three defenseman under contract, Kris Russell, Fedor Tyutin, and recently re-signed sharp shooter Grant Clitsome.
However, the team would come through with one of the biggest acquisitions of the day when they were able to sign James Wisniewski to a six-year contract before 12:00 PM struck.
Wisniewski is an automatic upgrade for the Blue Jackets blue line as he exactly what the team was looking for.
Still in his prime at 27, "The Wiz" is coming off a career year when he had career highs in goals (10), points (51), power play goals (8), and shots on goal (158).
The team is still in need of a defenseman to take the spot of Jan Hejda, but the addition of Wisniewski will help make the team's power play relevant once again.
The Power Play Will Be Relevant Once Again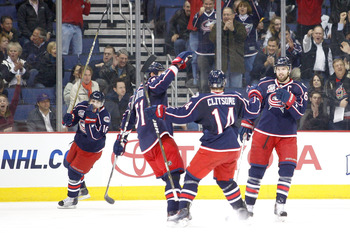 John Grieshop/Getty Images
With the addition of James Wisniewski, the Blue Jackets' power play has it's first quarterback since Jaroslav Spacek.
Last year, Grant Clitsome seemed to be the only bright spot in the Blue Jackets' power play. Before he arrived, defenseman were timid to shoot the puck and would instead continue to pass the puck around, killing valuable time on the man advantage.
Assistant coach Bob Boughner's power play strategy would be to stick Rick Nash on the right side, almost parallel to the right goal post, an odd angle for the team's star. Opposing team's penalty kill would target Nash and the Jackets would crumble trying to find other means of putting points on the board.
The team's power play finished 29th overall with a success rate of only 14 percent.
With Boughner's resignation (more on that later), the team can look to a more aggressive power play with former Minnesota Wild head coach Todd Richards.
The power play shot total will double, maybe even triple with the additions of Jeff Carter and James Wisniewski.
Now teams will no longer be able to just target Nash and Columbus will finally have an advantage.
Took Some of the Pressure off of Steve Mason as Well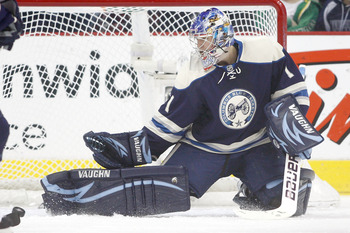 John Grieshop/Getty Images
When the team's power play struggled and Rick Nash couldn't get on the board, the pressure would rest on the shoulders of goaltender Steve Mason.
If the team could not score, then it would be up to Mason to keep the team in the game. This would be one of the reasons that Mason struggled throughout last season.
The team would rarely be able to score more than three goals per game and Mason would have to steal games like he did in his rookie year when he won the Calder Trophy.
According to Scott Howson, in past seasons, the team has not had enough skill to score:
"If you spend more time with the puck, you're not nearly as vulnerable, and we think we're going to have the puck more this season. We've helped address that."
Now the team finally has some offensive firepower in Carter (36 goals) and Wisniewski (41 assists), which allows Mason to not have to be close to perfect night in and night out, which is hard for any goalie at the NHL level.
Coach Scott Arniel goes on to say that that kind of pressure on a goalie can put a team in a lot of trouble:
"That (extra goal) takes away a lot of pressure that mounts on your goaltender, and it mounts on your defensive play and your penalty kill. It we can be more dangerous, it just rounds out our team."
With a lot of pressure taken off of the 23-year old goaltender, Mason should have more consistent play and return to the form that won him rookie of the year.
Hired Full-Time Help for Steve Mason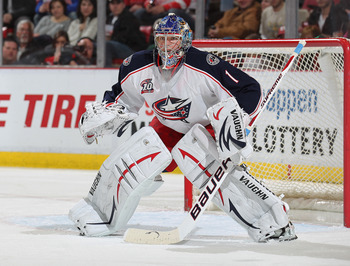 Claus Andersen/Getty Images
Now that some of the pressure has been taken off Steve Mason, he should begin to play a more solid game.
However, like any goalie, there will still be some rough patches here and there.
Mason struggled the past two seasons with inconsistency and one thing that can be attributed to that is the fact that the team's goaltending coach at the time, Dave Rook, was only with the team part time.
When Mason's confidence was low at times, sometimes non-existent, there was no one there to spend one-on-one time with him and help him get back on track.
When Rook was questioned about Mason's play during last season, he seemed reluctant to help him, saying it was his problem to deal with:
"It's not going to be a nice fatherly-son talk," Rook said. "A pat on the back is not what's needed right now. It's not like pucks are going in off defensemen or he's getting bad bounces. It's stuff he has to take accountability for. This is his career. He's digging a hole for himself and he's got to get himself out of that hole."
As much as it's true that Mason has responsibility over his own career, he is still young and needs help learning how to re-gain his confidence when it is no where to be found. Although he has played three seasons, he is not close to his prime and still has a lot to learn.
A player as young as Mason needs a coach behind the bench at all times, which Rook was not.
With Rook's resignation, the team did not make the same mistake twice, hiring a full-time goaltending coach in Ian Clark.
Clark has a resume filled with top goaltenders including Roberto Luongo and Marc-Andre Fleury and should be a big help towards getting Mason on track.
Emergence of Top Prospect Ryan Johansen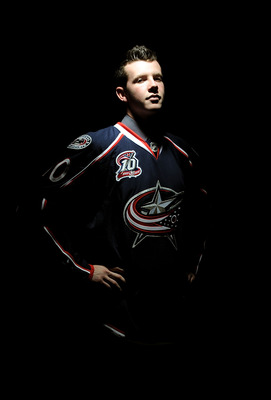 Harry How/Getty Images
All throughout the Blue Jackets and Flyers' trade negotiations, one name that continued to come up was prospect Ryan Johansen.
The fourth overall pick in the 2010 draft was at the top of GM Paul Holmgren's list of players he wanted in return for Jeff Carter.
However, Scott Howson has big plans for the 18-year old center and was quick to say "If Johansen's in deal, there's no deal."
Johansen impressed in the WHL with the Portland Winterhawks this season, scoring 40 goals and registering 52 assists as he lead the team in a late postseason run.
According to scouts that saw Johansen in the playoffs, "he's been a beast."
The young prospect doesn't have a lot of options for next season as he has achieved everything he can in the WHL and with the AHL's age requirements, he cannot play for Springfield next season either.
Johansen is ranked as one of the top prospects in the league, but the team does not want to rush his progression and has no plans of giving him a free pass onto the team next season.
He will most likely earn a spot on the team this offseason during the developmental camp as well as in team workouts, where he has been able to build more muscle.
It would be a step backwards for Johansen to go back to the WHL and bringing him up to the big leagues will be good for him and the team.
A likely scenario would be center Jeff Carter taking Johansen under his wing and teaching him. Even though he is only 26-years old, Carter has six NHL seasons under his belt, as well as an All-Star appearance and a Stanley Cup Finals series.
Carter has had success in the league and could be the perfect role model for Johansen. If he can find the same success as last year's rookies Taylor Hall and Tyler Seguin, then the Jackets will be a force to be reckoned with.
Eliminated the Team's Negative Energy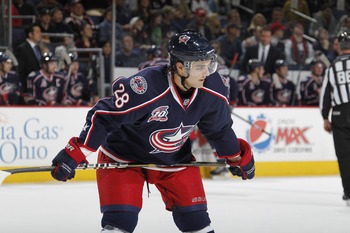 Gregory Shamus/Getty Images
On the second day of this year's draft, Scott Howson finally admitted that he had made a mistake in drafting Nikita Filatov in 2008. Filatov requested a trade and Howson granted it, trading him to the Ottawa Senators for a third-round pick.
The Russian prospect showed promise for the Jackets when he was called up in his first season. Although he spent most of his time in the AHL, Filatov became the first Blue Jackets rookie to record a hat trick when he did so against the Minnesota Wild.
The next season, Filatov made the team after training camp and was supposed to be an everyday player. However, the head coach at the time Ken Hitchcock chose to keep Filatov as a healthy scratch for six of the team's first 18 games.
Filatov was unhappy with his playing time and requested that he be transferred to his Russian club team. The Blue Jackets granted his request and the two have not seen eye-to-eye since.
Filatov did return before this past season and coach Scott Arniel gave him a clean slate. However, Filatov did not play well in Arniel's system and was demoted to Springfield were he continued to struggle. He finished the season with only nine goals in 36 games.
It was clear that the team had to part ways with Filatov and the Jackets are better because of it.
Filatov was not the only unhappy camper in the Blue Jackets locker room.
Defenseman Mike Commodore had been a healthy scratch for several games this past season before he became upset with coach Arniel and requested to be traded.
The Jackets later placed him on waivers and after no takers were found, sent him to Springfield for the remainder of the season.
Before free agency last week, the Jackets had announced that they had bought out the contract of Commodore and he had become a free agent. Commodore would go on to say that if the team did not buy him out then it was a lose-lose for the team. He would later sign with the Detroit Red Wings.
The Blue Jackets have admitted that they have made mistakes and have eliminated the negative energy (more Filatov than Commodore) from the locker room.
The rest of the team has bought into coach Arniel's system and move into the next season with a positive outlook. The players in the locker room having nothing but nice things to say about the Blue Jackets organization as well as the city of Columbus.
Added NHL Experience Behind the Bench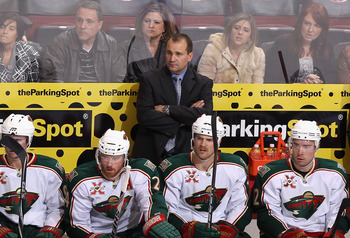 Christian Petersen/Getty Images
At the end of this past season, assistant coach Bob Boughner announced that he had resigned from his position after less than a year with the club.
Boughner also served as the owner of the Ontario Hockey League's Windsor Spitfires, where he was a coach for four years, and decided that it was in the best interest of his family to return to Windsor.
While with the Blue Jackets, the power play under Boughner's system was almost non-existent and was close to dead last in the league (29th).
To solve the mystery of the missing power play, the Jackets chose to hire former Minnesota Wild coach Todd Richards as the team's new assistant coach.
Richards was Minnesota's head coach for two seasons and lead the team to a 38-36-8 record in 2009-2010 and a 39-35-8 last season, missing the playoffs both times.
During his time as coach, the Wild's power play converted close to 19 percent on their man advantage opportunities, which is five percent better than the Blue Jackets success rate last season.
Although Richards was not able to find success as an NHL coach, he has been successful as an assistant coach with the San Jose Sharks during the 2008-2009 season.
Richards helped the team reach a NHL-best 53-18-11 record and was responsible for a power play unit that had a success rate of 24.2 percent, third-best in the league.
Richards is a perfect fit for the Blue Jackets needs and Scott Howson has acquired him two important weapons in Jeff Carter and power play quarterback James Wisniewski.
With a more aggressive man-advantage, opposing teams will actually be afraid when the Jackets are on the power play.
Scott Howson Isn't Done Adding Pieces to the Puzzle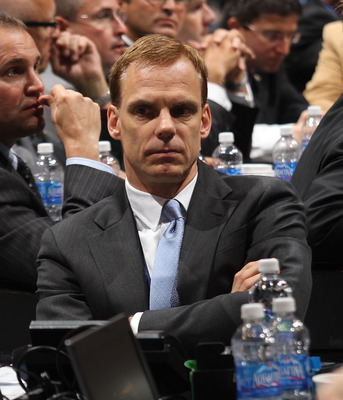 Bruce Bennett/Getty Images
After James Wisniewski was signed by the Columbus Blue Jackets, he was told by Scott Howson that the team was "not done yet" in adding pieces to the Jackets puzzle.
The team is still in search of a stay-at-home defenseman to fill the spot left by Jan Hejda. The Jackets had originally planned to sign Hejda before free agency began, but a deal could not be reached.
Howson would most likely like to add the defenseman through free agency, but the list that was small before free agency began, has now become even smaller.
Some of the names still on the list include Scott Hannan, Brent Sopel, Bryan McCabe, Anton Babchuk, and Radek Martinek.
The team will most likely not add any of the older players available as the team is moving more towards a younger team.
The Columbus Dispatch took a look at the list of available free agents and only one name would fit the bill of a younger team:
"Babchuk, 27, is the only one among that group who is still in the prime of his career. McCabe is 36 years old, Martinek and Sopel are 34 and Hannan is 32."
Since there is not a lot to choose from, Howson may look to trade for a defenseman.
"Predicting a possible trade partner for a defenseman is far more difficult. Toronto and Washington would appear to have an abundance of blue-liners, but Howson said "there are probably three or four teams who would consider moving a defenseman."
A third option is for the team to call up one of their young prospects from Springfield, which includes John Moore, David Savard, and Nick Holden.
Regardless of what Howson ends up doing, the Blue Jackets team as a whole looks like to be a contender in the 2011-2012 season.
Howson has come out of his comfort zone to bring in players that could make an immediate impact alongside Rick Nash and help the team reach the playoffs for the second time in franchise history.
Update July 6th at 4:30 PM
Out of the remaining available free agent defenseman, the team has decided to sign Radek Martinek to a one year deal. Martinek was drafted by the New York Islanders and has played there ever since.
In his ten year career, Martinek has scored 21 goals and registered 82 assists, as well as 272 penalty minutes.
"Radek Martinek has been solid defenseman in the National Hockey League for several years and we think he will be a nice addition to our hockey club," said Jackets general manager Scott Howson.
"He is a smart, steady player who will provide character and experience on our blueline."
Keep Reading

Columbus Blue Jackets: Like this team?