NHL Free Agency: The Detroit Red Wings Never Rebuild, They Only Reload
July 3, 2011
Gregory Shamus/Getty Images
For as long as I can remember, every Detroit Red Wings season begins and ends with the mentioning of age. Age in itself has never seemed to matter, as experience has always reigned supreme.
I liken the Detroit Red Wings to the New York Yankees and New England Patriots, in the regard that any news is big news with these teams.
And regardless of opponent, through veteran leadership these teams will always have a significant shot at victory.
It's not about the money spent; it's about the money earned. These teams most often value experience over youthful abilities.
Dynasties are built from the ground up; you don't go out and purchase a Maybach without a garage to store it in.
I sat in awe as captain defenseman Nicklas Lidstrom contemplated retirement.
I read article after article, all of them alluding to the end of an era in Detroit. Every article read of rebuilding, it was as if blind prophets were forced to regurgitate second hand wisdom.
The key to success has been laid throughout the foundation, for all to see. Winning formulas never change, they only become more elaborate.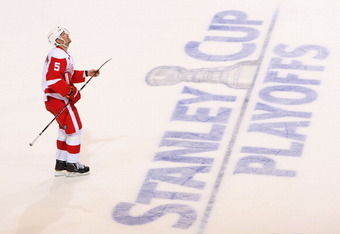 Christian Petersen/Getty Images
To be a dominant defenseman for the Detroit Red Wings is more about desire and mentality than skill.
Before Niklas Lidstrom there was Chelios and Konstantinov.
There was Coffey, and Murphy before that.
And before all of them there was Red Kelly.
Tomorrow it will be Jakub Kindl and Jonathan Ericsson.
Detroit will always have a solid blue line.
Historically the Detroit Red Wings have been and always will be in contention for the NHL Central Division crown.
Great teams do not rebuild, they compound through reload.
Every closing era begins anew.
To be a Detroit Red Wings player is to find the fountain of youth. Players around here seem to get better with age.
There will always be a player that is a Red Wings legend in the making.
For every Sid Abel there is a Gordie Howe, and for every Steve Yzerman there is a Pavel Datsyuk.
I implore those of you who believe that the 2010-11 conference semifinals series loss to the San Jose Sharks is a sign of the times, to compose yourselves.
The 2011-12 NHL regular season will open with a thrashing of the Ottawa Senators at the Joe, on Oct. 7, 2011.
The road to the Lord Stanley comes through Hockeytown, make sure you're on board.