Phoenix Coyotes Quickly Find a Replacement for Ilya Bryzgalov
July 2, 2011
Dave Sandford/Getty Images
The priority was front and center, and the issue promptly addressed
It did not take Phoenix general manager Don Maloney very long to find a replacement for the departed goalie Ilya Bryzgalov.
In the first open market day of free agency on July 1, the Coyotes, in what could be their final hockey season in the desert, signed free-agent net minder Mike Smith along with others who appear to have improved the team.
Smith was the big catch because the Coyotes desperately needed a replacement for Bryzgalov, who signed a nine year, $51 million deal with the Flyers. In signing Smith to a two year deal for $4 million, Maloney indicated his search is over for a reliable body between the pipes, and he will continue to pursue help at other positions.
Smith, at 6-4, 215, is well known within the Phoenix organization for Coyotes coach Dave Tippett coached the Kingston, Ontario native in Dallas. Tippett guided the Stars from 2002 through 2009, and Smith was there for the for the 2006-07 season (12-5-2, 2.23 GAA in 23 games) before being traded to Tampa Bay mid-way through the following season.
Under Tippett for the partial season, Smith was 17-9-0, 2.46 GAA in 21 games before he was shipped to central Florida in exchange for Brad Richards and Johan Holmqvist.
"Tippett had him in Dallas and liked him," Maloney said in a conference call with reporters July 1. "Among the goalies out there, he had the most value for the least assets. Plus, he's a big guy and (Phoenix goalie coach Sean Burke) loves big goaltenders."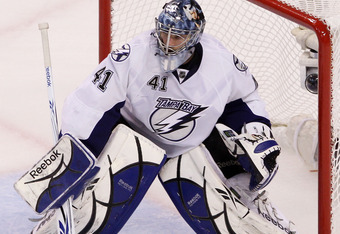 Bruce Bennett/Getty Images
Maloney said talks to sign Tomas Vukoun away from the Florida stalled, and when Dwyane Rollison resigned with Tampa Bay, Smith essentially lost the nod to be the Bolts number one goaltender.
"When we signed Mike, we were looking for the upside," Maloney added. "We envision Mike to come in and play 50 to 55 games. That also means a greater and expanded role for Jason."
The reference is to Jason LaBarbera, who, as Bryzgalov's back-up last season, was 7-6-3, 3.26 goals against average, two shutouts in 17 games. LaBarbera recently signed a two deal to remain with Phoenix.
On the first day of free agency, the Coyotes lost forward Vernon Fiddler to Dallas, forward Eric Belanger to Edmonton and defenseman Ed Jovanovski to Florida. Knowing several existing Phoenix players would seek new homes, Maloney worked the phones, huddled with scouts, and watched video all in the quest to improve. By the end of the first day of free agency, the Coyotes appeared to improve themselves, but Maloney indicated there is more work to be done.
Restrictive free agent Keith Yandle needs to be signed, and Maloney said talks with Yandle and his agent were put on hold until the commencement of free agency.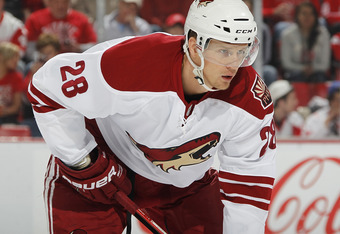 Gregory Shamus/Getty Images
"We've had several discussions with Keith and made a few offers," Maloney added. "Seems when we offered a certain amount, Keith and his agent came back with triple that amount. Yes, signing Yandle continues to be a priority."
The same with forward Lauri Korpikoski (19-21 for 41 points in 79 games) as Korpikoski emerged as a solid two-way player. Korpikoski is a free agent as well, and Maloney pointed out getting the 25-year-old native of Turku, Finland back in Sedona Red is high on the Coyotes "to do" list.
In the meantime, Maloney wasted no time in going after help.
On that initial day of free agency, Maloney inked Raffi Torres, who scored 14 goals and 28 assists for Vancouver last season. His playoff experience and playing on the edge attracted Maloney.
"I spoke with (Phoenix captain) Shane Doan about him, and Shane said (Torres) was one guy he did not like to play against," Maloney added. "This guy plays with a chip on his shoulder and gets better around playoff time."
With Fiddler and Belanger scoring a combined 19 goals last season, Torres will step in and fill that gap. Also, his defensive abilities should complement forward Boyd Gordon, who spend the last nine seasons in Washington. Phoenix inked Gordon to a 2 year, $2.65 million deal.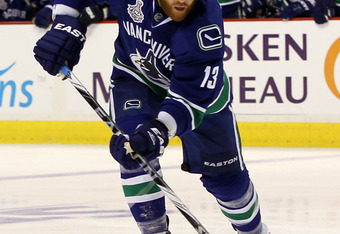 Bruce Bennett/Getty Images
Gordon arrives in the desert as one of the better penalty killers in the league and possesses a strong penchant for defense. Though he scored just 27 goals in 363 NHL games to date, Gordon is expected to strengthen the defense in front of Smith.
Maloney also resigned forward Radim Vrbata to a three year-$9 million deal to remain with Phoenix. Last season, Vrbata was the fourth leading scorer for the Coyotes (19-29, 48 points), but Maloney is still looking for sniper-type numbers from the Czech Republic native.
The departure of Jovanovski will create a regular job on the blue line for Oliver Ekman-Larsson (1-10-11 in 46 games last season), and Maloney said he is looking for increased production from center Kyle Turris (11-14, 25 in 65 games), and forward Mikkel Boedker (4-20, 14 in 34 games).
From now until the start of training camp in September, Maloney identified two outstanding issues.
"We would like a little more mobility at the blue line," he said. "Also, we're looking to improve at center. Because the cap rose, teams now have more money to sign players, but the value of an individual player rose by 25 percent. From our perspective, we approach any free agent signing from an asset basis. We ask ourselves all the time, will a player be an asset both financially and on the ice."
Editors note - Quotations from Maloney were obtained by this reporter during a conference call July 1.