Columbus Blue Jackets Sign Two Goaltenders; Is Steve Mason's Job in Jeopardy?
July 2, 2011
Jamie Sabau/Getty Images
The Columbus Blue Jackets were one of the many teams on Friday that made a splash in the free agent market. The team locked up 27-year- old defenseman James Wisniewski to a six-year deal worth $33 million.
This, combined with the acquisition of Jeff Carter, filled two of the Blue Jackets' most important needs. The other need for the Jackets was a goaltender to backup youngster Steve Mason.
There was a surplus of goaltenders available at noon today, including Ray Emery, Tomas Vokoun, Peter Budaj, Jose Theodore, Semyon Varlamov, Josh Harding, Brian Boucher, Mike Smith and Jean-Sebastien Giguere, just to name a few.
Another option the Jackets had was to re-sign backup Mathieu Garon, but it seemed like Columbus would be looking elsewhere.
As free agency began, goaltenders were being snatched up left and right. Montreal signed Budaj, Carolina signed Boucher, Phoenix signed Smith and Colorado won the goaltender frenzy signing both Giguere and Varlamov. Mathieu Garon would also find success being signed by Tampa Bay.
At the end of the day, the Blue Jackets were not able to acquire any of the above mentioned goaltenders. Instead, Columbus agreed to deals with two goaltenders in Mark Dekanich and Curtis Sanford.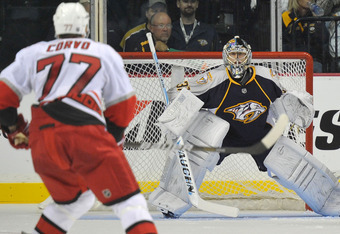 Frederick Breedon/Getty Images
Sanford received a two-way deal and will most likely spend most of next season in the Jackets' American Hockey League affiliate in Springfield.
While general manager Scott Howson, according to the Columbus Dispatch, said that Dekanich will be the other Blue Jacket goalie next season:
"We think he's ready," Howson said. "It's a bit of a risk but we think he's ready. Given what was available after a few hours, no doubt. There are top goalies in the American League who are ready for a chance. Eventually, these guys play. Why can't they play here?"
Dekanich has played three seasons with the Milwaukee Admirals, the AHL affiliate of the Nashville Predators,  but was never able to acquire the backup role behind Vezina trophy finalist Pekka Rinne.
With the acquisition of two minor league goalies, it is clear that the No. 1 goaltender job this season is Steve Mason's to lose.
Mason has struggled the past two seasons and it was unclear whether or not the Canadian netminder would be playing elsewhere come next season.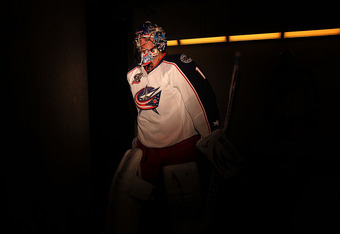 Ronald Martinez/Getty Images
Mason is still young at only 23 years old and the Calder trophy winner still has a lot of potential. However, it is clear that Howson is becoming impatient as he was looking to deal Mason before last season's trade deadline and at the end of this season.
One of Mason's main issues the past two seasons was his consistency. When he was playing well, there was no way opposing teams were getting pucks past him. This past season, Mason's best stretch came in the month of February when he won seven of his nine starts.
However, when Mason struggled, it seemed that he could never recover. After his hot February, Mason would go on to win only two of his final 14 starts.
All the blame cannot be placed among Steve Mason's shoulders. One problem affecting him was that their goaltending coach, Dave Rook, only worked part-time. At times, Rook was not around to help Mason when he struggled to regain his confidence.
Howson fixed this issue with the hire of goaltending coach Ian Clark. Clark will work full-time to bring Mason back to where he was when he put up impressive numbers in his rookie season.
The other problem that was out of Mason's control was the abysmal defense in front of him. Mason will find a completely different defense in front of him next season with the release of Jan Hejda, Mike Commodore, Sami Lepisto, Anton Stralman and Craig Rivet.
The addition of James Wisniewski today is an upgrade in itself for Mason and the Jackets will still look to add another defenseman before the season starts in October.
At the end of the day, Steve Mason's job is still safe, but he is out of excuses. If he continues to show signs of inconsistency, head coach Scott Arniel may look to the inexperienced and unproven Dekanich.
If Mason cannot find his winning ways this season, then the team will most likely cut ties with their 2006 draft pick.