NHL Free Agency 2011: Reactions to the Philadelphia Flyers's Day 1 Transactions
July 2, 2011
Harry How/Getty Images
When the clock struck noon on July 1, very few things were certain. One thing that was: the Philadelphia Flyers were going to make headlines. Paul Holmgren and company certainly didn't disappoint, landing future Hall of Famer Jaromir Jagr, forward Maxim Talbot, and defenseman Andreas Lilja and dealing away winger Kris Versteeg. 
With the dust from day one settling, its time to take a look at how the Flyers fared in free agency. 
1. Jaromir Jagr
When it was announced that the Flyers signed Jagr to a one-year deal with $3.3 million, many were left wondering if the 39 year old winger had enough left in the tank to justify that salary. I for one believe Jagr will not only be worth his money, he'll be one of the best-value players signed this offseason. 
Jagr may not have the monstrous legs he once had, way back when he was winning scoring titles left and right. But Jagr still has a pair of world-class hands, great vision, and an otherworldly hockey sense. His temper and demeanor have mellowed with age, and he's finally embraced practicing as a viable method of pregame preparation.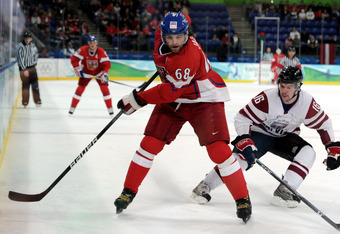 Harry How/Getty Images
On a Flyers team with six of the (projected) top nine forward under the age of 24, Holmgren was desperate for consistent point production and veteran leadership. The Flyers powerplay without Pronger last season was dismal and needed a jolt of life. And the Flyers needed a player to mentor young guns James van Reimsdyk, Sean Couturier, Claude Giroux, Brayden Schenn, and (especially) the enigmatic Czech winger Jakub Voracek. In Jagr, Holmgren addressed all of those issues in one fell swoop. 
Even at 39, Jagr is still a lock for 20-30 goals and 50-70 points. That's better (and more consistent) production than the Flyers could have expected from Ville Leino, and at a fraction of the cost. Great signing by Paul Holmgren and Philadelphia Flyers.
Grade: A
2. Maxime Talbot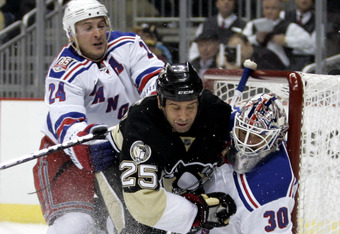 Justin K. Aller/Getty Images
In Talbot, Paul Holmgren may have finally found Ian Laparierre's replacement. Talbot was a fan-favorite in Pittsburgh (reason alone to sign him) and is known around the league as a great hustle player. Talbot doesn't have the offensive skill to light up a scoreboard on a consistent basis or the size to grind in the corners like Paul Gustaud, but he can hustle up and down the ice, get underneath the opposition's skin, and kill penalties with the best of them.
But perhaps the best aspect of this signing isn't what Tablot brings on the ice; its what he brings off of the ice. Its no secret the Flyers missed "Lappy" last season—his ability to foster camaraderie and communication between young players, veteran players, and the coaching staff was invaluable in bringing the 2009-2010 Flyers together during their Stanley Cup run. Just watching the team last season, it was obvious they missed his heart, grit, and his leadership.   
The only strange part about this signing was the contract itself: five years, $9 million. The cap hit ($1.8 million) is very reasonable for what Talbot brings to the table, but the term of the contract is a little long. However, Talbot is only 27, so if the goal is for him to step into a long-term locker room leader role, it makes a lot of sense. Overall, another very good signing by the Flyers.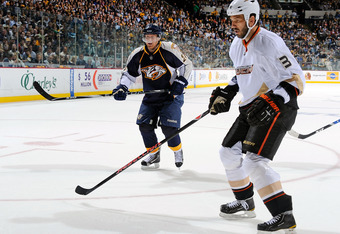 Frederick Breedon/Getty Images
Grade: B+
3. Andreas Lilja
The Flyers also signed Sean O'Donnell's replacement, 35-year-old Swedish defenseman Andreas Lilja to a one-year contract worth an estimated $750,000. Lilja is known as a stay-at-home defenseman with a bit of a physical edge. He has good size (6'3", 220 pounds) and a decent hockey IQ, but has been prone to injuries and defensive zone miscues.
This was Holmgren's first move of the day that I didn't like. Sean O'Donnell, a rock-solid veteran on the Flyers third pairing last season, signed with Chicago for only 100 thousand dollars more than Lilja, despite playing 188 more games than Lilja over the past four seasons. O'Donnell was well-liked in the Flyers' locker room, had a great reputation with the Philadelphia media, and was one of the most consistent Flyer blueliners.
Lilja can be an upgrade over O'Donnell on the ice, but he hasn't been on the ice enough to ever demonstrate that for a consistent period of time. The potential gain in on-ice performance does not offset the sure loss of O'Donnell's intangibles and consistent performance.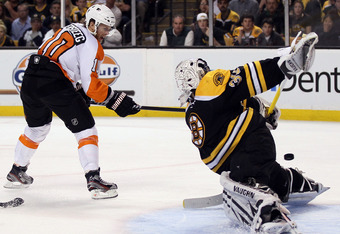 Elsa/Getty Images
Grade: C-
4. Kris Versteeg to the Panthers for second, third-round picks in 2012/2013
 The Versteeg trade was another move by Paul Holmgren and the Flyers that I did not agree with at all. While I'm aware Flyers fans were disappointed with Versteeg's production during his short time in Philadelphia (8G-9A-17P in 38 games), few remember he was playing with a sports hernia during the latter part of the season, an injury which basically prevents players from using their core effectively. For a hockey player, especially a hockey player that depends on his speed and agility, its a very difficult injury to overcome. 
Despite the injury, Versteeg was able to break 20 goals and 44 points for the third consecutive season, play solid defense, and successfully fill-in on the penalty kill. With Mike Richards and Darroll Powe traded, Versteeg was likely the best penalty-killer on the Flyers roster. 
While Holmgren did get a decent return for Versteeg, it was still less than what the Flyers gave up to acquire him from Toronto at the trade deadline. The move was likely made to clear salary cap space, but the question remains: for what? The Flyers are unlikely to be able to sign a player comparable to Versteeg for less than a $2.5 million cap hit, and any major move is going to require more than the $4-5 million the Flyers currently have available.
From watching him, Versteeg seems like the prototypical player Holmgren and the Flyers have been trying to add all offseason: a gritty, team-first winger with exceptionally good skating ability, a ton of hustle, and a willingness to do whatever it takes to win. Which begs the question: why trade him? Until that question is answered, I'm going to give this trade a "D". Should Holmgren pull off another major move, I'll revise it as appropriate.  
Grade: D (Pending Further Moves)