Jonathan Ericsson, Detroit Red Wings: Did the Wings Hit the Panic Button?
July 1, 2011
Gregory Shamus/Getty Images
The Detroit Red Wings have announced that they have signed defenseman Jonathan Ericsson to a three-year deal. The concern is that the contract is for $9.75 million (or $3.25 million every year). Did the Wings overpay for him?
By all accounts, this year's free-agent class was not very deep. There were only going to be a handful of high-quality free agents available. The Red Wings' need for a defenseman definitely sky-rocketed with the retirement of Brian Rafalski.
The hope was that they could lure names like Kevin Bieksa, Christian Ehrhoff or James Wisniewski to Detroit to help fill that void. As the start of free agency drew closer, players (such as Bieksa) signed with their current teams. Others saw their negotiating rights traded to other teams.
Ehrhoff was one of the defenders that saw his rights traded—in his case it happened twice, first to the Islanders then to the Sabres.
Players like Wisniewski ended up signing with a new team, which further depleted the pool of available quality defensemen.
During Ehrhoff's quick Islanders phase, it was rumored that he turned down a deal for around $6 million per year, as reported by The Detroit Sports Site. That had to get the Wings' attention as they were likely expecting a number closer to the deal Bieksa signed for—five years for $23 million.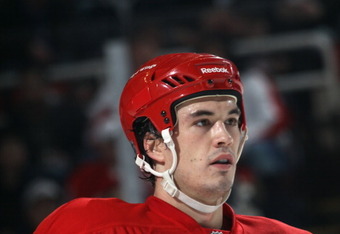 Bruce Bennett/Getty Images
With a limited supply of defensemen available, the contracts were bound to be somewhat inflated. With Ehrhoff declining that offer it was going to put the numbers through the roof though.
Ericsson made $1.25 million last year and was naturally going to expect a raise. It was reported earlier this year by Red Wings Rising that he had turned down an offer from the Wings for roughly $2 million per year. Ericsson is 27 and ideally entering the prime of his career, he is also a big body, standing at 6'4" and 220 lbs.
Unfortunately, he rarely uses his size and chances are your grandma hits harder then he does. He should be able to knock opponents off the puck, but instead he tends to just meekly bounce into them. One has to wonder if he says, "Excuse me" after bumping into an opponent.
The price being paid is much too high for the results given so far in his career. Ericsson has really been living off of his first few games with the team.
During the 2009 playoffs, he saw his first meaningful playing time. In those 22 games, he showed a great amount of skill and potential. Unfortunately, he hasn't lived up to those standards in his two full seasons since then. Could he have been just a one-hit wonder?
The dearth of defensive options is what forced the Wings to pay too much for him. They would have been better off letting him go. At best he is only the fifth-defenseman, and that is too steep of a price to pay in the salary-cap world.  
Brendan Smith will be given every opportunity to make the team this year. If he is half as good as expected then he will fly by Ericsson on the depth chart. 
Jakub Kindl is also expected to make the club as a full time player next season. 
Ruslan Solei could have been re-signed for closer to $1 million.
Any performance difference between Ericsson and Solei would have been far smaller than the over $2.25 million contract difference.
The bigger issue with the contract will come next season, as Nicklas Kronwall will be a free agent. He took major strides this year and will be expected to produce even more next season. The extra money that was thrown at Ericsson will be needed to keep Kronwall.
In addition, one cannot expect Lidstrom to keep coming back every year; money that will be needed to cover that hole will be rotting with Ericsson somewhere far down the bench.
Ken Holland and the Wings organization have done a tremendous job over the years and generally have earned the benefit of the doubt. But unless Ericsson starts playing like he did in those first 22 playoff games, this will be a contract many will be complaining about for the next three seasons.