Florida Panthers Hoping Free Agency Can Kick-Start Rebuilding Process
July 1, 2011
Jonathan Daniel/Getty Images
It doesn't take a genius to realize that the Florida Panthers have an uphill battle facing them in the coming years. However, the battle is likely harder to face for Panther fans thanks to the fact that the league's longest playoff drought resides in South Florida.
To be exact, their last playoff appearance was a first-round sweep in 2000 at the hands of New Jersey, and they have one playoff victory since their Stanley Cup Finals run in 1996.
The franchise has been looking for something—anything—to jump-start the on-ice performance in recent years. Despite signs of promise, the Panthers have always found a way back into oblivion among their Eastern Conference foes.
One would feel that the Panthers do have the beginnings to build around.
Stephen Weiss and David Booth have been consistent players in their years with Florida, and although the team traded away forward Nathan Horton to Boston, the team has been able to stockpile its system with great, young talent through the draft.
In fact, hockeysfuture.com has ranked the Panthers second in the NHL in organizational depth.
General manager Dale Tallon has wasted no time this offseason getting down to business in moves with his former club, Chicago, and looks to improve the team starting this season, hoping to bring validity back to the franchise.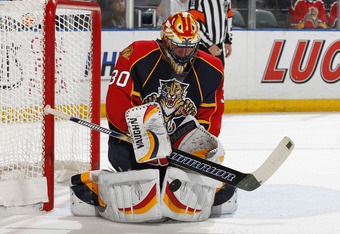 Joel Auerbach/Getty Images
Head coach Kevin Dineen replaces Pete DeBoer at the helm, and has a few fresh faces to work with.
In separate trades with the Blackhawks, forward Tomas Kopecky and defenseman Brian Campell were acquired in moves that, quite frankly, prove the Panthers are serious about building a good on-ice product—and doing it as soon as possible.
While both will bring a winning attitude and championship experience, Campbell gives the Panthers an all-around defenseman that the team hasn't seen in quite some time—if ever.
Among areas the club hopes Campbell can help to improve is the power play. The Panthers ranked dead last in power-play productivity last season; Campbell has been a proven threat on the blue line with the man advantage in years past, despite some struggles in Chicago.
Kopecky is a forward who is looking to breakout individually after years of being buried behind the endless depth of his former teams in Chicago and Detroit. He is coming off of his best season statistically in 2010-2011, scoring 42 points in 81 games for the Blackhawks.
The biggest question, or formality, for the Panthers heading into the offseason is the future of goaltender Tomas Vokoun.
Vokoun has been a subject of trade rumors for years because of his status as a very dependable veteran goalie stuck on a team that's not in a playoff race. He is now an unrestricted free agent and many feel that this is his time to bolt out of Florida.
The Panthers can rely on Scott Clemmensen, who has served as a formidable second option in goal, but one would think that the Cats would like another option in front of him and to keep goaltending steady, especially on a team struggling to score that gives up nearly 32 shots per game. 
Are there still needs to be addressed? Absolutely.
Whether or not the Panthers continue to fill needs in a noticeable way this summer remains to be seen, but although the Panthers are a work in progress, the foundation is being laid in a positive manner; the team hopes the improvements will translate into wins sooner rather than later.